Parent volunteer who survived tragedy named 'Hero of the Heart'
Autumn Bignami praised for her service to Los Alamitos Elementary School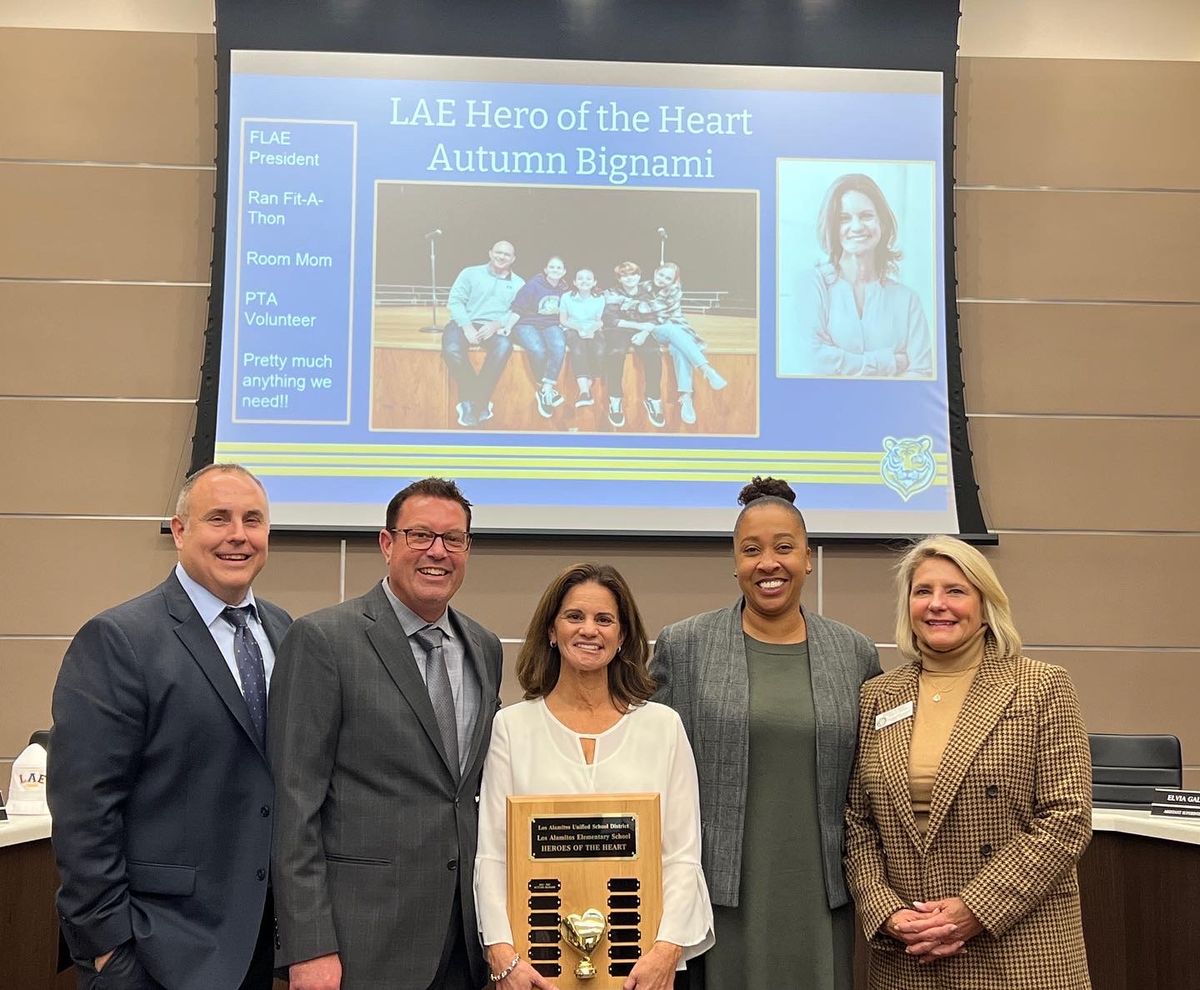 "I'm gonna try to get through this without crying," Los Alamitos Elementary School Principal Gary Willems said during the Nov. 15 workshop of the Los Alamitos Unified School District Board of Education.
His school had just made its annual presentation to  board members, district leaders and an audience of L.A.E. teachers, students and families gathered in the board's meeting room.
As Willems recognized the school's "Hero of the Heart" recipient for the 2022-23 school year, parent volunteer Autumn Bignami, his eyes welled up with tears.
"Autumn is the quintessential hero of the heart," Willems said.
Bignami, a mother of three, including a fifth grader at L.A.E., was lauded for her dedication to the campus community. She was described as a daily presence at the school, the head of the school's nonprofit,  Friends of Los Alamitos Elementary, and a prolific fundraiser for student programs, including heading up this year's successful Fit-A-Thon that raised almost $72,000 for interventions, P.E. equipment and the purchase of Chromebooks and iPads.
But what makes her story particularly moving is what came before all that stellar volunteer work. In 2017, Bignami and her husband were among the more than 500 people  injured in a mass shooting during The Route 91 country music festival in Las Vegas. (Last school year, Bignami's son William received the"Every Student Succeeding" award given to a student who had overcome significant obstacles.)
She suffered severe injuries to her jaw and back and would undergo at least ten surgeries and a long recovery process. A  beloved teacher and activities director at Paramount High School, Bignami would end up having to leave the job she loved.
"The most amazing thing about Autumn is that this event did not leave her bitter, mad or angry. She instead took this as an opportunity to get more involved in her students' education and as an opportunity to help all of our Tigers get the best educational experience possible," Willems said.
Willems thanked Bignami for her many years of service to L.A.E. families and even joked about holding back her daughter, Morgan, for another year so the campus community didn't have to say goodbye to the woman he said has been so much more than just a volunteer.
"I truly consider her a friend who has helped me become a better leader," Willems said, visibly emotional.
When it was Bignami's turn to speak, she was thanking everyone else; describing her experience as a volunteer at L.A.E. as an "important part" of her recovery that helped her "feel again like a very productive, normal human."
"After the incident that [Willems] had mentioned, I was hospitalized for a long time. And my children really had a second family at L.A.E.," she said.
She credited the teachers and staff including Principal Willems, and former Assistant Principal Rick Larson with supporting her family in their time of need. She made it a point to recognize her kids' teachers saying they had "created a very safe and secure place for my children at a time when they weren't feeling very safe and secure."
Bignami added: "They really did sort of fiercely rally behind our family and they continue to support them and rally behind them every time something else comes up."
Her daughter is headed to McAuliffe Middle School next year and Bignami predicted she would be back there volunteering.
"Autumn you are truly an inspiration to all of us," Board President Diana Hill said at the conclusion of the presentation. Choking up, she added: "And we just so appreciate that you have given so much of yourself to this community and felt it was safe, so that you could come and heal and give so much to us. So thank you very much for that and for your heart and thank you for being our "Hero of the Heart" this year."