Pageant of the Arts celebrating 40 years at McGaugh Elementary
Fine arts program includes performances with students bringing artworks to life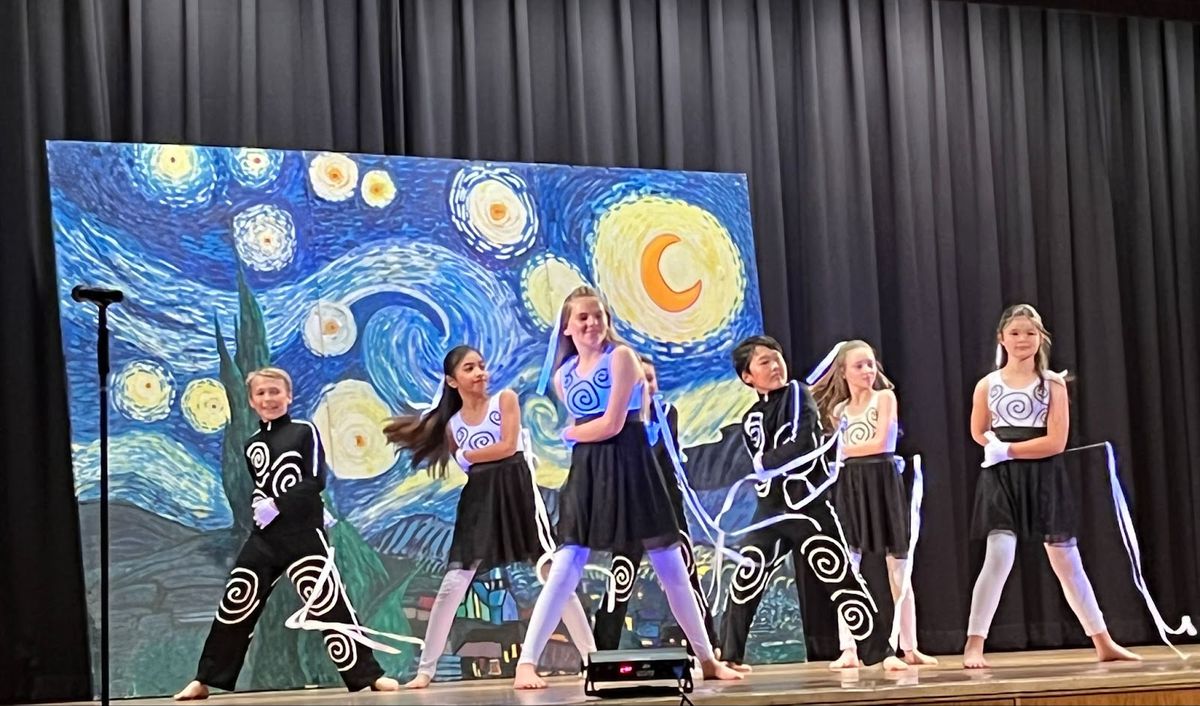 Pageant of the Arts at J.H. McGaugh Elementary school is marking a major milestone.
Pageant, which uses interactive lessons and experiences to educate students about fine art and famous artists, is celebrating its 40th anniversary and will hold its annual performances at the public school's auditorium on Feb. 3 and 4.
If you've never experienced this beloved tradition at the Seal Beach campus, it's an evening of art-filled entertainment not to be missed. (See a video medley of the show from 2016 here.)
Inspired by the famous  Pageant of the Masters production in Laguna Beach, McGaugh's  award-winning version features student performers sharing the stage with giant replica artworks as backdrops. The artwork and artists' stories come alive with fourth grade actors portraying world-renowned artists and fifth graders delightfully dancing choreography to original music.
"Their personalities shine in their different roles," Leslie Obert, a second grade teacher at McGaugh and the director of Pageant since 2014, said of the students in a recent interview.
The show usually highlights ten artists and artworks and a new one is added annually. This year's featured artist is Wassily Kandinsky, the Russian-born painter best known for his abstract creations during the 20th century. A version of his 1925 painting "Yellow-Red-Blue" was created by McGaugh students and will be featured in the show, along with other famous artworks that were created by students in previous years. Featured  artists have included Vincent Van Gogh, Georgia O'Keefe, Edgar Degas and many others.
It takes countless hours to make Pageant possible. For weeks, current and former teachers and others volunteer their time after school to help dozens of students rehearse and prepare for the big show. Teachers say they are motivated to donate their time to Pageant because they say it gives McGaugh students new ways to experience the arts.
"It's introducing [students] to something they might never have done and never have experienced, which I love," said Cherie Aniceto, a second grade teacher and main choreographer for Pageant.
"There is a place for everybody in the Pageant," said Jennifer Duncan, a McGaugh teacher who has been volunteering her time with the program for 28 years. "It brings out the best in everyone," she said.
The magic of Pageant of the Arts starts months before the curtain goes up for the performances. Students from TK through fifth grade are part of the educational experience every year. During their weekly visits to the school's Art Lab, students learn about the year's featured artist. Each student takes part in grade-appropriate art projects related to the artist and also contributes to painting the stage set version of one of the artist's famous works.
The Art Lab teacher's salary and supplies are funded through the parent and volunteer run nonprofit  Project S.E.E.K. along with financial assistance from the nonprofit Los Alamitos Education Foundation. McGaugh is the only elementary school in the Los Alamitos Unified School District to offer an Art Lab and Pageant.
Pageant was started decades ago at McGaugh and taking part in the tradition has become a rite of passage for Sea Lions. "From Kindergarten on, the students at McGaugh anticipate performing in the Pageant. Many former students come back year after year to reminisce about their involvement in Pageant history," reads the Pageant website.
You can be a part of this historic 40th anniversary by watching Pageant yourself. Tickets for this year's event will be available to the public starting Friday, January 27 at 1:30 p.m. by visiting the website  https://mcgaughms.seatyourself.biz .
Editor's note: The author is a McGaugh parent and her son is a performer in this year's Pageant of the Arts program.