O.C. teacher wins big on Wheel of Fortune
McAuliffe Middle School special education teacher earns nearly $60,000 in episode during 'Teacher's Week' on the TV game show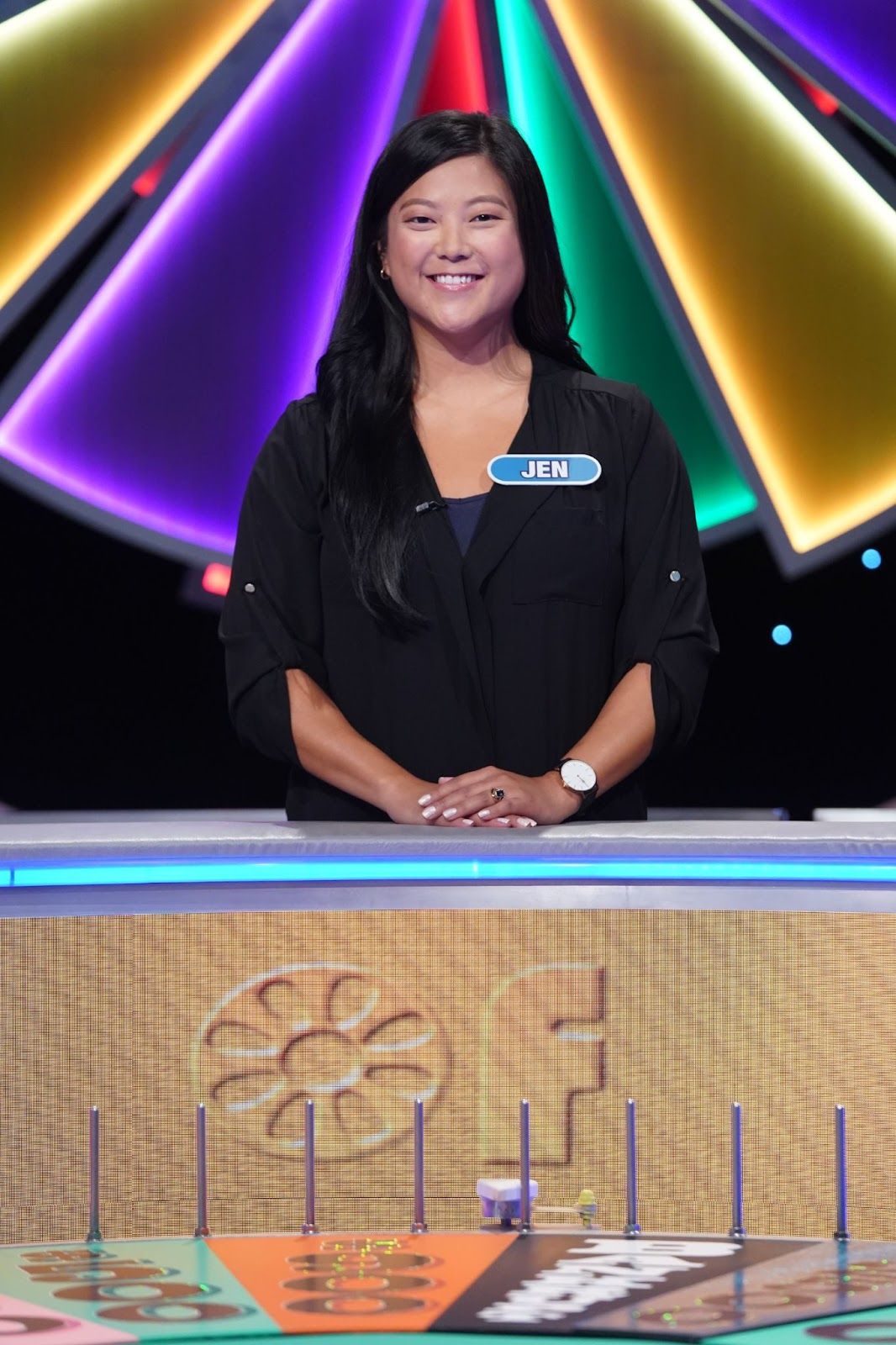 Teacher Jen Hwang has become a bit of a celebrity at McAuliffe Middle School in Los Alamitos. Students recently started asking for her autograph.
"I had one of the kids ask me to sign his wallet, and sign their shoes," Hwang shared in a recent phone interview.
The special education teacher shot to star status last week after crushing it on the popular TV game show Wheel of Fortune, which is marking its 40th season. Hwang, 30, was the top winner of her episode and scored prizes and cash worth nearly $60,000.
Hwang, who's been teaching at McAuliffe for three years, appeared in the episode to kick off Teacher's Week on the game show where contestants spin a giant wheel and compete by solving word puzzles. The  episode aired last Monday, Sept. 26 and her appearance has sparked a  big response from McAuliffe students and staff.
"Nobody knew me because I teach special ed, and that's not the whole [student] population. So nobody knew who I was and then suddenly I'm, like, famous," Hwang said. Staff and students promoted her appearance and then celebrated her big win with a donut party the day after the episode aired to audiences around the world.
It didn't hurt that she gave a  shout-out to the campus. When Wheel of Fortune host Pat Sajak asked Hwang where she worked, she replied: "I'm a special education teacher at McAuliffe Middle School, home of the best students and teachers around."
Also boosting her profile? Her  high-energy reactions which are the stuff memes are made of. That includes her  joyous scream when she learned she would take home a new Mini Cooper during the game's bonus round.
"I am so grateful that everyone has been so supportive … appreciative of my personality and my energy on the show," Hwang said. "I love all the students' love and outpouring of celebration that they've shown me. I'm just very grateful."
The Winning Strategy
The road to victory ended with a new car, but it wasn't an easy path to land on one of America's most-loved TV shows. Hwang said it all started about two years ago. She and her fiancé were watching a friend appear on Wheel of Fortune and he suggested she try out. "I was like, why the heck not?" Hwang recalled thinking at the time.
She filled out an online application. The show contacted her in April and she took part in a Zoom audition. A month later she was selected to appear on the show but was told it could take up to two years to actually get on stage. To her surprise, the show reached out over the summer and invited her to appear two weeks later.
Hwang described herself as skilled at puzzles but she still put in the work to prepare. "I just studied my butt off for two weeks," Hwang said. Her regiment included watching as many episodes of the game show as possible.
She even created a spreadsheet to track all of the puzzles that came up to recognize patterns.  "I just made sure that I knew all the ins and outs of how the game worked so that I didn't have to really think about that when I was doing it," Hwang shared.
On the day of the taping in July, Hwang was at the studio in Los Angeles at 6:00 a.m. where she was coached for six hours on how to perform for the show. "They have you rehearse and spin the wheel," Hwang said, and added, "It's much heavier than it looks."
Hwang said the show's stars, host Sajak, and lady of the letters, Vanna White, were "incredibly gracious" and "super nice." Sajak even gave Hwang and her fellow contestants a tip that Hwang put to use: buy vowels.
Around noon, it was time for the show. Hwang had a slow start but things turned around in the second round when she scored $11,650 and solved the puzzle "Clifford the big red dog."
In the next round, she won a trip to the Caribbean island of  Antigua by guessing the puzzle "diving off the side of a boat."
Her more than $22,000 in winnings catapulted her to the bonus round where contestants have seconds to pick four letters and then guess the puzzle.
Hwang said she really took her time to pick the letters and landed on one that teachers do not like marking in their students' report cards. "One of the letters that hit was the letter "F" and it was like the best one because it gave [the answer] away," Hwang said. "So right when those came up I knew and [Sajak] said to me, 'Don't burst' because he could tell that I knew what the answer was."
She instantly guessed the phrase "just for fun" and seconds later learned she also won a new Mini Cooper bringing her grand total winnings to $59,770. Her mother and sister were in the audience cheering her on.
This all happened in July so Hwang has been keeping the secret that she won from most people for months. Last Monday, she was able to host a viewing party of the episode and finally celebrate with others. "It was so fun to see everyone screaming and being excited," Hwang said of the viewing party.
And it looks like Hwang and her future spouse are both benefiting from his suggestion for her to try out for Wheel of Fortune. After their wedding next April, they plan to use the trip she won to Antigua for their honeymoon next summer.