O.C. Celebrates the Class of 2022; It's Election Day; Weaver Ambassadors make a positive impact
🏳️‍🌈 Students take part in Pride march; Principals hired at two Los Al USD Elementary schools; Details on FREE summer concerts
🏳️‍🌈 Students take part in Pride march; Principals hired at two Los Al USD Elementary schools; Details on FREE summer concerts

Helping you better understand, navigate and participate in the TK-12 public school experience in Orange County.
In this week's newsletter...
June 7, 2022
FIRST BELL 🔔 Orange County celebrates the graduating seniors in the class of 2022.
SECOND BELL 🔔 It's Primary Election Day! 🗳 Where you can vote. Plus,🏳️‍🌈 Pride event supports local LGBTQ students.
EXTRA CREDIT 📌🎵Where to see summer concerts in O.C. 🎵
RECESS 👏🏼How Weaver Elementary school's Ambassadors are positively impacting the community.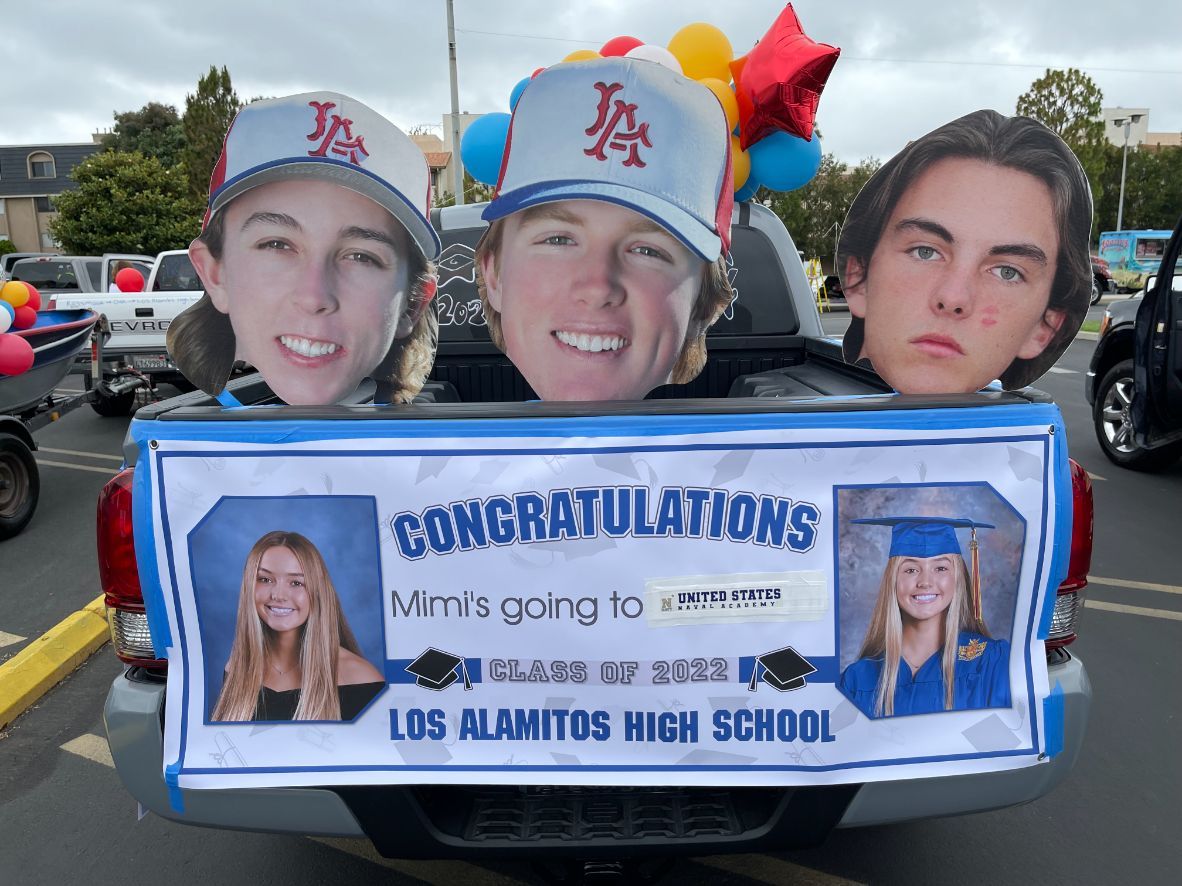 A truck from the June 4 senior parade in Rossmoor celebrating the Los Alamitos High School class of 2022. Photo: David N. Young
Spotlight Schools is a nonpartisan, hyperlocal newsroom covering education. We are part of the Tiny News Collective, an effort to launch local newsrooms across the nation, and supported by a grant from The Google News Initiative.
Please send feedback/story ideas/questions to hello@spotlightschools.com.
Follow us on Instagram for news and updates.
Yours in knowledge,
Jeannette Andruss, Spotlight Schools Founder and parent of two students in the Los Alamitos Unified School District
FIRST BELL
This Week's Top Story
Seniors Celebrated in Parade
Los Alamitos High School Class of 2022 to graduate June 10
LAHS graduating seniors take part in the June 4 car parade in Rossmoor. From left to right, Zack Sutherland, Abby Depina, Kaylin Hurley and Peyton Nelson. Photo: David N. Young
Like conquering heroes, seniors from the Los Alamitos High School class of 2022 rolled through the streets of Rossmoor on June 4 in a parade of cars as residents lined the streets and cheered them on.
"This is an incredible showing," said LAHS Principal Christiana Kraus looking over the stage at the rows and rows of cars waiting to pull out into parade formation from a parking lot behind the Shops at Rossmoor on Saturday morning.
"It's no surprise," said Kraus to the seniors. "You're amazing. You're so kind, so talented, so brilliant."
She was one of many school district administrators and elected officials that congratulated the seniors before joining the parade through the Rossmoor community.
"I hope that you feel this community just stretching its arms out to all of you and giving you a huge hug," said Los Alamitos Unified School District Superintendent Andrew Pulver, Ed.D.
Pulver and Board President Diana Hill thanked the Rossmoor Homeowner's Association (RHA) for organizing the senior parade which featured more than 200 cars and more than 850 participants, according to the RHA website. It's an event RHA started for the LAHS class of 2020 after a traditional graduation was not possible during the first year of the coronavirus pandemic.
"You did it. So awesome," parade organizer, LAHS parent and RHA Director Jo Shade told students before advising participants to "have fun," but "drive safely."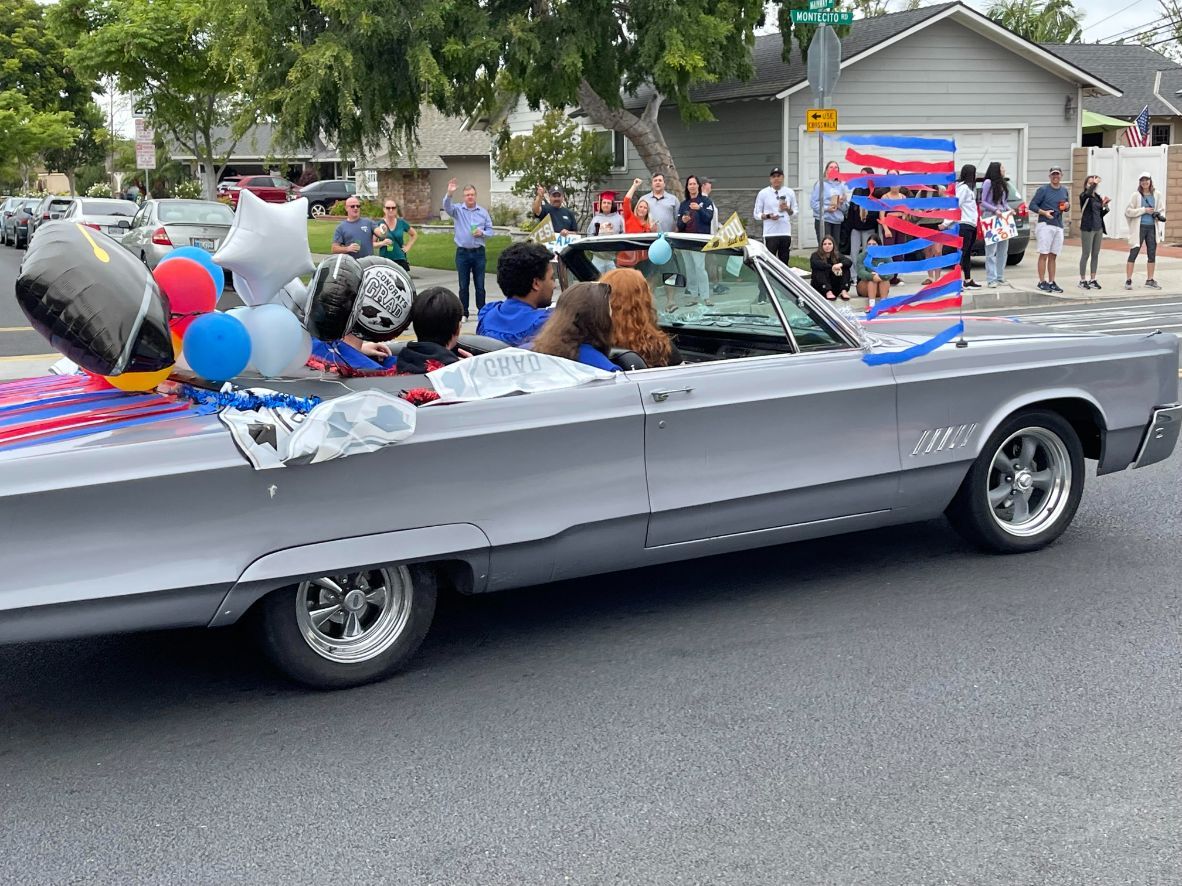 Senior parade cruises down Montecito Road in Rossmoor on June 4 as people cheer. Photo: David N. Young.
This year's parade included a variety of vehicles carrying students, including trucks, SUVs, military jeeps, sports cars, convertibles, and classic cars. They were adorned with photos, elaborate balloon displays, posters with congratulatory messages, and flags representing the colleges and universities where some seniors are headed.
Senior Zack Sutherland said he is one of a select group of graduates from around the nation accepted to the U.S. Naval Academy. "I want to be a cyber systems specialist," he said.
This year's class was "battle tested more than any other class before you," said Los Alamitos Police Chief Michael Claborn, suggesting whatever the world throws at them, "I'm sure you can handle it."
The class of 2022 was in 10th grade when schools shut down in March of 2020 due to the coronavirus pandemic and students experienced lockdowns and isolation. The 2020-21 school year was marked by hybrid and online learning.
This academic year was the first since Covid-19 surfaced where students were in class full-time and were required to wear masks indoors for most of the year.
"Because like COVID, you know, it changed all, like, the rituals, but it's been fun," said senior Abby Depina.
"I think we're the first year to get the full experience (of a senior year)," said Peyton Nelson.
"I think this year has been super exciting. It was great getting to have a normal year," senior Kaylin Hurley said.
Seniors will receive diplomas during the LAHS graduation on June 10 in a ceremony to be held at the Santa Ana Bowl.
The $5,000 cost of putting on the parade was covered by donations from residents and support from Southland Credit Union, Laird Real Estate, and the Orange County Board of Supervisors, according to the RHA.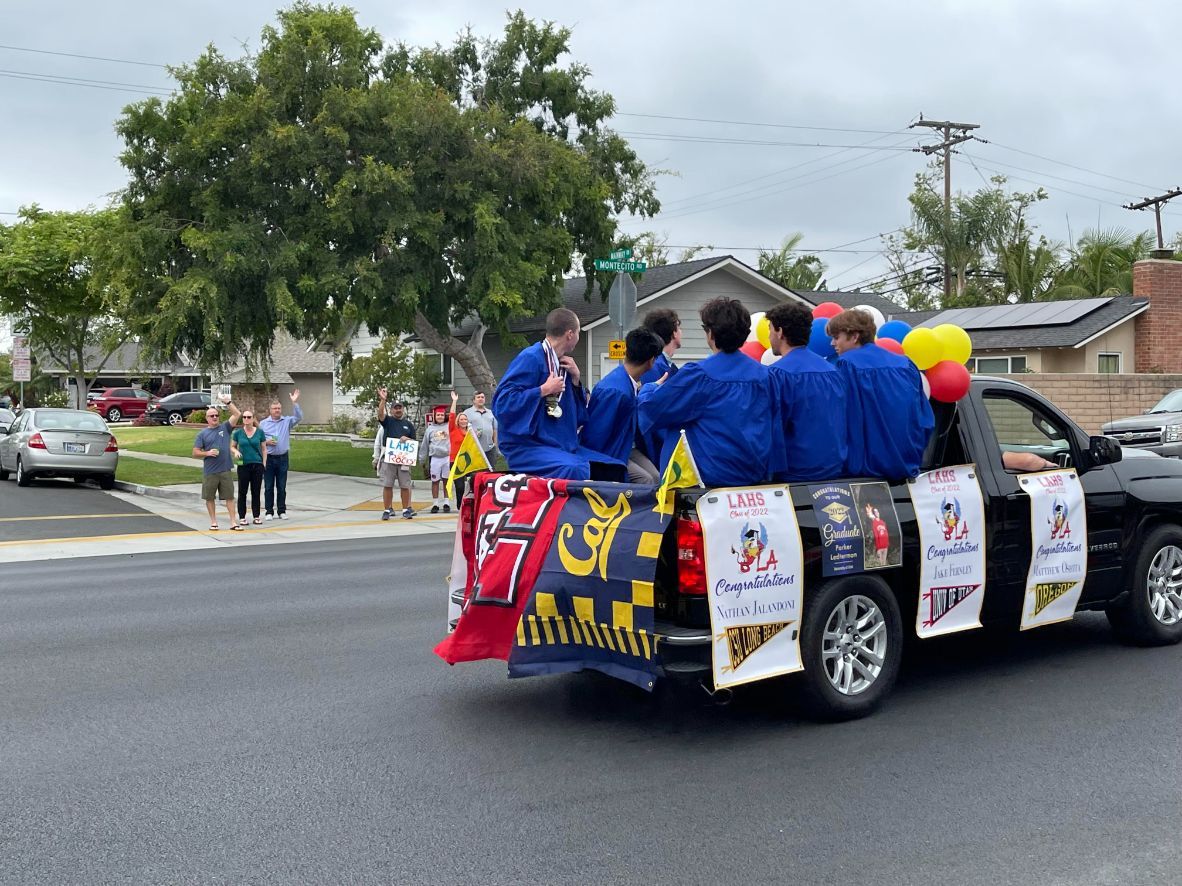 You can see more pictures from this year's senior parade on the Rossmoor Homeowner's Association website here.
Photos, reporting and writing by David N. Young. Read more in this week's edition of the Event-News Enterprise.
Want to see graduating seniors from other Orange County high schools? Check out these photographs from 2022 high school graduation ceremonies from The O.C. Register.
SECOND BELL
Other Stories We're Following
It's Primary Election Day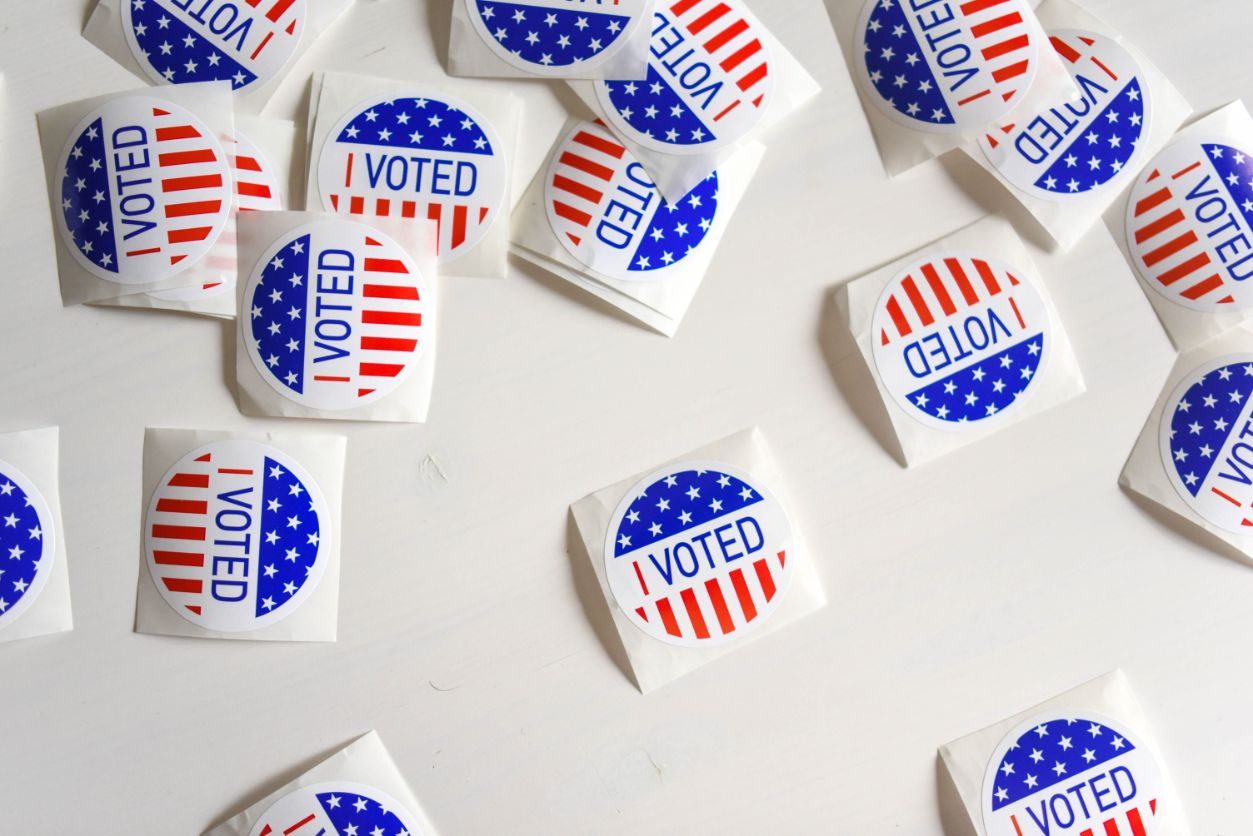 Photo: Unsplash
Today is the last day to cast your ballot in the June 7 Primary Election. Vote Centers across Orange County are now open and will close at 8 p.m. You can also drop off your mail-in ballot at a secured Ballot Drop Box until 8 p.m. today. Find a Vote Center or drop box near you with this interactive map.
Most of the races on today's ballot will determine which two candidates advance to the November General Election. But that's not the case for the contests that directly impact education in Orange County.
Today's ballot features races for three seats on the Orange County Board of Education; a majority of the five-member board. Candidates are vying to represent Trustee Areas 2, 4, and 5. In these contests, the candidate with the most votes after today's election will be declared the winner. Also on the ballot, the contest for Orange County's Superintendent of Schools.
Be sure to follow Spotlight Schools on Instagram and Twitter. We'll be posting updated election results as they are released by the Orange County Registrar of Voters.
District Employees Promoted to lead two Los Alamitos Unified School District Elementary schools
Asst. Principals named as principals at McGaugh & Hopkinson
The new principals at J.H. McGaugh Elementary in Seal Beach and Francis Hopkinson Elementary in Rossmoor are familiar faces in the Los Alamitos Unified School District.
The district announced last week that Wendy Wood will take over as principal at McGaugh after serving as the assistant principal at the campus since the 2019-20 school year. She's been with the district for 33 years. Wood replaces Issaic Gates, Ed.D., who has not publicly disclosed what's next for him.
"I am humbled and beyond excited to continue to serve and build relationships with the Sea Lion community who has so graciously welcomed me with open arms," Wood said in a district press release.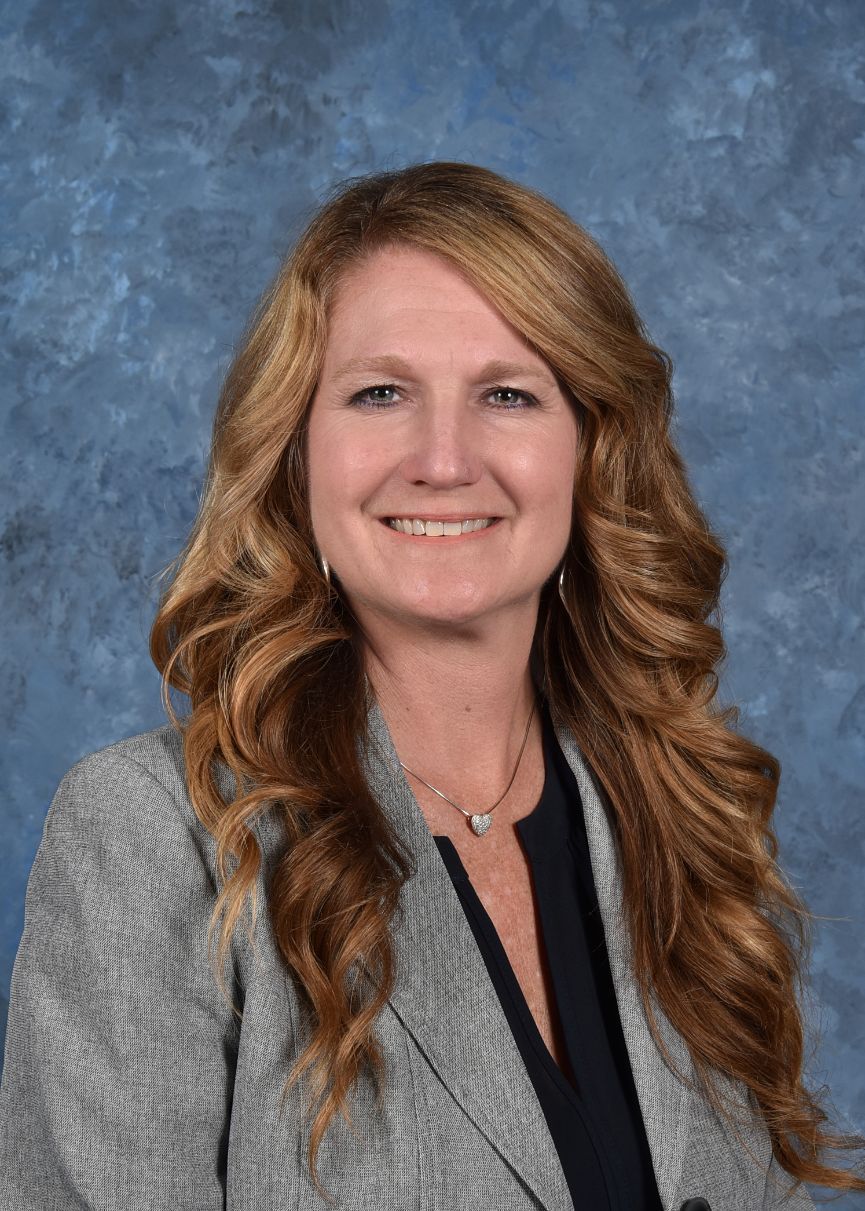 McGaugh Asst. Principal Wendy Wood has been hired as principal at the school. Courtesy photo.
Meanwhile, Los Alamitos High School assistant principal Jason Farvour will be the next principal at Hopkinson Elementary. Farvour has been with the district for twenty years and will replace outgoing principal Evelyn Garcia who is taking over as principal at Oak Middle School where Erin Kominsky is retiring.
"Having begun my own parenting journey at Hopkinson, I am thrilled to return to this community and to work with and support all Huskies, their families, and the amazing staff," Farvour said in the press release.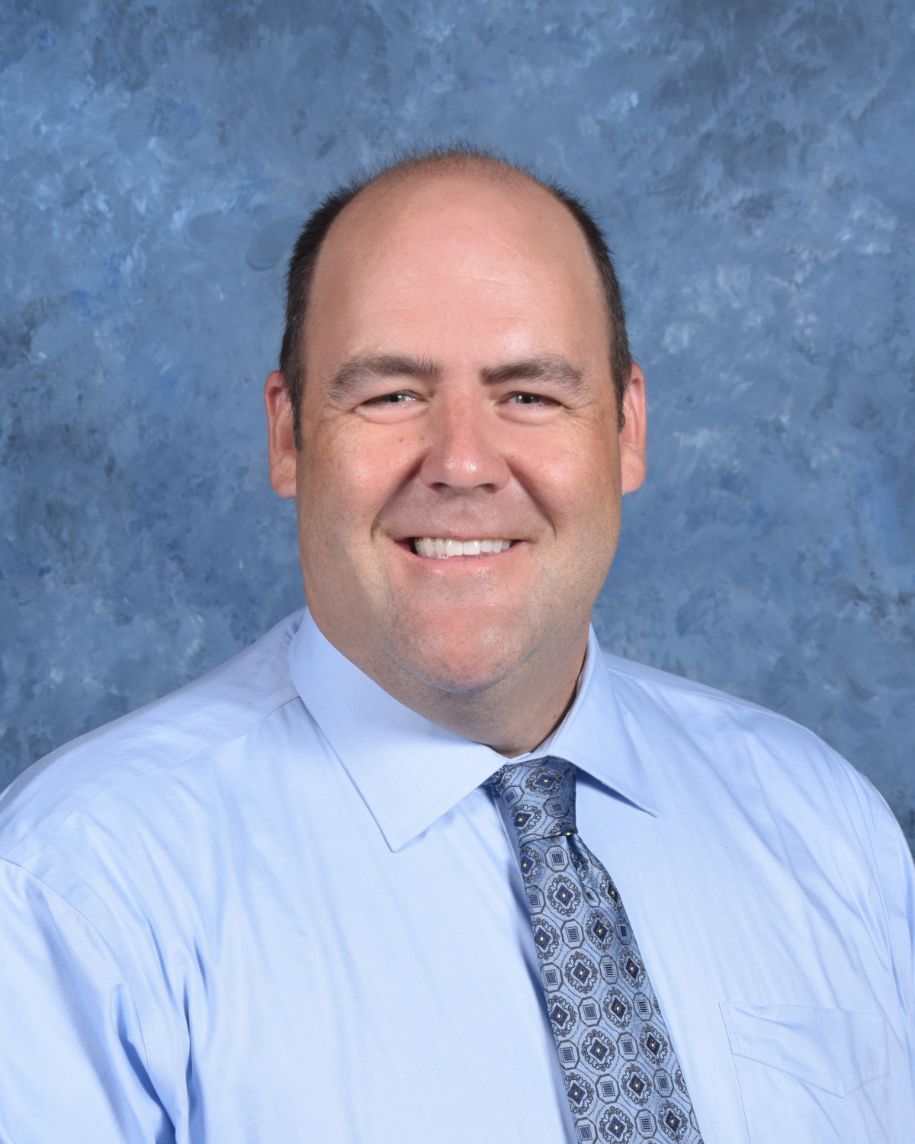 LAHS Asst. Principal Jason Farvour will become principal at Hopkinson Elementary on July 1. Courtesy photo.
The new principals will take over on July 1.
Job postings for the two assistant principal positions are on the district website. The deadline to apply is June 22.
2nd Annual Seal Beach Pride March fundraises for student groups
Event held June 4 focused on supporting local lesbian, gay, bisexual, transgender & queer youth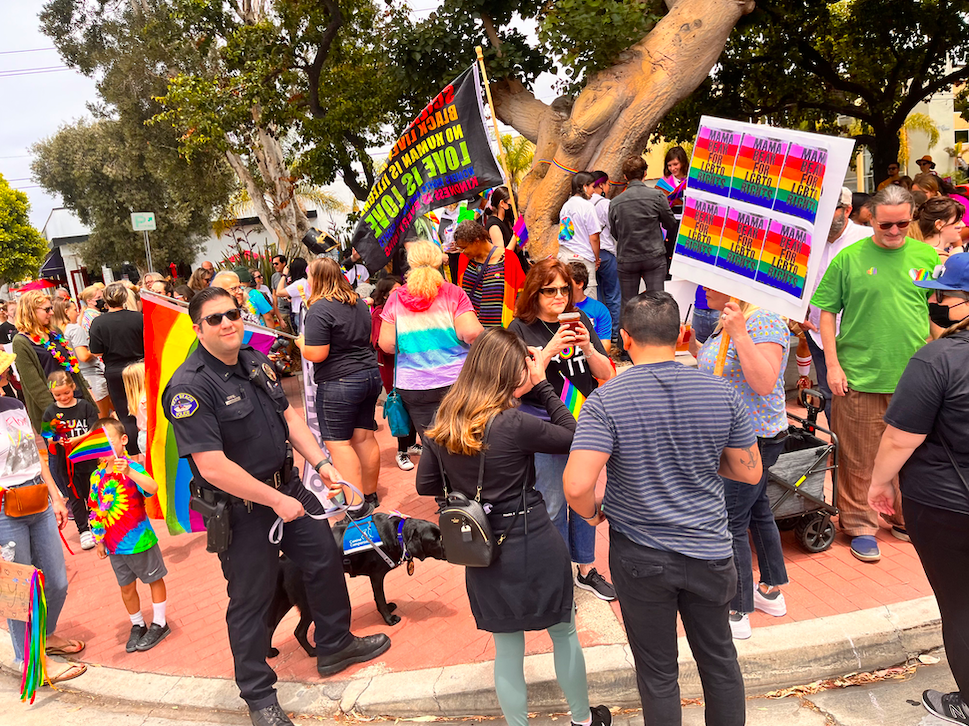 Participants in the 2nd Annual Seal Beach Pride march held June 4. Photo: Jeannette Andruss
At least two hundred people, including local students and teachers, took part in the second annual Seal Beach Pride march and gathering on June 4.
Along with help from many other volunteers, Seal Beach resident and Los Alamitos Unified School District parent Chase Farrell organized the event that she said was intended to uplift and support local kids.
"I came up with the idea last year and really wanted to have something for our youth because this is such a tough time for kids from the LGBTQ community," Farrell said in a phone interview.
She explained, "These are kids who need extra love. Oftentimes, they are bullied at school. They need support and community love. Mostly too because the youth, if they are not supported … the self-harm goes up, suicide rate goes up, homelessness goes up. The numbers are really upsetting."
Saturday's Pride event featured a march around Old Town, led by Farrell and Seal Beach Police Department Lt. Nick Nicholas and SBPD facility dog Yosa. SBPD officers are currently wearing and selling patches that raise awareness for the LGBTQ community and funds for The Trevor project.
On Saturday, the mood was positive as participants of all ages held signs, waved rainbow flags, and bopped to music. Oak Middle School teacher Laura Velasco was there. "It's a beautiful day," the Seal Beach resident remarked as she walked down Ocean Avenue with the crowd noting the family-friendly nature of the event. "I love that there are so many kids here."
Seal Beach Pride March participant wears the event's T-shirt which was designed by an Oak Middle School student. Sales of the shirt benefit campus groups supporting LGBTQ students. Photo: Jeannette Andruss
After the march, participants gathered by the Seal Beach pier to listen to speakers, including students, share their stories. Worship singer Jess Grace Garcia from Community Congregational United Church of Christ of Los Alamitos performed music.
The event raised money for school-based LGBTQ student groups through donations and sales of yard signs and apparel from Purple Candie Cane, including a t-shirt designed by an Oak Middle School student.
Last year's event raised $600 for the student clubs at Los Alamitos High School, Oak and McAuliffe Middle Schools, according to Farrell.
Farrell recommends families looking for resources reach out to the LGBTQ Center of Long Beach and check out The Trevor Project.
For more coverage on the Seal Beach Pride march, read this week's edition of The Sun Newspaper to published on Thursday.
Forwarded from a friend? Please subscribe to this FREE weekly newsletter today by clicking here.
Other Stories Worth Reading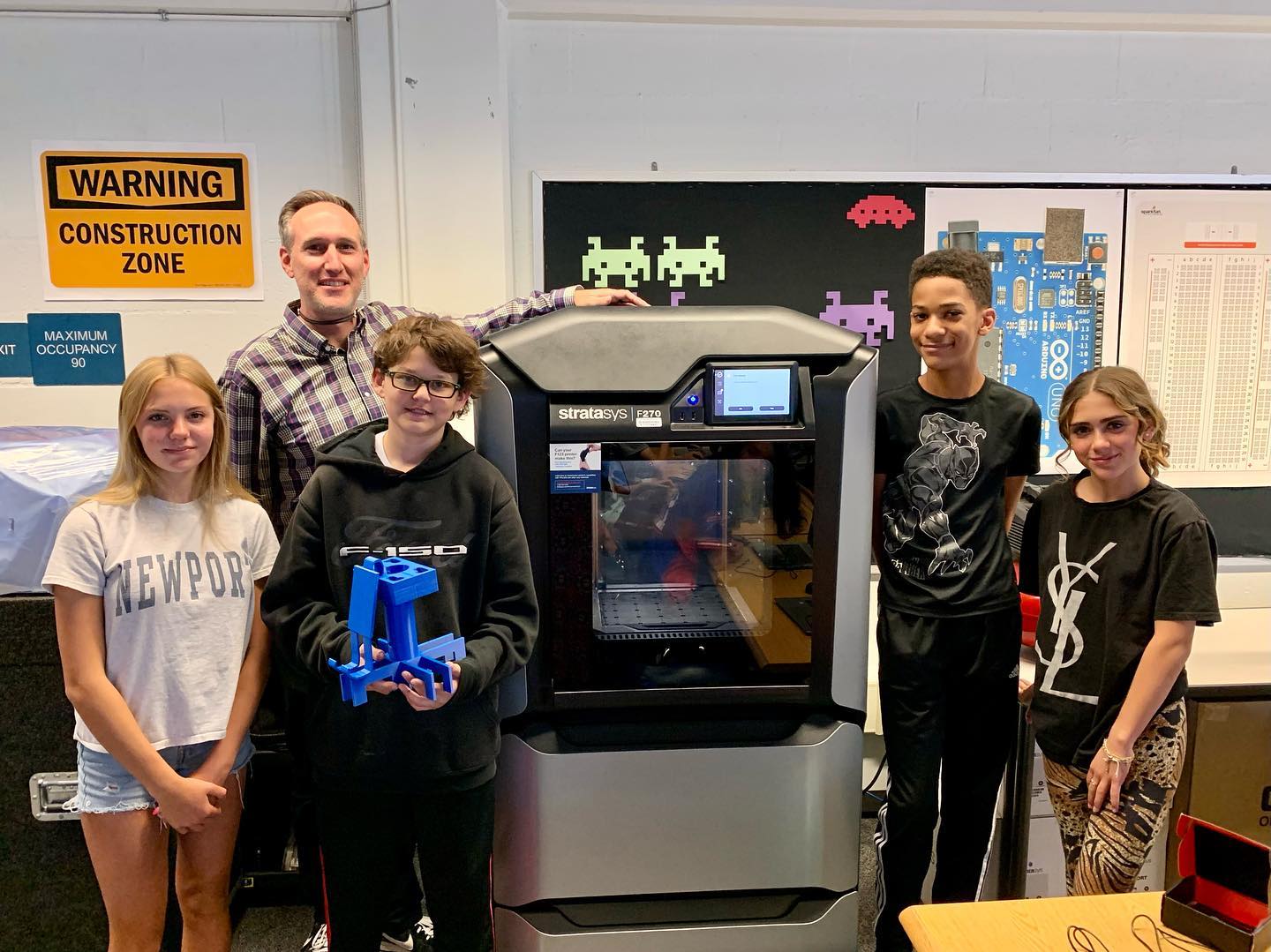 Oak Middle School teacher Seann Schiele poses with students in front of a new industry-standard 3D printer purchased with the help from LAEF. Courtesy photo.
EXTRA CREDIT
Meetings // Events // Opportunities // Resources
EVENTS
HAPPENING TODAY: Promotion ceremonies for 5th graders from Los Alamitos Elementary (11:30a.m.), Weaver Elementary (2:30p.m.), and McGaugh Elementary (5:30p.m.) at Laurel Field at the District Office. (Lee, Rossmoor and Hopkinson held their ceremonies yesterday.)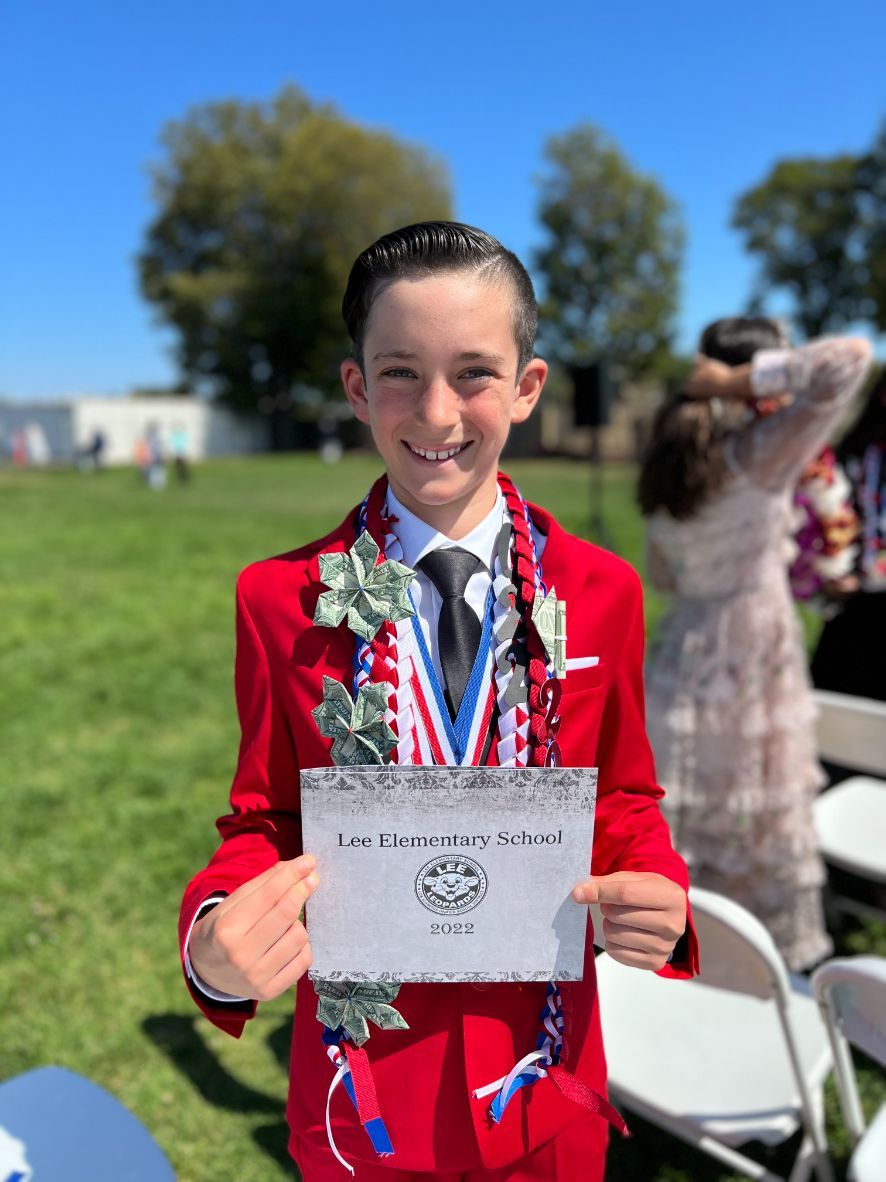 Lee Elementary 5th grader takes part in June 6 promotion ceremony. Photo: Nichole Pichardo, Los Alamitos USD
HAPPENING TOMORROW:Los Alamitos USD Adult Transition Program graduation, 11:00a.m. at the District Office.
HAPPENING THURSDAY, JUNE 9: Promotion ceremonies for 8th graders at Oak Middle School (3:30p.m.) and McAuliffe Middle school (7:00p.m.) at the Santa Ana Bowl.
HAPPENING FRIDAY, JUNE 10: Los Alamitos High School graduation ceremony at the Santa Ana Bowl at 6:30p.m.
SUMMER CONCERTS
Music will soon fill the air in Southern California.
The City of Los Alamitos will kick off its summer concert series on Pine Street on Thursday, June 16. There will be more concerts next month at numerous Los Alamitos parks.
For more information, visit the City of Los Alamitos website or click on the image below.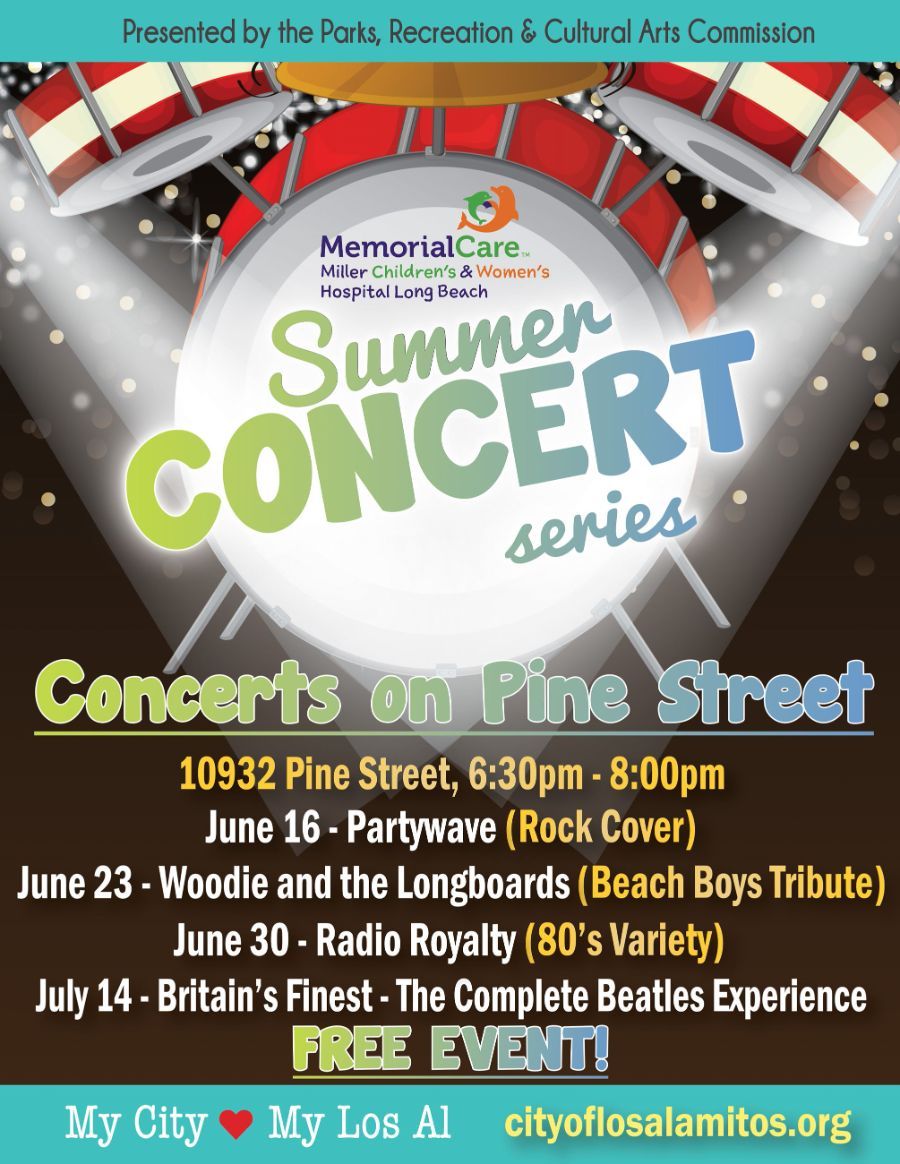 The Seal Beach Chamber of Commerce hosts live music by the pier on Wednesday evenings starting July 6. For more information, click here.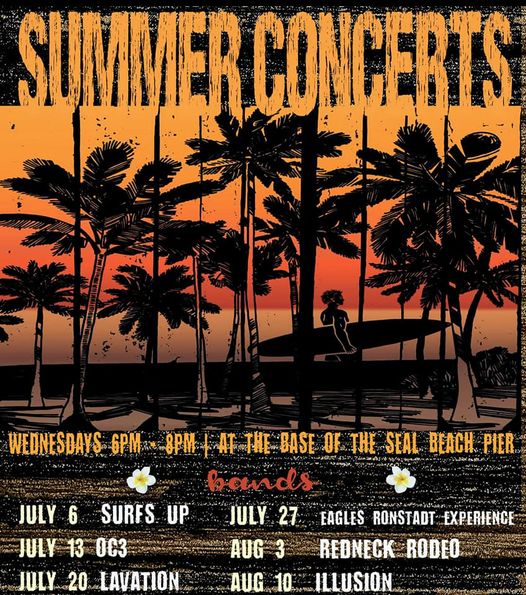 And Orange County Parks is also putting on a free concert series throughout the region this summer.It starts June 23 with Ozomatli performing at Craig Park in Fullerton. See the list below or online here.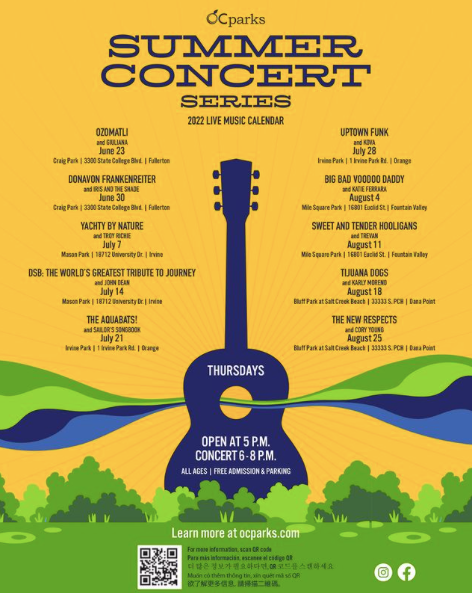 RECESS
Your Dose of Good News
Weaver Elementary Ambassadors make an impact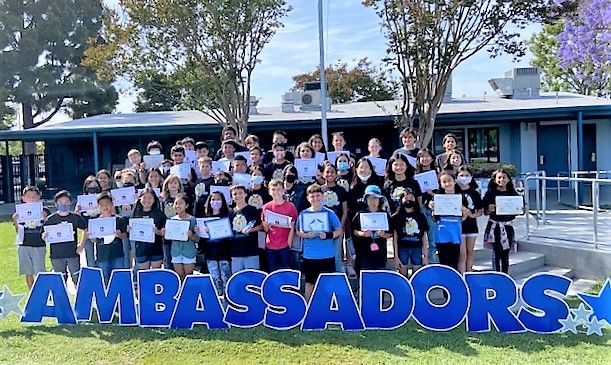 Weaver Elementary Ambassadors celebrated their achievements on June 2. These 5th graders participated in the 17-year-old leadership program where they accomplished multiple projects benefiting the community. Courtesy photo.
The Weaver Ambassadors program has been teaching student leaders at the elementary school in Rossmoor for 17 years.
This year, 60 fifth graders participated in the after-school program that "provides students with leadership skills, opportunities and experiences that empower them to be life-long leaders."
The Weaver Ambassadors program was created and is overseen by Lysa Gamboa-Levy, a former Weaver parent and co-founder of Embassy Consulting.
"This is a prevention program," Gamboa-Levy said in a recent phone interview, explaining the lessons ambassadors learn are essential social and emotional tools that will help them better deal with conflict and interacting with others. "It's about teaching students these skills to be mindful about their thoughts and actions."
In addition to taking part in leadership classes during the school year, the students put what they learn into action with a C.A.R.E.S. (Compassion, Action, Responsibility, Empathy, Support) Project.
This year, students were grouped into eight teams and each team focused on a way to help others.
One group established a calming space for students known as a "Peaceful Pod" on the Weaver campus. It was modeled after WellSpaces at the district's middle schools. To make their project a success, the resourceful students made a successful presentation asking for a $1,000 donation from the Los Alamitos Education Foundation, which has donated tens of thousands of dollars to wellness efforts in the district.
Other student projects included: collecting supplies to donate to a group helping the homeless, collecting pet supplies for the Seal Beach Animal Care Center, creating a slide presentation to educate others about ocean pollution, and delivering messages of kindness on heart-shaped post-it notes to local senior citizens and all of the elementary schools in the district.
The Ambassadors program is made possible through donations from parents and funding from Weaver PTA.
BOOSTER DOSE: Cheers as Stellar Speller returns to McAuliffe Campus
McAuliffe Middle School students congratulate classmate Jason Khan on June 6 for placing 49th in the Scripps National Spelling Bee last week. Courtesy Photo.
McAuliffe welcomed back 8th grader Jason Khan on Monday with cheers and congratulations! Jason had just returned from competing in the Scripps National Spelling Bee where he made it through the first three rounds before finishing 49th. That means he's the among the best spellers in the country!
"I'm super proud of Jason and his hard work. Jason embodies hard work and commitment and what it means to follow your dreams!" McAuliffe Principal Ryan Weiss-Wright, Ed.D, wrote in a text message to Spotlight Schools.
Read more about Jason's amazing achievement here.
Thanks for reading!
Forwarded from a friend? Subscribe to the Spotlight Schools newsletter here.
Follow us on Instagram @SpotlightSchools.
Our mailing address:
P.O. Box 164
Seal Beach, CA 90740

Copyright © 2022 Spotlight Schools, All rights reserved.