'The Oasis' now joins 'The Loft' as another space for mental health support at Los Alamitos High School
Students have a new outdoor space to reset on campus thanks to donations from the Los Alamitos Education Foundation and the family of a Griffin graduate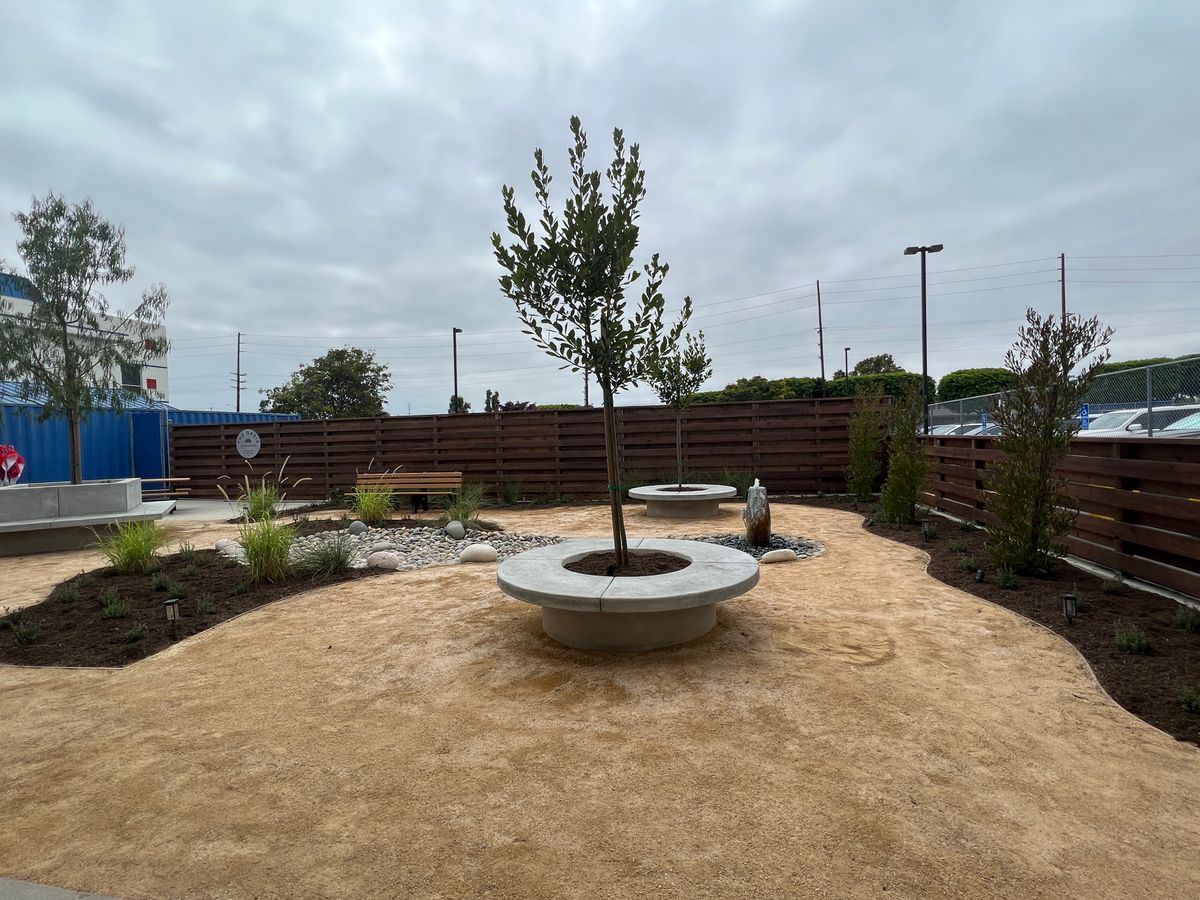 Although Los Alamitos High School alumnus Jusdeep Singh Sethi died in a tragic accident a decade ago, his spirit and likeness will live on at his former campus in a new outdoor green space designed for quiet contemplation.
The 1700-square-foot garden, named "The Oasis" by students, sits outside the school's WellSpace, known as "The Loft." These are areas at the Los Alamitos High School campus where students can find safe harbor from chaos; speak to mental health counselors; or simply just collect their thoughts on difficult days.
With the fresh smell of newly minted dirt wafting through the air, top officials of the Los Alamitos Unified School District, the Los Alamitos Education Foundation, and LAHS gathered on September 5 to formally dedicate the $200,000 project.
In addition, Gurjit and Mohinder Sethi were on hand to speak about their son Jusdeep, who tragically drowned during a family outing at Big Bear in 2013.
The couple thanked LAEF and the school district for allowing them to contribute nearly $50,000 to the project in honor of their late son. Jusdeep graduated from LAHS in 2010.
"On behalf of the Los Alamitos Board of Education, welcome to the ribbon-cutting ceremony for our new addition to the WellSpace, the Oasis Garden," said board president Chris Forehan.
"A huge thank you to our school district, the Sethi family and the coordination with LAEF for making the garden a place where students and staff can find peace during their very hectic days," he said.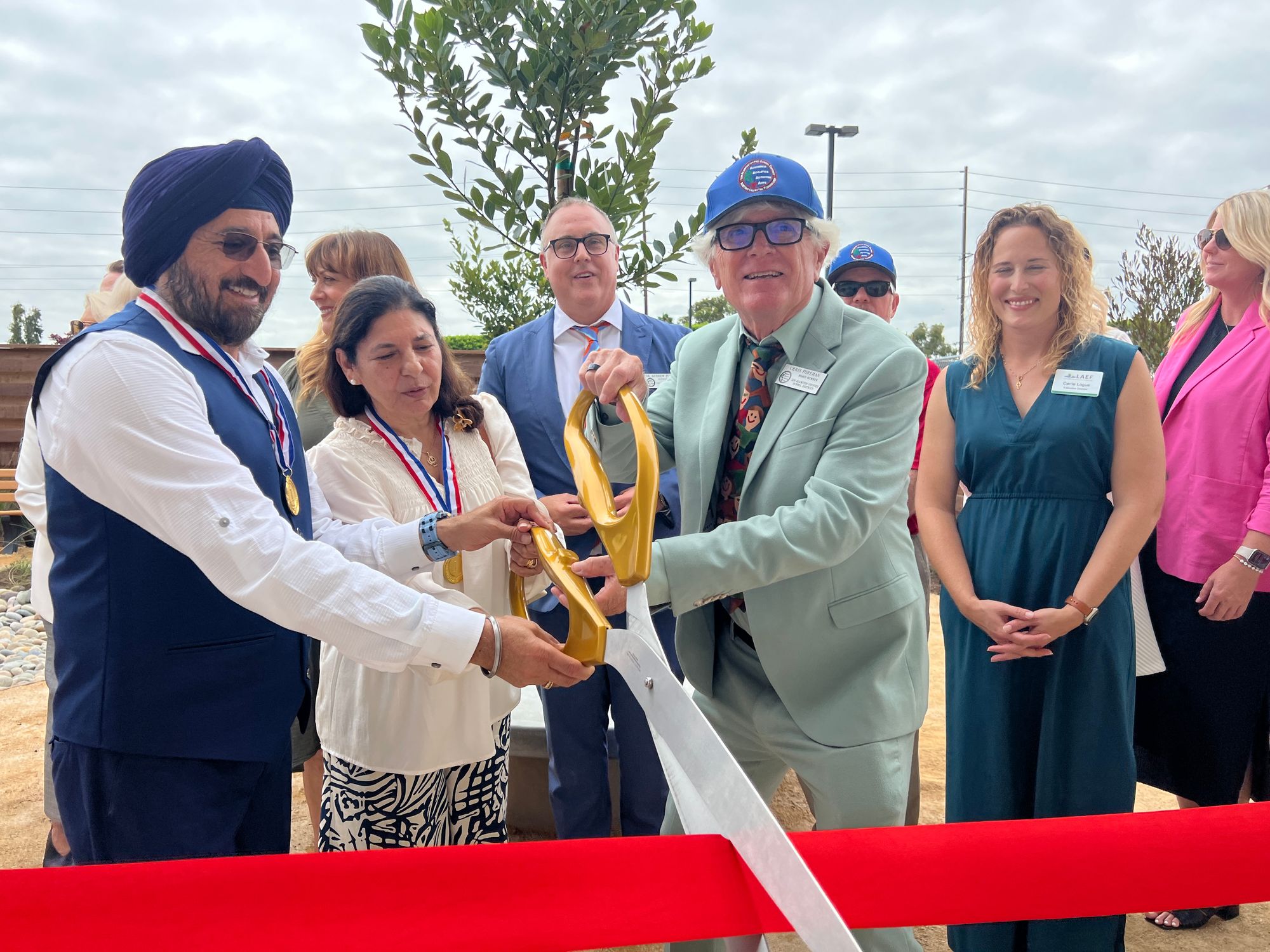 "In 2021, Los Alamitos USD, in partnership with the Orange County Department of Education, CHOC, and LAEF, took pioneering steps in prioritizing student mental health and wellness by introducing the first two WellSpaces in Orange County at Oak and McAuliffe Middle Schools," Los Alamitos USD Superintendent Andrew Pulver, Ed.D. said in a press release. "These initiatives laid the foundation for the continued commitment to student well-being."
At The Oasis ceremony, Dr. Pulver thanked LAEF Executive Director Carrie Logue for a donation of more than $250,000 for "The Loft," which opened last year at the high school, and for their work to help raise nearly $200,000 for the Oasis.
"The Oasis Garden was designed to serve as a tranquil, outdoor extension to the WellSpace. It features a serene water element, river rocks, outdoor lighting, lush greenery, and comfortable outdoor furniture, all designed to encourage student gatherings and relaxation," said Pulver, noting that the area is a haven where students can reflect and meditate.
"I've been coming to the campus the past two weeks as we've been ... getting ready for this and it's just been so neat to see students [at] eight o'clock in the morning just sitting out here and they're not doing homework," said Pulver.
Los Alamitos USD and LAEF, the district's non-profit partner, have prioritized investing in student wellness in recent years as more and more young people have been struggling with their mental health. In addition to helping bring WellSpaces to the Los Al USD's only high school and two middle schools, LAEF has funded the creation of WellSpaces at all six of the district's elementary schools and contributed tens of thousands of dollars to staff all of them, most recently donating $55,000 to the district to pay more for counseling support.
Logue thanked Dr. Pulver, the LAEF board and staff members, all of whom she said had worked so hard to make the calming spaces for students a reality.
She also thanked the school district for their partnership.
"We enhance educational excellence and we're here to prepare every child in our district for college and beyond. And I wanted to thank Dr. Pulver, the school board and the administration for looking to us to do more and more to make our district stronger and healthier," said Logue.
Logue then thanked the Sethi family for their generous donation that was critical in completing the Oasis, which was dedicated in honor of their son.
Logue said the Sethi family had made the donation for the Oasis in addition to the "thousands and thousands" of dollars they began donating for student scholarships shortly after Jusdeep's accident.
Mohinder Sethi spoke, sometimes emotionally, about her late son Jusdeep, recalling their walks in nature on their many trips.
On one of those walks in 2013, when Jusdeep was a 20-year-old student at California State University, Northridge, he surprised his mother by telling her he got a job at the arboretum in Pasadena.
She said this revelation, along with others, made her aware of how deeply Jusdeep felt about being connected with the earth and and how he wanted to help others.
Watching her son carefully avoid the protruding mountain stones, Mrs. Sethi said she asked her son, "Why don't you put your shoes back on," she asked as they walked through the mountains. In his reply, she said her son said to her: "It's good to connect with the Earth, don't you think so?"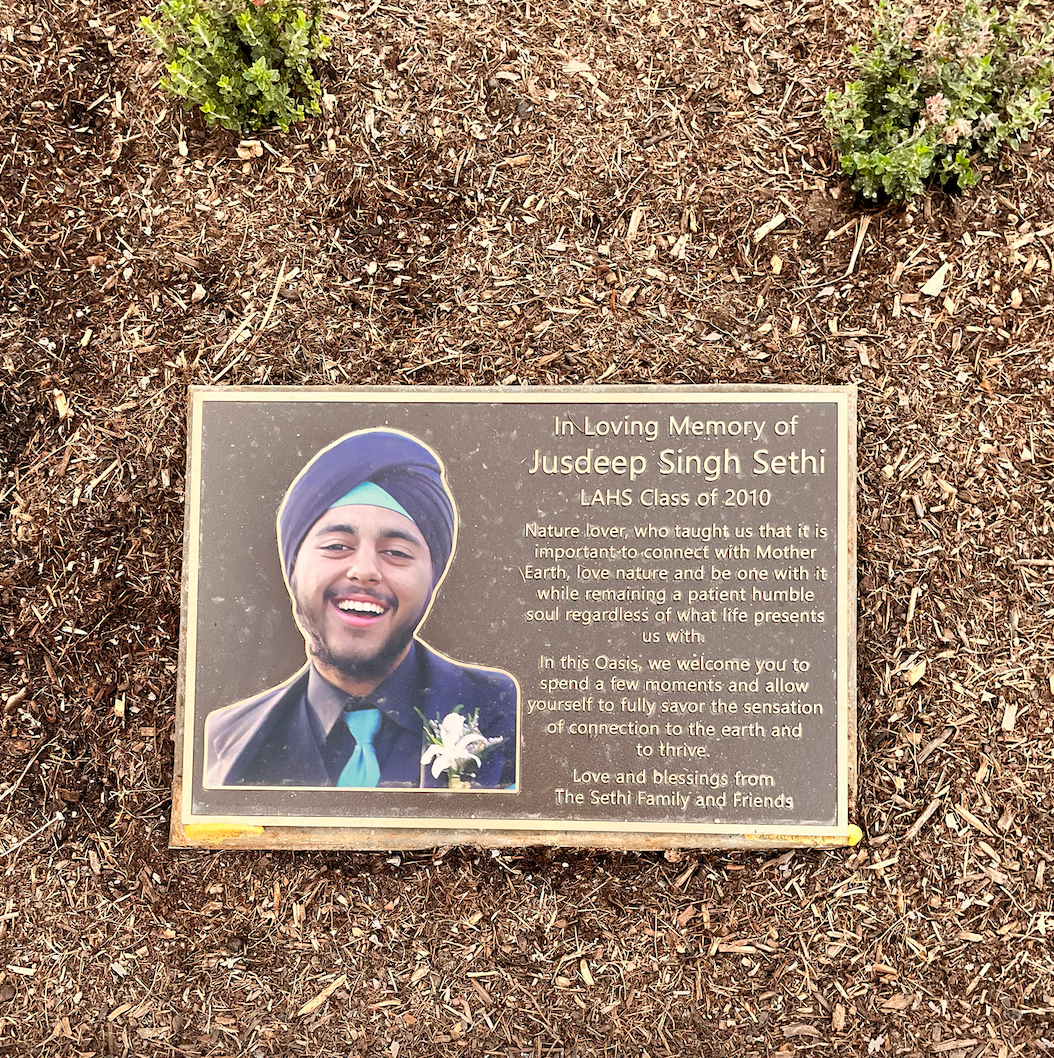 Jusdeep's mother said her family felt reassured that her son's memory will now be helping students every day. He "really, really loved nature and really wanted to help people," she said.
After his death, Mrs. Sethi said she visited her son's workplace and learned while talking with his coworkers just how deeply he touched every person he met.
A plaque with Jusdeep's photograph will forever remind visitors seeking refuge in The Oasis of his deep connection to nature and his belief that it can heal. The plaque bearing his image reads: "In this Oasis, we welcome you to spend a few moments and allow yourself to fully savor the sensation and connection to the earth and to thrive."