Mater Dei overwhelms Los Alamitos in CIF-SS semifinal
Monarchs to face St. John Bosco in Division 1 Championship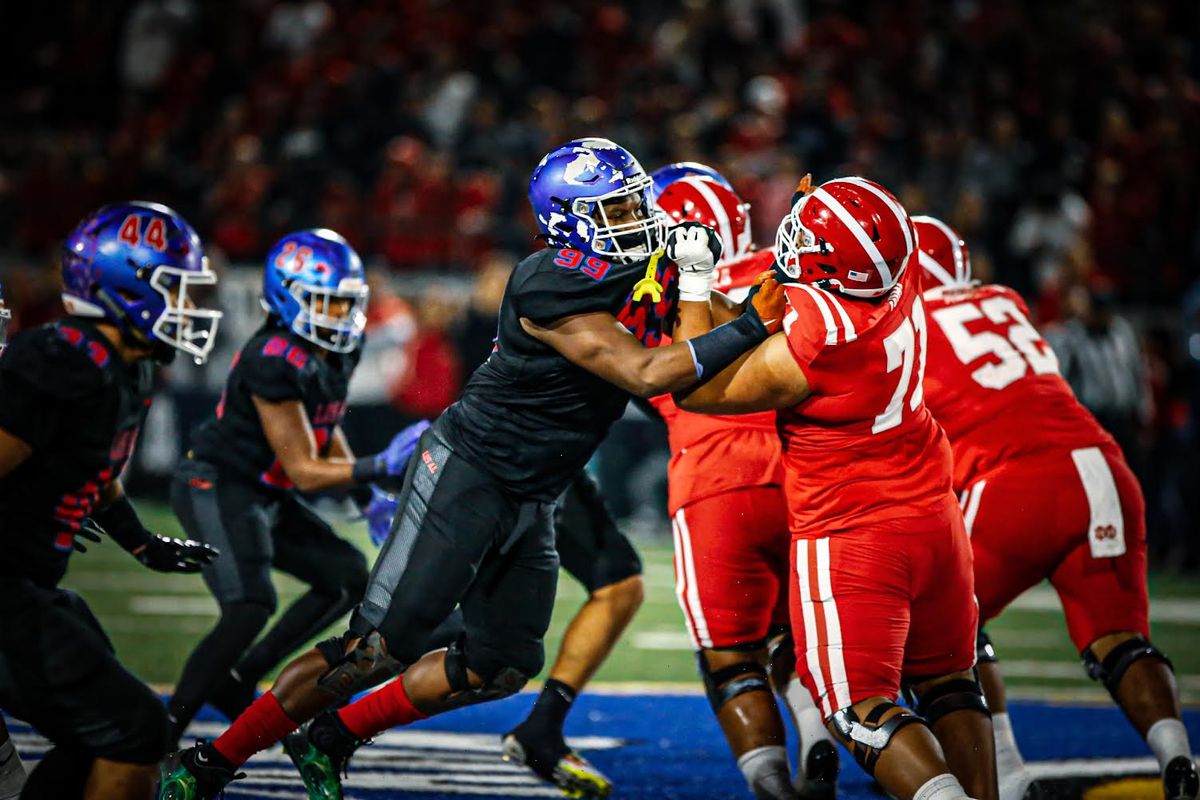 On Friday night, November 18, the #1 Mater Dei Monarchs hosted the #24 Los Alamitos Griffins at Eddie West Field in Santa Ana. The game was reminiscent of the 2002 CIF-Southern Section Division-1 Championship game between these two schools. That game resulted in Los Alamitos' only CIF-SS Division-1 Championship.
This game, however, would have a much different outcome.
The recent announcement that Mater Dei head football coach Bruce Rollinson would be stepping down after this season, and the cloud surrounding the Monarch's program, did not prevent them from focusing on the task at hand, which was dealing with one of the most prolific offenses in Orange County.
The Griffins started the game on offense and had an impressive first drive, making it to the Monarch's 19 yard-line. However, it didn't go unnoticed that Makai Lemon, starting wide receiver and USC commit, and Damien Henderson, starting running back and Colorado State commit, were not in the starting lineup. Both players were battling the flu all week and missed practice. The drive stalled and the Griffins failed to convert on a fourth down, opting not to attempt a field goal.
Mater Dei took over on offense and marched down the field with a balance of run and pass. Their drive stalled on the Los Alamitos 16 yard-line, prompting them to kick a field goal and take a 3-0 lead.
The Griffins' second drive was disrupted by pressure from the Mater Dei defense, which would prove to be a common theme for the remainder of the game. The Monarch defense would be flagged for multiple late hits on quarterback Malachi Nelson, before eventually knocking him out of the game late in the second quarter.
Los Alamitos coach Ray Fenton said Nelson had a muscle spasm and would be OK, according to the Orange County Register.
The Monarch's control of the line of scrimmage would prevent the Griffins from getting into a rhythm. The Monarchs would eventually score by running the ball, passing the ball, a punt return for a touchdown, and an interception return for a touchdown.
The final score was Mater Dei: 52; Los Alamitos: 0.
The Mater Dei Monarchs will advance to the CIF-SS final for a rematch against the St. John Bosco Braves on Friday, November 25 at the Rose Bowl in Pasadena.
The Los Alamitos Griffins will be losing a significant amount of talent with its graduating seniors including Malachi Nelson, Makai Lemon, Damien Henderson, Ethan O'Connor, Gavin Porch, and Isaiah Dorsey.
However, if you are a Griffin fan and looking for a silver lining moving forward, you are in luck.
Freshman quarterback Jaden O'Neal was thrust into action when Nelson went down with an injury. O'Neal was facing the number one team in the nation and put forth a solid effort. When you consider the young players gaining significant experience this year, the future is bright for the Los Alamitos Griffins.