Meet the Los Al USD Student who won the O.C. Spelling Bee! New Los Al Police Chief Plans to Bring School Resource Officer back to LAHS campus
Why a Local Principal was Taped to a Wall on Campus; What's on the Agenda for Tonight's School Board Meeting; Plus, Kindergartners Start a Pep Talk Hotline
Why a Local Principal was Taped to a Wall on Campus; What's on the Agenda for Tonight's School Board Meeting; Plus, Kindergartners Start a Pep Talk Hotline
Spotlight Schools
In this week's newsletter...
March 8, 2022
FIRST BELL 🔔Hear from the Los Al USD Student who just won the Orange County Spelling Bee
SECOND BELL 🔔New Chief of the Los Alamitos Police Dept. wants to bring a School Resource Officer back to Los Alamitos High School
EXTRA CREDIT 📌 Details on how LAHS seniors can apply for a $10,000 scholarship offered by a local nonprofit.
RECESS 👏🏼 Sticky Situation: Why the Principal of Los Alamitos Elementary school got taped to a wall on campus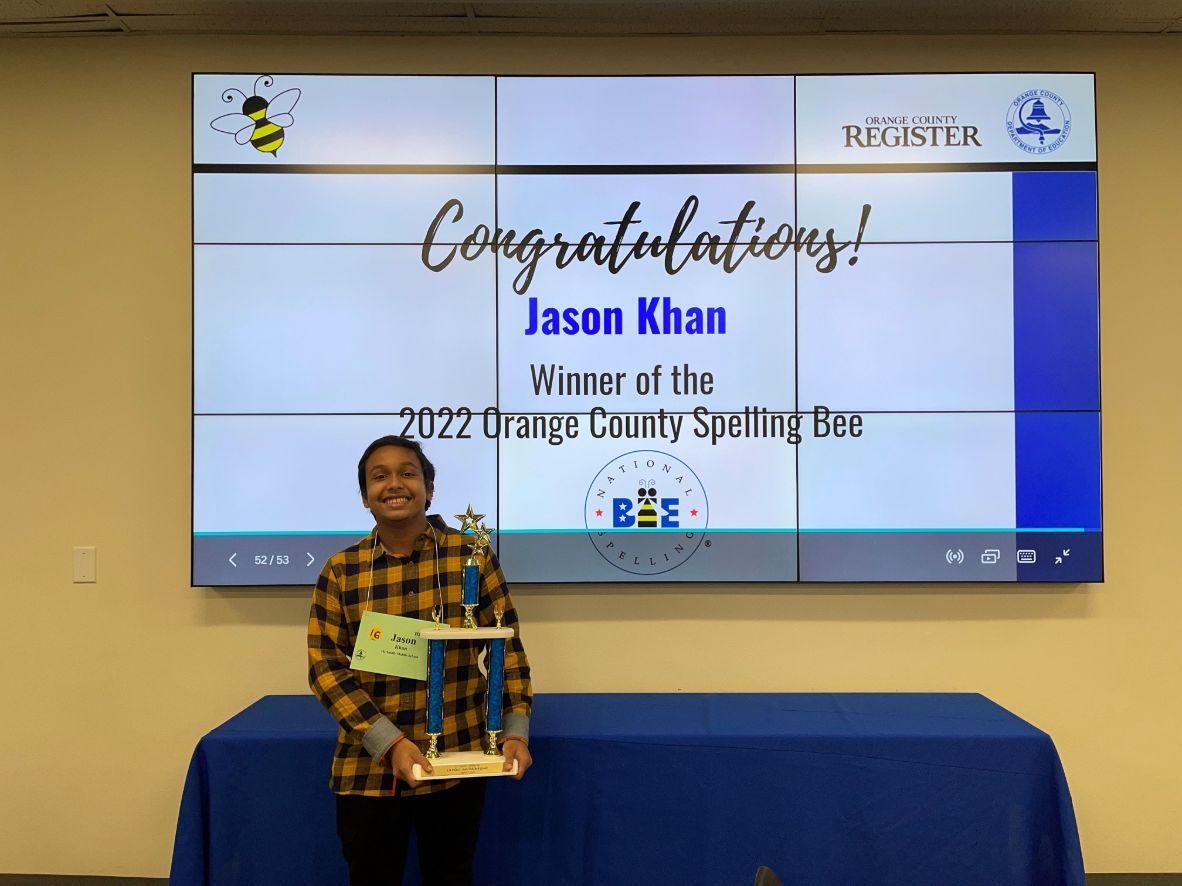 McAuliffe Middle School student Jason Khan won the Orange County Spelling Bee and he's not done competing. Courtesy Photo
Spotlight Schools is here to help you better understand, navigate and participate in the TK-12 public school experience in Orange County.
Please send feedback/story ideas/questions to hello@spotlightschools.com.
Yours in knowledge,
Jeannette Andruss, Spotlight Schools Founder and parent of two students in the Los Alamitos Unified School District
FIRST BELL
This Week's Top Story
McAuliffe Student Wins O.C. Spelling Bee and will compete in Scripps National Spelling Bee!
Jason Khan, a student at McAuliffe Middle School in the Los Alamitos Unified School District, is the winner of the 2022 Orange County Spelling Bee.
"I feel great," a humble and cheerful Jason said in a phone interview on Monday. "I studied really hard for this."
And all that studying has landed the eighth grader on the national stage. Jason will now represent Orange County in the 2022 Scripps National Spelling Bee taking place in Washington, D.C. in late May and early June.
"I am blown away by Jason's accomplishment this week with the O.C. Spelling Bee," McAuliffe Principal Dr. Ryan Weiss-Wright wrote in a statement to Spotlight Schools and added:
"Jason is a true example to his peers for what it means to work hard and persevere to achieve your goals. This is an amazing achievement!"
It was not easy to become O.C.'s top speller.
The county-level competition began last week with 94 sixth, seventh and eighth graders who had emerged as the best spellers from their schools or districts. They first took part in a written spelling and vocabulary test, according to a press release from the Orange County Department of Education, which co-sponsored the event with The Orange County Register.
The top 26 spellers then advanced to the final oral round that took place on March 5 at the OCDE's Costa Mesa campus.
Students tackled words like "trellis," "apparatus," and "privatim." After three hours, and 28 rounds, it all came down to Jason's winning word: "ankh," which is a cross-like symbol with a loop at the top.
Jason and the second and third place finishers each earned a trophy and a cash award.
"It was very stressful," Jason said of the contest, sounding relieved and astonished, he added, "But I tried to keep calm and just remember what I had practiced."
How much did he practice? Jason said he studied up to an hour most days in the weeks leading up to the competition. He memorized words and definitions, tested himself, and then went back and quizzed himself again and again.
Two days before the spelling bee, Jason stepped up the studying and practiced for five hours each day. He said his brother and father helped drill him on all of the words.
Jason said he is a member of the Spelling Bee Club at McAuliffe where he attends weekly meetings. This is his first time competing in the Orange County Spelling Bee. He reported getting second place in a spelling contest when he was a student at Los Alamitos Elementary.
In a matter of weeks, Jason's spelling skills will be tested in one of the highest-profile competitions. More than 200 people from across the country are expected to take part in this year's Scripps National Spelling Bee. Jason's travel expenses will be covered by The Orange County Register.
The semifinals and finals of the Scripps National Spelling Bee will be televised during primetime on June 1 and 2 on ION and Bounce. Actor and literacy advocate LeVar Burton will host.
"I feel like there are definitely a lot of expectations but I know if I just study hard enough I'll be able to do pretty well," Jason said.
With the contest just weeks away, Jason will be back looking at the dictionary soon.
"I think I might take a couple days, at the most a week [off], but then I'll get right back to studying."
Interested in taking part in next year's O.C. Spelling Bee? Find out how here.
SECOND BELL
Other Stories We're Following
New Chief of Los Alamitos Police Dept. Working on Bringing School Resource officer back to LAHS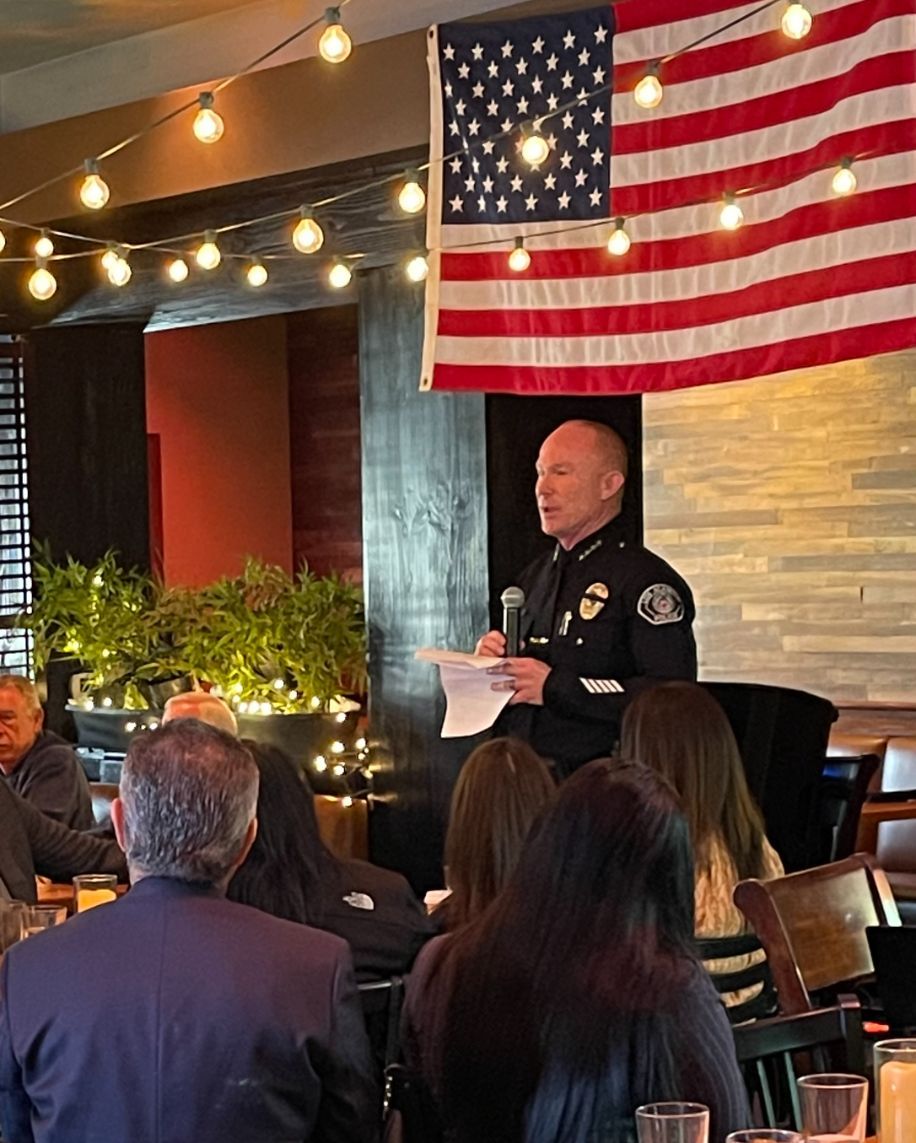 Los Alamitos Police Chief Michael Claborn speaks at the Los Alamitos Chamber of Commerce Breakfast on March 4. Photo by David N. Young
Los Alamitos Police Chief Michael Claborn is outlining his vision for his new department and it includes working to bring a school resource officer back to the Los Alamitos High School campus.
Claborn mentioned the school resource officer and many other topics when he spoke at the March 4 Los Alamitos Chamber of Commerce breakfast. Claborn's appointment as the city's top cop was approved at the Jan. 18 Los Alamitos City Council meeting. He had previously worked for the Santa Ana Police Department for twenty years.
Claborn said staffing is his number one priority for his new department, noting the force is budgeted for 25 officers but is currently down four or five people. "We have forty applicants to fill those spots so we will have somebody in every one of those positions," Claborn guaranteed.
He said a meeting is planned with Los Al USD Superintendent Dr. Andrew Pulver about "re-establishing an officer as a school resource officer back at the high school."
The last time a resource officer was assigned to LAHS was during the 2019-2020 school year, according to Dr. Jerry Friedman, Director of Safety & Student Services for the district.
Both Pulver and Friedman were at last week's breakfast.
Seal Beach Police Chief Phil Gonshak later confirmed that he supports bringing a school resource officer back to the high school, an arrangement that the Seal Beach Police Department provided financial support for in the past.
The police departments have a history of working together and with the school district.
Schools Drew Claborn to Move to Area
Also of note, Chief Claborn shared that the Los Alamitos Unified School District is what drew his family to move to the community from Lakewood four years ago. "So that was the main reason we came here and we've loved every minute of it since," Claborn said. He and his wife have three children; an 11-year-old, a 10-year-old and a one-year-old.
Claborn said he enjoys working with youth, something he experienced firsthand when he oversaw Santa Ana's Police Athletic and Activity League. "If I could pick one program that would be a shining moment for me it would be overseeing that program and realizing the impact that it can have on our youth," he said.
He's already been impacting local kids as a volunteer coach for his son's Friday Night Lights football team which plays at McAuliffe Middle school.
Chief Claborn said he hopes to work with the entire community in his new role.
"I will absolutely be out in the community attempting to collaborate with each and every one of you as I try to make your police department what you expect it to be," Claborn said.
You can read more about Chief Claborn's plans as head of the police department in tomorrow's Event-News Enterprise.
A Loose End for California's Lifting of the Mask Mandate for TK-12 Schools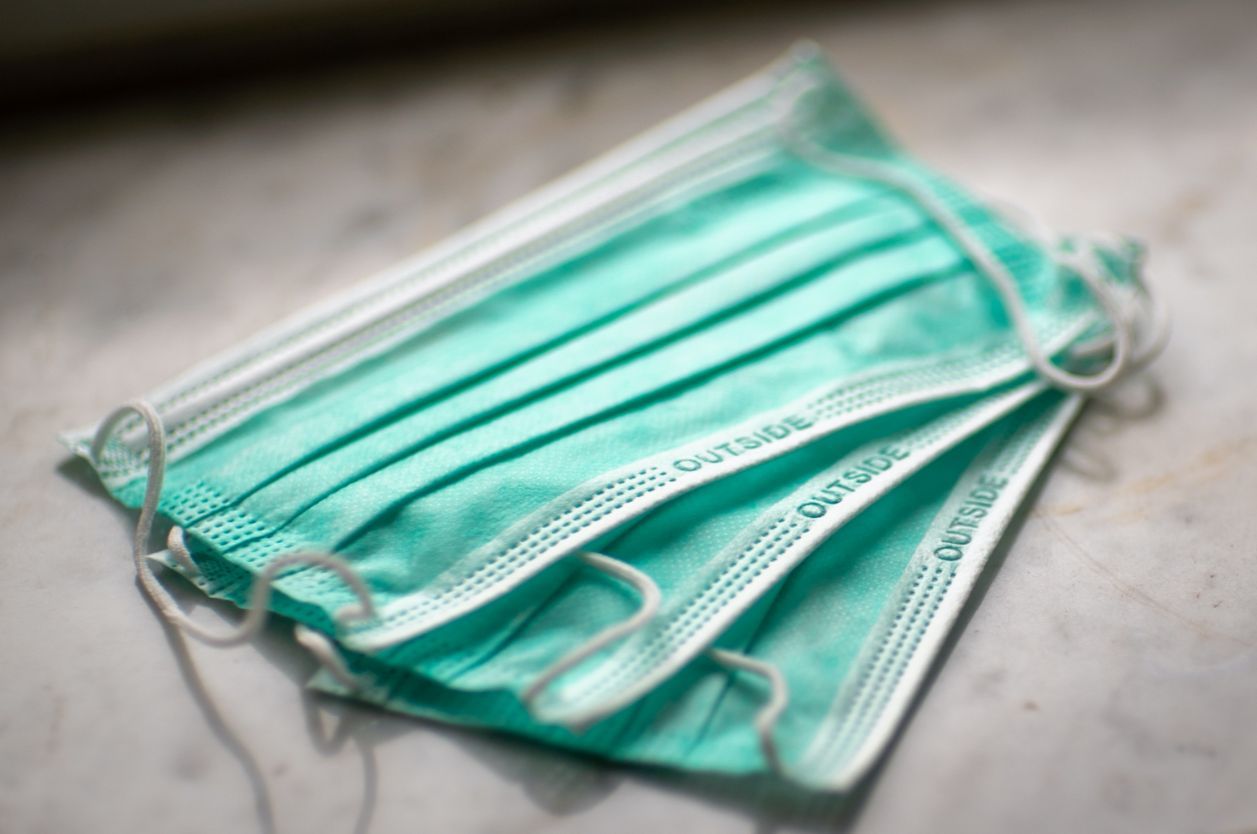 In less than one week, masks will no longer be required to be worn inside California's TK-12 schools.
Masks are one of the many measures implemented over the past two years to stop the spread of Covid-19 on campuses. But making them optional raises questions about another pandemic protocol many parents and students have become familiar with – quarantining after being exposed to someone with Covid-19 at school.
That's because masks are a critical part of determining whether a student can continue to attend school after being in close contact with an infected person on campus.
Right now, the Orange County Health Care Agency's order states that in a TK-12 school setting, if everyone involved in an exposure to an infected person was wearing masks, then none of the "close contacts" have to quarantine and miss school. If anyone was not wearing a mask, then exposed people would have to quarantine for five days.
Spotlight Schools reached out to the California Department of Public Health, the Orange County Health Care Agency and the Los Alamitos Unified School District and heard the same thing from all three: guidance is still being updated and will be shared publicly when it's released.
Spotlight Schools will keep you posted.
RELATED: Spotlight Schools wants to hear from you! Will you or your family keep wearing masks at school or leave them home after March 12? Please email hello@spotlightschools.com to share your perspective.
Other stories we're reading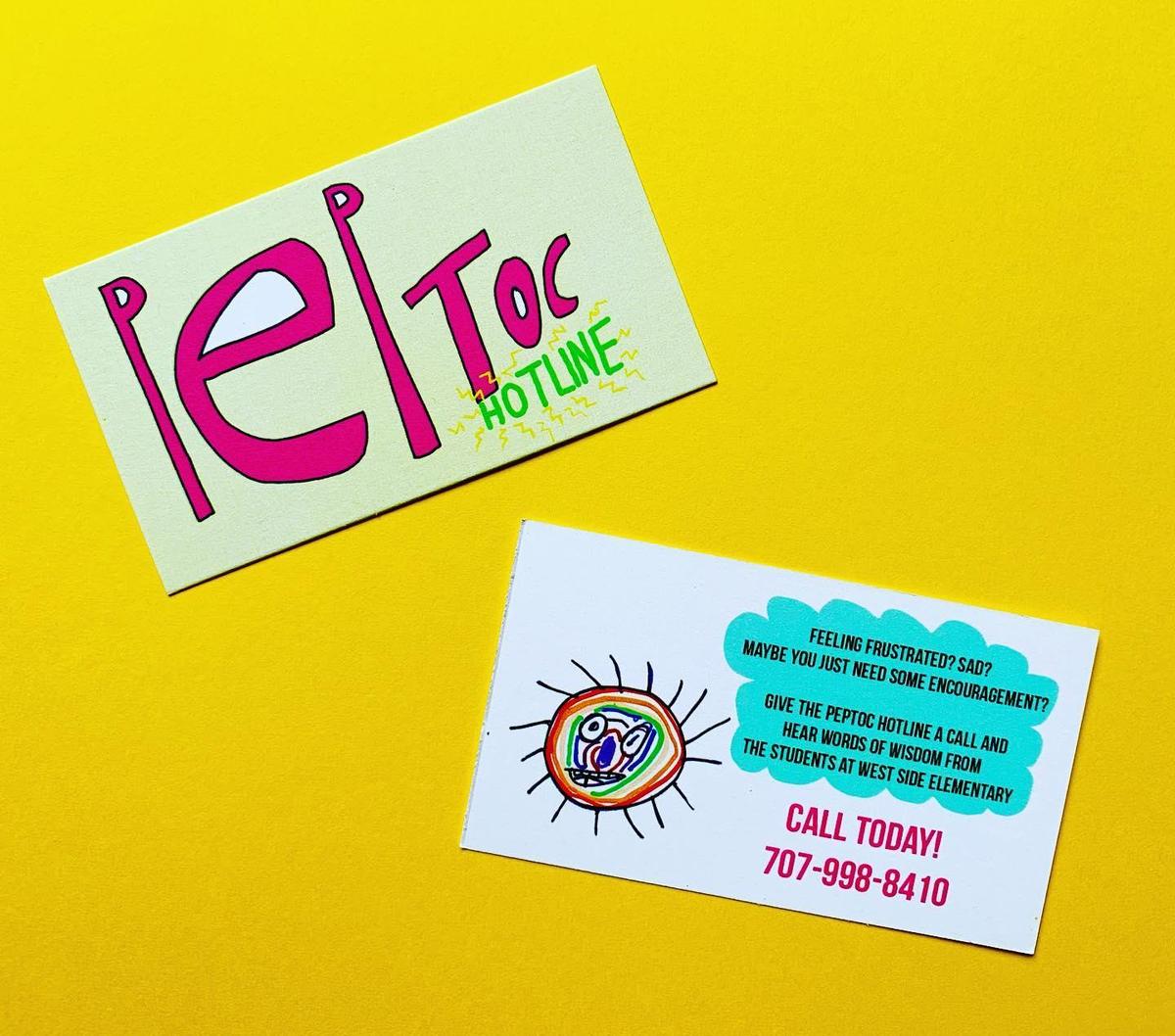 EXTRA CREDIT
Meetings // Events // Opportunities // Resources
MEETINGS
HAPPENING TODAY, MARCH 8: The Los Alamitos Unified School District Board of Education will meet for a workshop at 4:30pm and a regular meeting at 6:30pm. Both will be held at the board meeting room at 10293 Bloomfield Street in Los Alamitos.
On the agenda for the workshop:
Lee Elementary School will give its annual presentation to the Board of Education and honor Lori Scott with Lee's "Hero of the Heart" award.
You can watch the workshop live on YouTube here.
On the agenda for the meeting:
Approval of an agreement to bring "Capturing Kids' Hearts," a two-day program for district staff, July 26-27, 2022, at a cost of approximately $29,000.
Approval of an agreement to bring "Breaking Down the Walls" workshop and training to Los Alamitos High School on March 28-30 for approximately 400 students at a cost of $9,200. "This program is a unique opportunity for students to build empathy and understanding through a 'play, trust, learn' model," reads the agenda.
Other Items: Approval to buy two new natural-gas powered school buses; approval to install a new L.E.D. scoreboard at Los Alamitos High School; approval for plans to build a new playground at Rossmoor Elementary.
You can watch the meeting live on YouTube here.
EVENTS
HAPPENING MARCH 12: Virtual wellness and mental health event for California's middle and high school students, educators and parents from 10am to 4pm featuring guest speakers, including actor Tony Hale, and workshops. Information at MindOutLoud.org.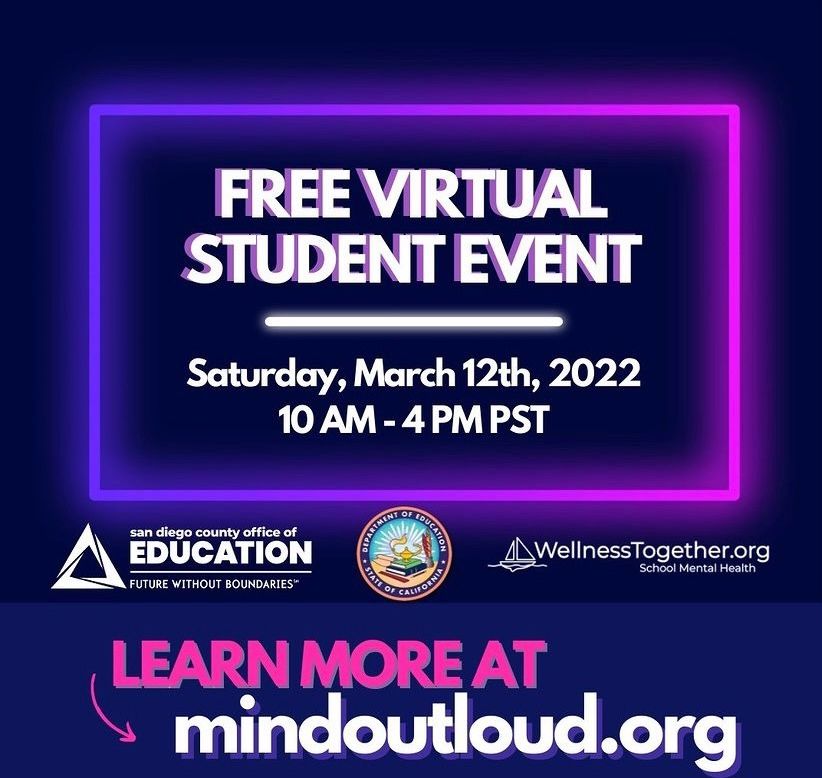 HAPPENING MARCH 14: Los Al USD All-District Choral Festival, 6:30pm at the Los Alamitos High School Track and Field. More information here.
OPPORTUNITIES
$10,000 SCHOLARSHIP FOR LOS ALAMITOS HIGH SCHOOL SENIOR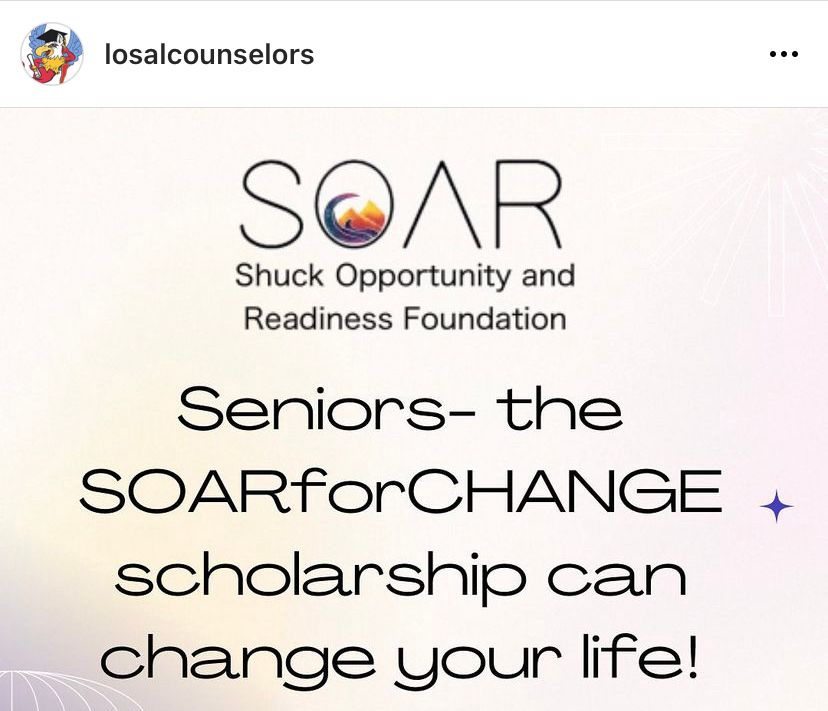 The SOARforCHANGE scholarship is a $10,000 award that will be given to a graduating senior from Los Alamitos High School to help them pay for college. It comes from a Seal Beach-based nonprofit founded by a local couple passionate about helping young people succeed and positively impact their communities. The deadline to apply is March 15, 2022.
RECESS
Your Dose of Good News
Los Alamitos Elementary School Principal Gets Taped to Wall as Reward for Reading Challenge Fundraiser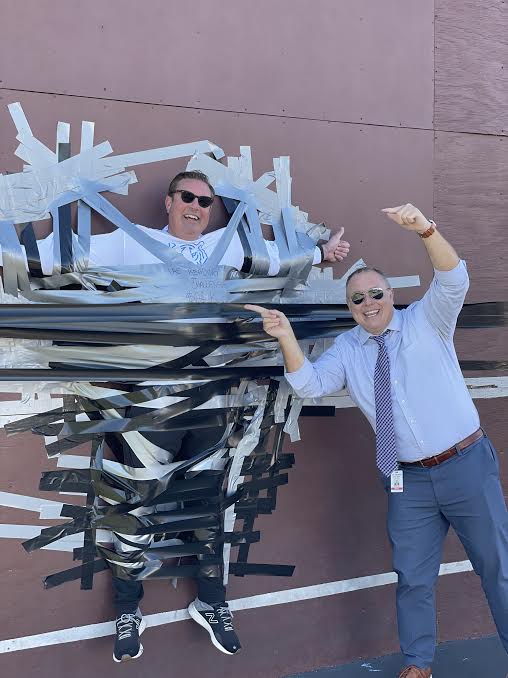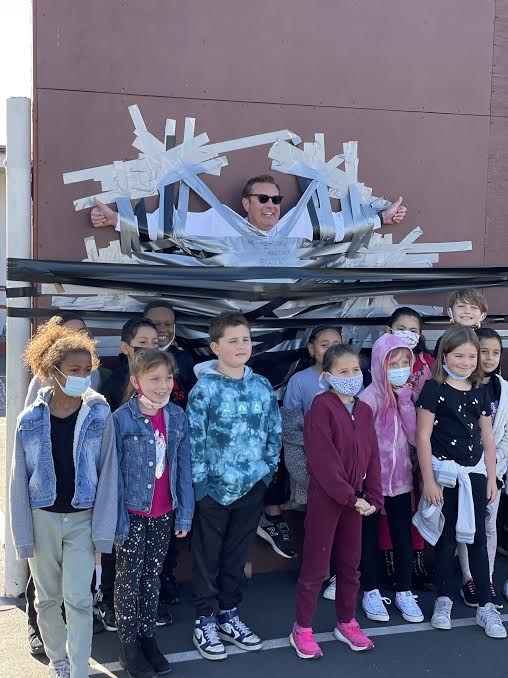 Los Alamitos Elementary School Principal Gary Willems pictured with Los Al USD's Supt. Dr. Andrew Pulver (top) and L.A.E. students (bottom) while Willems was taped to a wall on campus on March 7. Courtesy Photos.
Los Alamitos Elementary school Principal Gary Willems got himself into a sticky situation this week.
He was taped to a wall on campus for more than twenty minutes yesterday!
Mr. Willems happily agreed to get stuck as a way to motivate students to participate in the school's annual Reading Challenge fundraiser.
Linked with Read Across America, the fundraiser aims to "inspire young people to read while also generating much needed funds for programs and interventions at L.A.E.," read an email to Spotlight Schools from the school's Assistant Principal Rick Larson.
According to Larson, the school had raised $12,000 as of March 3. That's when Mr. Willems sent out a message about getting taped to the wall if their goal was reached.
By Monday, March 7, the L.A.E community had raised $22,000 – exceeding the $20,000 goal.
Six rolls of Gorilla tape were used to secure Mr. Willems to the wall.
"He was a great sport about it the entire time!," Larson said.
PTA and Friends of L.A.E. (FLAE) members took part in the taping. All of the students were able to see their principal in what will likely become a highlight of their elementary school experience.
BOOSTER DOSE: Los Alamitos Elementary school Assistant Principal Rick Larson was named the district's administrator of the year. And he's earned another honor. Mr. Larson was named the 2022 Orange County Elementary Co-Administrator of the Year by the Association of California School Administrators Region 17.
Plus, Parenting OC has named its School Heroes of Orange County. You can find the magazine's top teachers, employees and leaders of 2022 in the March edition.
Thanks for reading!
Forwarded from a friend? Subscribe to the Spotlight Schools newsletter here.
Follow us on Instagram @SpotlightSchools.
Our mailing address:
P.O. Box 164
Seal Beach, 90740 CA

Copyright © 2022 Spotlight Schools, All rights reserved.