McAuliffe Middle School names Campus Supervisor as its 'Hero of the Heart'
Cleveland "Bud" Jones praised for 'connecting with students'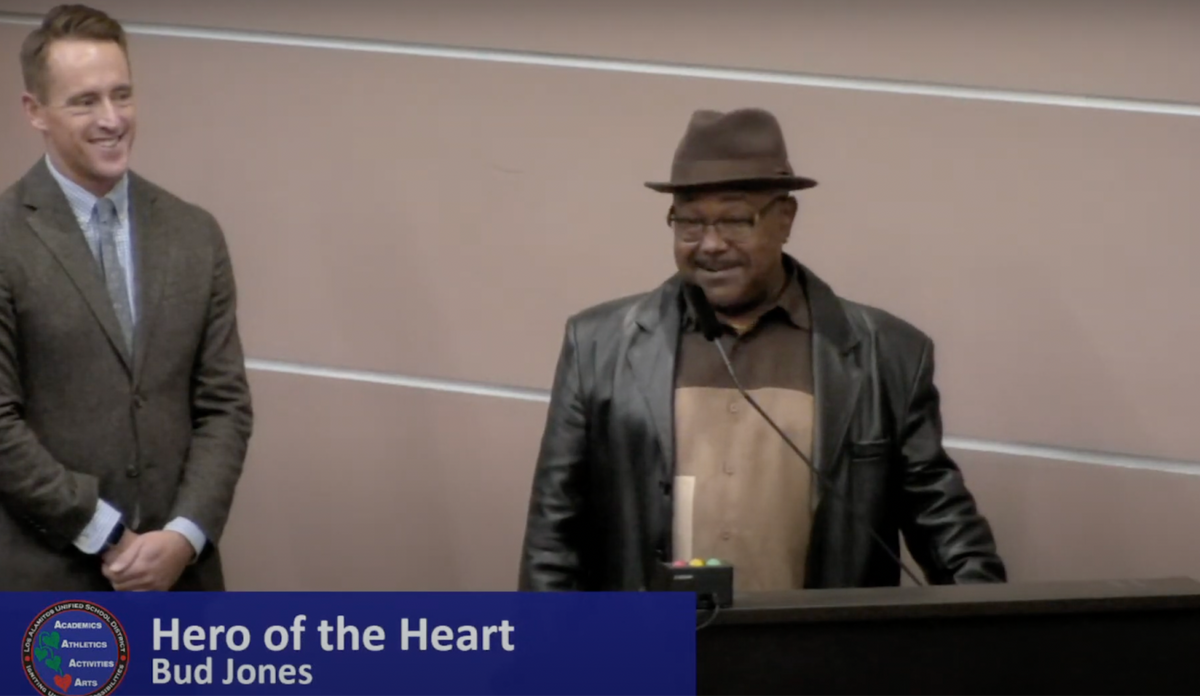 Cleveland "Bud" Jones has been a presence on the McAuliffe Middle School campus for ten years making sure kids are safe and secure. This school year, the campus supervisor is being praised for that work.
Jones was named McAuliffe's "Hero of the Heart" for 2022-23. The award is given annually to one person at each school in the Los Alamitos Unified School District. The recipient is someone who exemplifies a commitment to serving students.
Jones, who works at both McAuliffe and Los Alamitos High School, was honored during the  Dec. 13, 2022 Los Alamitos USD Board of Education workshop. The award presentation capped off McAuliffe's annual presentation to the board.
"Since joining Los Al, Bud has proven himself to be one of the most reliable and beloved employees on our campuses. Bud's willingness to work extra hours, show up at a moment's notice and support all students and staff have made him an invaluable part of our school community," McAuliffe Principal Ryan Weiss-Wright, Ed.D., said during the presentation before board members and a crowd of McAuliffe staff and families.
"Bud is always gracious in building his schedule to support both school sites and does it with a smile on his face. As a campus supervisor, Bud is superior at connecting with students and building rapport with every child he encounters," Dr. Weiss-Wright said.
Grinning, Jones gave brief remarks in accepting his award at the meeting. He thanked Dr. Weiss-Wright and the McAuliffe staff, calling them "fantastic." He then turned to the students in the audience and said: "Kids, I'm always watching out for you guys. Even though I may get a little testy sometimes, I'm looking out for you. I appreciate this award. I'm very humbled," Jones concluded.
Keeping young people safe is part of his story. Dr. Weiss-Wright shared that Jones worked for 22 years with the Orange County Sheriff's Department working with adolescents in the juvenile justice system.
"The middle school years can be difficult, but Bud's commitment to McAuliffe student safety and overall student wellness make him the perfect hero of the heart," Dr. Weiss-Wright said.
In a recent article on The Birdwatch, the student-run news website at McAuliffe, student writer Karina Avakian praised Jones. "We greatly appreciate your hard work and dedication to keeping our students safe," the story read.