Masks Now Optional at some CA TK-12 Schools, But that's not the only Change; District outlines Budget Challenges Ahead; Los Al HS Student Collects 1K Books for Donation
Tragic death at an O.C. Middle School; Workshop to 'Demystify' Buzzwords of Equity, Diversity and Inclusion; Plus, the Community Art Show Highlighting Students' Work
Tragic death at an O.C. Middle School; Workshop to 'Demystify' Buzzwords of Equity, Diversity and Inclusion; Plus, the Community Art Show Highlighting Students' Work
Spotlight Schools
In this week's newsletter...
March 15, 2022
FIRST BELL 🔔Masks are now optional at California's TK-12 Schools but that's not the only change when it comes to Covid-19 protocols.
SECOND BELL 🔔 Budget Forecast: Increasing pension costs and enrollment funding 'cliff' projected to hit Los Alamitos USD next school year.
EXTRA CREDIT 📌 Workshop aims to 'demystify and clarify' buzzwords of diversity, equity and inclusion.
RECESS 👏🏼 How a Rossmoor teenager donated more than 1,000 books to an East L.A. school.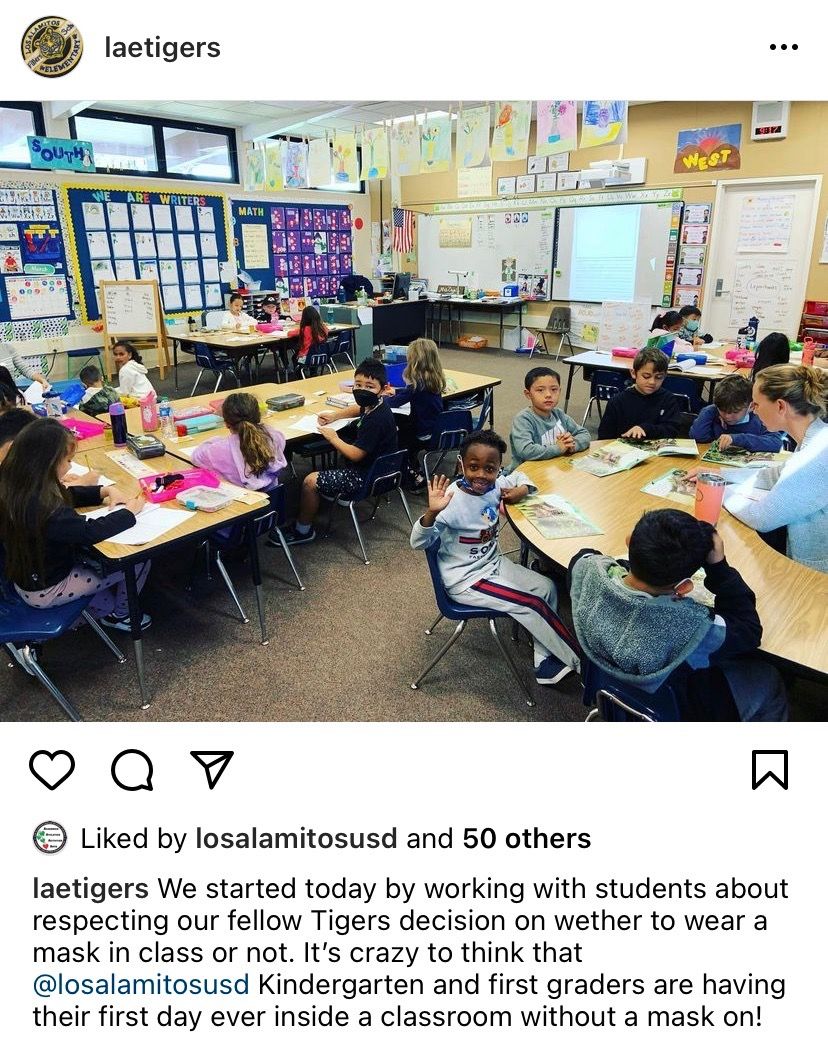 For the first time since the pandemic started, students at Los Alamitos Elementary school are not required to wear masks indoors. Photo from LAE Instagram account.
Spotlight Schools is here to help you better understand, navigate and participate in the TK-12 public school experience in Orange County.
Please send feedback/story ideas/questions to hello@spotlightschools.com.
Yours in knowledge,
Jeannette Andruss, Spotlight Schools Founder and parent of two students in the Los Alamitos Unified School District
FIRST BELL
This Week's Top Story
Covid-19 Rules Change for California's TK-12 Schools
California is entering a new phase when it comes to Covid-19 policies. Starting this week, the state has made masks optional for students and staff at TK-12 schools. The California Department of Public Health is still strongly recommending people wear masks indoors on campuses. Counties, districts and schools can still require masks, so check with your school for rules.
In Orange County, it appears most districts are no longer requiring masks. That's the case in the Los Alamitos Unified School District.
"We recognize the revised guidance may come with different feelings from members of our school community. Some welcome the announced changes while others have concerns," reads a March 11 statement from Los Alamitos USD Supt. Dr. Andrew Pulver.
"While we may hold different opinions, we ask for the support of our school communities to treat each other with kindness, respect, empathy, and understanding," he added.
The Orange County Department of Education offered this FAQ to help students and staff as rules shift.
What else is changing?
The days of quarantining after being exposed to a Covid-19 infected person on campus are over.
"Exposed students may continue to take part in all aspects of K-12 schooling, including sports and extracurricular activities, unless they develop symptoms or test positive for COVID-19," reads the new CDPH guidance released on March 12.
Schools are encouraged to use the "group tracing" approach for tracking exposures. That means if you shared an indoor space with a Covid-19 positive person on campus for more than 15 minutes over a 24-hour period, you may get a version of this notification letter.
In an email to Spotlight Schools, Orange County Health Care Officer Dr. Regina Chinsio-Kwong stated that the guidance strongly recommends that students exposed to a Covid-19 positive person in a school setting get tested 3 to 5 days after the exposure and should wear a well-fitting mask for ten days following the exposure. But neither one is required.
Students who take part in athletics or performing arts will no longer be required to undergo weekly Covid-19 testing, according to Los Alamitos USD.
What's not changing?
If you have symptoms or test positive for Covid-19 you are still required to isolate, according to CDPH guidelines.
Unvaccinated staff and campus volunteers will still have to submit to weekly testing, according to a FAQ from the district.
The emphasis continues to be on implementing a multilayered approach to reduce Covid-19 transmission on campuses including vaccination, improved classroom ventilation with high-quality air filters, keeping windows and doors open and regular hand washing.
"Scientific research and experience from around the country – including from California during this school year – demonstrate that schools remain among the safest places for children to be," reads a FAQ from CDPH.
Covid-19 Vaccine Mandate for Students Proposed in California
While the masks have become optional at TK-12 schools, a Covid-19 vaccine mandate for students is still proposed.
Last October, Governor Gavin Newsom announced a plan to require California students to be vaccinated against Covid-19 after the shots gained full approval from the U.S. Food and Drug Administration for a student's age group. Personal belief exemptions would be allowed. Meanwhile, state lawmakers involved in the Vaccine Work Group have introduced legislation that would add the Covid-19 vaccine to the list of shots required to attend schools.
In January, the Los Alamitos Unified School District Board of Education adopted a resolution urging state lawmakers to keep personal belief exemptions in place for a Covid-19 vaccine mandate.
SECOND BELL
Other Stories We're Following
Budget Projection Shows Challenges for District but Hope is State will Assist
The Los Alamitos Unified School District is facing some fiscal challenges starting in the 2022-2023 school year but district administrators are hopeful California's governor and legislature will step in to help with extra funding.
That was the message during an update on the district's budget given at the March 8 Board of Education meeting by Elvia Galicia, Assistant Superintendent for Business Services. (See her presentation at 1:44 to around 2:04.)
A big jump in pension and employee health care costs is one of the issues. The other issue is California ending its policy that based public school funding on pre-pandemic attendance and enrollment levels. This has created a situation where expenditures are going up while funding could go down.
"So we have two big items that are really going to hit districts next year if [state lawmakers] don't provide some relief," Los Alamitos Unified Superintendent Dr. Andrew Pulver said during the meeting. "I have every belief that they will be providing some levels of relief."
It's an issue facing many California school districts, as reported by EdSource last year.
Here's a closer look at the numbers for Los Al USD.
District Paying More in Employee Benefits
The district is paying more when it comes to retirement and healthcare benefits for employees. Galicia reported steep hikes for the district for both the CalSTRS, California's retirement program for public school teachers, and CalPERS, the state's retirement program for public employees. For CalSTRS, the cost increase will be an additional $1 million starting in the 2022-23 school year. For CalPERS, the annual cost increase will be around $400,000, according to Galicia.
In addition, the cost for employee health care benefits is going up. This year the cost per employee is $15,754. It's projected to jump to $17,329 next year and then to $19,062 in the 2023-24 school year, according to Galicia.
Transition to Funding Based on Current Attendance & Declining Enrollment
Public schools are funded based on average daily attendance (ADA). For the past two years, because of the pandemic's disruption to TK-12 education, districts have been allowed to use pre-pandemic attendance levels for funding. That changes next school year when current attendance levels will be used.
Not only is the district's average daily attendance rate expected to be lower than anticipated (95% compared to a projected 97%, according to Galicia), but so is enrollment.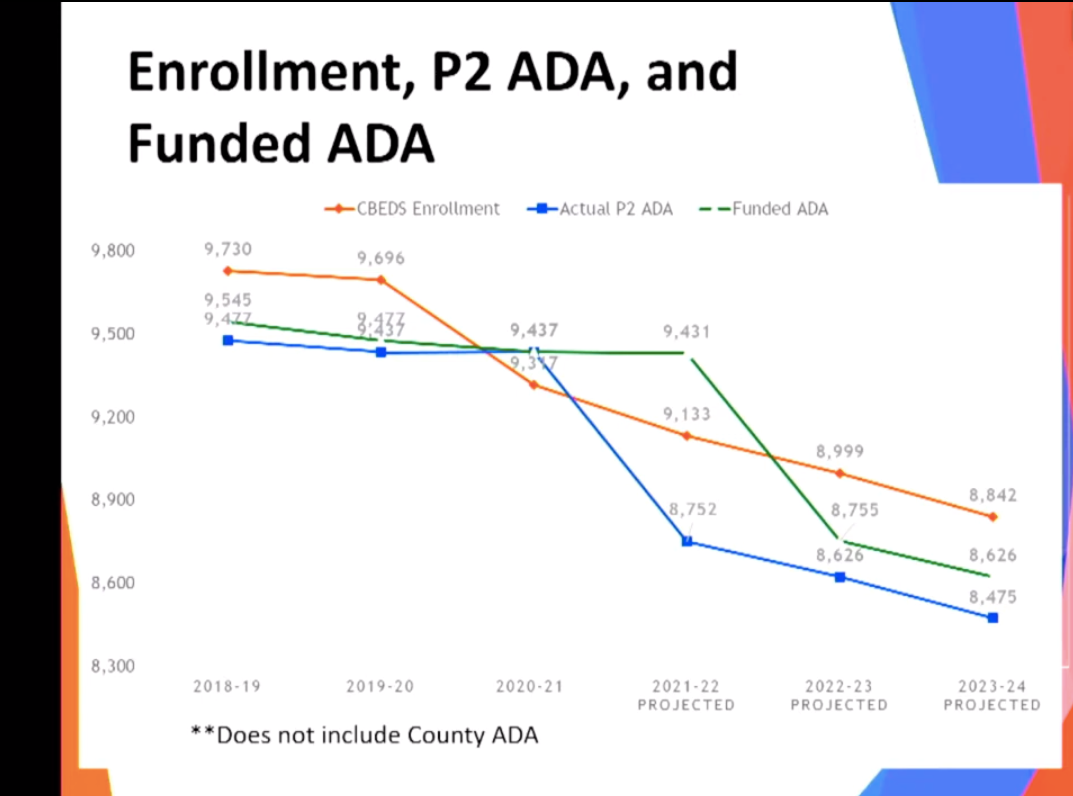 Slide from presentation at March 8, Los Al USD Board of Education meeting shows projected decline in district enrollment.
The above chart presented at the meeting showed different representations for enrollment and attendance and all showed declines. The most important one is the green line that represents "Funded Average Daily Attendance," meaning that's the number tied to a dollar amount.
In 2021-22, the number is 9,431 students. Next year it's expected to drop to 8,755 and then in 2023-24 it declines further to 8,626.
The dramatic decrease has been referred to as the "cliff" by Dr. Pulver. "And look at that green cliff there," he said at the meeting. "When you keep hearing everybody talk about the cliff, that … is the issue that they are trying to resolve."
Options for Relief from the State
Both Governor Gavin Newsom and state lawmakers have hinted at options for using extra revenue to help TK-12 schools.
Advocates, including district administrators, are hoping for a boost to the base-level funding provided to districts or use of one-time funding to help pay for pension costs, as reported by EdSource.
Another option is changing how funding for schools is calculated, moving away from basing it on average attendance to using average enrollment. That's the aim of Senate Bill 830, which is co-sponsored by State Superintendent of Public Instruction Tony Thurmond. "This modification would help schools be funded more equitably and help schools struggling with absenteeism—and all schools—receive the financial support they need to recover from the pandemic and thrive in the future," Thurmond said in a February press release.
For now, these are all just proposals and the district's budget projections reflect the reality of the situation right now. Galicia said we should know more when Governor Newsom offers his revised budget in May.
Public Comment: Parents Speak about Outdoor Science School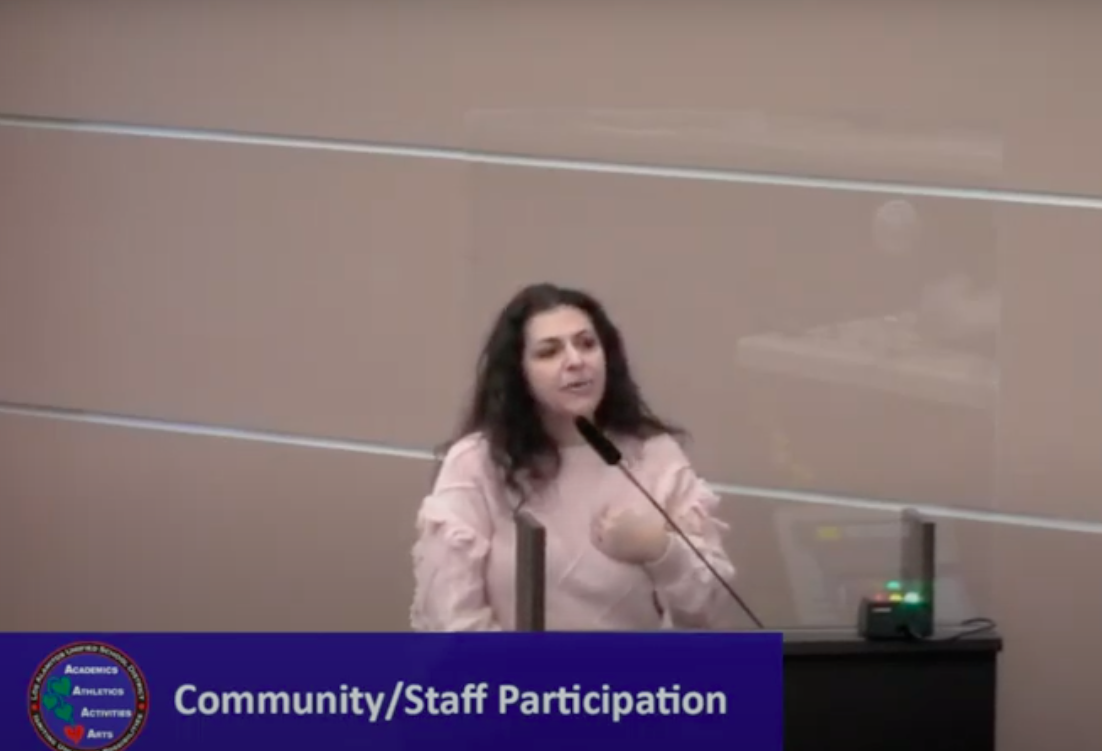 Parent Suzy Johnson speaks during the March 8 Board of Education meeting. Screenshot from YouTube video of meeting.
During public comment at the March 8 Board of Education meeting, (starts around the 51 minute mark) there were 12 speakers and most were parents commenting about Outdoor Science School or OSS, an annual camping trip for the district's fifth graders.
ICYMI: some parents have complained about their child's experience during OSS which took place at the Pali Institute in Running Springs in late January and early February. (For background on the OSS controversy, see past story here.)
Suzy Johnson, a Rossmoor Elementary parent, first spoke about her daughter's negative experience with a counselor at Pali at the Feb. 8 Board of Education meeting. Johnson spoke again at last week's meeting and criticized the district's handling of the situation.
In an interview after the public comment, Johnson praised her school's response, saying her daughter's teacher and Rossmoor's principal were very "supportive." But she said the district was less responsive.
She said she wants an apology from the district, an acknowledgement that Pali Institute was the "wrong choice" and for district officials to meet with her and other parents.
"Let's talk," she said, encouraging the district to "Call any parent needing to express themselves and listen to anyone affected by this."
The district issued a statement to Spotlight Schools from Supt. Dr. Andrew Pulver that said:
"The safety and well-being of our students remains at the top of every decision we make as a school district. And as such, we take complaints and concerns from students and families very seriously. District and/or school staff have been in contact with families who've expressed complaints related to Outdoor Science School and district staff followed up with the camp upon receiving concerns."
Dr. Pulver added that the Pali Institute is an accredited facility that hosts hundreds of schools and has staff that undergo training and background checks. Still, the district has said it will not return to Pali next school year.
Lee Elementary Honors its 'Hero of the Heart'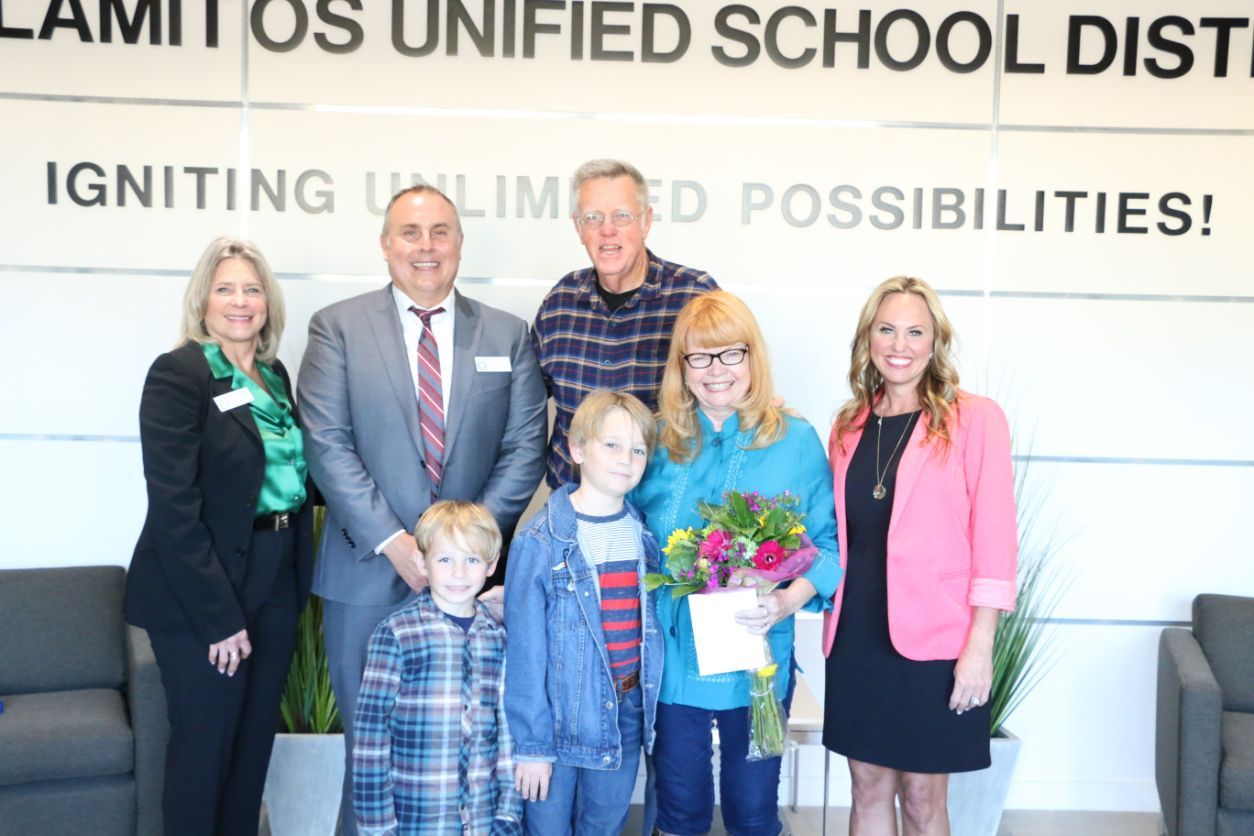 Board President Diana Hill, Supt. Dr. Andrew Pulver, Lee Elementary 'Hero the Heart' winner Lori Scott with her grandkids and husband, Lee Principal Amy Vento. Courtesy Photo.
Characterizing Lori Scott "as a woman of generosity and integrity," Lee Elementary Principal Amy Vento presented the longtime school volunteer with this year's "Hero of the Heart" award during the Board of Education's March 8 workshop.
"You are a true gift to our school community," said Vento, noting that Scott spends "countless" hours encouraging students "to express their feelings through art."
Scott, whose husband Bill works at Lee, moved here 18 years ago. Vento said Scott's daughter graduated from Los Al and now "Grammy" has "two awesome little Leos attending Lee."
"Every day is magic at Lee Elementary," said Scott, thanking the principal for creating such an amazing learning environment. She also thanked her husband Bill, saying "he works extremely hard so I can play."
"As a Papa to a Grammy," said Board Vice President Chris Forehan, "you are the magic that exemplifies us being able to give back to our school, to our grandchildren and to all the other Leos. I admire and respect you."
'Hero of the Heart' report written by David N. Young
Other Stories Worth Reading
EXTRA CREDIT
Events // Meetings // Opportunities // Resources
LOCAL CONTROL ACCOUNTABILITY PLAN SURVEY: Families in the Los Alamitos Unified School District are being asked to provide feedback that will be used in the development of the district's Local Control Accountability Plan (LCAP). The survey "provides the District guiding information on the needs of students and how the funds are to be allocated." You can fill out the form here.
EVENTS
HAPPENING MARCH 18-19: City of Los Alamitos Weekend of Art show featuring works by local students. More information here.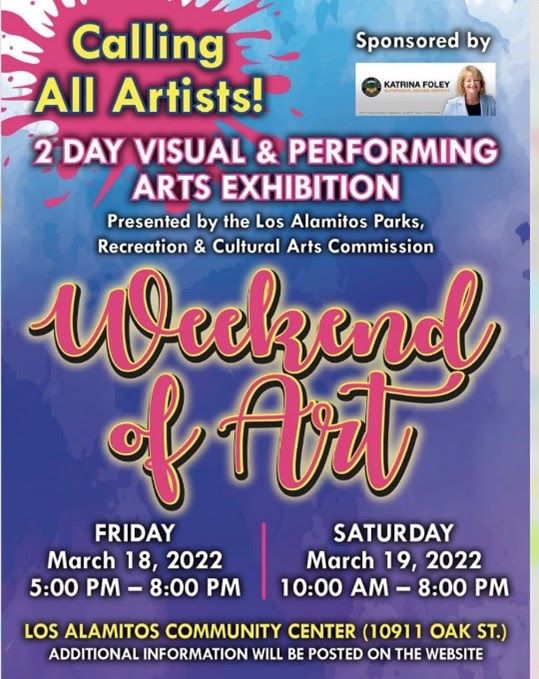 HAPPENING MARCH 18-19: Los Alamitos Show Choir Xtravaganza. Los Alamitos High School Choir will host other middle and high school choirs in a competition this weekend at the LAHS campus. See the schedule here. Volunteers are still needed. Details here.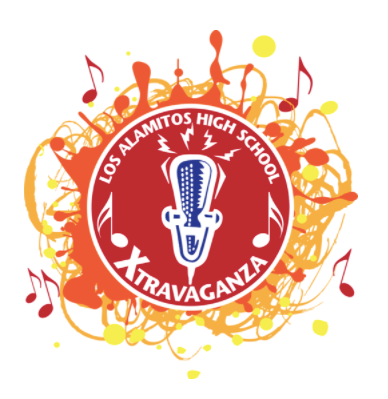 HAPPENING SATURDAY, MARCH 19: Run Seal Beach is taking over the streets of Old Town on Saturday morning. You can still register for the 5K, 10K and Kids Fun Run 1K. Details here.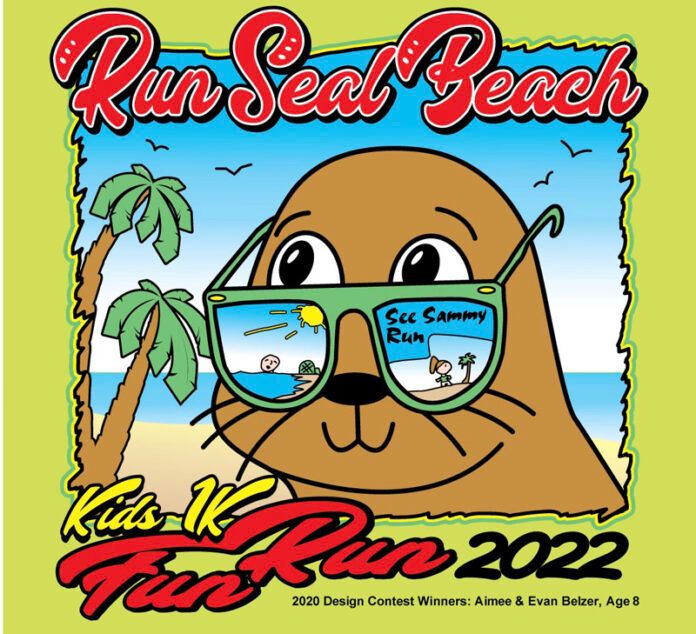 RELATED: Meet the McGaugh Elementary school students, and siblings, who designed this year's Run Seal Beach T-shirt // The Sun
MEETINGS
HAPPENING MONDAY, MARCH 21: The Los Alamitos USD's Human Relations Collaborative is holding its second meeting and parent workshop of the school year. The featured speaker is Danielle Nava-Mijares, the district's consultant for human relations. The workshop will take place at 6:00pm at the district's offices at 10293 Bloomfield Street.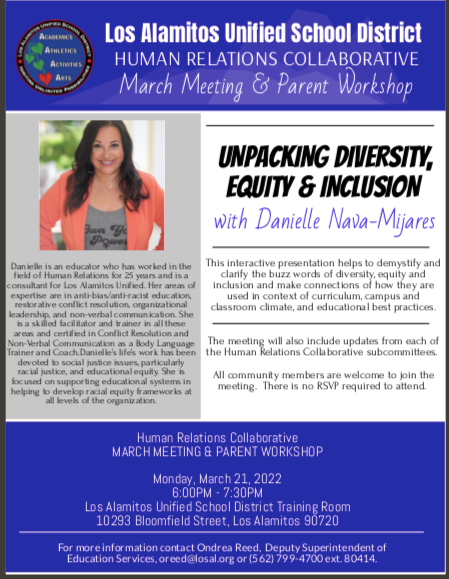 HAPPENING MONDAY, MARCH 21, 2-4pm: Webinar on Wellness in the Classroom for K-12 administrators, educators, counselors and mental health professionals. The focus is on implementing best practices "for addressing trauma, self-care, social problem solving and suicide prevention." Two Continuing Education Units (CEUs) are available through full participation in the training. This is put on by the Orange County Student Mental Health Resource Directory.
OPPORTUNITIES
CITY OF LOS ALAMITOS VOLUNTEER PROGRAM: Applications open on March 17 to participate in the Los Alamitos Volunteer Program.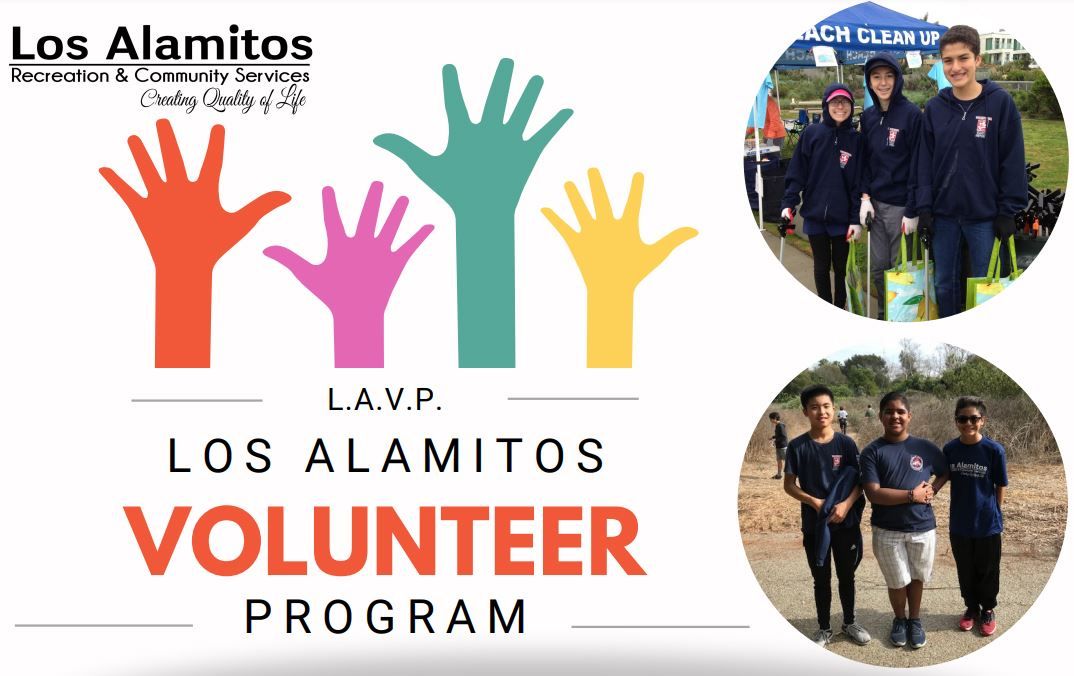 $10,000 SCHOLARSHIP FOR LOS ALAMITOS HIGH SCHOOL SENIOR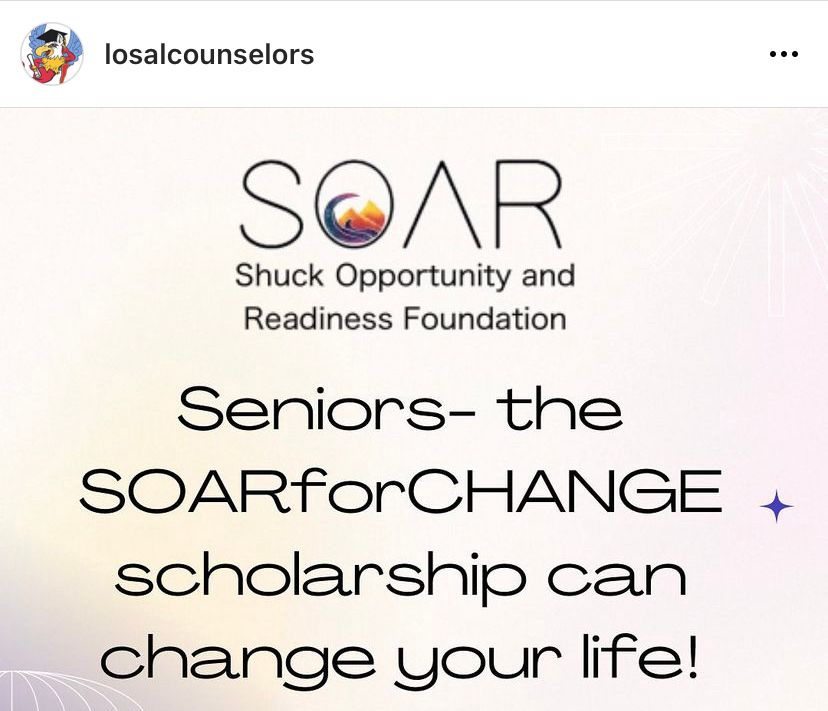 The SOARforCHANGE scholarship is a $10,000 award that will be given to a graduating senior from Los Alamitos High School to help them pay for college. It comes from a Seal Beach-based nonprofit founded by a local couple passionate about helping young people succeed and positively impact their communities. The deadline to apply is TODAY, March 15, 2022.
RECESS
Your Dose of Good News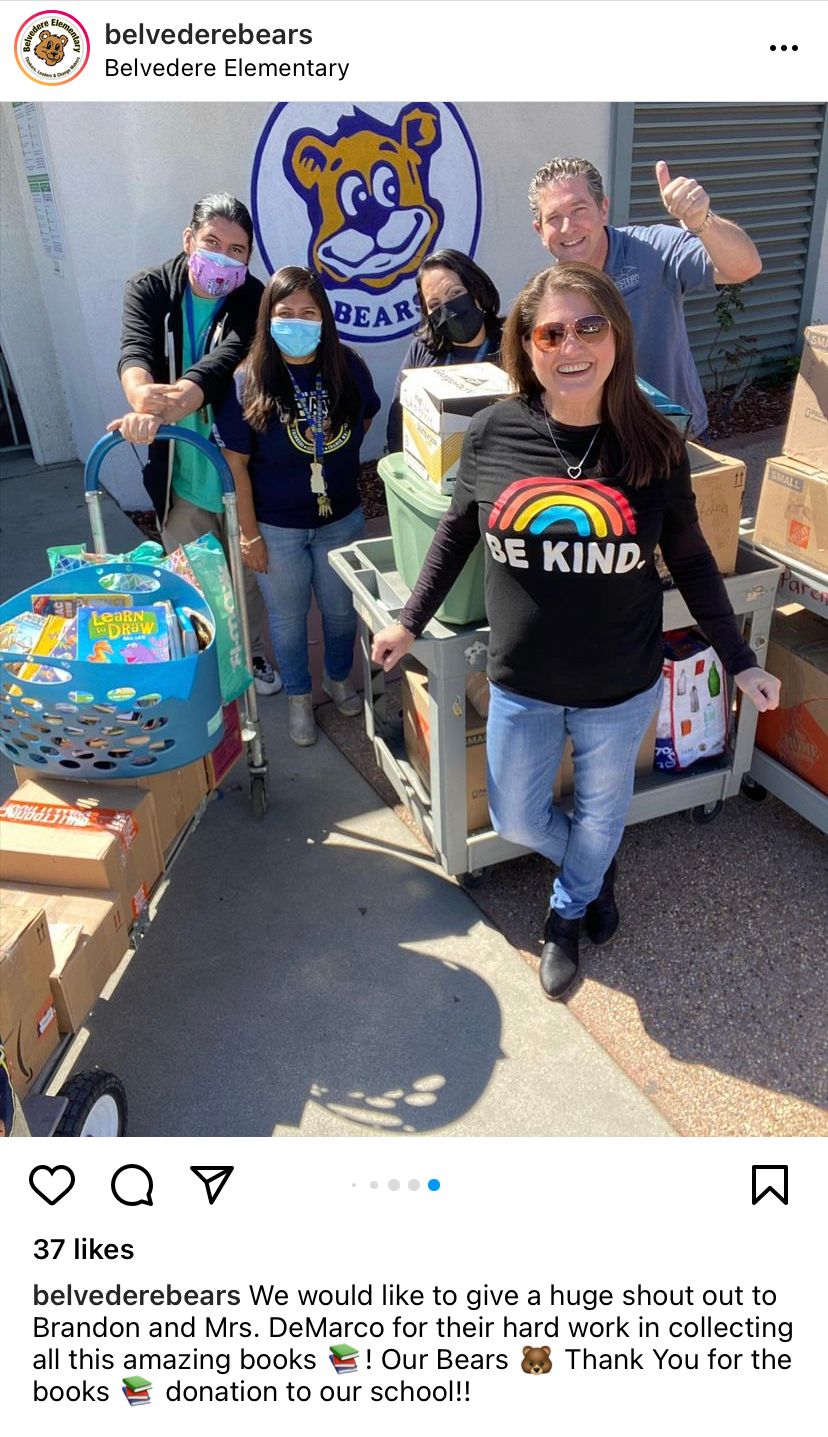 Belvedere Elementary school employees pose with the books collected by Brandon DeMarco and his mother Rachael, pictured in the 'Be Kind' shirt with her husband Tony behind her. Image from school's Instagram account.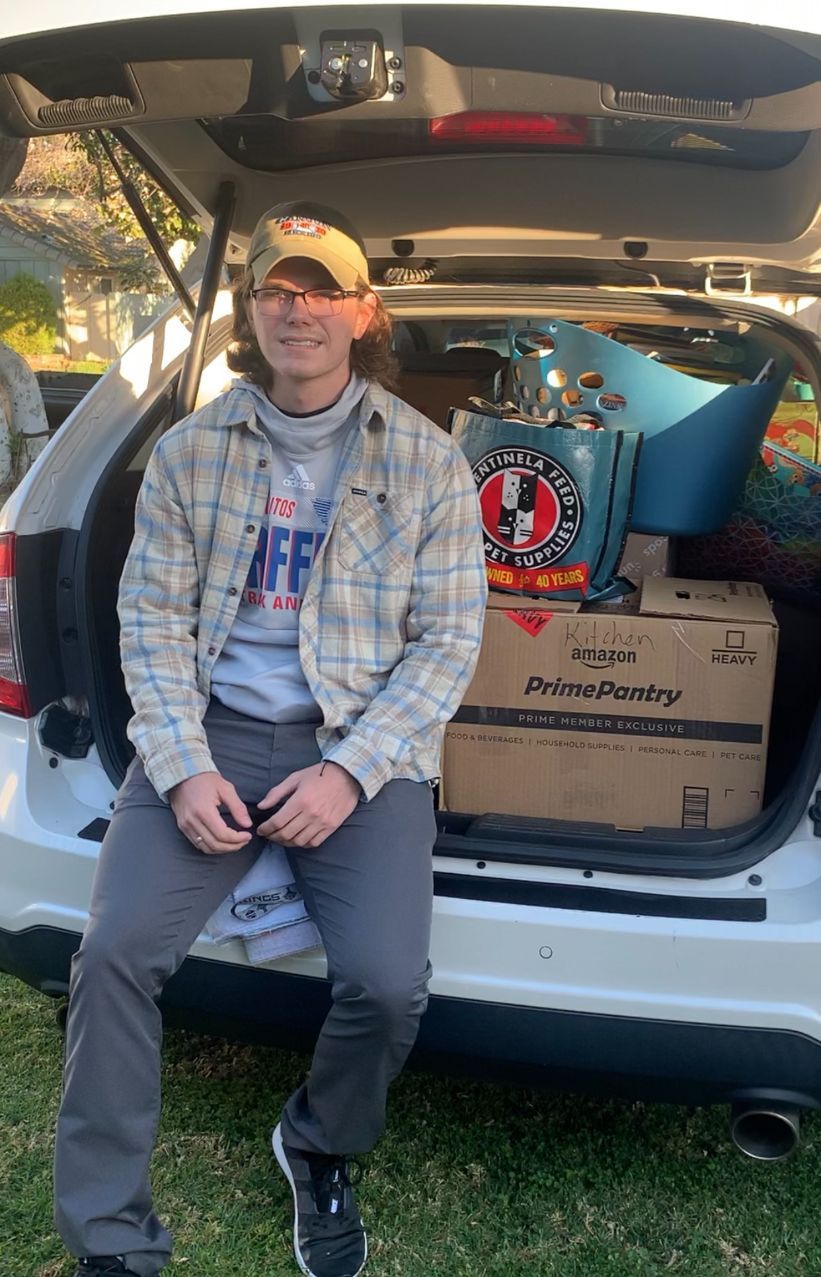 LAHS senior Brandon DeMarco with the books he helped collect for students at Belvedere Elementary in East Los Angeles.
Brandon DeMarco, a senior at Los Alamitos High School, and his mother, Rachael, were talking recently in their Rossmoor home about the need to pack up items as Brandon prepares to graduate and leave for college.
That included the many books in his room. Rachael had an idea: Why not donate them to a school near their family business in East Los Angeles?
They decided to see if anyone else wanted to donate. All it took was a few posts on social media to summon the generosity of local families.
Last week, Brandon stood outside his family home as neighbors and strangers came by to pass on the gift of a good book.
"They were all so happy to give their books to kids in need instead of the books sitting on shelves in their house unused," Brandon said. "There's going to be happy kids reading those books."
Brandon called the response "overwhelming" and he ended up collecting more than 1,000 books. "We are so grateful," he said.
Last Friday, Rachael delivered the books to Belvedere Elementary School in East L.A. after connecting with Karen Castro, the Community School Coordinator for the PreK-5th grade campus.
"Thank you so much for the donation," Castro said in an interview on Monday. "Not only has your community been able to support Brandon, but they are also able to support more than 800 students."
Each Belvedere student is going to be able to take home a book that they will select themselves during a campus book fair. Other books will be used for an after-school reading program. "It means a lot that they can take the books home," Castro said. "The kids will be excited."
BOOSTER DOSE: 🥧 McAuliffe Middle School's Principal takes a pie in the face on 3/14 Pi day.
Thanks for reading!
Forwarded from a friend? Subscribe to the Spotlight Schools newsletter here.
Follow us on Instagram @SpotlightSchools.
Our mailing address:
P.O. Box 164
Seal Beach, 90740 CA

Copyright © 2022 Spotlight Schools, All rights reserved.