School's sock drive spreads warmth with generosity
Lee Elementary School students collect more than 1,000 pairs of socks to donate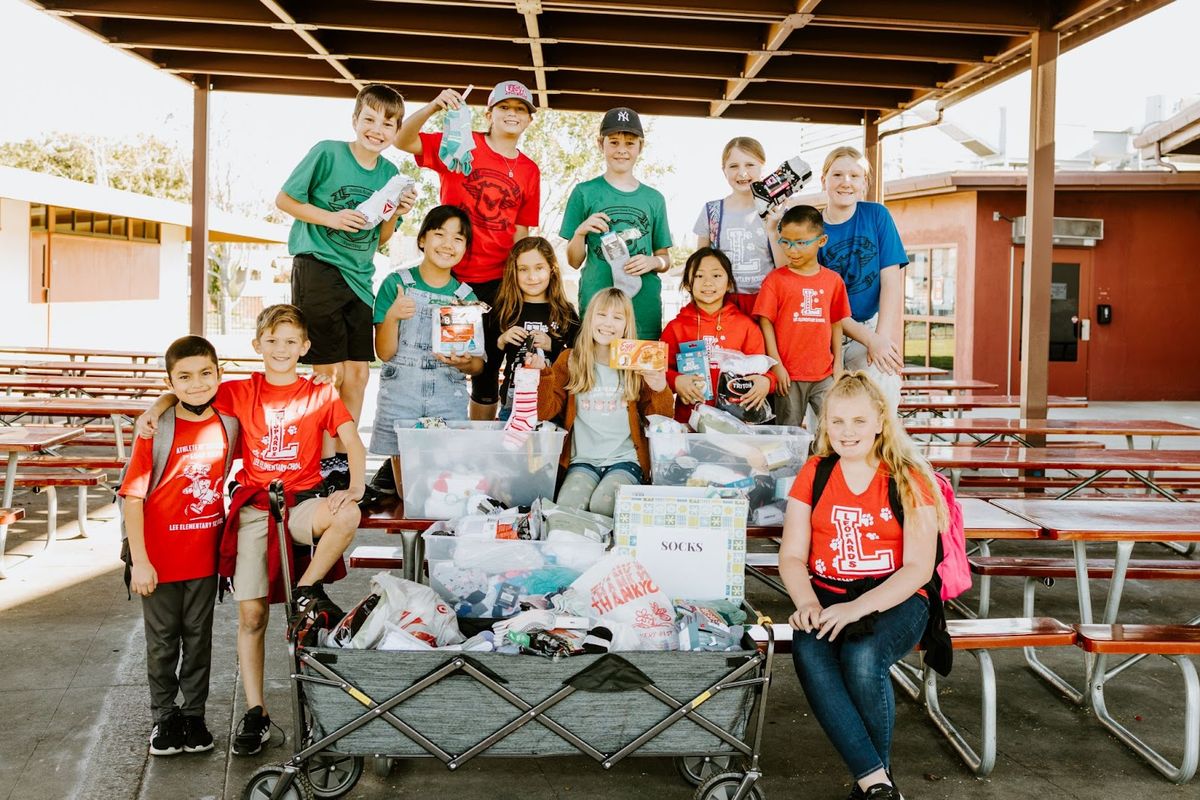 More than 1,000 people will be feeling warmer this winter thanks to an effort from students at Lee Elementary School in the Los Alamitos Unified School District.
Late last month, the students launched a week-long drive to collect new socks for local people experiencing homelessness. It was part of the Community Action Team's annual "Sock it to 'Em" sock drive organized by Justin Rudd who is based in Long Beach.
The campus collected a total of 1,062 pairs, according to a message from Lee's Interim Principal Laura Trotter. That helped propel the "Sock it to 'Em" drive to collect a record-breaking 21,514 pairs of socks in its 21st year.
"We want our students to have a heart of service and to build empathy. We didn't do a classroom competition to get more socks. We framed it as it's a good thing to do for others," Trotter wrote in an email to Spotlight Schools.
The sock drive was organized by Lee's Parent Teacher Association (PTA), 3rd grade teacher Kylie Donaldson and the school's student council which includes 3rd, 4th and 5th graders representing different classes, according to Karen Miller, vice president of Lee's PTA.
Volunteers created posters and spread the word in the school newsletter to advertise the sock drive. During the last week of January, kids stood at each campus gate in the morning with their posters and gathered the donations.
"Kids were so excited to help! The student council was very excited to collect the socks and lead the charge on talking this cause up to their peers," Trotter explained.
"I was very impressed with how our families stepped up," Miller wrote in an email to Spotlight Schools.  "It led to some meaningful conversations about how something as simple as socks can make a difference and to appreciate the gifts we have been given." Miller explained that Lee families have been contributing to the sock drive for several years.
And the drive didn't just positively impact the recipients of the socks.
"It made me feel good to help," said nine-year-old Elliott Miller, Karen's daughter and a 3rd grader at Lee who is on the student council and helped in the sock drive.
"It is important to donate to people who don't have what you have. It made me appreciate how much we have," she added.
According to Trotter, this won't be the last lesson in generosity students experience.
"There are so many opportunities to give back when you seek it out. We want to continue to have that mindset at Lee," she wrote.