LAUSD Board Seeks More Input on Covid-19 Vaccine Mandate; Take a Tour of Local Homes Decked Out for the Holidays; Plus, Why LAHS Students are Giving Away More than $15,000!
Board trustees share their thoughts on the student vaccine mandate which they will discuss again at their next meeting.
Board trustees share their thoughts on the student vaccine mandate which they will discuss again at their next meeting.
Spotlight Schools
In this week's newsletter...
Seeking More Input: Los Alamitos USD Board of Education to Discuss Resolution on Covid-19 Vaccine Mandate Again at Next Meeting
Donor gives more than $15,000 to Los Alamitos High School Students but they must Give Cash Away
The interactive map featuring local homes decked out for the holidays

We have plenty of news to report this week, but we start by wishing you and yours a joyous holiday season.
Spotlight Schools is here to help you better understand, navigate and participate in the TK-12 public school experience in Orange County.
Please send feedback/story ideas/questions to hello@spotlightschools.com.
Yours in knowledge,
Jeannette Andruss, Spotlight Schools Founder and parent of two students in the Los Alamitos Unified School District
FIRST BELL
This Week's Top Story
Los Alamitos Board of Education to Discuss Covid-19 vaccine mandate again at Jan. 11 meeting
More input, more parent feedback, and more facts.
That's what the Los Alamitos Unified School District Board of Education said it needs before it can decide on the message it wants to send to California lawmakers regarding Governor Gavin Newsom's proposed Covid-19 vaccine mandate for students attending K-12 schools.
"I don't know how you feel," trustee Scott Fayette said during the board's Dec. 14 meeting where a resolution responding to the mandate was up for discussion. "I'm looking for the parents and the experts in our community to give me some guidance, give me some information so that I can determine what is the best course of action."
The board decided to table the resolution so it can be discussed again at their Jan. 11, 2022 meeting.
"I need to hear more, I need to learn more," trustee Chris Forehan said.
Forehan and other trustees acknowledged that they had heard from people on opposite sides of the debate but they want more input.
"I'm going on feelings. I would really appreciate data, statistics, studies," trustee Marlys Davidson said.
She expressed support for the vaccine for older students but was concerned with the idea of telling the parent of a five-year-old that their child had to get a Covid-19 vaccine to attend public school.
Under the state's mandate, eligible students would need to be vaccinated against Covid-19 to attend in-person classes. But it would not take effect until after the shots gained full approval from the U.S. Food and Drug Administration for a student's age group.
Only the Pfizer-BioNTech vaccine has full F.D.A approval for people 16 and older. The state estimates the mandate would apply to students in 7th-12th grades in July 2022.
"We have to consider … what the state is ordering us to do in terms of parental rights on both sides. Parental rights for the kids whose parents are fearful of getting COVID from an unvaccinated person, and then an unvaccinated child's … parents' rights in that situation," Davidson said. "There are no easy answers," she added.
Trustee Megan Cutuli stressed this was a discussion that was without judgement. She said she is fully vaccinated, got a booster shot and believes the immunizations are safe.
She said she's heard from parents who are immunocompromised and have concerns sending their children to school with unvaccinated classmates.
But she also said she has reservations about vaccinating younger kids and wants to support parents being able to make decisions for their kids.
"So it's like my head says yes, the children should be vaccinated but my heart says I can't make a parent do that," Cutuli said.
In a statement issued last month, the American Academy of Pediatrics called the vaccines safe and effective and recommended "COVID-19 vaccination for all children and adolescents 5 years of age and older who do not have contraindications using a COVID-19 vaccine authorized for use for their age."
Logistical Challenges of Mandate
Trustees Cutuli and Davidson also brought up the logistical challenges of the mandate if unvaccinated students are not allowed on campuses.
"What do we do with the children whose parents don't want them vaccinated? We don't have LosAl@Home set up, we don't have the teachers for it," Cutuli said. LosAl@Home was the all-virtual learning option offered to families during the 2020-21 school year.
Supt Dr. Andrew Pulver echoed the concerns later in the meeting. "If this was to kick students out, what other viable plan is present," he asked. "And I haven't seen the Legislature or the governor really mention anything along those lines."
What does the Board's Resolution Say?
Board member Diana Hill, who has been vocal about her concerns with the vaccine mandate, had asked for the resolution to be put on an agenda during the board's Nov. 9 meeting.
When an item is on the agenda, it allows for trustees and the public to discuss it at the meeting.
Hill said the resolution represents a chance for the community to make a statement regarding the mandate. "This is an opportunity we have to be able to have our voices heard and be able to have our voices heard as a collective," she said.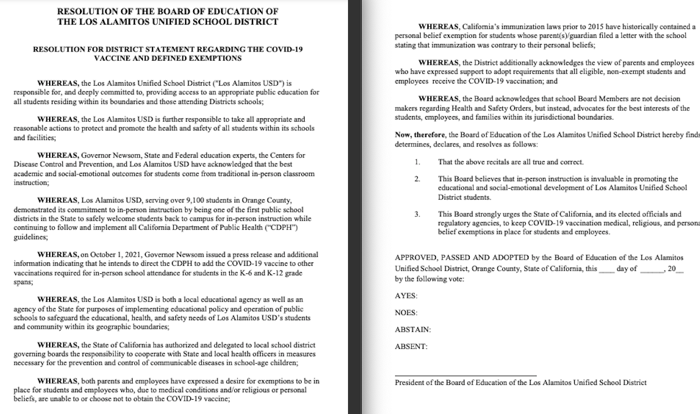 The Los Alamitos USD Board of Education's resolution "strongly urges" lawmakers to keep exemptions to the Covid-19 vaccine mandate in place. Click on the image above to access the agenda for the Dec. 14 meeting. The resolution is listed as item 14.a.
California's Covid-19 vaccine mandate for students currently includes exemptions for medical, religious and personal beliefs. The personal belief exemption could be eliminated by state lawmakers passing legislation.
Keeping the exemptions to the Covid-19 vaccine mandate is a focus of the board's current resolution, which was listed as item 14.a. on the agenda for the Dec. 14 meeting.
The resolution "strongly urges" the state, its elected officials and regulatory agencies to keep the vaccine mandate exemptions in place for students and employees. It's a request shared by other school districts, according to Politico.
Los Alamitos USD's resolution does not ask Gov. Newsom to rescind the mandate, as some other local school boards, including Capistrano Unified, have done.
Adopted or not, the resolution is largely symbolic. It would not change any rules or the requirement that local school boards follow state mandates.
Speakers Opposed to Mandate
Parents have talked about the mandate during public comment at board meetings since it was announced Oct. 1. Opponents to the mandate have also held protests outside district headquarters.
During public comment before the resolution was considered at the Dec. 14 meeting, a total of seven people spoke. All of them were opposed to the mandate and many were people who have been speaking at meetings on the issue for weeks.
One speaker was a student who shared her experience. "This mandate is causing breakups in friendships, divisions in groups and our school is divided between who's vaccinated and who's not," she said. "There's no point to be divided. It's sad. I want to go to school. It sucks," she said before nearly crying.
During and after the discussion of the resolution, a few of the twenty or so attendees urged trustees to take a vote that night. But the consensus from the board was to continue the discussion on Jan. 11.
"I believe that we are moving to the right place," Hill said. "And to make the right decision and be able to hear from parents is important."
"We have time. This isn't happening right away," Fayette said, noting the mandate likely won't take effect until next fall and state lawmakers are not reconvening until next month.
The public can contact board trustees through their email addresses which are listed on the district's website.
You can watch the Dec. 14 discussion on the resolution at this YouTube link from timecode 1:30 to about 2:07.
SECOND BELL
Other Stories We're Following
Other News from the Dec. 14 Board meeting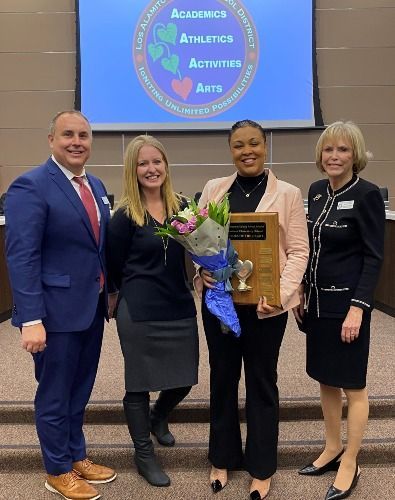 Los Al USD Supt. Dr. Andrew Pulver, Rossmoor Elementary School Principal Amy Coltey, Rossmoor's Hero of the Heart honoree Tanya Doby and Board member Marlys Davidson at the Dec. 14 workshop. Courtesy photo.
Rossmoor Elementary Report: At the Board's 4:30pm workshop, Rossmoor Elementary School Principal Amy Coltey gave her annual report to the board, Rossmoor's Royal Choir sang This Land is Your Land, and parent, volunteer and Los Alamitos City Councilwoman Tanya Doby was named Rossmoor's Hero of the Heart for 2021-22.
New President and V.P.: Board members voted Diana Hill to be President and Chris Forehan to be Vice President for 2022. Find the board's meeting schedule for 2022 here.
Student Report: Student Board Representative Will Brandenberger shared updates from the Los Alamitos High School campus including that finals are this week, that many seniors are hearing if they've been accepted to college, and the school's winter formal dance will be held at the Los Angeles Natural History Museum on Jan. 22.
😀 Coming up in RECESS: The good news that had Will choking back tears during his presentation.
Budget Update: In the first interim budget report, Elvia Galicia, the Asst. Supt. for Business services, briefly outlined the district's finances.
That included projected declines in student enrollment for the next few years that would translate to a drop in funding for the district, especially in the 2022-23 school year.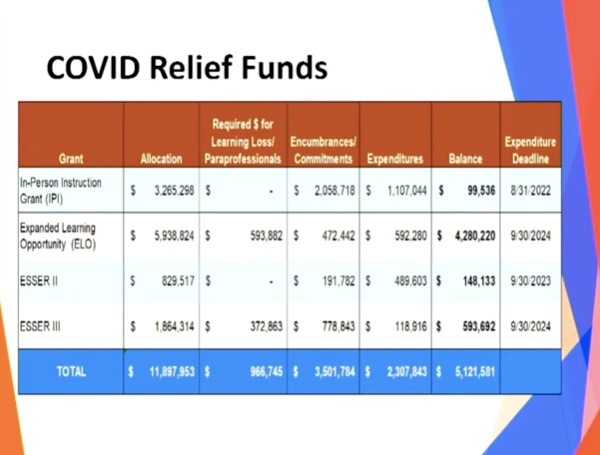 Slide presented during an Interim Budget presentation at the Dec. 14 Board meeting shows the amount of Covid-19 relief funds received by the district.
Galicia also touched on the district's Covid-19 relief money which totaled nearly $11.9 million. She said that if the board wanted to hold a workshop, she could dive deeper into how the money was being spent.
She noted that some of the relief funds paid for ventilation, Covid testing, salaries and social-emotional learning support. She said a 2% salary increase for all employees that was eventually approved at that same board meeting, was paid for through an In-Person Instruction Grant "because it does allow for salary expenditures."
Other Stories Worth Reading
EXTRA CREDIT
Meetings // Events // Opportunities // Resources
MEETINGS
HAPPENING TODAY AT 2:30PM: A Special meeting of the Orange County Board of Education. The Board is meeting to appoint someone to fill a vacant position on the OCBE. Last month, Tim Shaw resigned from the Fourth District seat that represents parts of Fullerton, La Habra and Anaheim.
Seven people have applied to fill the position until June 2022.
According to the agenda, they are:
William Renner
Paulette Chaffee
Tim Shaw
Shanin Ziemer
Shana Charles
Jennifer Kinkel
L Carole Jensen
It's not clear if #3 is the same Tim Shaw that resigned from the position.
REVISIT: Missed The Los Alamitos USD's State of the District last month? It's now on YouTube.
EVENTS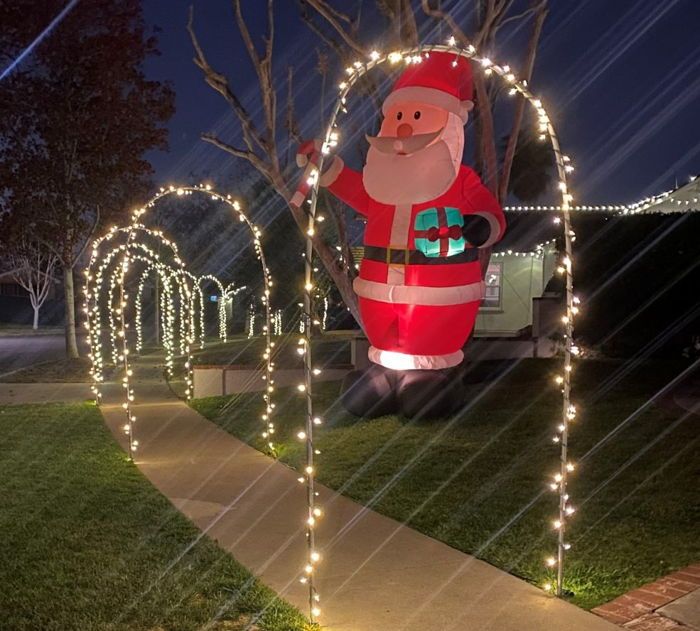 A picture of holiday decorations on Rowena Dr. in Rossmoor. It earned the "Most Festive Street Award" in this year's 15th Annual Christmas Lights Celebration put on by the Rossmoor Homeowners Association. Courtesy photo.
HAPPENING TOMORROW AND THURSDAY AT 5:30pm: The Lightning Velo Cycling Club is hosting the Rossmoor Lights Bike Tour. Participants can meet at Rush Park at 5:30 p.m. to depart at 6:00pm for a bike ride to see the best and brightest holiday decor in the neighborhood.
The Rossmoor Homeowners Association has named the winners of its 15th Annual Rossmoor Christmas Lights Celebration. It also created an interactive "hot spots" map showcasing where to see all the winners and homes that earned honorable mentions. Use it to plan your own trip to see the dazzling displays in a car, on a bike or on foot.
RECESS
Your Dose of Good News
Merry Griffmas! Donor Gifts LAHS ASB members more than $15,000 to Spread Cheer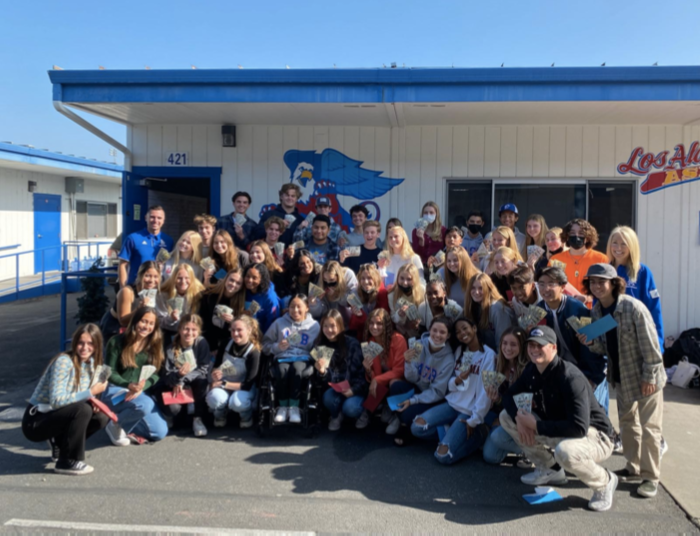 Members of Los Alamitos High School's ASB show the $300 in cash they each received from an anonymous donor. The students must give the money away. Courtesy photo.
Members of the ASB at Los Alamitos High School are spreading cheer thanks to a generous local company.
The business that employs former Griffins is paying it forward with current LAHS students.
Last week, the company anonymously gave $300 to each of the 51 students on ASB. That's a $15,300 donation! The students were given envelopes filled with the cash and told they have to give it away in an act that supports ASB's mission statement: "Be the Good."
"The only parameters the students had were that they had to physically hand it to the person and tell them why they were giving it to them," according to a press release from LAHS ASB.
Students have until tomorrow to make someone's day. They must also write a note to the company describing who they gave the cash to, why they chose to give it to them and how they felt after giving it away.
ASB member and student Board representative Will Brandenberger got emotional at last week's board meeting (around the 30 minute mark) when he shared his experience of giving away part of his $300.
Will explained that he was working at a Christmas tree lot when he saw a young girl whose heart was set on getting her own small Christmas tree for her room. Her father told her the family couldn't afford the second tree and she started crying.That's when Will stepped in. He purchased the tree for her and the girl's holiday season was made. The father was appreciative and Will's heart was full.
"This simple act of kindness has really moved me and others in ASB," Will said, choking back tears. "It's a good reminder that any act of kindness is rewarding and can change someone's life."
You can see how Will gave away the rest of his money, as well as other students' acts of kindness, in this ASB video.
Thanks for reading!
Forwarded from a friend? Subscribe to the Spotlight Schools newsletter here.
Follow us on Instagram @SpotlightSchools.
Our mailing address:
P.O. Box 164
Seal Beach, CA 90740
Copyright © 2021 Spotlight Schools, All rights reserved.