LAHS Football Coach says dignity, integrity and grace are primary focus for his student-athletes
Ray Fenton touches on NFL recruitment, a new NCAA policy that could transform high school sports and more in talk at Chamber meeting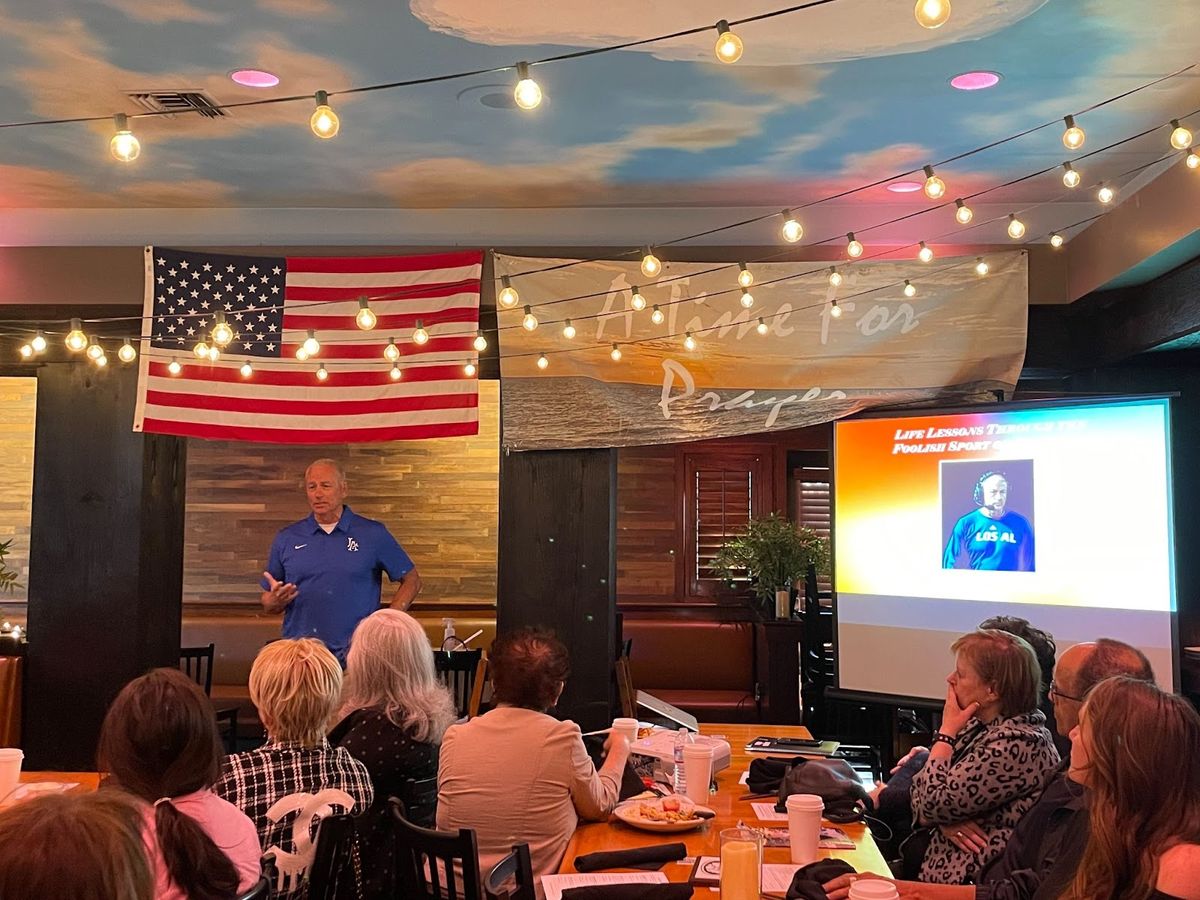 Los Alamitos High School football coach Ray Fenton has a question for his student-athletes: Can they D.I.G it?
For Fenton, the question offers a chance for some life lessons because of what it represents. The "D" stands for dignity, the "I" for integrity and the "G" for grace. And he incorporates these values into his coaching and teaching.
"It's what we hang our hat on in our program," Fenton said. He explains that he tells athletes: "Your actions as a football player dignify our program."
For example, Fenton shared how his juniors are organized into teams earning points in a friendly competition off the field, mostly for behavior. If a player gets a note of praise from a teacher, his team gets points. On the other hand, a negative email from a teacher could detract from the team's score.
There's also some fun competitions like a recent dance-off judged by the Los Alamitos High School Song team.
"We compete physically, we compete fun-wise and we compete with real-life behavior," Fenton said.
He also said he projects an attitude of gratitude, encouraging players to ask themselves: "What if tomorrow we wake up in the morning with only the things we gave thanks for today?"
A smiling and upbeat Fenton shared his motivational messages as the  featured speaker at the  Los Alamitos Chamber of Commerce monthly breakfast held April 1 at Madera's Steakhouse. Employed at Los Alamitos High School since 2016, Fenton has led the Griffins to two Sunset League Titles and the CIF Semifinals.
Fenton's roughly 20-minute talk, infused with humor and warmth, covered a lot of topics from his bout with Covid-19 and how his parents also survived the coronavirus to the "foolish" (Fenton's talk was on April Fool's Day) minimum measurements, like the size of a player's hands, that can sometimes exclude talented athletes from the National Football League.
He measured the hands of audience members which led to a competition to lift heavy weights. Los Alamitos Police Chief Michael Claborn won that contest and a football signed by LAHS star quarterback Malachi Nelson.
Fenton easily transitioned from talking football to talking about relationships. At one point he encouraged attendees to take out their phones to text message the person they considered their biggest supporter. His biggest supporters happened to be in the room that day, his mother and father.
New NCAA Policy could mean financial boon to high school athletes
Fenton also touched on a new policy for college athletes that he said could transform high school sports.
The NCAA now allows college athletes and recruits to be paid for the use of their name, image and likeness (NIL) with endorsements, products, appearances and more, similar to professional players.
Adopted last June, the interim  policy has already resulted in financial deals for college athletes, according to ESPN. Last month, an unnamed five-star rated high school football player  reportedly signed an NIL deal worth $8 million and he's only a junior.
This unnamed player reportedly stands to earn $350,000 before he even finishes high school. Fenton said the player is  ranked lower than LAHS junior Malachi Nelson, the quarterback who has committed to playing at USC.
"Welcome to high school football," Fenton said with a knowing look that acknowledged the potential pros and cons of this new policy.
Fenton recognized the policy could lead to a life-changing financial boon for a student's family. On the other hand, the introduction of so much money at the high school level could change how games are played.
Fenton discussed a scenario where one of his players is competing with another player across the country to boost his NIL profitability. What happens during a high-scoring game when you would normally pull your star athlete out and give playing time to another kid who has also put in the time and effort?
"I have to pull this kid out and it's gonna hurt him financially to put this kid in because he deserves to play. Tough decisions," Fenton said, torn with the prospect of such a dilemma. He quickly turned to a lighthearted joke: "And add a couple of parents in there; forget about it," he said with a grin, which drew laughter from the audience.
Fenton said his program will keep looking to D.I.G. to face the future. He said grace is the biggest part of the program.
"High school kids, they're gonna make mistakes. I make mistakes every day," Fenton said. He stressed that if players and coaches can sit down and talk about the mistakes, not make excuses but commit to making up for them, then that will lead to better outcomes.
"We come out with not just a better football player, but we come out with a better person and not just a better person in general, but a better person better equipped for life."