Inside O.C.'s only school to earn national and state 'Green Ribbon' honors
Santiago STEAM Magnet in Lake Forest wins awards for its 'best ecological practices'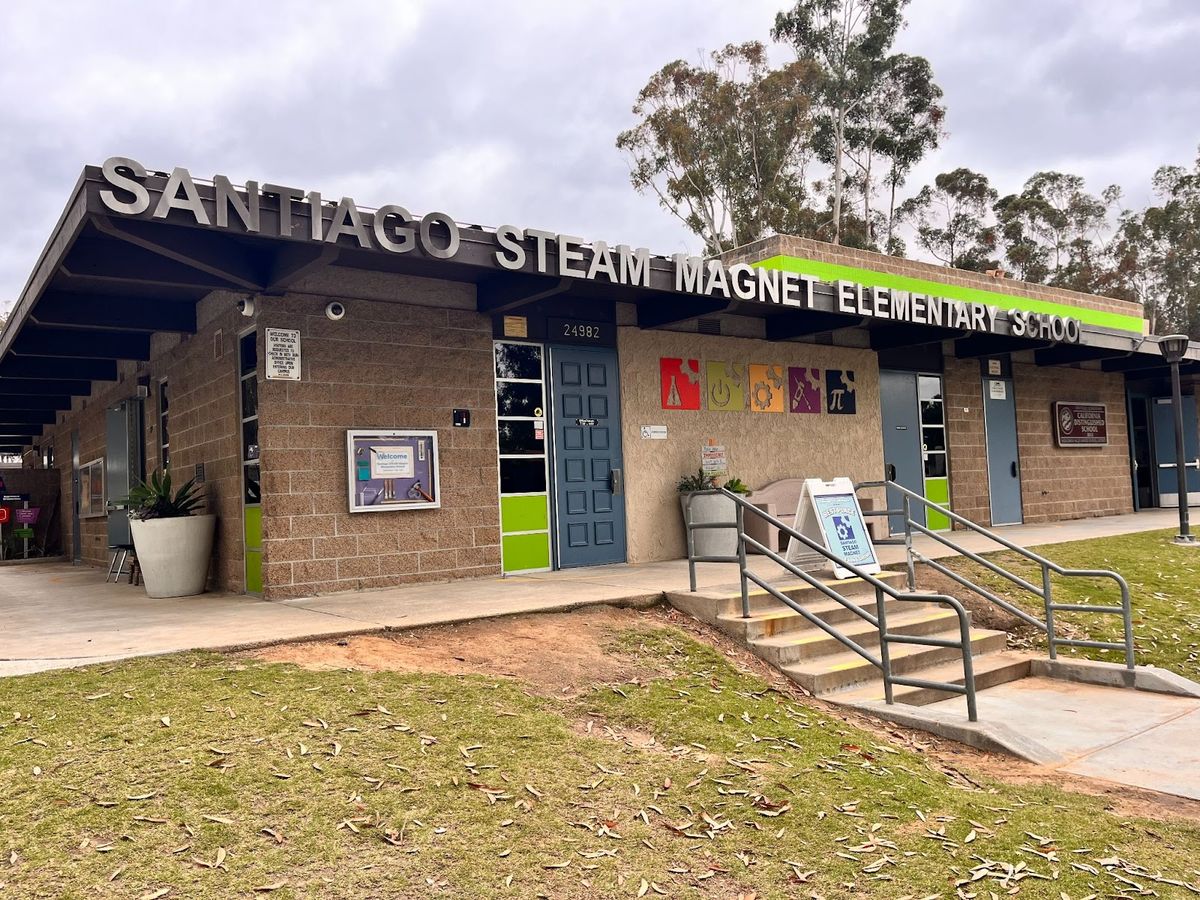 Santiago STEAM Magnet Elementary School in Lake Forest has undergone a metamorphosis.
"When we first came to this school, everything was just empty dirt," Santiago parent volunteer Stacie Aguesse said in a recent interview, describing what the school's outdoor areas used to look like.
Today, more than four years after Aguesse's children started attending Santiago, the TK-6th grade campus in the Saddleback Valley Unified School District offers its 500 students valuable opportunities to care for and shape their environment.
Teeming with trees, Santiago's more than 9.5 acres now include multiple gardens, numerous outdoor learning spaces, a water recycling system and rain collection unit.
In addition, the campus has three types of composting stations along with a  pollinator patio to attract bees all integrated into environmentally conscious curriculum.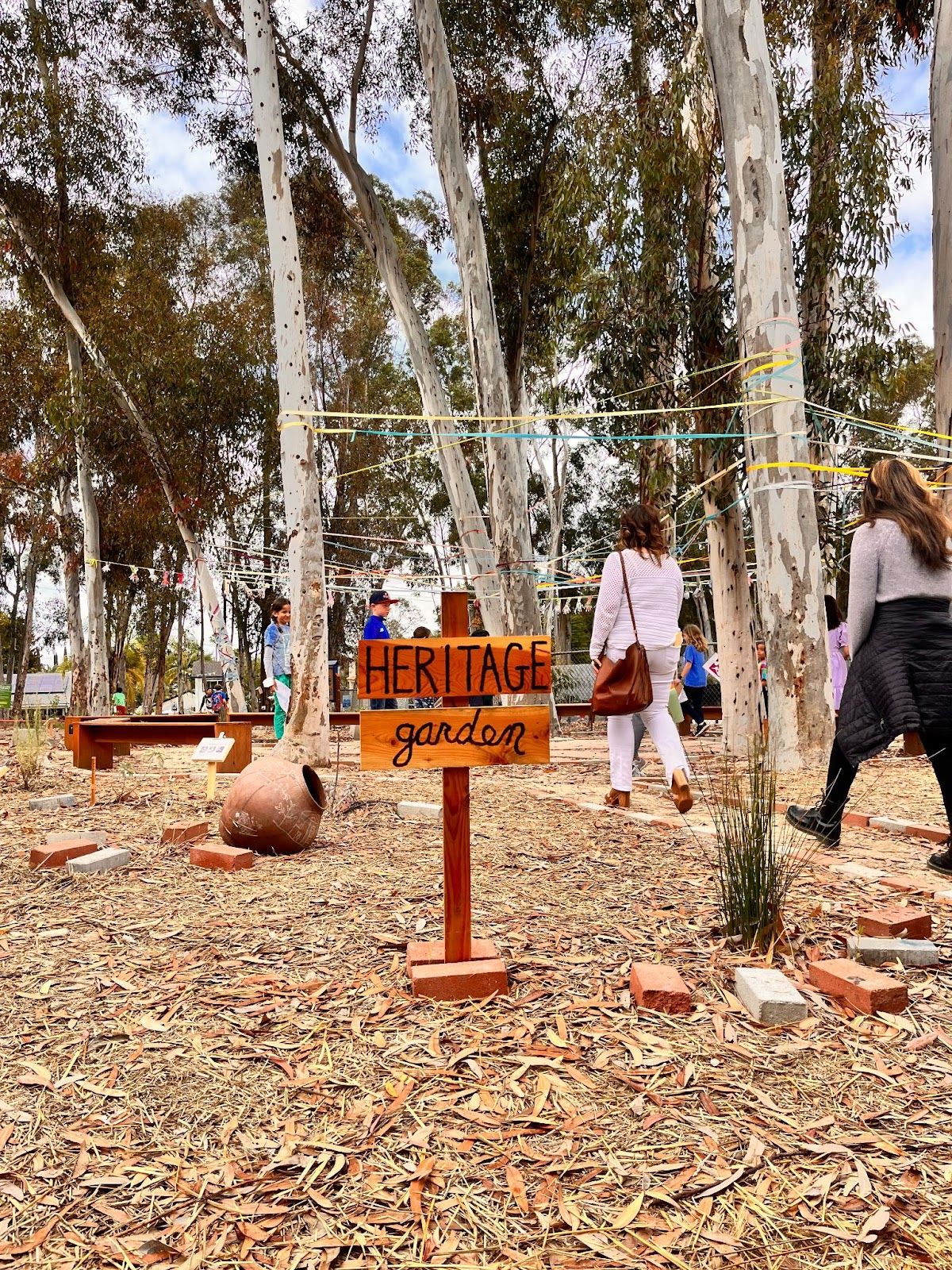 The ecological transformation earned Santiago  national and statewide recognition this year.
It's one of just five honorees from California to be named a  2023 U.S. Department of Education Green Ribbon School Award winner.
The federal honor comes after Santiago was selected as a "Green Achiever" Green Ribbon School honoree by the California Department of Education, the highest honor bestowed by the state.
California's Green Ribbon award "honors schools, school districts, and Institutes of Higher Education for excellence in resource efficiency, health and wellness, and environmental and sustainability education," reads the CDE website.
Also of note, Community Roots Academy, a charter school in the Capistrano Unified School District, received a Bronze award from the CDE's Green Ribbon Schools program.
On May 25, Santiago hosted the awards ceremony for the 2023 California Green Ribbon Schools. Representatives from other honorees as well as California Superintendent of Public Instruction Tony Thurmond attended the ceremony.
"It's like a culminating activity for us," said Santiago Principal Howard Johnston in an interview after hosting the awards ceremony.
In 2018, Johnston led the charge for Santiago to become a magnet school, fueled by a desire to offer students something extra. "We gotta get the kids out of the classroom and learning outside," Johnston recalled thinking years ago.
He said one of his early goals was for the school to someday be named a Green Achiever. "We've come full circle," he said.
Thanks to Johnston's vision, dedicated teachers and staff, parent volunteers who were willing to get their hands dirty, a supportive school district, and strategic partnerships with businesses and local agencies, the dream of becoming a Green Achiever is now a reality at Santiago.
Johnston said it's the first time Santiago applied for the Green Ribbon awards. "Achieving the state and federal top honors was quite a surprise," he wrote in an email.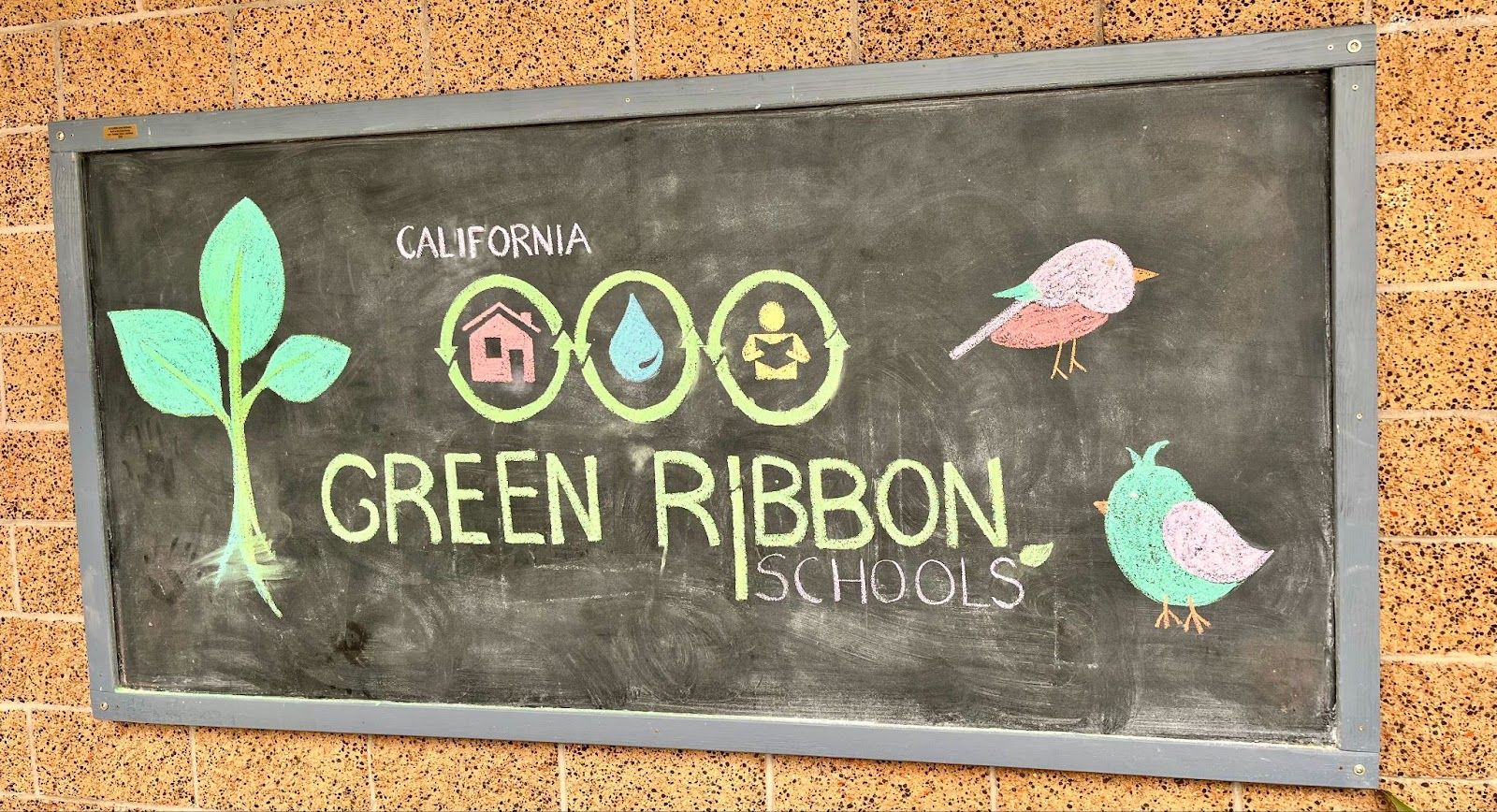 Leaders in the district praised Johnston and Santiago during the awards ceremony.
"Due to the amazing principal, Mr. Johnston and his team, we have created something very special here," SVUSD Superintendent Crystal Turner, Ed.D., said.
"SVUSD magnet schools are encouraged to innovate and, God love you, Mr. Johnston, what you did was amazing. You really brought this from nothing," SVUSD Board of Education President Barbara Schulman said, later remarking about the parent involvement at the school, "I watched a mother digging a ditch the other day."
As one of the most active volunteers at Santiago, Aguesse has had her hands in the soil on campus.  Johnston described Aguesse as "the heart and soul of our vision and our mission."
She estimated it has taken around 2,100 volunteer hours to transform the outdoor spaces at Santiago with parents, students, teachers, staff and Principal Johnston all pitching in.
Aguesse has documented the process, including the school's monthly community build days, on the Instagram account @SantiagoSteamGarden.
She said most of the materials used to create the school's new landscape were donated, reclaimed or upcycled. "We were picking up [donated] rocks out of people's backyards," Aguesse said and noted that residents offered up old patio furniture and other items. She thinks they prevented about 70 tons of materials from going to a  landfill.
Scraps of artificial turf were stitched together to create the faux lawn at the Library Lounge, an outdoor reading space. Concrete blocks diverted from the dump line campus walkways and form the foundation for an outdoor stage.
Discarded tree stumps are reimagined as seating for an outdoor classroom. Some stumps have been hand painted by the school's third graders with images of California's history.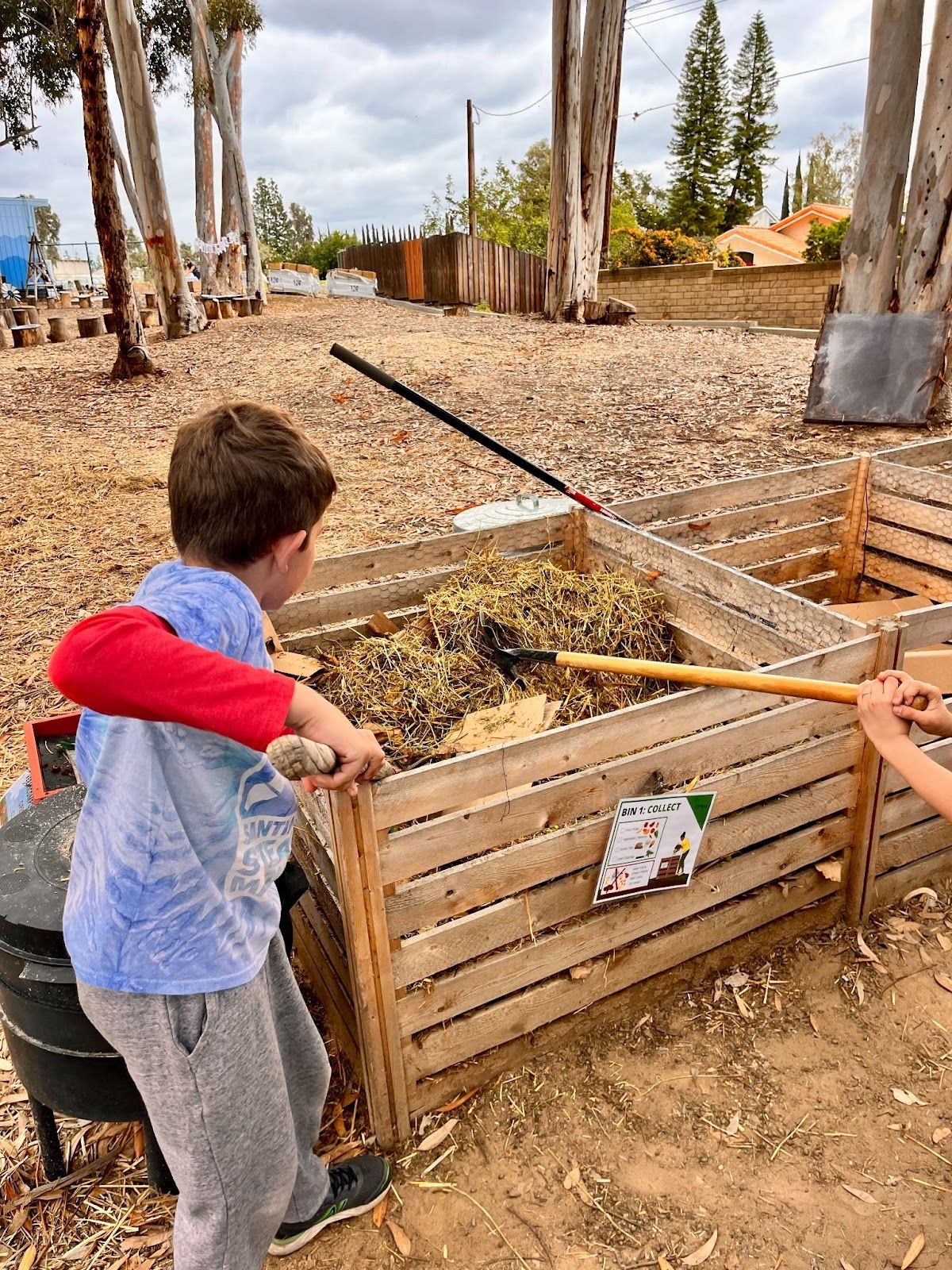 "It's powerful to see the transformation not just in the grounds, but also in the environment," Aguesse said, stressing that students have been an important part of the process. "[The students are] such empowered change-makers because they've seen it happen."
After the awards ceremony on May 25, visitors were led on tours of the school with students as guides. At each stop, children eloquently explained their Earth-friendly programs.
"At Santiago STEAM, the entire local community comes together to support best ecological practices," reads a portion of the U.S. Department of Education Green Ribbon Schools Highlights report.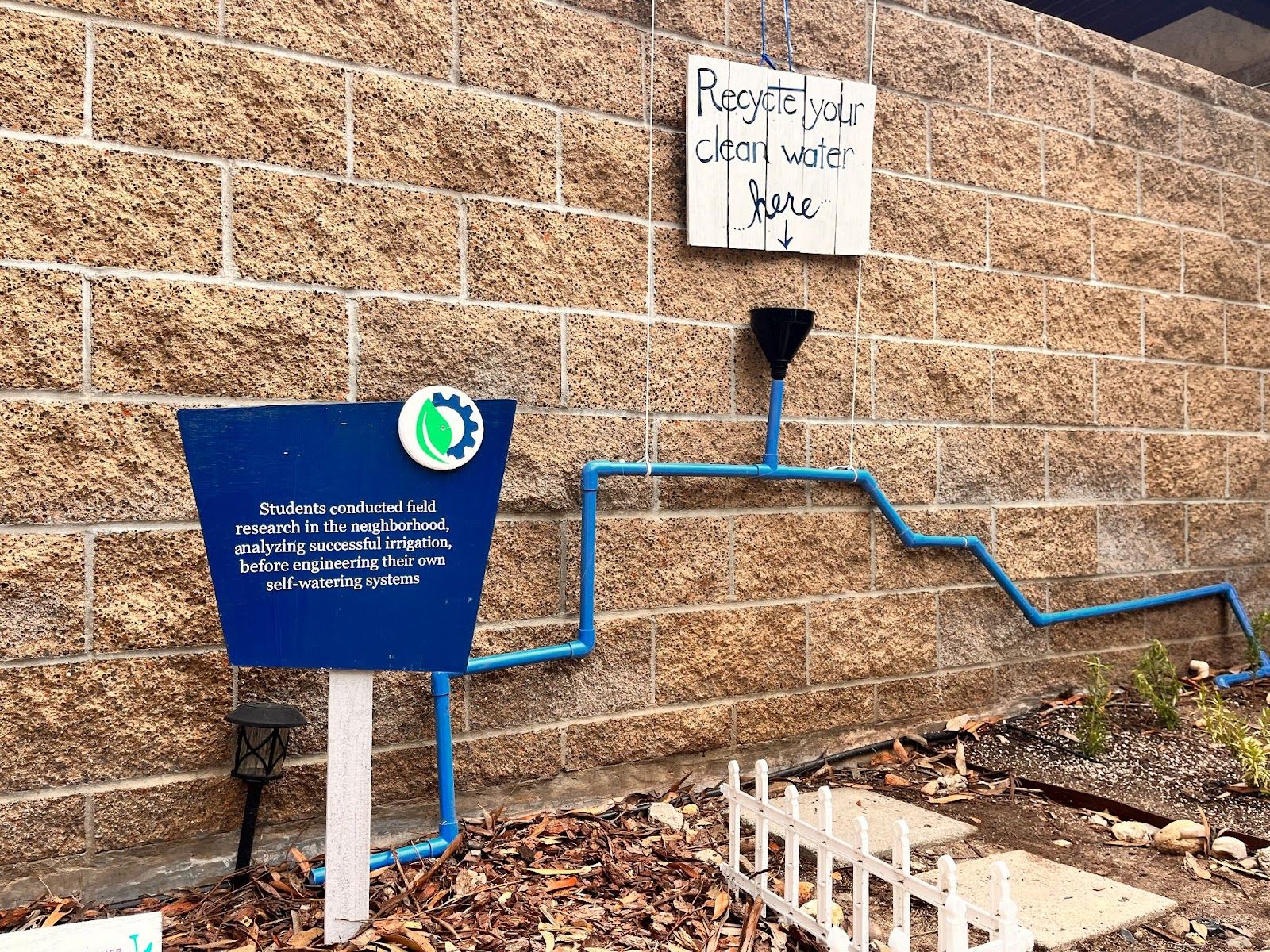 It isn't just the outdoor spaces at Santiago that are noteworthy. The campus has an Innovation Lab which has a 3D printer station, sewing machines, power tools, pottery wheels, a dark room to develop photographs, a station to build robots, and more.
The school also has a calming wellness center stocked with books and activities and staffed by a counselor a few days a week.
Johnston said a key to Santiago's success was building partnerships. In addition to working to achieve what he called unanimous support from teachers, staff, and families, Johnston said the school formed important relationships with outside groups including Home Depot, Irvine Ranch Water District, the California Native Plant Society and others.
"Trying to make more connections outside of your normal realm, that's what's making all of this happen," he said.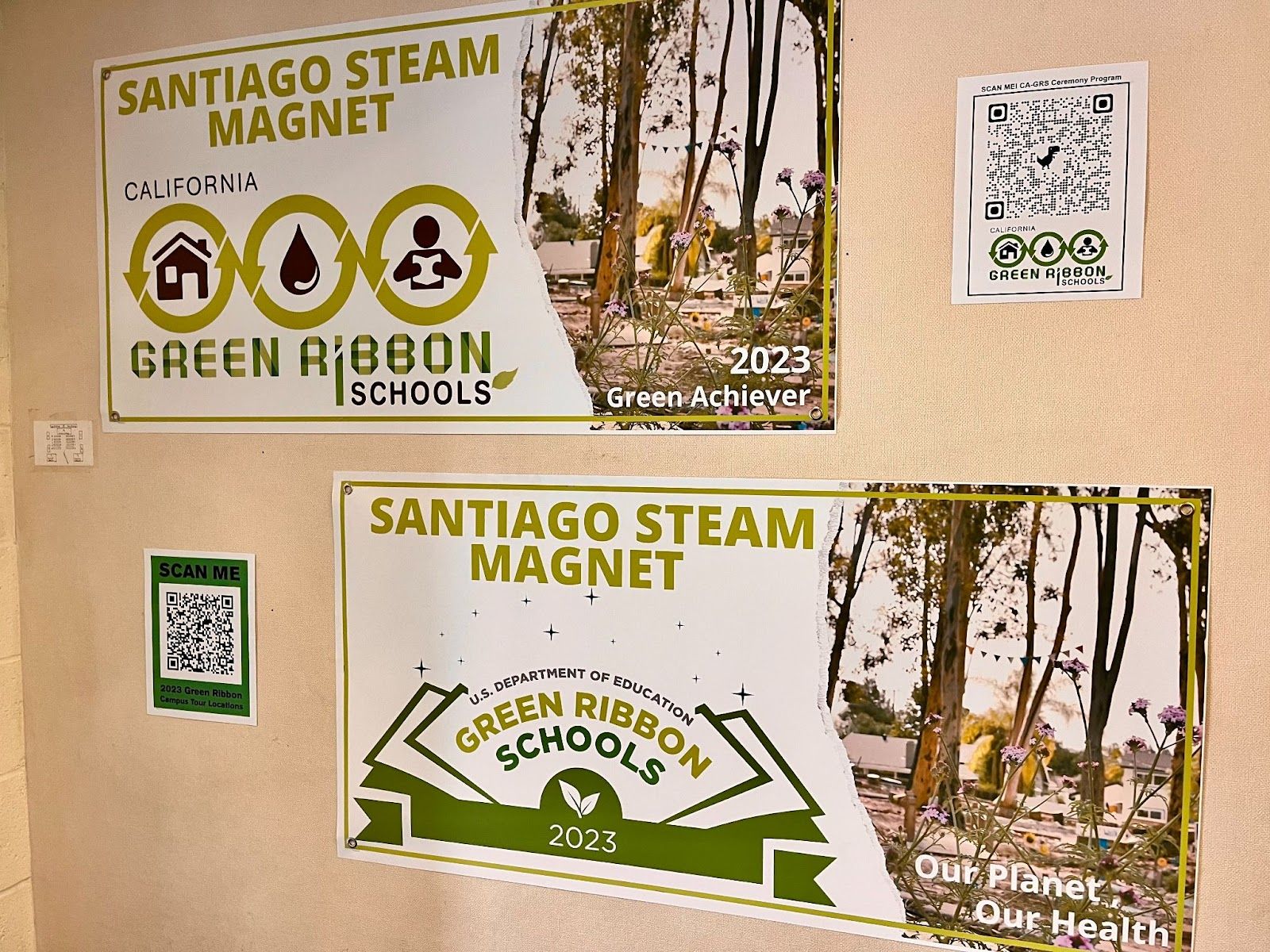 After eight years leading Santiago, Johnston will become principal at Foothill Ranch Elementary for the 2023-24 school year. "It wasn't in my plans to leave but, you know, change is inevitable," he said. He hopes to make positive changes at his new campus.
And Johnston has advice for other schools looking to make a big transformation: "Be willing to play the long game. Nothing important happens overnight," he wrote in an email. "There will be struggles and obstacles in your way, but if everyone is committed to the vision and mission they created, you will always be moving in the right direction."
Think your campus is a CDE Green Ribbon School? Applications are now open for the next awards cycle. More information here.