In fight against fentanyl, educators offer families opioid overdose treatment
Orange County Department of Education to give out naloxone at May 9 events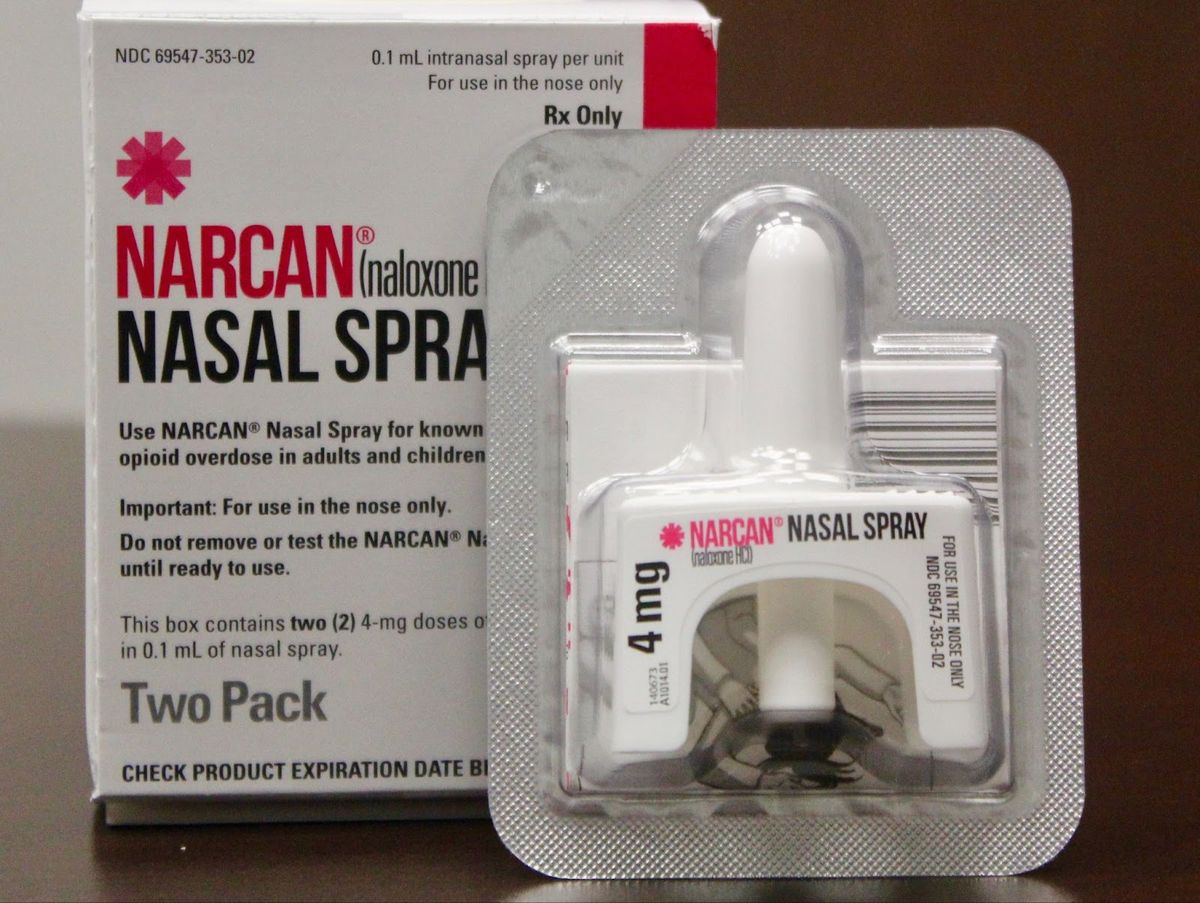 More young people are dying from opioid overdoses in Orange County, especially from the synthetic and powerful opioid known as fentanyl, authorities say, which is  turning up in pills kids think are prescription drugs like Xanax or Percocet.
"Youth in the 10-17 year age group saw a rise in fentanyl-involved overdose deaths from 0 deaths in 2017 to 19 deaths in 2021 and even 1 death occurring in 2020 for the under 10 age group," reads part of  a report published last year from the Orange County Health Care Agency.
Now schools, educators, and relatives of people who have died from opioid overdoses are taking action to help families in the fight against fentanyl, arming them with information and life-saving medicine.
Naloxone, also known by its brand name Narcan, acts like an antidote against an opioid overdose. When administered in time, it can quickly reverse the effects of a potentially lethal dose of opioids, including fentanyl.
At least  14 school districts in Orange County now keep naloxone on their campuses. Schools can also apply to get naloxone from the California Department of Public Health. The Orange County Board of Supervisors  voted last year to create grants for some schools to purchase the treatment.
In March, naloxone was approved for  over-the-counter use, sparking efforts to get it to more people, including parents and students in Orange County.
On Tuesday, May 9, which is known as National Fentanyl Awareness Day, the Orange County Department of Education and the Orange County Health Care Agency are co-hosting  two free events for local families, educators, and others about the dangers of opioids.
Attendees will be offered a free dose of naloxone and given information on how to identify and prevent opioid overdoses.
"The impact of fentanyl on our school communities is unprecedented, and the most important step we can take is to become more aware of this deadly drug and how it's getting into the hands of young people," Stephan Lambert, coordinator of prevention education in OCDE's Student Achievement and Wellness Unit, said in a press release. "It's also critical that we spread the word on preventative measures and steps that we know can save lives," Lambert added.
The events will be held at the Orange County Department of Education at 200 Kalmus Drive in Costa Mesa. Sessions will be offered from 4:00 p.m. to 5:00 p.m. and again from 6:00 p.m. to 7:00 p.m. You can register for either event  here .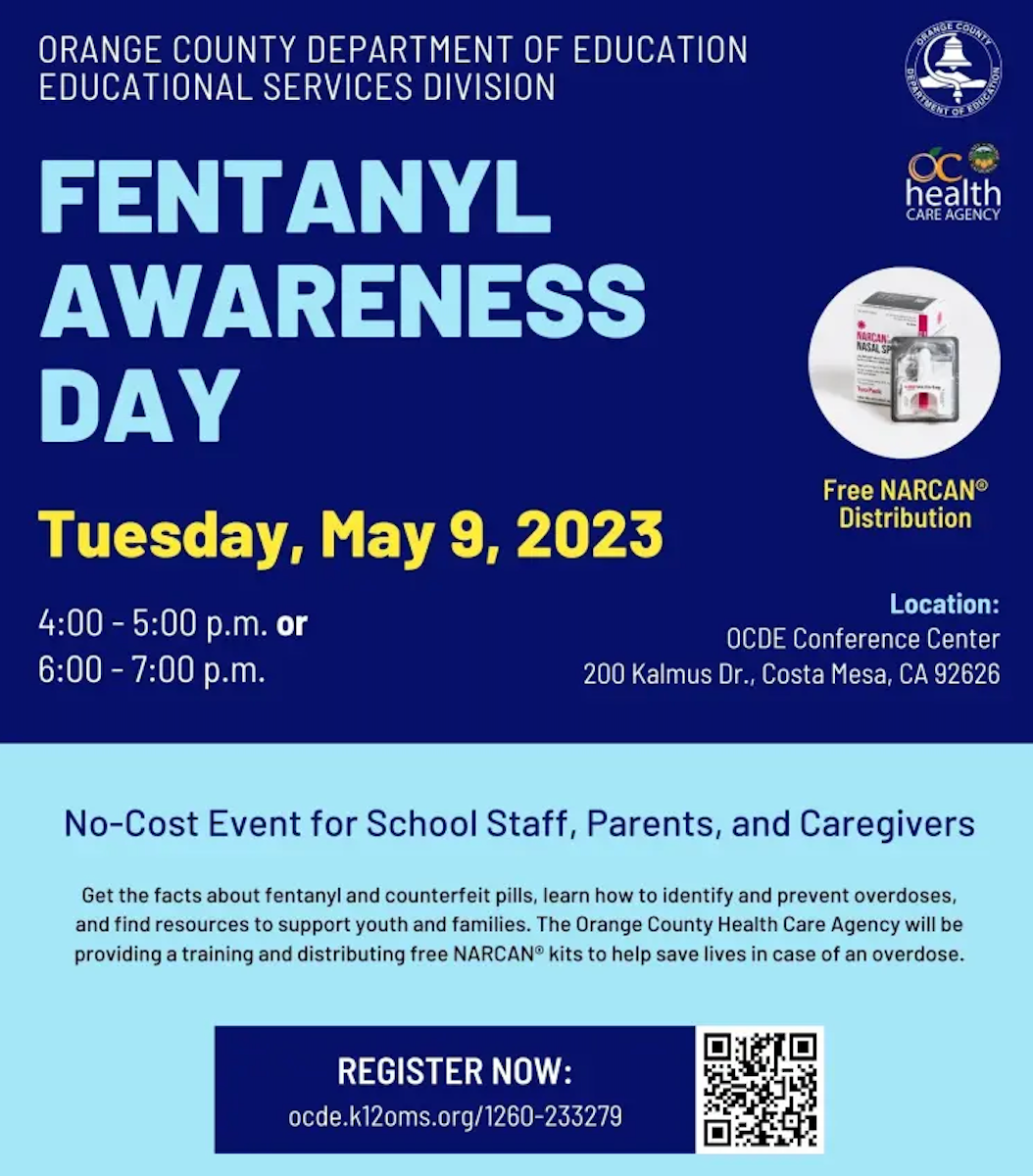 Mother shares story of son 'deceived to death'
This isn't the first time an education agency has given away naloxone to families. On April 24, the Los Alamitos Unified School District held a fentanyl awareness event.
Families were given a free dose of naloxone and taught how to administer it, watching this 11-minute  video from the California Department of Public Health.
The video explained what an opioid overdose looks like. A person overdosing on opioids will not respond to stimulation, they may be deep snoring, gurgling, or wheezing, and their skin might have a blue or grayish tinge.
The video also showed how to administer the nasal spray version of the treatment and explained that even if a person is not experiencing an opioid overdose, it's still safe to give them naloxone. Here's another brief  overview of how to administer the medicine.
The free naloxone was provided by Perla Mendoza, a former Los Alamitos USD parent. She was one of several mothers that spoke at the event which attracted more than 150 people, including parents and kids.
Mendoza has been raising awareness about the dangers of opioids since she lost her son Daniel Elijah Figueroa to a fentanyl overdose on Sept. 15, 2020.
"It was the worst thing I ever experienced," Mendoza said of her son's death.
Mendoza said her son thought he was taking a prescription painkiller he purchased from someone through social media. The pill ended up containing a lethal amount of fentanyl.
He was 20 years old.
She started the drug awareness nonprofit  Project Eli in his honor.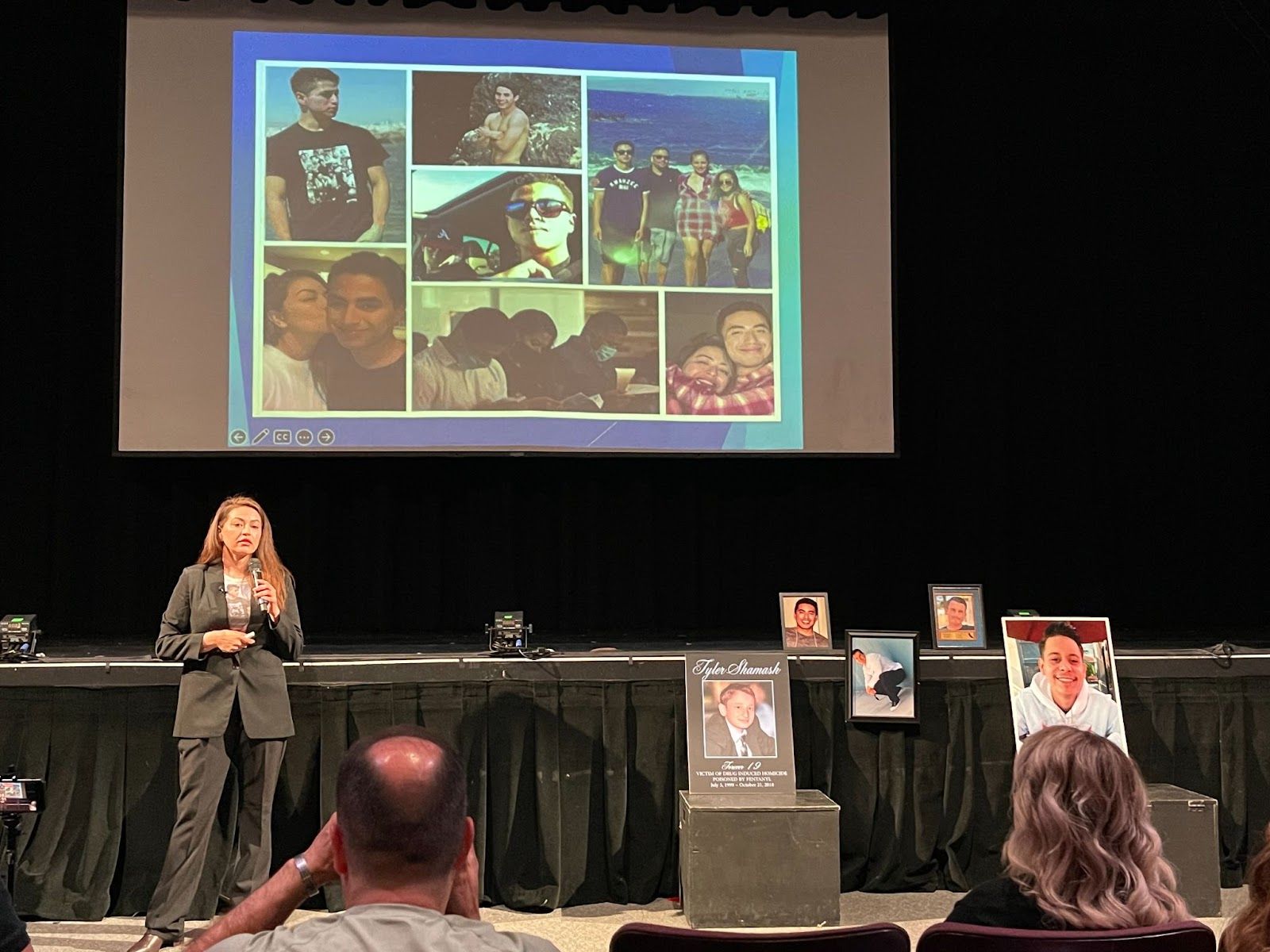 "My intention is only to spread awareness and to share information that I wish I would have known about three years ago; information that I wish I would have been able to share with my child," Mendoza told the audience gathered at Los Alamitos High School, the school her son once attended.
"I realize my child's gone; nothing I can do will bring him back. But my goal is to save your kids and your grandkids from having the same fate."
Mendoza shared that she had never even heard of fentanyl before her son's death. The opioid is 50 times stronger than heroin and 100 times more potent than morphine.
According to the Drug Enforcement Administration, of the fentanyl-laced fake prescription pills analyzed in 2022, six out of ten contained a potentially lethal dose of the synthetic opioid. Fentanyl has been found in fake pills that were intended to pass as prescription Xanax, Percocet, Adderall, and more. Fentanyl has also been found in  marijuana edibles and even vaping cartridges.
The DEA states the fake pills are being produced by "criminal drug networks" which are sold by dealers in the U.S. utilizing social media.
Mendoza said she refers to her son's death as "fentanyl poisoning" rather than an overdose.
"I use the term drug poisoning because many of our children have died thinking that they're taking one thing when it was really something else. They were deceived to death," Mendoza said. "My son made a mistake and he paid for it with his life," she added later.
Mendoza started to investigate how her son was able to purchase the pill that killed him. She used her son's phone to identify the dealer who sold it to him, and began tracking him on social media, even confronting the man at one point and begging him to stop selling drugs. He refused, she said, but confirmed the dealer has since been arrested and is now behind bars facing charges.
Bills that would increase punishments for dealers who sell fentanyl-laced drugs that kill people have  failed in the California legislature. The most recent defeat came last month.
At last month's fentanyl awareness event, Mendoza warned parents that the drug dealers are using social media, including Snapchat, to target kids. She shared a graphic showing the emojis some dealers use to communicate that they are selling drugs.
"My son's perpetrator had a couple of these emojis on his accounts … I think it's worth paying attention to," she said.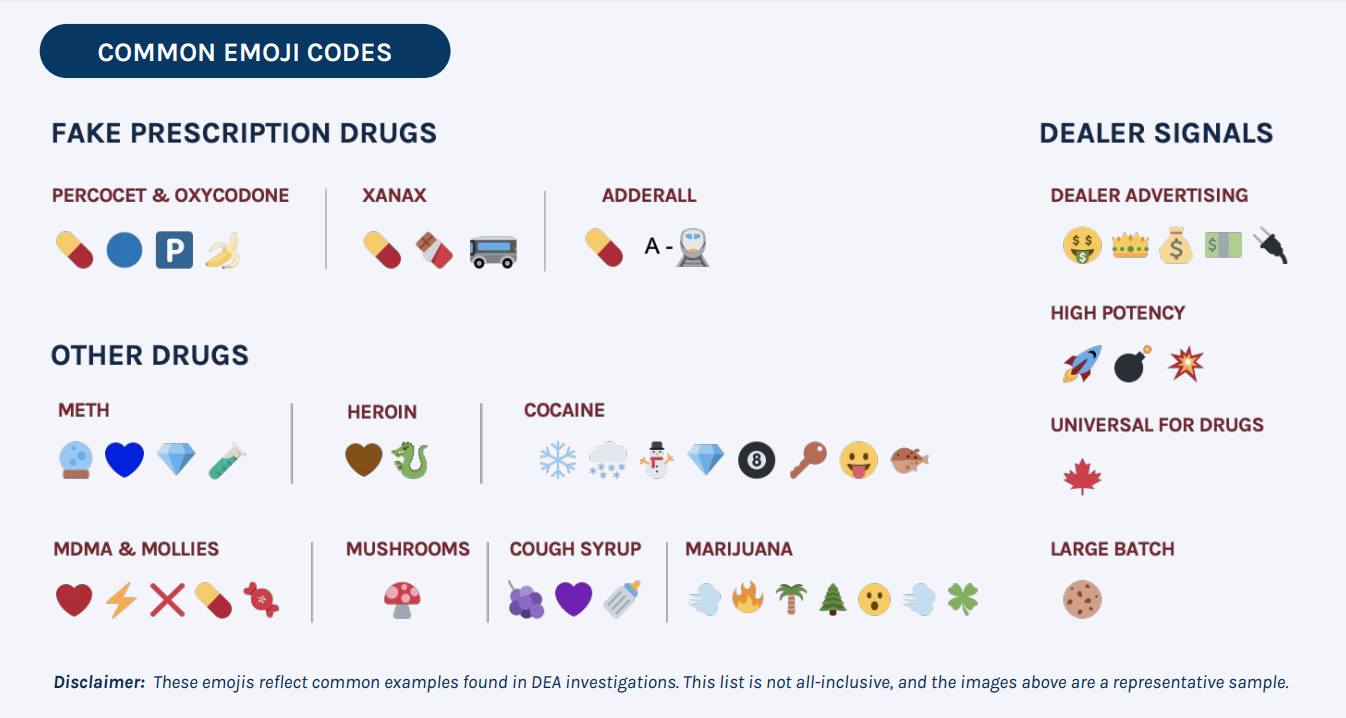 Maria Ortega lost her 19-year-old son to an opioid overdose after he purchased what he thought was a prescription pill on Snapchat. She warned attendees about how easy it is for kids to access these potentially lethal pills.
"We used to think that as long as our kids are home, they're safe. The kids are not safe," Ortega said. "[Drugs] are easily accessible through social media. It is just like delivering pizza," she added.
Mendoza had a message for the students in the audience: "If you're struggling with a substance abuse problem, please let your friends know. If you know that you have a friend who is struggling with this issue, check on them," she pleaded.
Her advice for parents was to talk to their kids about drug use and to set up an exit plan for them when they may be confronted with peer pressure.
"It's hard to be in those social situations and deal with pressure. Talk to your kids about how to create an out … You can say well, my mom's calling me. It's a special code and you know mom or dad will know what that means," she said.
A mother named Ashley (she asked that her last name not be used) was in the audience with her two kids on April 24. She said she thought it was important for them to attend the fentanyl awareness event.
"I just want them to know that [fentanyl] could be in anything," she said.
"I feel like it's good to get information out there because a lot of people don't know," her 14-year-old son said.
This type of information on drugs could soon become mandatory on California's TK-12 campuses. Recently introduced legislation would require drug education and naloxone at public schools, as  EdSource reported. It's already required at  California's public college and university campuses under a bill that took effect this past January.
Having this knowledge could be the difference between life and death, according to another mother who spoke at the April 24 event.
She lost her son to an opioid overdose and stressed the importance of learning how to use naloxone. She said her son had brought the opioid overdose treatment into his father and stepmother's home but never told them about it.
"They had a life-saving tool in the very next room, but they had no idea what it was for [or] how to use it," she said.
For more information, visit the Orange County Department of Education website.
David N. Young contributed reporting to this story.