How to run for School Board in O.C.; Active-shooter drill taking place this week; Backpack Bash supports students.
New addition to event with aspiring astronaut; Summer is officially ending this week for some students; Optimism in contract talks in Cypress.
New addition to event with aspiring astronaut; Summer is officially ending this week for some students; Optimism in contract talks in Cypress.

Helping you better understand, navigate and participate in the TK-12 public school experience in Orange County.
In this week's newsletter...
August 2, 2022
FIRST BELL 🔔 What you need to know to run for a seat on a local School Board in Orange County.
SECOND BELL 🔔 Police plan to hold active-shooter drill at O.C. elementary school campus.
EXTRA CREDIT 📌 Los Alamitos USD Superintendent Andrew Pulver to speak at event with aspiring astronaut Alyssa Carson.
RECESS 👏🏼 Backpack Bash a lesson in generosity that supports students.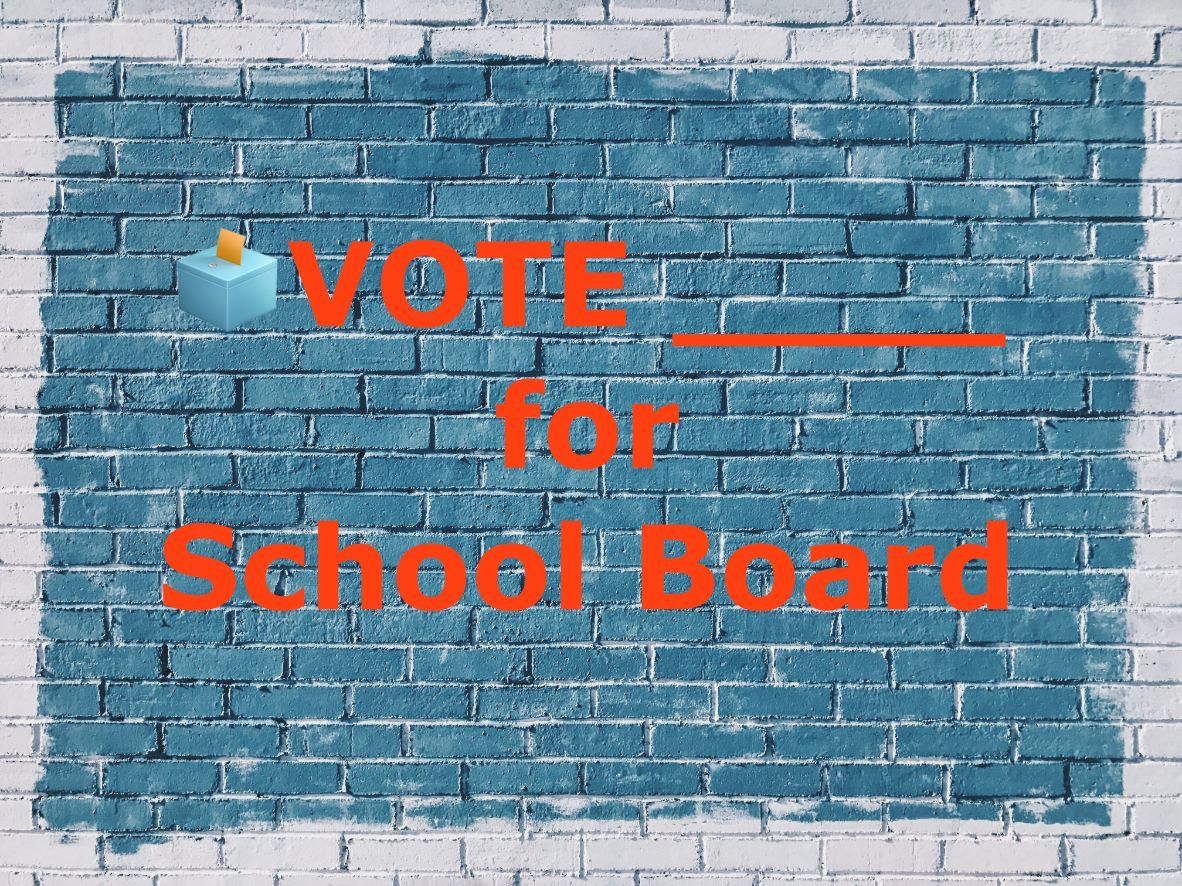 Want to run for a school board seat in Orange County? You have until Aug. 12 to declare your candidacy for the Nov. 8, 2022 election. Photo by Patrick Tomasso via UnSplash
Spotlight Schools is a nonpartisan, hyperlocal newsroom covering education in Orange County and this is our weekly newsletter.
Not a subscriber yet? Sign up here! And be sure to follow us on Instagram and Twitter for news and updates.
Please send feedback/story ideas/questions to hello@spotlightschools.com.
Yours in knowledge,
Jeannette Andruss, Spotlight Schools Founder and parent of two students in the Los Alamitos Unified School District
FIRST BELL
This Week's Top Story
So you want to run for School Board in O.C.?
The deadline to declare your candidacy is August 12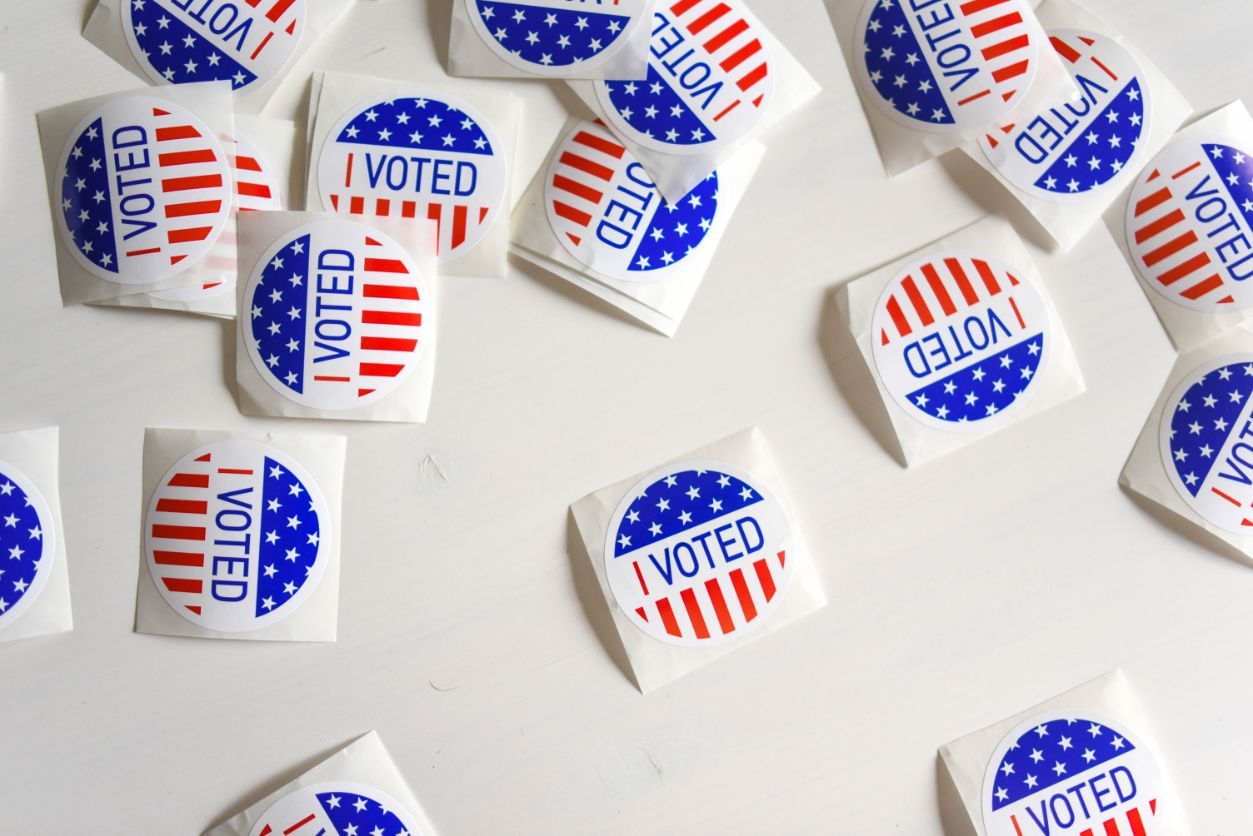 From the Anaheim Elementary School District to Santa Ana Unified, board of education contests in every public school district in Orange County will be on the November 8, 2022 General Election ballot.
There are 28 school districts in Orange County governing public TK-12 schools. Some school boards have five members, also called trustees, while others have seven. Most school boards hold elections by voting district or trustee area. The boundaries of some trustee areas may have recently changed due to redistricting. (Find your district here). Local school board races are nonpartisan meaning a candidate's political party affiliation does not appear on the ballot.
How do I run for School Board? If you want to run for your local school board, now is the time to do it. You have until August 12 at 5:00 p.m. to declare your candidacy by filing the required paperwork with the Orange County Registrar of Voters' office. To qualify for the ballot you need to be at least 18 years old and a registered voter living in the area you want to represent. More information on how to run is in the Candidate's Handbook.
What do school board members do? "The role of the school board is to ensure that school districts are responsive to the values, beliefs and priorities of their communities," reads the California School Boards Association website. (See the CSBA's booklet on school boards here.)
Most school board positions are part time and require attendance at board meetings which are held once or twice a month, including during the summer.
The job includes voting on the district's budget, reviewing curriculum and policies, hearing student appeals on disciplinary action and more. The terms are usually four years long and elections are staggered so at least two seats are on the ballot every two years.
Do board members get paid? Board trustees do get compensated for serving their communities, but how much they get paid depends on the number of students attending district schools. California Education Code lays out the compensation based on a district's average daily attendance of students. For instance, school districts that had an average daily attendance of between 1,000 and 10,000 students in the prior school year can pay board members that attend all meetings no more than $240 in any month. That compensation jumps to $750 a month for board trustees in districts with average daily attendance of between 25,000 to 60,000 students, such as Capistrano Unified. California's Education code says the pay of trustees can be increased beyond these limits by no more than 5% a year.
CANDIDATES ALREADY DECLARING
There are two seats for the Los Alamitos Unified School District Board of Education on the November 2022 ballot.
Current Board President Diana Hill is running for reelection to represent Trustee Area 3. So far Rona Goldberg is the only challenger to have filed paperwork in the race. In Trustee Area 1, incumbent Marlys Davidson is expected to run again.
The Cypress School District Board of Education has three seats on the ballot. So far Jon Peat, the husband of current Board President Bonnie Peat, is the only person who has filed paperwork to run for her seat representing Trustee Area B. For Trustee Area C, incumbent Sandra Lee and challenger Kyle Chang have filed paperwork to run. Incumbent Lydia Sondhi is also running for reelection to represent Trustee Area D.
You can see the full list of school board seats that are on the November 2022 ballot here and find out who has already declared their candidacy here.
Applications to fill seat on Orange County Board of Education due on Friday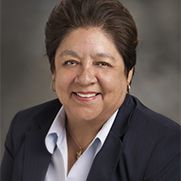 Applicants seeking to be appointed to fill the seat on the Orange County Board of Education vacated by Beckie Gomez have until Aug. 5 to apply. Courtesy photo.
The races for the Orange County Board of Education were decided in the June Primary Election, but there is a vacancy on the five-member board and people interested in filling it have until August 5 to apply.
The vacant seat is for the OCBE's Trustee Area 1 which covers Santa Ana, Fountain Valley and parts of Garden Grove and Tustin.
Rebecca "Beckie" Gomez had two years left of her term when she resigned effective July 1 over a legal challenge that argued she could not simultaneously be on the OCBE and the Tustin City Council.
Applicants wishing to be appointed to the seat to fill out her term that ends June 30, 2024 must submit a resume and a notice of intention to seek appointment by Friday. More information here.
SECOND BELL
Other Stories We're Following
Seal Beach Police to conduct Active-shooter drill at McGaugh Elementary this week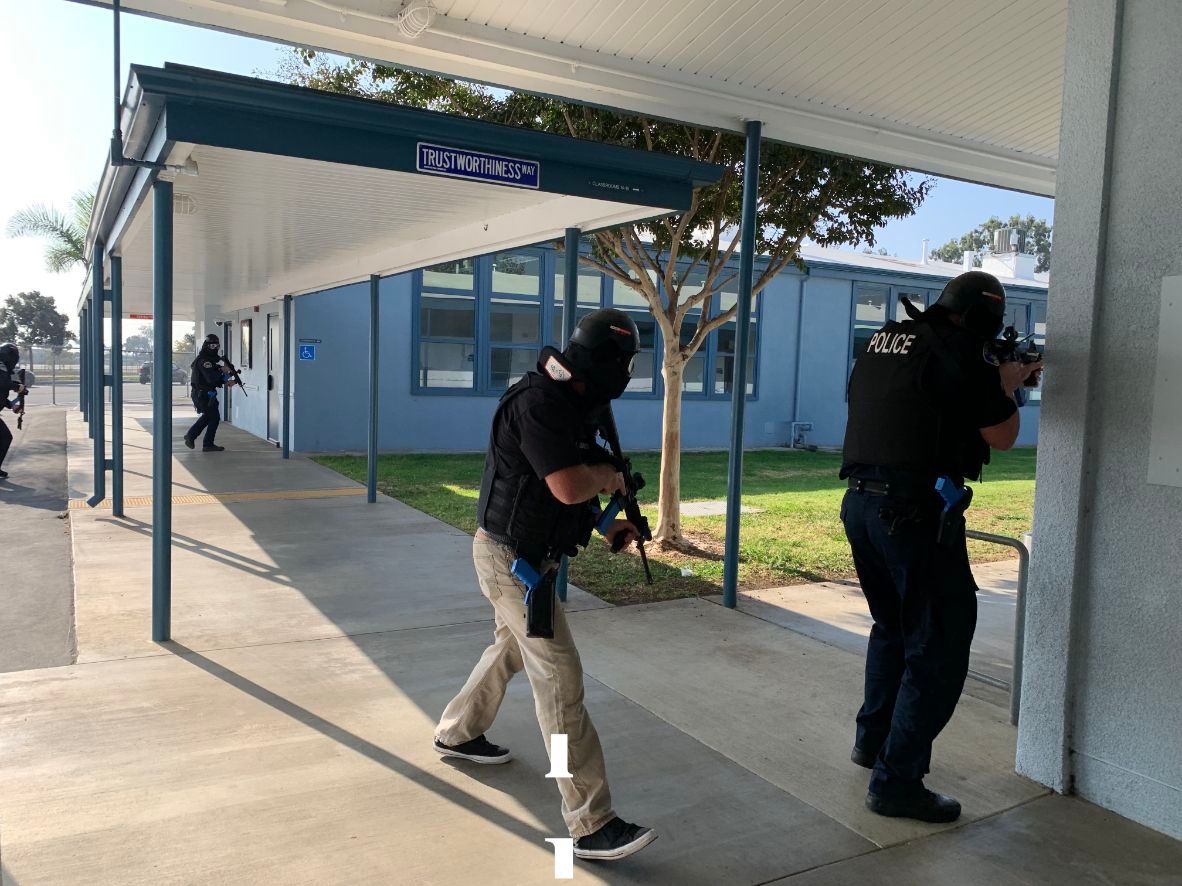 Seal Beach Police officers participate in an active-shooter training drill held at McGaugh Elementary in 2018. Photo by Jeannette Andruss
Before students head back to class at McGaugh Elementary school in Seal Beach this month, police officers will use the empty campus to train for what they hope never happens there.
This Thursday, August 4, the Seal Beach Police Department will conduct an active-shooter training drill for most of the day.
"The safety of everyone on the McGaugh campus is one of our top priorities as a Police Department. While we hope the unthinkable never happens at our school, we will use this opportunity to hone our officers' tactical skills," SBPD Public Information Officer Lt. Nick Nicholas wrote in an email to Spotlight schools.
The department conducted its last active-shooter training at McGaugh in April.
Since then there was the deadly mass shooting at Robb Elementary in Uvalde, Texas which left 19 students and two teachers dead and more than a dozen other people injured. A report from Texas lawmakers said the law enforcement response to that tragedy was plagued with "systemic failures and egregious poor decision making."
Lt. Nicholas said that his department's training was scheduled before the Uvalde shooting happened in May.
"Our goal is to conduct these trainings multiple times a year. Although tragic, the Uvalde shooting only further strengthens our resolve to provide the best possible response to any incident at McGaugh," he wrote.
Be warned that the community may hear screaming or yelling, simulated gunfire sounds, sirens and exercise alerts of an amplified voice system during Thursday's drill.
While school staff will not be involved in this drill, Lt. Nicholas said the department plans to hold a training with teachers and staff in the future.
At the July 12 Los Alamitos Unified School District Board of Education meeting, Superintendent Andrew Pulver, Ed.D., shared that district staff participated in an optional "Violent Intruder Safety Training" on June 29. Dr. Pulver noted that district staff, and even board members, have received training on how to respond to such a scenario. The refresher course was offered over the summer but more training could happen during the school year.
"So there will be ample opportunities to refresh those skills and knowledge and calm our fears," Dr. Pulver said.
Meanwhile, Los Alamitos Police Chief Michael Claborn told the Los Alamitos City Council last month that he's working to move some of his department's military and emergency response equipment to more quickly respond to any incident that might occur at schools in the city.
Los Alamitos Elementary, McAuliffe and Oak middle schools, and Los Alamitos High School are all in Los Alamitos.
Claborn said his team had "identified what we believe to be a gap in protection" and had already applied for a grant to be able to move more assets to be closer to the local school systems. Right now some of the armored protective equipment utilized by the West County SWAT team is stored in a secure facility in Westminster.
David N. Young contributed reporting.
Cypress update: Deal could be reached soon on teachers' contract
Optimism on both sides ahead of next meeting with mediator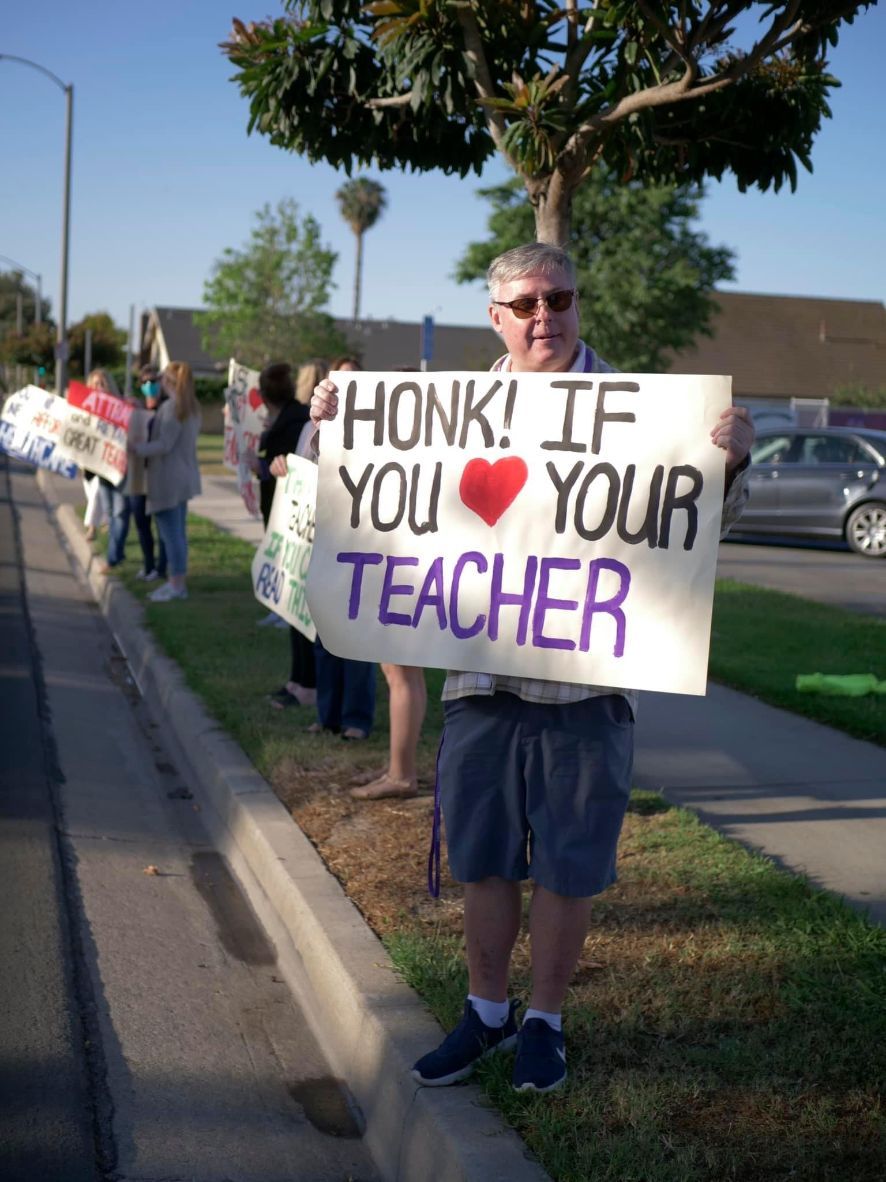 Supporters of Cypress teachers rally earlier this year. Courtesy photo.
Both sides in the negotiations for a new contract for teachers in the Cypress School District are hopeful an agreement will be reached soon.
"All I can say is that we're working on it,'' said Elizabeth Dunagan, the chief negotiator for the Association for Cypress Teachers (ACT).
Dunagan said she is optimistic that a settlement could be reached quickly, perhaps as early as the next negotiating session, which is scheduled for September 8. Classes are slated to begin August 11.
The teachers and the district have been at odds over the terms of a new contract for months. The sticking points are over pay raises and healthcare benefits. In May they declared an impasse and agreed to start mediation.
Negotiating teams from the teacher's union and the Cypress School District met at the district office in July with mediator Jerry Adams from the California Public Employment Relations Board (PERB).
"It was a positive interaction," Dunagan said of their first meeting with the mediator, "But we couldn't finish." She added, "there's a very, very good chance that we'll have an outcome in September."
Tim McLellan, Assistant Supt. for Business Services, said this week that he feels similarly.
"I'm very optimistic that there will be a resolution," said McLellan, the district's top negotiator. "I think both sides understand and want to get this behind us so we can move forward and not look back," he said.
Despite the hard bargaining, McLellan said, "there is still a good feeling when we come together (teachers and the district). The district has a good relationship with its teachers," he said.
This story was reported and written by David N. Young.
So long, Summer. The school year is almost here
Weaver Elementary starts the 2022-23 school year tomorrow
It's August and that means school will start soon for thousands of students in Orange County. For one campus in the Los Alamitos Unified School District, the 2022-23 school year starts this week.
Weaver Elementary in Rossmoor is on a year-round schedule which means its TK through 5th graders will be back in class starting tomorrow, August 3. The rest of the district starts on August 15.
For some O.C. students, classes won't resume until September, as this graphic from the Orange County Department of Education Newsroom shows.
Graphic courtesy of Orange County Department of Education Newsroom
✏️ Don't miss the Back-to-School newsletter! Next week, Spotlight Schools will have a special back-to-school edition newsletter focused on what you need to know to be prepared for the upcoming school year.
Want something covered in the back-to-school newsletter? Email questions or suggestions to hello@spotlightschools.com.
📩 Subscribe to the FREE Spotlight Schools newsletter here.
Other Stories We're Reading
EXTRA CREDIT
Meetings // Events // Opportunities // Resources
EVENTS
HAPPENING WED., AUGUST 10: There's a new addition to the Aug. 10 Spotlight Schools event featuring aspiring astronaut Alyssa Carson. Los Alamitos Unified School District Superintendent Andrew Pulver will be there to welcome Alyssa and talk about the district's new STEM building at Los Alamitos High School.
Click here to get tickets and more information.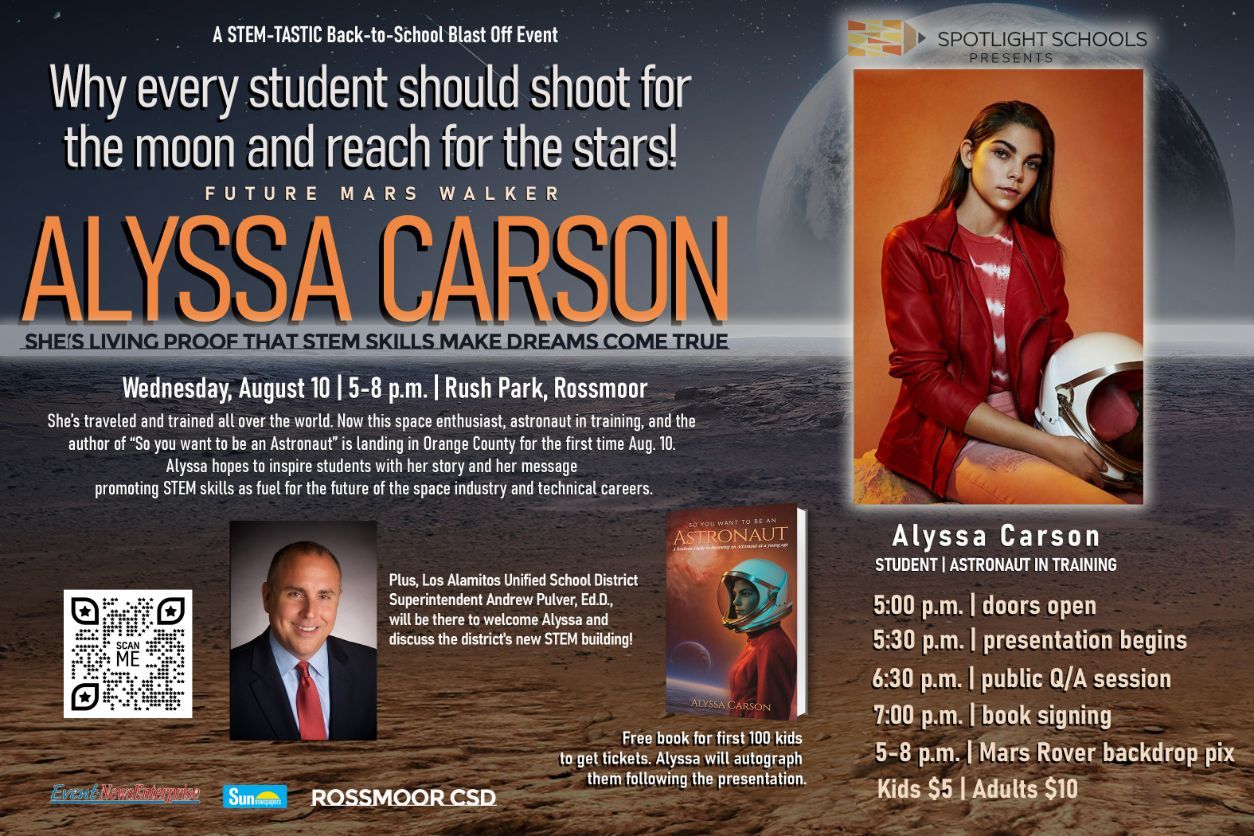 RECESS
Your Dose of Good News
Annual Backpack Bash provides school supplies to Students in Need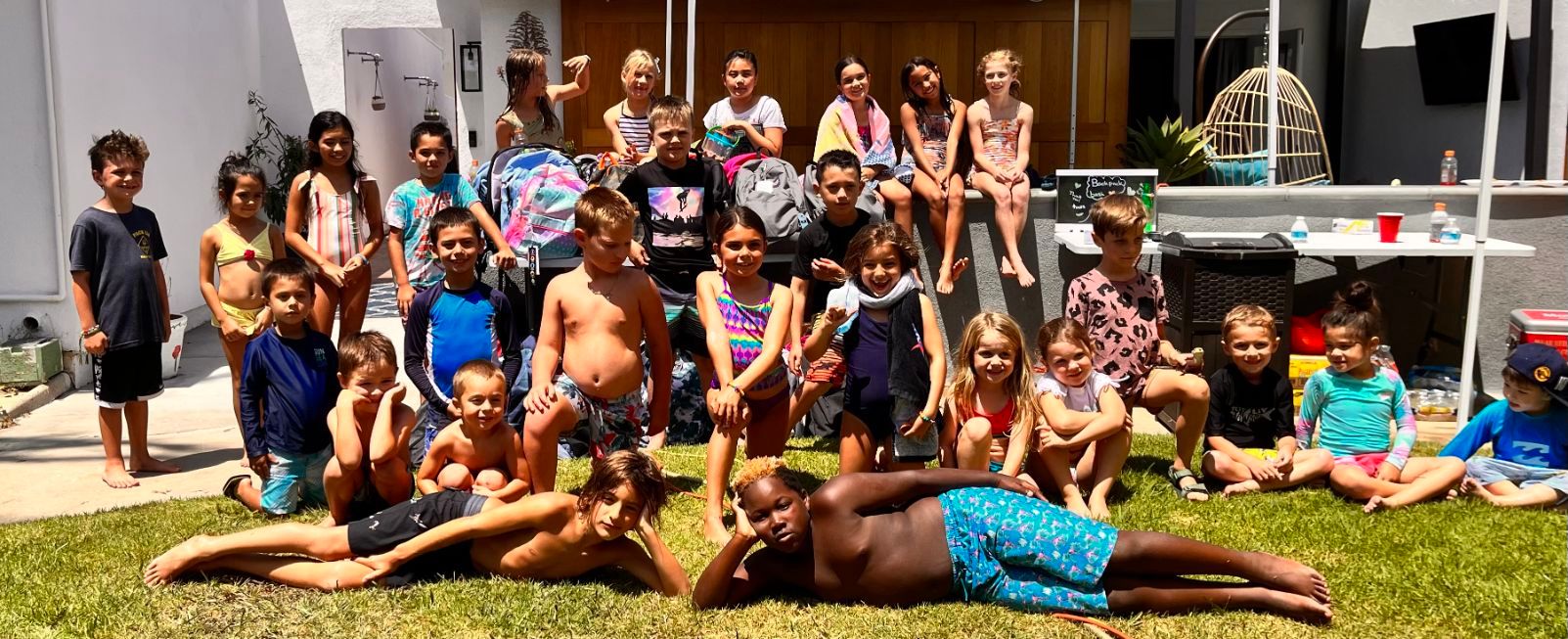 Students at the 4th annual Backpack Bash pose around the backpacks they collected to donate to an Inglewood school. Photo by Jeannette Andruss
A local teacher's summertime tradition provides a lesson in generosity while helping students in need. A few weeks before school starts, J.H. McGaugh Elementary school teacher Lyndsey Gardner gathers friends and family for a party with a purpose.
At the annual Backpack Bash in Seal Beach, guests are asked to bring backpacks filled with essential school supplies for students in need.
"Being a teacher, I know the importance of coming to school prepared," Gardner said in an email. "My kids are fortunate enough to not have to think twice about having all the needed school supplies but that is obviously not the case for many children."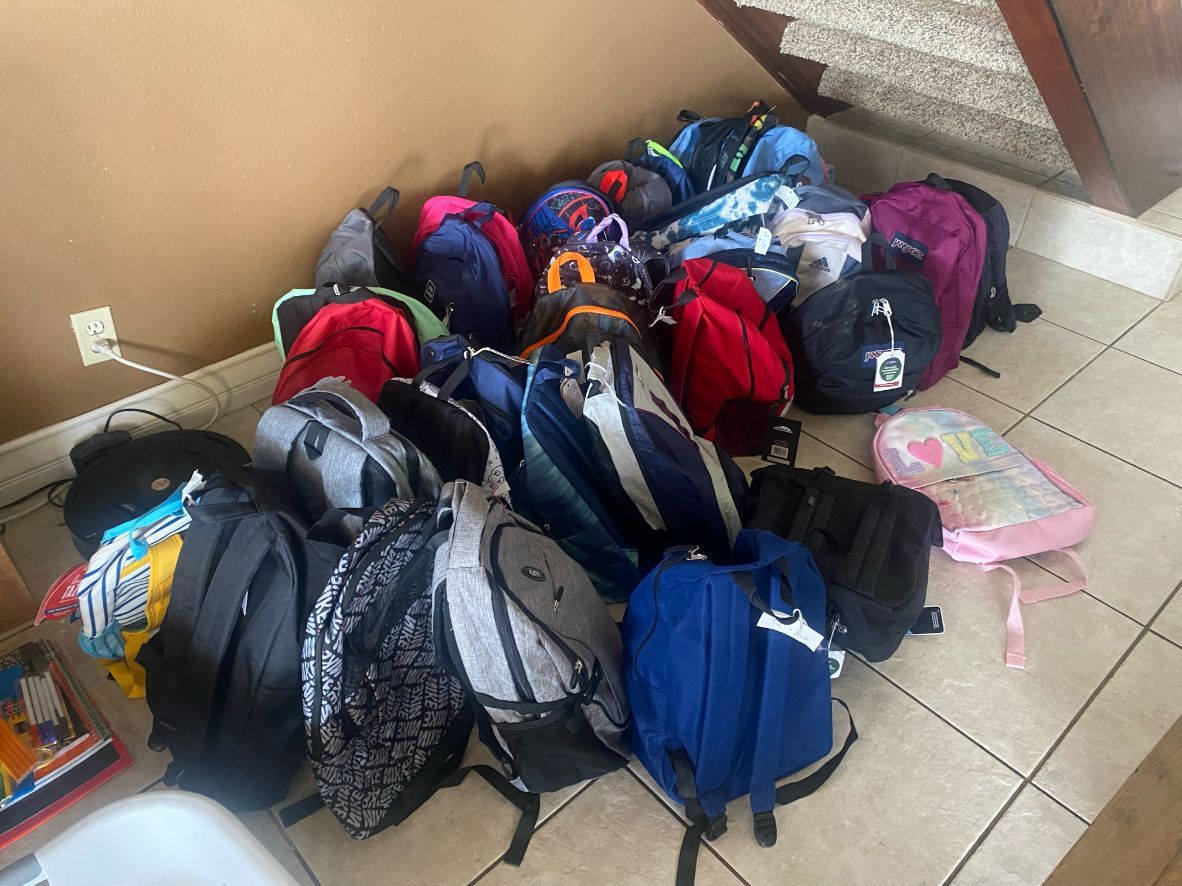 Backpacks donated by Seal Beach students and families for the 4th annual Backpack Bash hosted by McGaugh teacher Lyndsey Gardner.
The 4th annual backpack bash was held last weekend and it was a success. (Full disclosure: I was a guest at the event.)
Gardner collected 45 backpacks filled with supplies for students from TK through 8th grade. The backpacks will be delivered on Thursday to students at Oak Street School in Inglewood thanks to a connection made through McGaugh's former principal Issaic Gates.
Gardner said she was inspired to start the backpack bash after attending a Seal Beach family's Christmas party years ago. At that party, guests brought gifts from wishlists written by children living at an orphanage. The hosts would then deliver the gifts to the children.
"Our family loved this idea so much that we wanted to create a similar tradition," Gardner said. In the past, her backpack bashes have led to donations to another Inglewood school as well as the Boys and Girls Club and the City of Los Alamitos.
"My hope is that this tradition would help my kids find the joy in giving and simultaneously make them aware of the needs of others that live near and far," Gardner said. "I do hope it helps foster the spirit of giving in the community."
Thanks for reading!
Forwarded from a friend? Subscribe to the Spotlight Schools newsletter here.
Follow us on Instagram @SpotlightSchools.
Our mailing address:
P.O. Box 164
Seal Beach, CA 90740

Copyright © 2022 Spotlight Schools, All rights reserved.