How did your O.C. school district score on California's standardized tests in 2022?
See links to tests results for each of the 28 public school districts in Orange County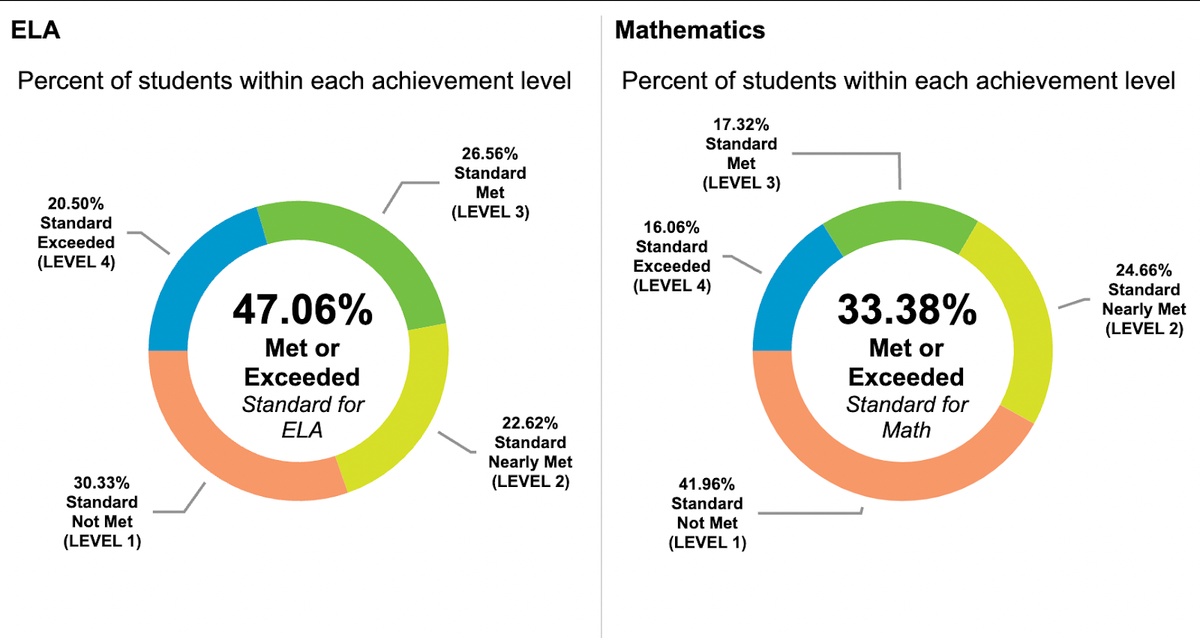 On Oct. 24, the California Department of Education  released scores from its first administration of statewide standardized testing since before the Covid-19 pandemic disrupted education.
The Smarter Balanced assessments taken by 2.9 million students in the spring of 2022 measured proficiency in English language arts (ELA) and mathematics based on the state's Common Core standards. The tests are usually given annually to California's 3-8 and 11th graders. Students' scores are reported in four levels that measure if a student has exceeded, met, nearly met or failed to meet the state proficiency standards.
Overall,  scores fell for students statewide, and in Orange County, compared to scores from the last time tests were administered in 2019.
California statewide results indicate scores in ELA dropped from 51% of students meeting or exceeding the state standard in 2019, to 47% in 2022. In math, just 33% of students tested met the state standard, a drop of 7 percentage points from 2019.
In Orange County, students' scores dipped overall but remained above California's average in most of the 28 public school districts in the county.
For Orange County students, 57% exceeded or met the ELA standards in 2022. That's down from 59% in 2019. Most students in O.C. were not proficient in math, according to the 2022 results. Just 45% of students in O.C. met or exceeded the math standards, falling from 50% in 2019, according to the Orange County Department of Education.
"It's been widely anticipated that this year's student assessment scores would reflect the global upheaval of the COVID-19 era," Orange County Superintendent Al Mijares, Ph.D., said in a press release. "Yet I am extremely proud of our county's schools and districts, which, in addition to being among the first in the state to reopen for in-person learning, have remained laser-focused on quality teaching and learning while modeling the resilience we strive to instill in our students."
Five of the 28 public school districts in O.C. had scores below the state average including Anaheim Union High School District, Anaheim Elementary School District, La Habra City Elementary School District, Santa Ana Unified and Buena Park Elementary School District
While still recording declines in scores, the districts with the most students meeting or exceeding state standards in ELA and math were Los Alamitos Unified, Fountain Valley Elementary School District, Laguna Beach Unified and Irvine Unified.
Los Alamitos Unified had the highest percentage of students meeting or exceeding ELA standards in any district in O.C. in 2022 with 79%. But that's a drop from 84% in 2019. Los Alamitos USD's percentage of students meeting or exceeding math standards was 68% in 2022, a decline from 74% in 2019.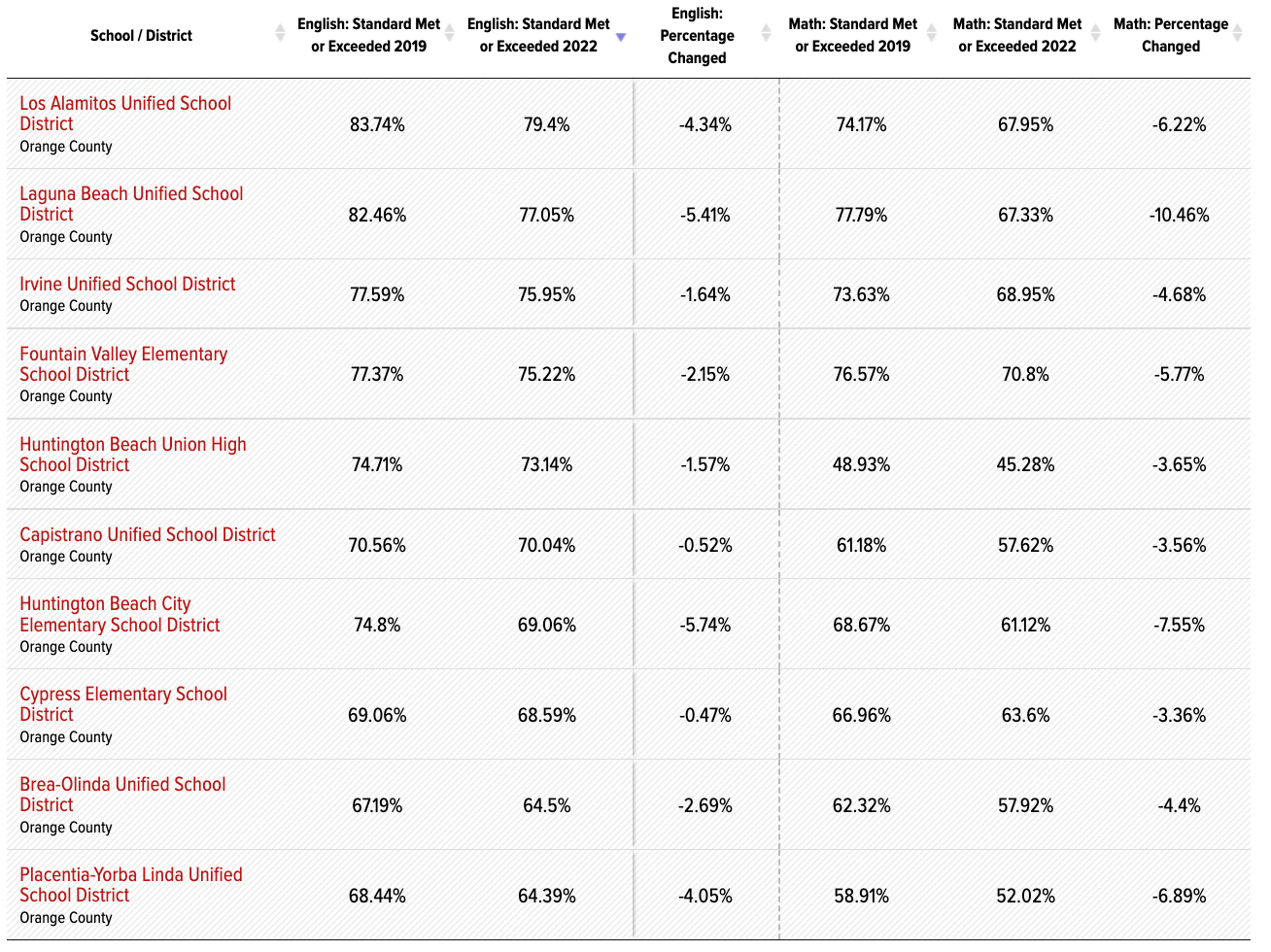 Wondering how your school district performed in California's standardized tests in 2022?
You can search and compare districts and campuses through the California Department of Education's
. Click on each school district name below to view their CDE results.
offers a search tool that generates graphics comparing year-to-year data as well as student achievement broken down by socioeconomic status, grade level, and more.
On
, enter your school into a search tool to create a snapshot of how students' scores in 2022 compared to 2019.