Gun violence against children; 👩🏻‍🔬 Student creates 'Girls in STEM' program; Orange Unified sued by parents; Meet our first Intern!
🪺 O.C. high school's football field hosting mama bird's eggs
🪺 O.C. high school's football field hosting mama bird's eggs
Helping you better understand, navigate and participate in the TK-12 public school experience in Orange County.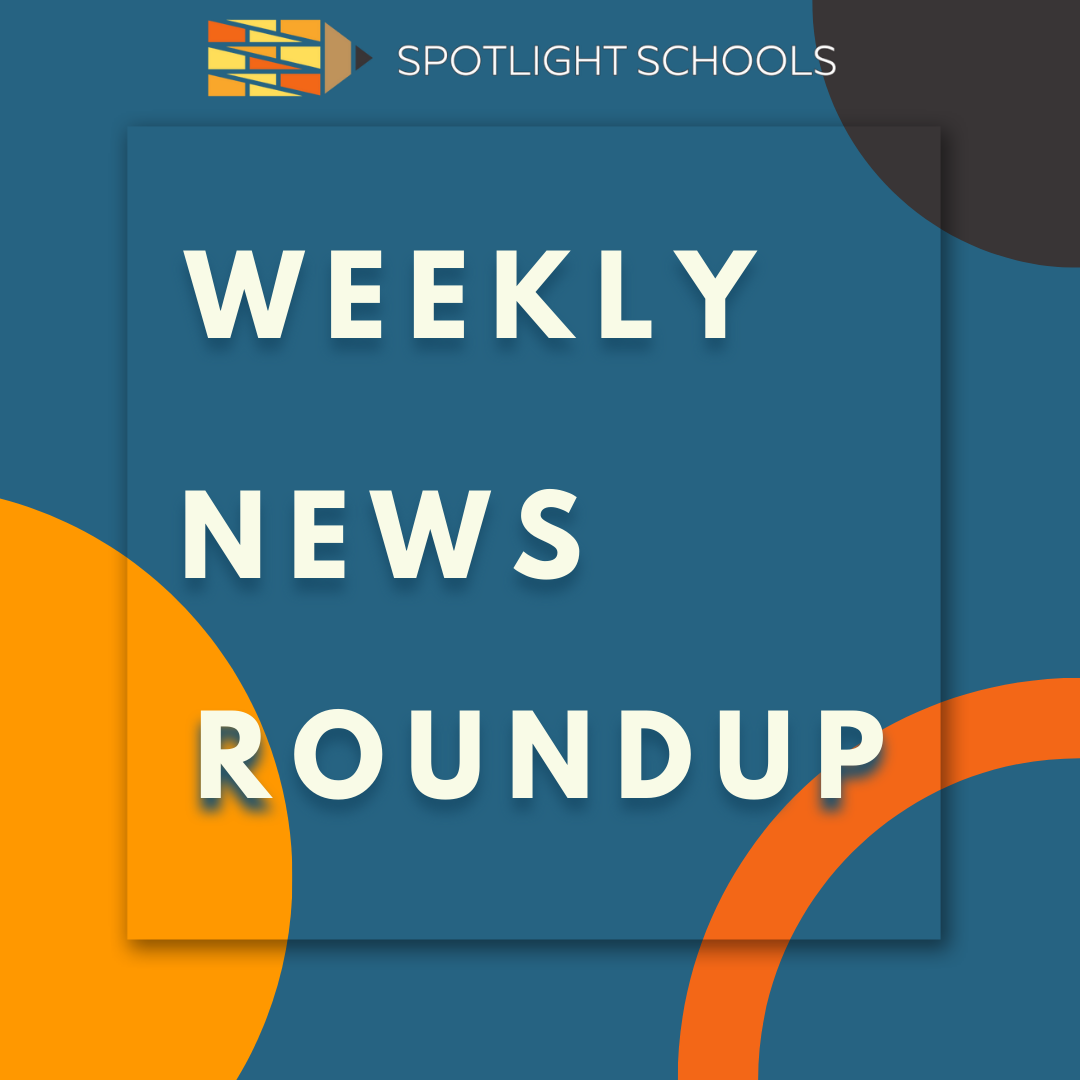 Spotlight Schools is a hyperlocal newsroom covering education in Orange County and this is the Weekly News Roundup newsletter.
You'll find original reporting from Spotlight Schools in addition to curated links to articles from a variety of newsrooms, education agencies and more to keep you on top of what's happening.
Let us know what you think! Email hello@spotlightschools.com.
Follow Spotlight Schools on Instagram and Twitter.
Don't forget to visit our website to view all of our stories or support our coverage at SpotlightSchools.com.
Yours in knowledge,
Jeannette Andruss, Cofounder and Chief Editorial Officer
SPOTLIGHT SCHOOLS SPONSOR

WEEKLY NEWS ROUNDUP
Meet our first Editorial Intern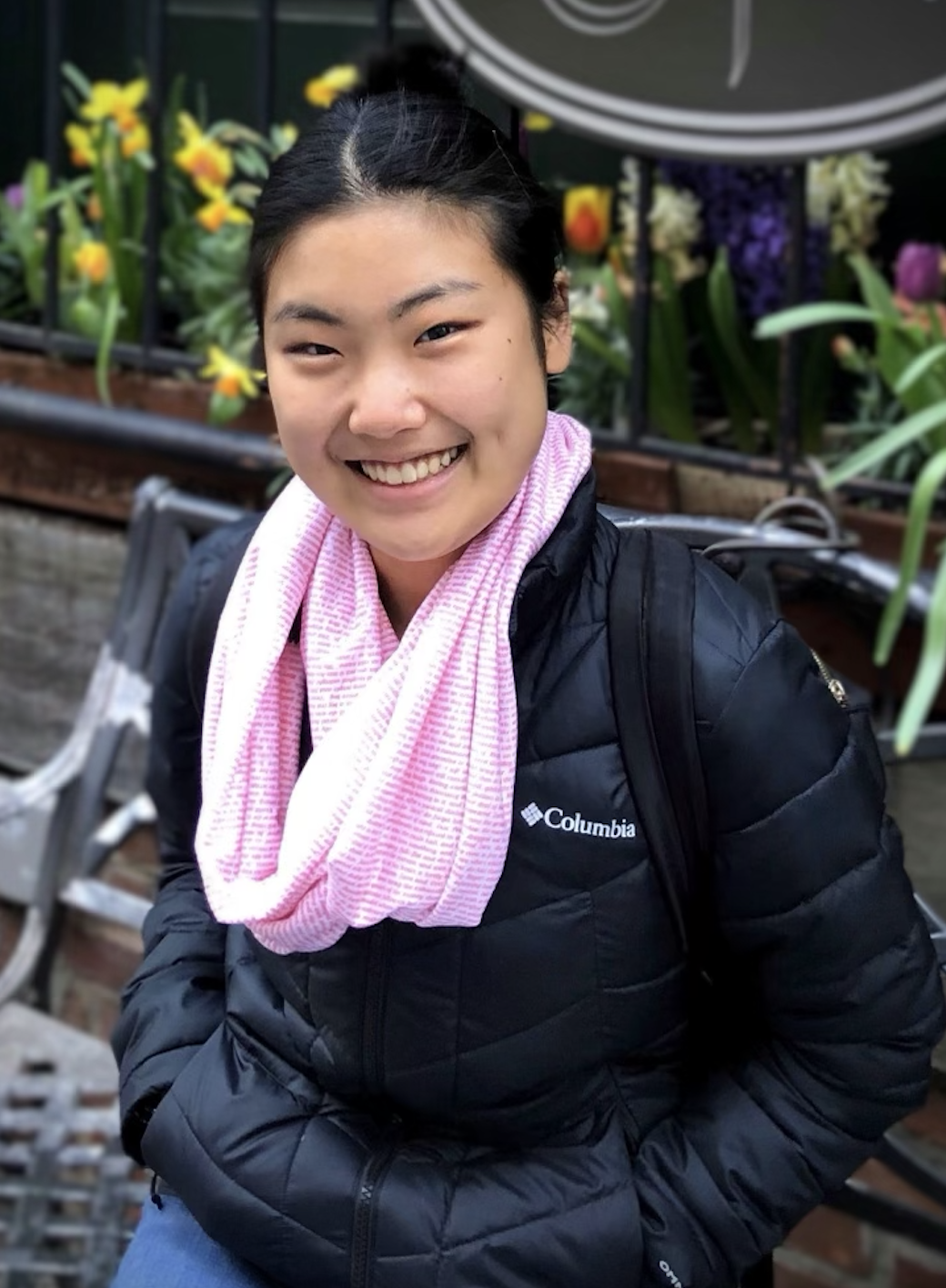 Bella Kim, a student at Los Alamitos High School, is the first Editorial Intern for Spotlight Schools. Courtesy photo.
Spotlight Schools is thrilled to announce the hiring of our first Editorial Intern, Bella Kim.
Bella will be writing stories for our newsroom and adding a current student's perspective to our coverage of education in Orange County.
Bella is a sophomore at Los Alamitos High School and is a budding journalist on campus. You may have seen her byline in the Griffin Gazette, the school's award-winning online newspaper where Bella is a staff writer and editor. One of her articles won a Best of School Newspapers Online (SNO) award last semester. Her work has also appeared in the weekly community newspapers, the Event-News Enterprise and Sun Newspapers.
"Part of the mission of our newsroom is to include students' voices on what is happening in TK-12 schools in Orange County. Our hope is that Bella will use her talents to inform our readers about the people, policies, and programs affecting them," said Jeannette Andruss, the Chief Editorial Officer and co-founder of Spotlight Schools. "We're also dedicated to supporting students and teaching them the craft of journalism."
"I am so excited to start my internship with Spotlight Schools. I'm grateful that Jeannette offered to mentor me, and I hope to learn a lot from her and gain more professional reporting experience," Bella wrote in a statement.
Read more about Bella on SpotlightSchools.com.
Check out her first story for us below 👇
Student launches 'Girls in STEM' program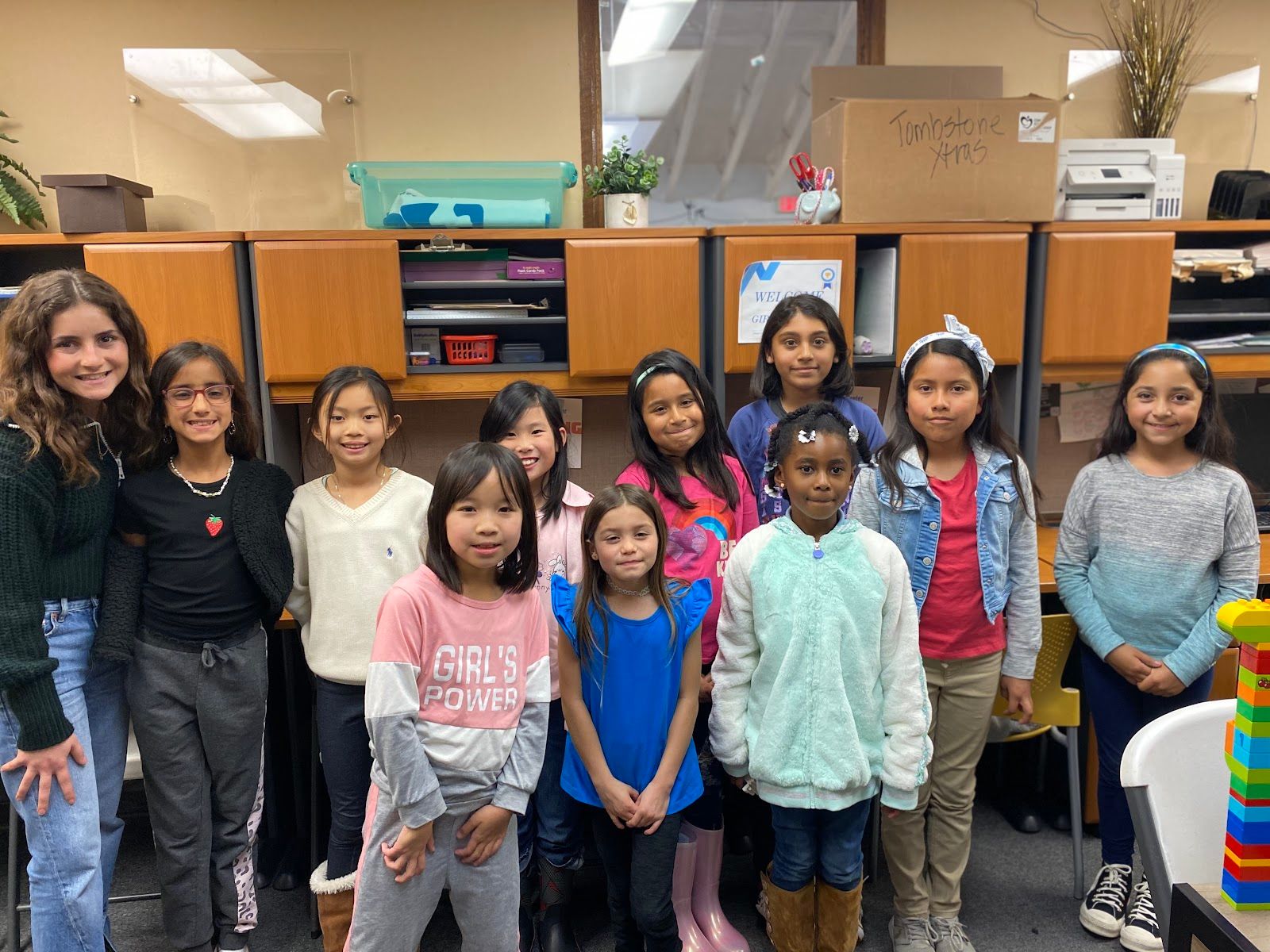 Every Wednesday from 4:30-5:30 p.m., Sarah Saadeh holds her Girls in STEM program at The Youth Center. A senior at Los Alamitos High School, Saadeh teaches a new workshop from her self-developed curriculum each week. Along with lessons on science, technology, engineering, and math, Saadeh's girls learn the importance of female representation, self-advocacy, and perseverance.
The seven-week program is open to girls in second to sixth grade. Girls in STEM is in its second session, which started on March 1 and ends on April 26. Currently, about 13 girls are enrolled.
"I'm more than happy to welcome any student [who] wants to pursue STEM," Saadeh said. Although the program is all girls as of now, Saadeh said she's open to including any student interested, regardless of gender.
Saadeh, 17, created the Girls in STEM program over the summer of 2022. She partnered Girls in STEM with her club at LAHS, Women in STEM. Her club is the Los Alamitos chapter of Women in STEM, an international organization collaborating with high schoolers to battle gender inequalities in STEM fields.
After proposing her program to Lina Lumme, CEO of The Youth Center, Saadeh created her curriculum. She planned experiments for the girls and connected her lessons to California Science Standards. Members of her Women in STEM club volunteer at the Girls in STEM workshops to support Saadeh and help with experiments.
"I wanted to make an impact on younger girls in the community," Saadeh said of the Girls in STEM program. "Because I'm a female pursuing a career in STEM, I want to be an example for the younger generation."
Read the whole story on SpotlightSchools.com.
Another school shooting tragedy in America
America is reeling from another senseless loss of life at a K-12 school. On Monday, six people were killed in a mass shooting at the Covenant School in Nashville, TN.
Three children and three adults were fatally shot at the private Christian elementary school, including nine-year-olds Evelyn Dieckhaus, Hallie Scruggs and William Kinney. The head of the school, Katherine Koonce, 60, campus custodian Mike Hill, 61, and substitute teacher Cynthia Peak, 61, were also killed.
Evelyn's funeral is expected to be held today, according to the Associated Press.
Authorities are still investigating why the suspect, identified by Nashville police as 28-year-old Audrey Hale, a former student at the school, opened fire on the campus armed with three guns, including two assault-style weapons. Hale was shot and killed by law enforcement officers within 15 minutes of authorities getting the first 911 call.
The tragedy in Nashville marks the 89th shooting on a K-12 campus in 2023, according to the K-12 School Shooting Database. The national database counts any instance of when a gun is fired or brandished on a campus whether students were present or not.
While the investigation of the latest incident of gun violence in the U.S. continues, a recent analysis offers another look at how guns are impacting children in America.
In the last few years, firearms surpassed car crashes as the leading cause of death for youth ages one to 19 accounting for 4,733 deaths in 2021, according to the CDC. Teenagers represent 91% of these lives lost. (Read more about these statistics in PolitiFact.)
About 70% of parents expressed varying degrees of worry that a shooting could happen at their child's K-12 school, according to a Pew Research Center survey published in October 2022.
Shootings at K-12 schools, however, are not what accounts for most of the deaths of kids due to firearms, according to a March 23 report from The Trace, a newsroom dedicated to reporting on gun violence in America.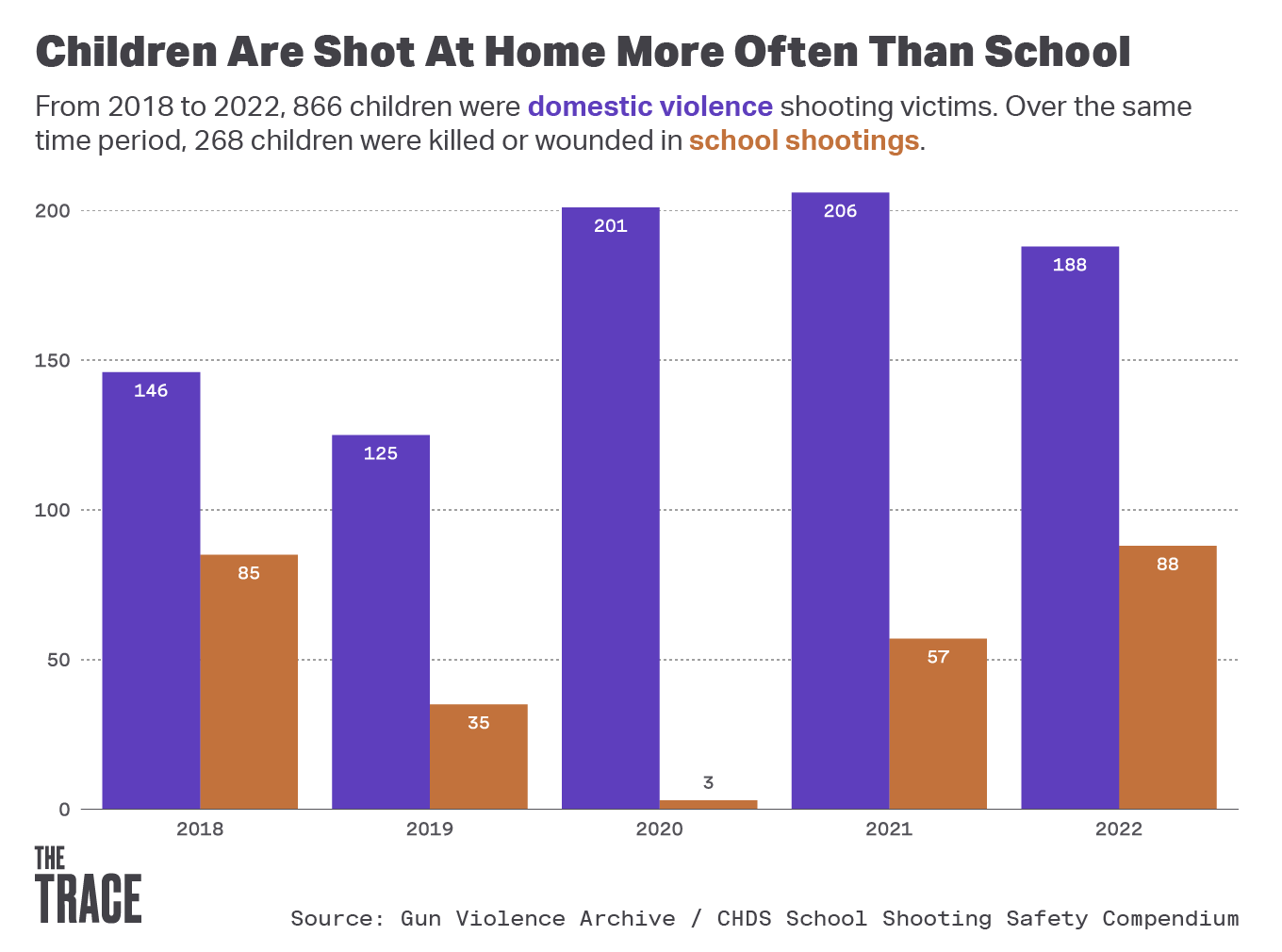 "All told, three times as many children were shot in domestic violence incidents as in school shootings and eight times as many died. The majority of those children were intentionally shot by a parent, stepparent, or guardian — the very people expected to protect them," the newsroom concluded after looking at data from the CHDS School Shooting Safety Compendium and the Gun Violence Archive covering 2018 - 2022.
The article uses examples to illustrate how gun violence is impacting children.
Nineteen children and two teachers were killed in a mass shooting at Robb Elementary School in Uvalde, Texas in May of 2022. According to The Trace, "Over the last five years there have been a total of eight school shootings in Texas — and 80 domestic violence shootings of children."
Read the whole story here.
Other coverage worth reading:
Why do mass shooters target K-12 schools? // USA Today
TN Republicans face pressure after Nashville school shooting // Wall Street Journal (paywall may apply)
Who are the Nashville officers who killed the Covenant school shooting suspect? // The Tennessean
Seal Beach Police offer parents advice on how to respond to an active shooter // Spotlight Schools
Orange Unified hit with two lawsuits from parents over firing of Superintendent
The Orange Unified School District and its Board of Education are facing two lawsuits claiming the board majority violated state law with its special meeting held on Jan. 5 during the district's winter recess.
At that meeting, in a 4-3 vote, the board fired Superintendent Gunn Marie Hansen, Ph.D., put an assistant superintendent on paid leave, and brought on an interim superintendent.
One lawsuit comes from attorneys Alexander and Sarah Brewsaugh, who are the parents of an OUSD first grader, reports The O.C. Register. They accuse the school board majority of violating California's Brown Act, which is meant to ensure the public has access to government meetings.
The lawsuit alleges that the board members supporting Dr. Hansen's ouster "had a pre-planned outcome before the meeting began" and uses an email exchange between board members to support its case.
OUSD Board President Rick Ledesma told the Register, "'there was no Brown Act violation' because he was in touch with only two other board members, not a majority."
The other lawsuit looking at the board's compliance with the Brown Act was filed by parent Gregory Pleasants, reports Voice of OC.
Dr. Hansen was recently hired as superintendent for Westminster School District.
Read more in The O.C. Register and Voice of OC.
Concerns raised over book on Iranian Revolution by some in Placentia-Yorba Linda USD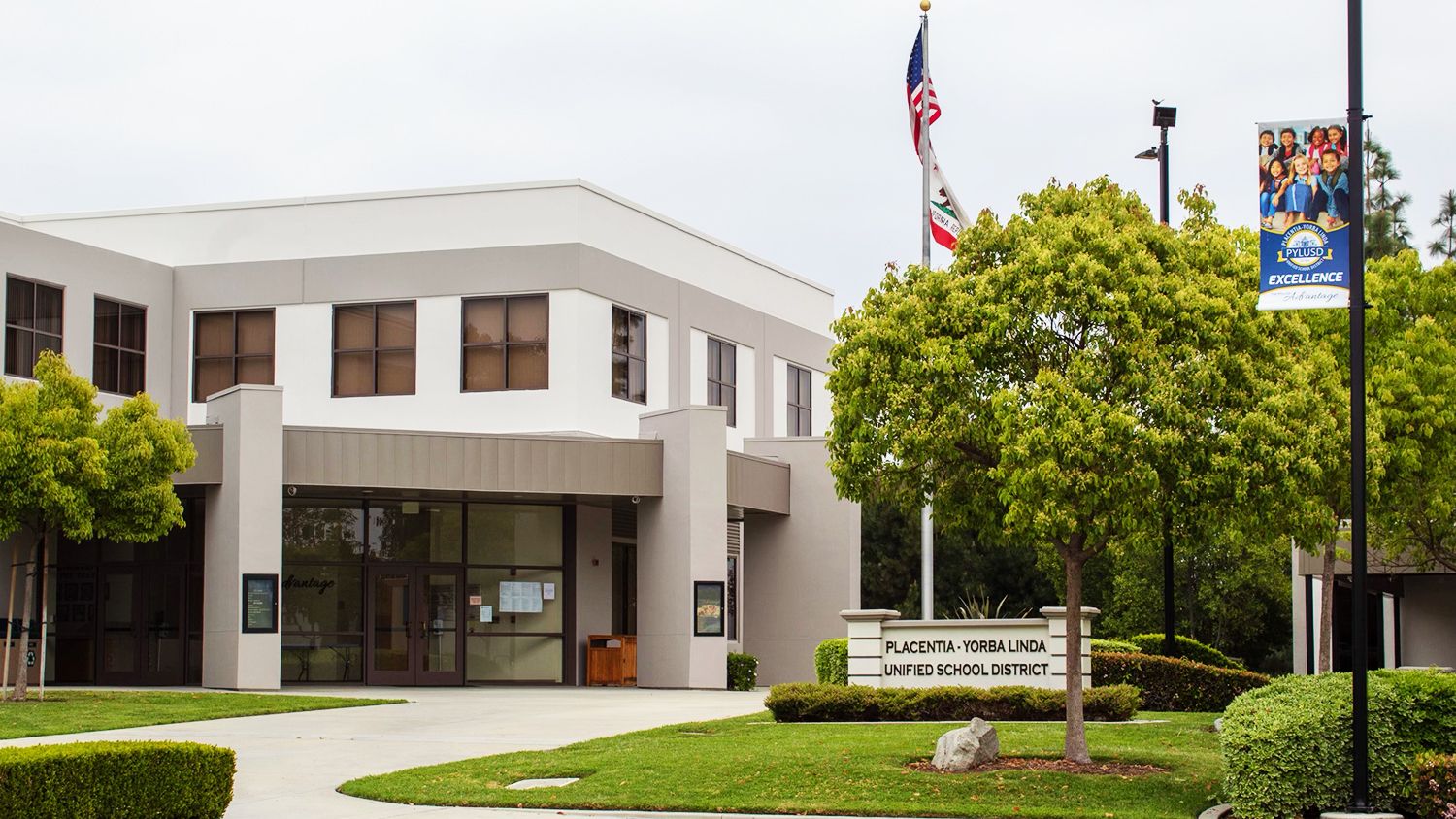 Trustees on the PYLUSD board appear at odds over the piloting of the graphic novel, "Persepolis: The Story of Childhood." Some board members and students fear it could be banned while others are calling for more parental involvement in the process to approve curriculum.
Read the whole story on Voice of OC.
Ethnic studies will soon be a graduation requirement for California high school students. Are teachers ready?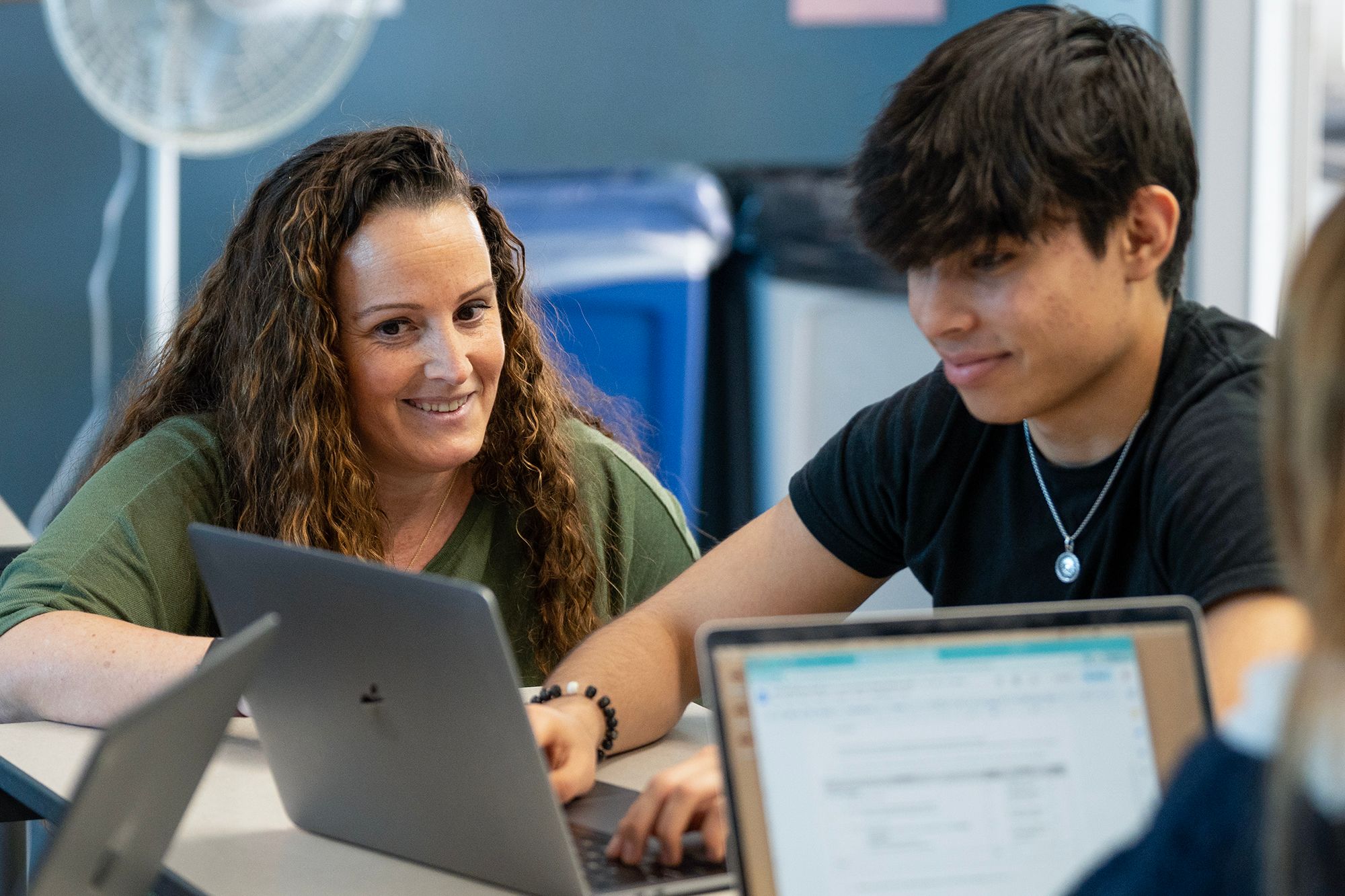 Starting with the class of 2030, California students will need to pass an ethnic studies course to graduate from high school. As more campuses begin offering the course, a debate among educators is emerging about whether teachers need a special credential to teach ethnic studies.
Read the whole story from CalMatters.
Student makes 'herstory' in publishing book on women in history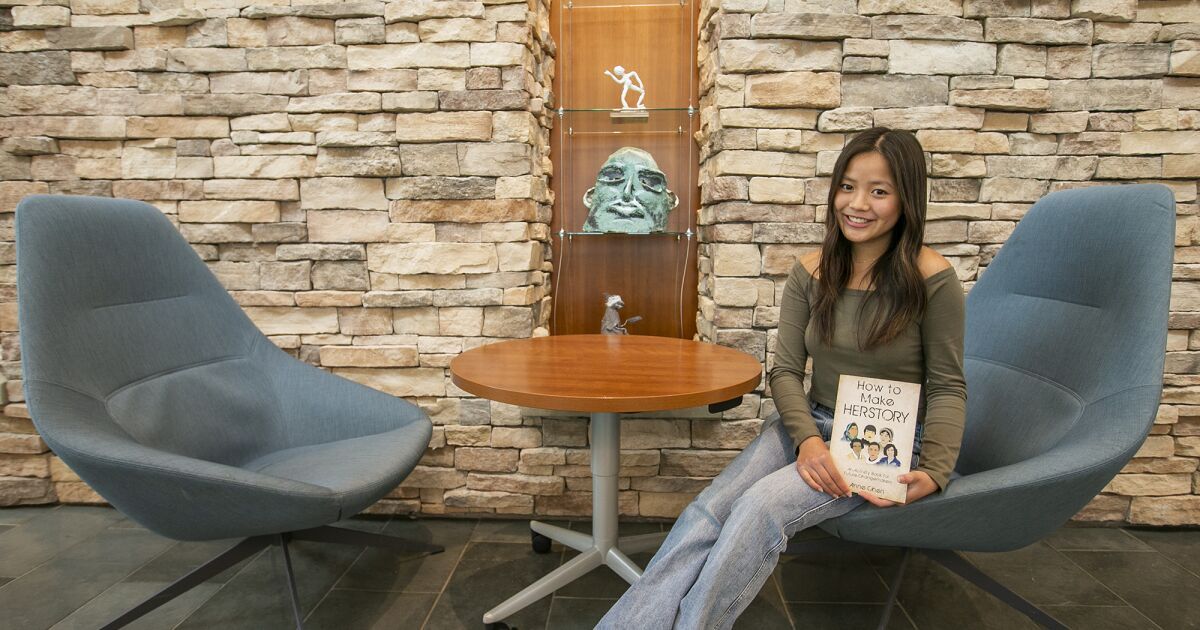 Photo from the L.A. Times.
A junior at Sage Hill School in Newport Beach is making "herstory" and hoping to inspire others to do the same.
Sixteen-year-old Anne Chen has published an activity book on women in history called, "How to Make HERSTORY," as part of her Girl Scout Gold Award project. The book features "creative activities, illustrations, and powerful stories" meant for students from 5th grade through middle school.
"A really big part of my project was creating this book for younger girls," Anne told the L.A. Times, noting that she found women's history was not really covered in classrooms until high school.
Read the whole story in the L.A. Times.
LAHS Show Choir earns 16th National Championship Title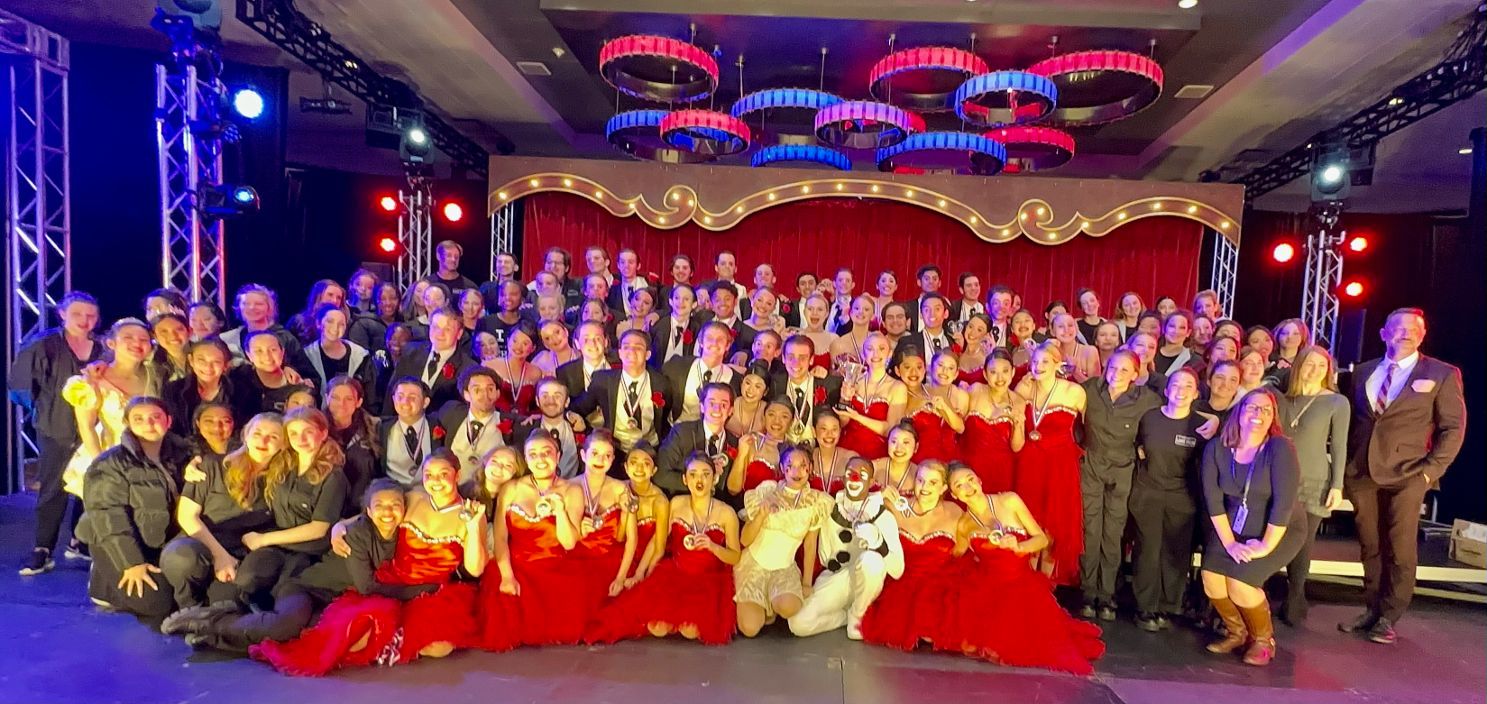 Student performers with Sound FX, part of the Los Alamitos High School Show Choir, were named the Grand Champion of the Heart of America National Show Choir competition held in New York City this month. Courtesy photo.
It was a winning weekend in New York City for students in the Los Alamitos High School Show Choir.
Both Sound FX, the advanced mixed show choir, and Soundtrax, the advanced women's show choir, took home top honors at the Heart of America National Show Choir competition, as Patch recently reported.
Sound FX was named the Grand Champion of the entire event to earn its the 16th National Championship Title. They also earned awards for Best Visuals, Best Show Design, and Best Costumes.
Soundtrax earned a first runner-up title as well as awards for Best Costumes and Best Visuals.
Check out the award-winning performance by Sound FX by clicking here or on the image below.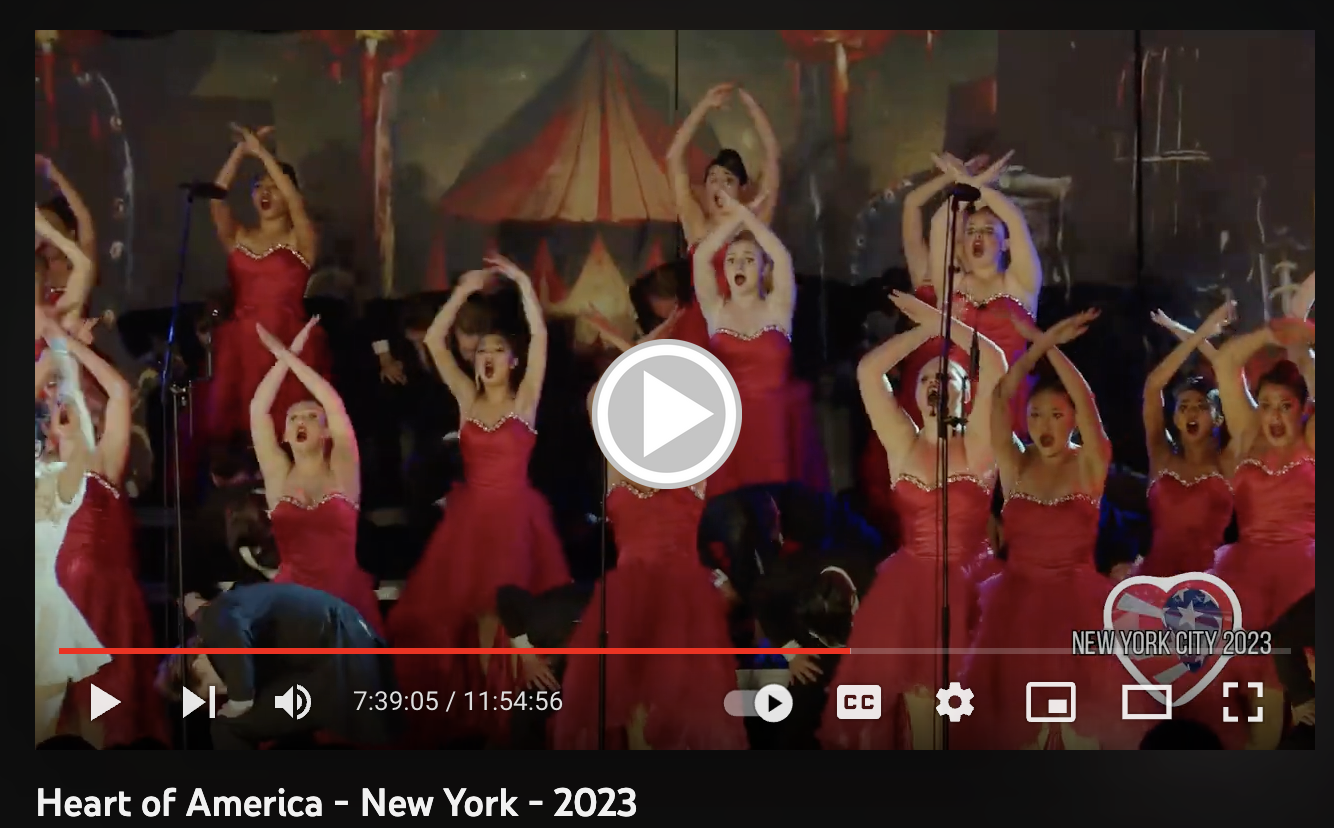 See more highlights from NYC on the LAHS Show Choir's Instagram account.
Marina High School protects bird's eggs on campus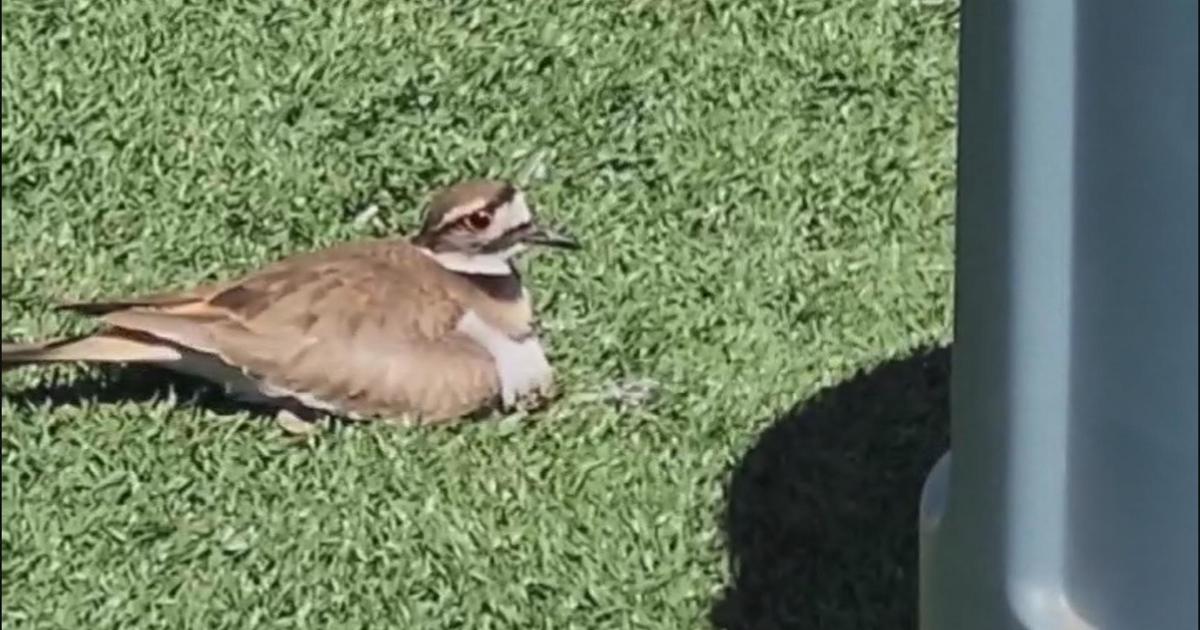 An unexpected visit from a shorebird is being welcomed by Marina High School students after the bird laid its eggs on the school's football field. Now the high school in Huntington Beach is taking steps to protect the eggs so they hatch safely.
Watch the story on CBSLA.com.
🧠 What's on your mind?
We want to hear your thoughts
about Spotlight Schools!
Email info@spotlightschools.com so we can better serve you with content you care about.
Copyright © 2023 Spotlight Schools, All rights reserved.
P.O. Box 164, Seal Beach, CA 90740