Girl's Goal of Giving
8th grader hopes to perform 100 hours of community service this school year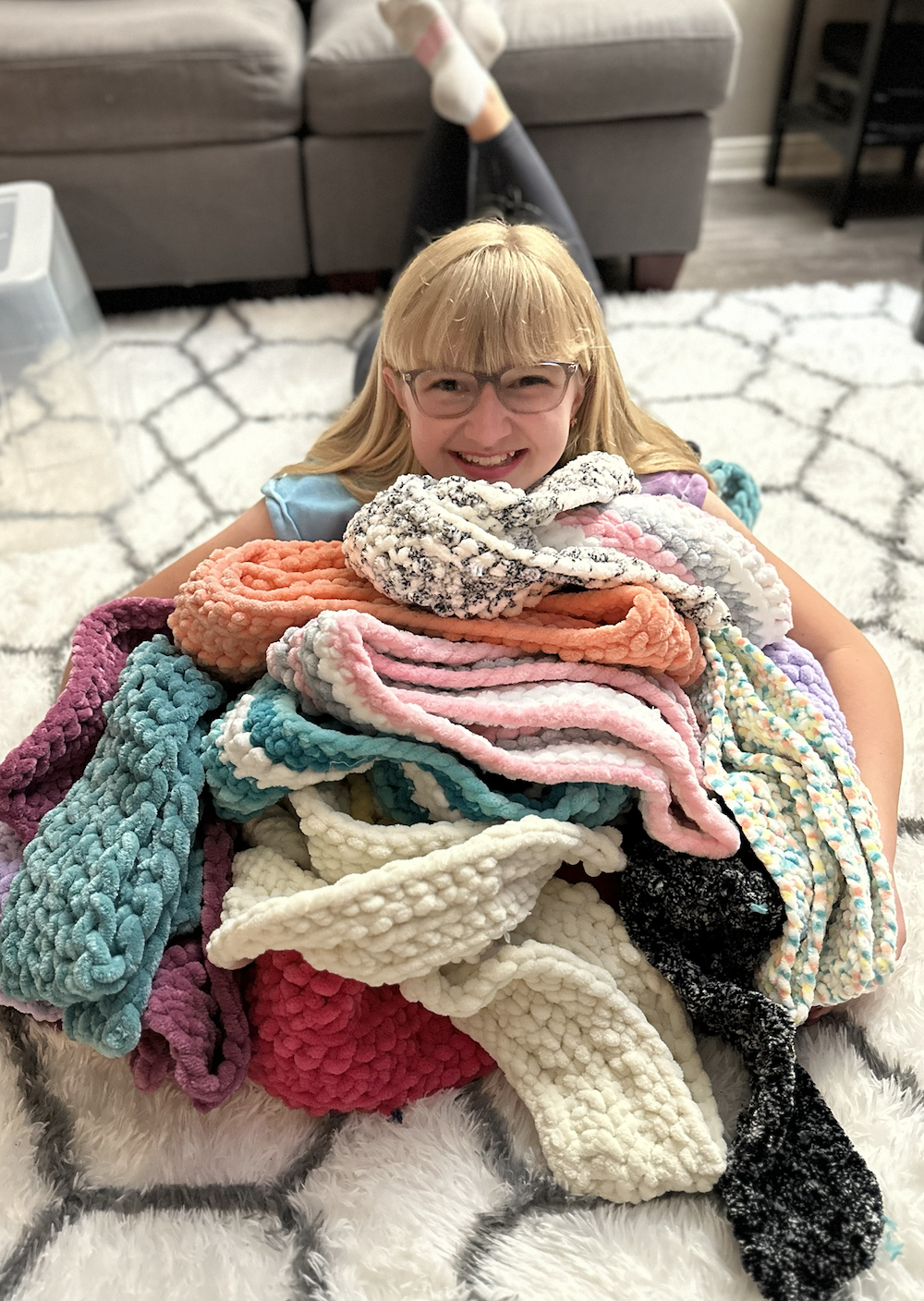 Alyssa Wiitanen is a girl with a goal to give to others.
The 8th grader at McAuliffe Middle School in Los Alamitos hopes to complete 100 hours of community service during this school year. That's in addition to performing in two choirs and excelling in her honors classes.
"Between school, choir, and family I am very busy, but I'm proving that with a few tools, creativity and dedication, I am able to find time to change lives, and so can you," the 13-year-old wrote in a text message to Spotlight Schools.
She's well on her way to reaching the volunteering milestone, thanks to her participation in several school clubs and her own ingenuity of dreaming up ways to use her skills to help others.
For example, in a recent Zoom interview, Alyssa shared that her grandmother taught her how to crochet.
She's now using that ability to make scarves to donate to residents at a hospice in Orange County. She's already made 24 scarves using her own money and donations from supporters. Her next project is to create hats and blankets for newborns at a local hospital.
"She's an old soul," Christina Wiitanen said of Alyssa, explaining she was not surprised when her daughter decided to crochet items for others.
"She's so calm and so patient and so caring," she said.
In addition to making soft accessories for others, Alyssa has been volunteering at cleanups at the  Bolsa Chica Wetlands and plans to help at the upcoming Walk MS.
"I've kind of been doing stuff like this my entire life," Alyssa said, recounting how she and her mom used to distribute kits with toiletries to homeless people in their previous neighborhood in Anaheim.
She also credits a teacher she had in 5th grade at Los Alamitos Elementary School who inspired her to make giving back a priority.
Alyssa's focus on community service has only grown as a middle schooler. She's part of the school's Make-a-Wish club, where she creates handmade birthday cards for others.
She's also an ambassador, or leader, of McAuliffe's  California Junior Scholarship Federation club or CJSF, a chapter of a statewide organization "whose mission is to recognize and encourage academic achievement and community service among middle and high school students in California."
The club "connects students to school through volunteerism, while educating them about different college and university options after high school," said McAuliffe Principal Ryan Weiss-Wright, Ed.D., in an email to Spotlight Schools.
McAuliffe's CJSF chapter was launched by English teacher Jennifer LeTourneau in 2018 after seeing her own children enjoy the community service projects the club offered at their school.
"It's really a great mindset for all of us to have – to give back," LeTourneau said in a recent phone interview.
LeTourneau currently has 140 7th and 8th graders in the CJSF club that meets weekly on campus during lunch. She also takes students to tour colleges and universities to provide them a glimpse of what is possible after high school graduation.
In the fall, CJSF sponsors a campus-wide donation drive benefiting We Care, a family support center in Los Alamitos, LeTourneau said.
Tying in the college focus, the drive is held during rivalry week when UCLA and USC face off in their annual NCAA football game. Students and staff fill up donation boxes for Trojans or Bruins. In the end, the community wins from all the support.
"That's been really fulfilling because [We Care] has come to rely on us," LeTourneau said.
To participate in CJSF, students must meet certain grade requirements. They must perform a minimum of five hours of community service per semester, but many go above and beyond that.
"They're really putting in time to serve their community," LeTourneau said, noting the students get excited about coming up with projects. "I just love their innovation."
In one example, Alyssa came up with a presentation to her fellow CJSF students about how to find groups in need of volunteers. She told them about the website VolunteerMatch, which allows users to search for local volunteer opportunities. It's the same organization Alyssa used to connect with the hospice in O.C. for her scarf donation.
"It was amazing," LeTourneau said of Alyssa's slideshow presentation. "I was really proud of her."
Alyssa is inching closer to tallying 100 hours of volunteering and anticipates she will meet the goal in the coming weeks.
"I feel like it has motivated me a little bit more," said Alyssa of her community service goal and added that it's been fun to do.
"To know that I have done all of these things to help all of these people … I really do love it," she said with a smile.
"She's beaming with the work that she's doing and that she's making a difference," LeTourneau said of Alyssa. "That's what it's all about."
If Alyssa does reach 100 hours, she could be recognized by McAuliffe during a ceremony toward the end of the school year. She likely won't be alone in the achievement.
"Every 8th grade class has over 50 students that earn 100 hours of community service, or more, and are recognized at our 8th Grade Awards Night in May," Dr. Weiss-Wright wrote in an email to Spotlight Schools. He said that some students even earn 200 and 300 hours.
In a recent text message, Alyssa emphasized she has no plans to stop volunteering after recording 100 hours.
"And not to worry, it doesn't end there, cause I'm just getting started," she wrote.