Former Los Al Board of Ed Trustee Seeks to Expand Charter School; School Cafeterias Hit by Supply Chain Shortages; O.C. High School Honors Creator of SpongeBob SquarePants
Dr. Jeff Barke's OC Classical Academy is Petitioning the OC Board of Education to operate countywide. Barke's Spouse is on the OCBE.
Dr. Jeff Barke's OC Classical Academy is Petitioning the OC Board of Education to operate countywide. Barke's Spouse is on the OCBE.
Spotlight Schools
In this week's newsletter...
Charter School Co-Founded by Former Los Al USD Board of Education Member May Expand Countywide
School Cafeterias hit by Supply Chain Shortages
Update on Recall Petitions against Los Al USD Trustees
O.C. School's Tribute to Creator of SpongeBob SquarePants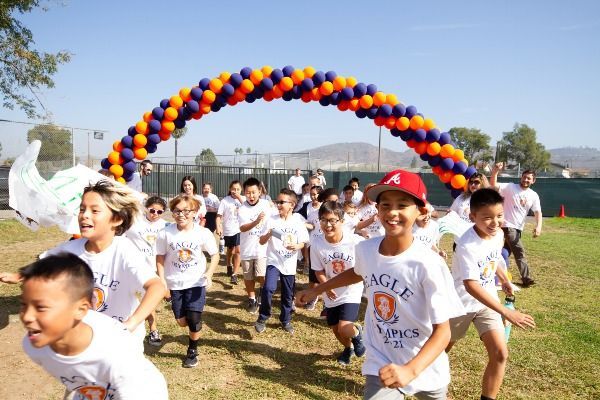 Students at Orange County Classical Academy, a charter school in Orange that may expand countywide. Photo Courtesy of Jean Judge, Board Member at OCCA.
Spotlight Schools is here to help you better understand, navigate and participate in the TK-12 public school experience in Orange County.
Please send feedback/story ideas/questions to hello@spotlightschools.com.
Yours in knowledge,
Jeannette Andruss, Spotlight Schools Founder and parent of two kids in the Los Alamitos Unified School District
FIRST BELL
This Week's Top Story
OC Charter School Co-Founded by former LAUSD Trustee Seeks Ability to Expand Countywide
Orange County Classical Academy (OCCA), a TK-6 charter school in the Orange Unified School District that opened in 2020 with a petition process that sparked debate, is seeking to expand across Orange County.
Tomorrow, the Orange County Board of Education is scheduled to hear a presentation on OCCA's newest petition to become a Countywide Charter School, which would allow the charter to operate in multiple school districts across O.C. (See OCBE Dec. 1 Meeting agenda here.)
Out of 37 charter schools in O.C., four have countywide status, according to Ian Hanigan, spokesperson for the Orange County Department of Education. Charter campuses are taxpayer-funded schools that can operate independently in terms of curriculum but must meet state education standards and are subject to local oversight.
OCCA bills itself as the county's only tuition-free "Classical Education charter school." It's the only school in California affiliated with a charter school program from Hillsdale College, which describes itself as a "small, Christian, classical liberal arts college" in Michigan. OCCA states on its website that it is nonsectarian.
Its current campus in Orange can accommodate 450 students but school officials plan to add grades 7th and 8th next year and go all the way through 12th grade in the coming years to serve a population of roughly 2,000 students, according to its petition.
"We've got over 1,000 people on our waiting list," the school's co-founder and current Chair of its Board of Directors, Jeff Barke, M.D. said in a recent phone interview. Dr Barke also served on the Los Alamitos Unified School District Board of Education for twelve years before losing a re-election bid in 2018.
Tomorrow's presentation is one of the early steps in the process to gain countywide status that includes public hearings, an official recommendation from the Orange County Department of Education, and ultimately a vote from OCBE members.
Dr. Barke's wife, Mari Barke, is the current President of the Orange County Board of Education. She said she will not take part in this process.
In a statement sent via email, she wrote: "Although neither I nor my husband, who is a member of the Board of Directors for the school, have any personal financial interest or potential for personal financial gain from the granting of the petition[,] I will recuse myself from all discussion, comments, and votes concerning the School. I do this to avoid any appearance of impropriety, and because of the common law prohibition against conflicts of interest which may be non-financial matters of personal interest."
It's not the first time the couple has been connected by an item on a public meeting agenda. Dr. Barke is currently President of the Rossmoor Community Services District. In June, as President he backed bringing Orange County Board of Education-sponsored public forums on Ethnic Studies and Critical Race Theory to Rossmoor. OCBE ended up pulling its request to use a Rossmoor facility for the forums amid pushback from residents over safety concerns and an estimated $96,000 in security costs.
Mrs. Barke is also a staff member at the California Policy Center, a think tank that is pro-charter school. Mark Bucher, who is on the Center's Board of Directors, co-founded Orange County Classical Academy with Dr. Barke.
Dr. Barke said he will not be part of OCCA's formal presentation tomorrow but will be at the meeting. "I'll be there in support," he said.
How does a Charter school gain Countywide status in Orange County?
According to its website, the Orange County Board of Education "may only approve a countywide charter school if it finds, in addition to other requirements, that the educational services provided by the charter school will serve a pupil population that will benefit from those services and cannot be served as well by a charter school operating in only one school district in the county."
Right now, four charter schools have this status: Samueli Academy, Orange County Workforce Innovation High, Scholarship Prep Orange County and Explore Academy.
In its petition, OCCA lists seven reasons for why it says it should be granted countywide status starting in 2022 through 2027. The first, it claims, is the demand.
OCCA says its wait/interest list has students from across Orange County, including 522 that are not residents of Orange Unified.
OCCA has identified four school districts for possible expansion including: Capistrano Unified, Huntington Beach City School District, Huntington Beach Union High School District and Placentia-Yorba Linda Unified. Dr. Barke said the districts were selected based in part on the wait/interest list but added, "That's not to say we won't look elsewhere."
Dr. Barke noted wherever they decide to locate after gaining countywide status, the school would be required to notify the OCBE and the school district.
"It's a very difficult, arduous, time-consuming and very expensive process to put a petition before a school board," Dr. Barke said. He recalled when OCCA petitioned the Orange Unified School District Board of Education. The process culminated in a meeting in Dec. 2019 that lasted until after 1:30a.m. with comments from supporters and opponents. Trustees ended up voting 4-3 to approve the charter school.
How much does this process cost? "We won't know the total cost for another few months, when the process is done," OCCA Board Treasurer Jean Judge wrote in an email message. She said the school chose this route believing the benefits will outweigh the costs in the long run. "In other words, the opportunity costs of not submitting the petition was too high," she said.
You can watch the meeting streaming live tomorrow at 4pm. Scroll down to Extra Credit to see what else is on tomorrow's OCBE meeting agenda.
SECOND BELL
Other Stories We're Following
Supply Chain Shortages hit School Cafeterias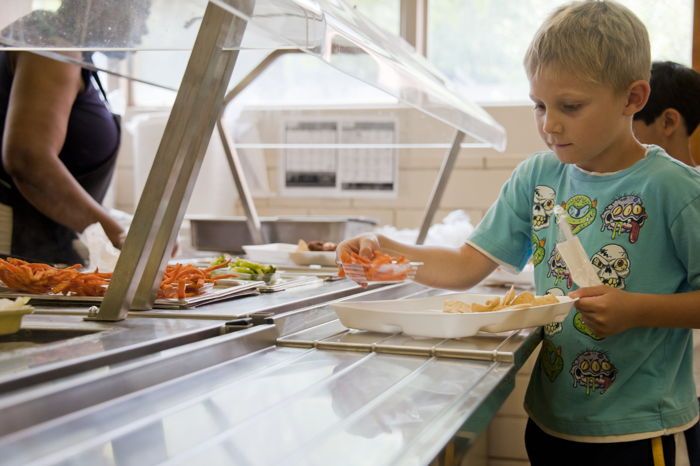 Photo by CDC on Unsplash.com
You may have heard about how supply chain problems caused by the Covid-19 pandemic are disrupting businesses. Now, the shortages are hitting school cafeterias meaning some lunchtime favorites like chicken patties and hamburgers are harder to make, reports The Orange County Register.
Yesterday, the Los Alamitos Unified School District emailed families saying nutrition services are being impacted by food supply and labor shortages at its nine schools, including lack of ingredients and not enough delivery drivers.
"As a result, your school may need to make last-minute changes to the menu or substitute a different brand of a food product," the message read. "We know that students have favorite menu items and are working hard to provide them whenever possible and we will strive to update published menus when resources permit." (Check school menus here.)
Parents were directed to this video to explain the issues. Parents with a student(s) requiring a meal modification can click here or contact Food Services at 562-799-4592.
Third Version of Recall Petitions Under Review
Proponents of an effort to trigger a recall election against three trustees on the Los Alamitos USD Board of Education have turned in their third revision of their petitions.
The third draft of the petitions were received at approximately 4:00pm yesterday, stated an email from the Orange County Registrar of Voters' office. The ROV office, which oversees elections in Orange County, now has 10 days to review the latest drafts and will need to respond to proponents by December 9.
In September, board members Megan Cutuli (Trustee Area 5), Scott Fayette (Trustee Area 4) and Chris Forehan (Trustee Area 2) were served with notices of intention to circulate a recall petition.
If the petitions are approved, proponents will have 90 days to collect roughly 2,000 signatures from registered voters in each of the three trustee areas to trigger a recall.
Supporters of the recall cite the board's adoption of an Ethnic Studies elective and adherence to California's Covid-19 school safety mandates among their complaints.
The bill for the recall election would go to the school district and could cost up to $192,948 for a special election, which does not include the roughly $3.40 cost to verify each submitted signature.
Other stories we're reading...
EXTRA CREDIT
Meetings // Events // Opportunities // Reports
DEADLINE TODAY: Today is the last day for candidates interested in filling the Fourth District seat on the Orange County Board of Education to submit necessary paperwork. Tim Shaw stepped down this month and the OCBE said it will fill the seat to fulfill his term, which ends June 30, 2022, by provisional appointment. More information here.
HAPPENING TOMORROW, DEC. 1 AT 4:00pm: The Orange County Board of Education meets. In addition to the Charter school petition, the agenda includes:
A resolution calling for California to recommend, not require, students get a Covid-19 vaccine. In October, Gov. Gavin Newsom announced plans for a student vaccine mandate to take effect once the shots get full F.D.A. approval.
Redistricting Update and Public Hearing: Proposed maps of the Orange County Board of Education trustee areas drawn in response to 2020 Census data will be discussed. A vote on the maps will take place during a special meeting on Dec. 8. See the proposed maps here.
HAPPENING TODAY: Virtual Forum on Native American Heritage Month 3:30 to 5 p.m. The Orange County Department of Education is holding a virtual forum to "celebrate the deep histories, dynamic cultures and enduring contributions of Native Americans and explore how educational systems can more purposely meet the needs of Indigenous students," according to a press release. The free forum will feature a panel of speakers sharing personal stories and perspectives on the first peoples of Orange County. You can register here.
HAPPENING TODAY*: Youth Suicide Awareness Webinar 6:00-7:30pm
The Greater Anaheim Special Education Education Local Plan Area (GASELPA) is hosting a webinar that aims to help parents and guardians notice the warning signs of distress. "This training will cover suicide warning signs, risk factors, protective factors and strategies/tools on how to work with students who may be thinking of suicide." A Zoom link will be provided following registration via RSVP to Jennifer Cox at jcox@gaselpa.org. *(I gave the incorrect date for this in last week's newsletter. Sorry for the error!)
HAPPENING DEC. 1-4: The Los Alamitos High School Dance Program performs Desktop Drama which "explores issues that plague current day teenagers in the real world such as peer pressure, cliques, social media bullying, acceptance, and pressure to succeed." See the schedule of performances and get tickets here.
HAPPENING FRIDAY, DEC. 3: The Seal Beach Christmas Parade takes over Main Street at 7pm. This year's theme is "Surf's Up for Christmas" in honor of Harbour Surfboards founder Rich Harbour, who passed away this year. Don't forget about street closures.
RECESS
Your Dose of Good News
SpongeBob SquarePants Creator Honored at O.C. High School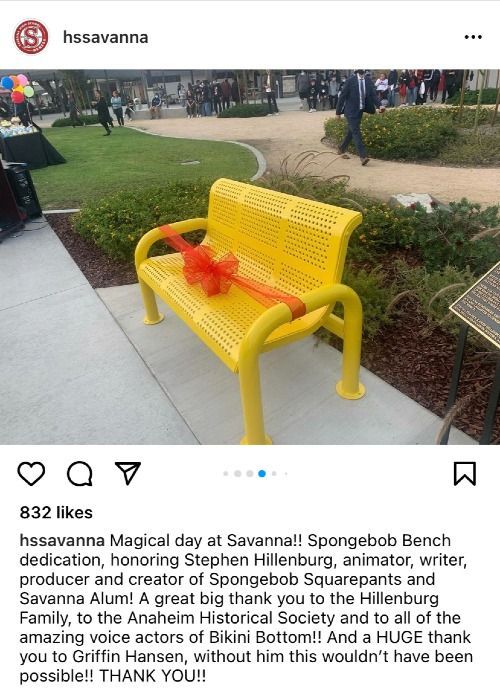 Before he created the beloved cartoon television series "SpongeBob SquarePants," Stephen Hillenburg was a student at Savanna High School in Orange County.
Earlier this month, the campus paid tribute to the 1979 graduate of the Anaheim school by dedicating a plaque and bright yellow bench in his honor.
Hillenburg passed away in 2018 from the neurodegenerative disease ALS. He was 57.
"I was pretty adamant about them having a yellow bench," Hillenburg's wife, Karen, told The O.C. Register. She and Hillenburg's son attended the Nov. 18 event along with the voice actors for many of the beloved characters that inhabit Bikini Bottom. That included Tom Kenny, the voice of SpongeBob. Read more in The O.C. Register.
Football Season Ends with First Loss for Team from
California School for the Deaf, Riverside
The historic season for the football team from California School for the Deaf, Riverside ended with their first loss in the championship game this past weekend. The Cubs were undefeated going into Saturday's game and was the first team in school history to play for the CIF title in their division for 8-Man football.
The team's 12-1 season was celebrated with a school wide parade, according to a video posted to the school's Instagram account.
If you want to support this inspiring football program, there's still time to make a difference for next season. A fundraising effort is underway to purchase new bleachers for the team. To participate, send a check to the "C Booster Club" with "bleachers" in the memo section and mail to: C Booster Club, P.O. Box 20872, Riverside, CA 92516. (EIN: 82-4791230).
Thanks for reading!
Forwarded from a friend? Subscribe to the Spotlight Schools newsletter here.
Follow us on Instagram @SpotlightSchools.
Our mailing address:
P.O. Box 164
Seal Beach, CA 90740
Copyright © 2021 Spotlight Schools, All rights reserved.