Exemptions Supported in School Board's Resolution on Covid-19 Vaccine Mandate; Later School Start Times for Two Schools; and how an OC Teen Started an International Organization.
OC Dept. of Ed helping in Substitute Shortage; Free Covid-19 tests; Plus, how you can take part in the Great Kindness Challenge.
OC Dept. of Ed helping in Substitute Shortage; Free Covid-19 tests; Plus, how you can take part in the Great Kindness Challenge.
Spotlight Schools
January 18, 2022
In this week's newsletter...
🔔 Los Al USD Board of Education's adopted resolution supports keeping exemptions for possible Covid-19 vaccine mandate; says district will adhere to public health guidance.
⏰ Later school start times announced for 2022-23 school year at some secondary schools.
💐 Details on the Great Kindness Challenge kicking off this month.
✍🏻 Plus: An OC teen's poetry blog starts a movement.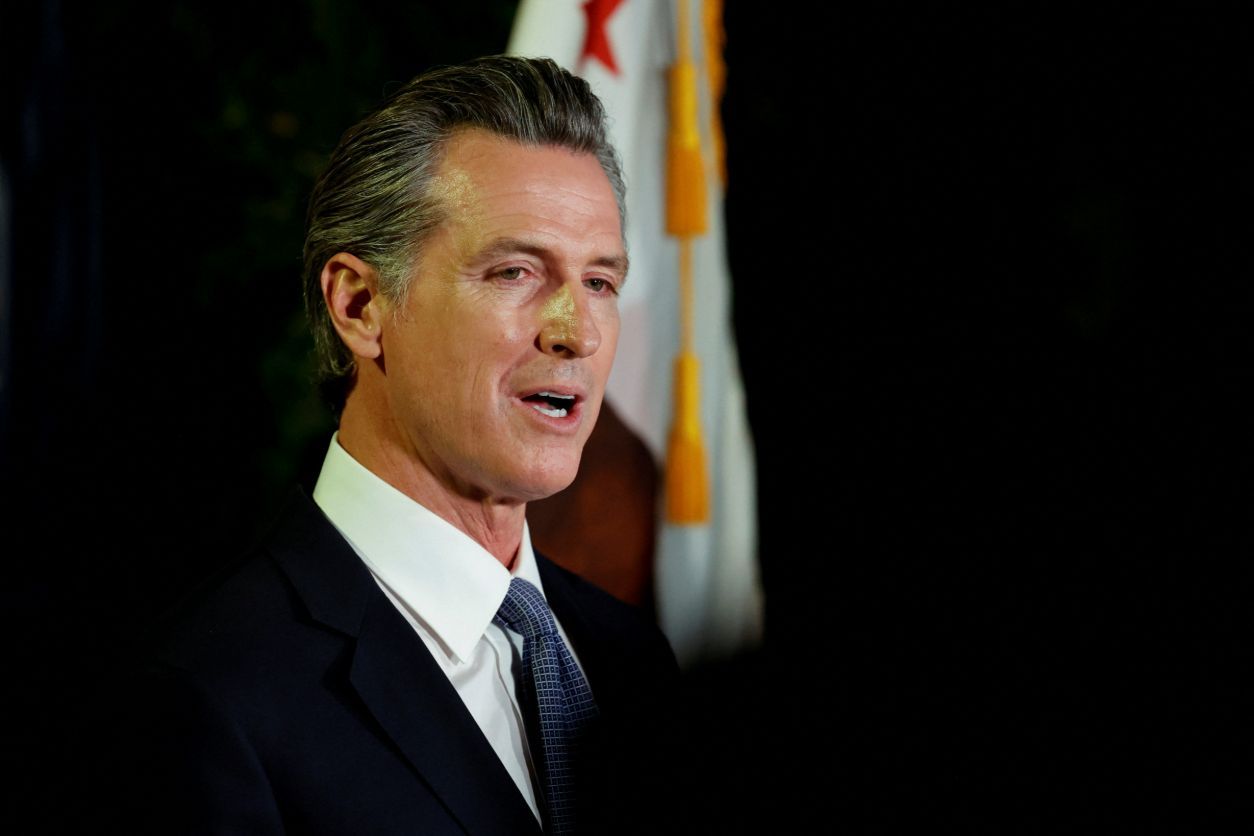 CA Gov. Gavin Newsom plans to require K-12 students to be fully vaccinated against Covid-19 to attend in-person classes once the shots receive full FDA approval for a student's age group. File photo from 2021 // Reuters
Spotlight Schools is focused on delivering hyperlocal journalism that helps Orange County families better understand, navigate and participate in the TK-12 public school experience.
Please send feedback/story ideas/questions to hello@spotlightschools.com.
Yours in knowledge,
Jeannette Andruss, Spotlight Schools Founder and parent of two students in the Los Alamitos Unified School District
FIRST BELL
This Week's Top Story
School Board Supports Exemptions for Covid-19 Vaccine Mandate; Will Follow Public Health Guidance
The Los Alamitos Unified School District Board of Education has taken a public stance on California Governor Gavin Newsom's proposed Covid-19 vaccine mandate for students at K-12 schools.
In a 4-1 vote at its Jan. 11 meeting, the board approved a two-page resolution that "strongly urges" California's elected officials to keep "medical, religious, and personal belief exemptions" in place if a proposed Covid-19 vaccine mandate for students and employees takes effect.
The resolution also states the district will "continue to adhere to California Department of Public Health and Orange County Health Care Agency public health guidance requirements for K-12 schools."
The resolution is largely symbolic as the school board does not have the authority to change State mandates.
Trustees who voted to adopt the resolution said the goal of it is to send a message to state lawmakers that balances the views of the community.
"We felt that, at this point with the data we have, parents should have choices if this becomes a mandate but we are not health experts and we are going to follow the guidance that is sent down by the CDPH and OCHCA," Board President Diana Hill explained in a phone interview on Saturday.
The Los Alamitos USD Board of Education's resolution on exemptions to a proposed Covid-19 vaccine mandate can be found on the meeting agenda at Item 13.a.
Hill requested that the resolution be created back in November after parents asked for the board to act.
This all comes in response to Gov. Newsom's announcement last October of plans to require students to be vaccinated against Covid-19 to attend in-person classes at K-12 campuses.
The mandate would take effect only after the vaccine gains full approval from the U.S. Food and Drug Administration for a student's age group. Right now, only the Pfizer/BioNTech vaccine has full FDA approval for people 16 and older.
Unlike the shots California students are currently required to have to attend school, as it stands now, the Covid-19 vaccine mandate would allow for a personal belief exemption, which Gov. Newsom pointed out during an appearance on a national news show last month.
State lawmakers could pass legislation to eliminate the personal belief exemption and that is part of the motivation for issuing the resolution now, according to some board members.
Board members explain their positions
(Watch the board members' comments here from TC: 1:47 through the vote around 2:11)
Scott Fayette was the only board member to vote against adopting the resolution.
During the board's discussion, Fayette said that the mandate was not yet official and the earliest it could impact students is next school year. "I think to act on this resolution is premature," he said.
In an email to Spotlight Schools, trustee Meg Cutuli wrote: "I personally support vaccines but one of my core values as a board member is that parents know their children." She encouraged parents to speak to a trusted health care professional about the vaccines.
"To me I feel that one of my main jobs is to make sure that I'm giving parents the choice that they asked for for their students," President Hill said at the Jan. 11 meeting, speaking via Zoom while at home on quarantine.
This was the second time the board discussed the resolution. At their Dec. 14, 2021 meeting, trustees asked for more time to gather input from the community.
Some parents upset that resolution states district will adhere to guidance
(You can watch the public comment here from TC: :54 - 1:43.)
At the Jan. 11 meeting, 15 people addressed the board during public comment which was held prior to the vote. All of them spoke against a Covid-19 vaccine mandate. Some supported exemptions and others urged the board to take a more defiant stance toward the state.
"Will you stand for choice supporting exemptions allowing families the opportunity to evaluate risk for their children? Or will you default to the state supporting immoral mandates?," said Kristina Bowden, a parent who said her son attends Lee Elementary in Rossmoor.
Bowden and others said they would pull their kids out of the school district if the vaccines are required.
In a phone interview, Hill said that while she recognized some parents are asking the district to defy the State, she said "that's not the position that our board is taking."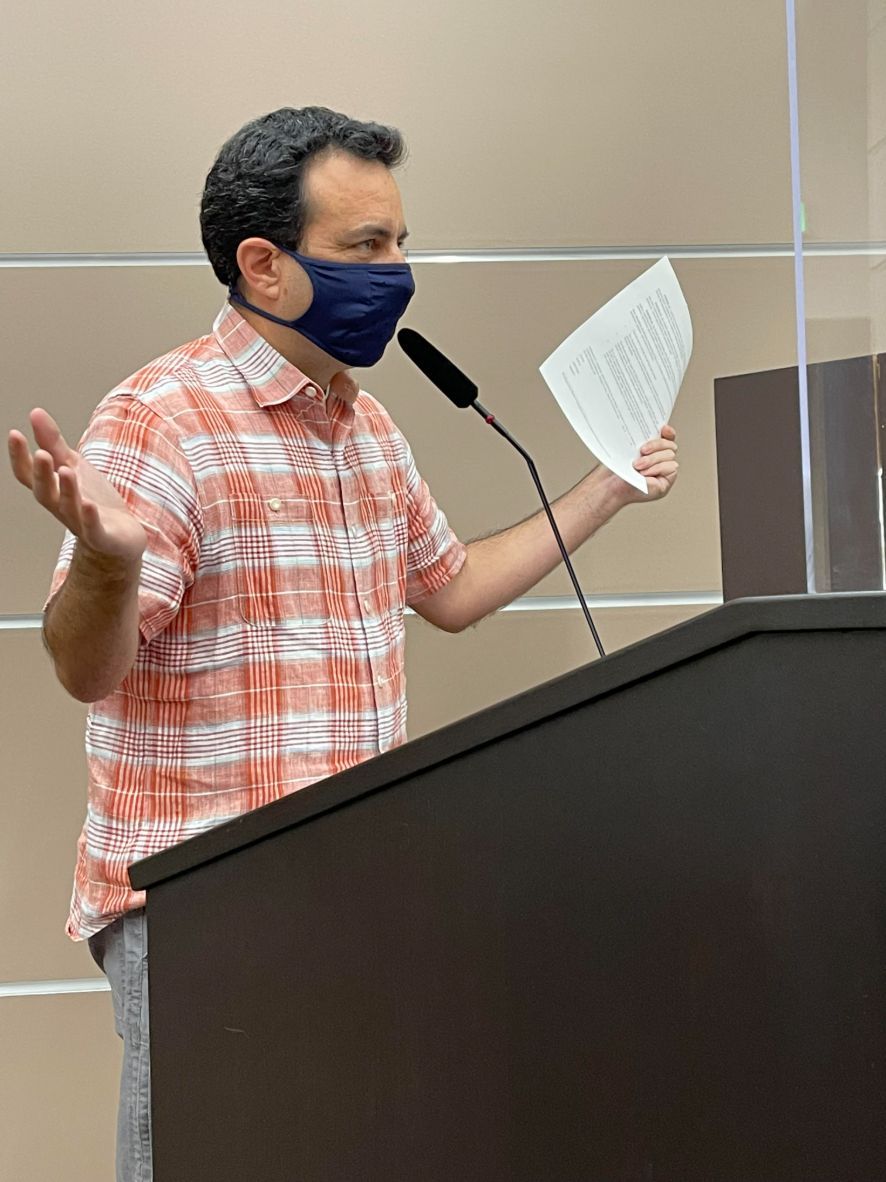 Los Al USD parent Matthew Simmons speaks against California's proposed Covid-19 vaccine mandate at the Jan. 11, 2022 school board meeting. Photo: David N. Young
Matthew Simmons, a parent of two students in the district, supports exemptions for the Covid-19 vaccine mandate but he spoke against the resolution. He said the language saying the district would adhere to public health guidance "weakened" its message.
"In a way this resolution hurts us. The ask for the exemptions was a humble request. But the comply was a statement; it was the opposite of a request," Simmons said in a recent phone interview.
President Hill disagreed and said that language was in the resolution "to make sure that we were once again clear that we are not the public health experts."
At the meeting, and in interviews and emails, trustees said that they had heard from parents from across the spectrum. President Hill said she received feedback from more people in support of exemptions. Cutuli said more people in favor of the mandate reached out to her.
Hill said the resolution represents what the board is saying to lawmakers today based on what parents have expressed. But she said the resolution could be revisited if "something dramatic happens in the future" and the board hears from parents again.
The resolution adopted on Jan. 11 will be sent to the elected officials that represent the district area in the State Assembly and State Senate, Gov. Newsom, and the CDPH, according to Supt. Dr. Andrew Pulver.
Be sure to check out tomorrow's edition of the Event-News Enterprise for more coverage on the Los Al USD Jan. 11 meeting.
SECOND BELL
Other Stories We're Following
SUMMARY OF COVID-19 NEWS
While staffing shortages and increased absences due to the Omicron surge have impacted schools, the bottom line is the majority of campuses in Orange County are open for in-person instruction.
But challenges remain.
Here's a brief overview of important pandemic news from the past week.
SUBSTITUTE SHORTAGE: The Orange County Department of Education (OCDE) and the Governor's office are trying to help deal with a shortage of substitutes. Los Al USD Supt. Dr. Andrew Pulver reported that the OCDE is providing three substitute teachers a day to the district to help fill vacancies over the coming weeks. And last week, Gov. Gavin Newsom issued an executive order to help speed up the hiring of substitutes.
COVID-19 TESTS: Last week, the California Department of Public Health delivered to OCDE the rest of the rapid at-home tests it promised for public school students. Check with your school or district for how to access one. Also, the White House announced it will send 10 million more rapid tests a month to schools. You can order free at-home tests from the U.S. government here. For more information on testing in OC, visit https://occovid19.ochealthinfo.com/covid-19-testing.
NEW ISOLATION, QUARANTINE & NOTIFICATION GUIDELINES FOR STUDENTS:
The Orange County Health Care Agency released new guidance Friday for students in K-12 schools. That includes shorter isolation and quarantine times in some circumstances and a new "group-tracing approach" for certain Covid-19 exposures on campuses. You can find out more details in this summary from OCDE.
LIMITS OF COVID-19 CASE COUNTS:
Last week, Saddleback Valley Unified decided to drop its Covid-19 dashboard during the ongoing surge in cases because it said it could no longer provide up-to-date reporting. The move angered some parents, as reported by Voice of OC.
But this represents the challenge of tallying cases when it's likely not every infection is being reported to schools, especially when testing is not mandatory.
The Los Al USD dashboard was last updated on Jan. 14 and shows 205 reported infections among staff and students.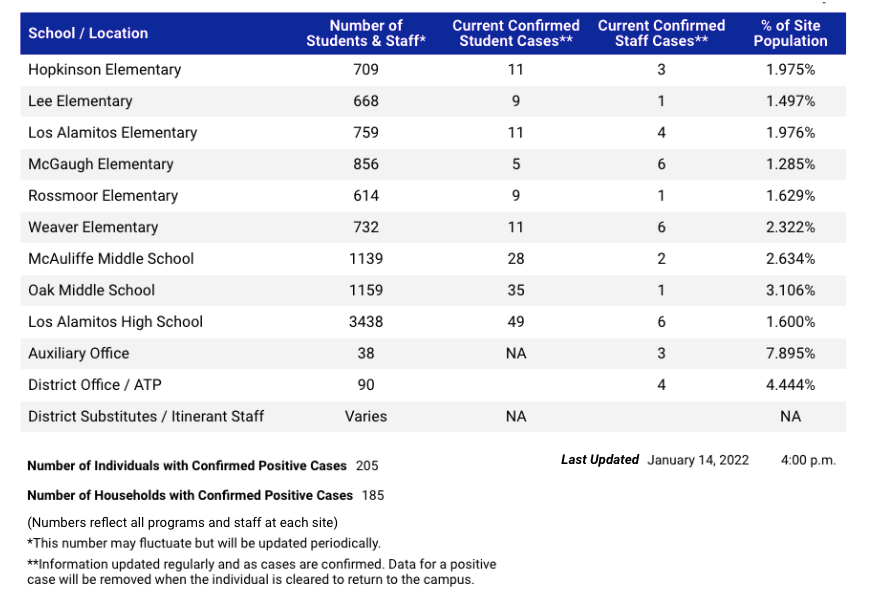 Screenshot of the Los Alamitos Unified School District's Covid-19 Dashboard
The dashboard is at best a snapshot in time that is limited in scope. Spotlight Schools has made the decision to continue to share the dashboard information with the caveat that while it offers some information, it cannot provide a full picture of community transmission.
POSTPONEMENT: Los Alamitos High School postponed its Winter Formal due to the Omicron surge. Originally planned for this weekend at the L.A. County Natural History Museum, the dance has been pushed back to March 12.
NEW LATER SCHOOL START TIMES
Starting in the 2022-23 school year, students at Oak Middle School and Los Alamitos High School will have a new school schedule.
It's all because of a bill signed in 2019 that mandates that middle schools in California cannot start classes before 8:00am and high schools cannot start earlier than 8:30am.
Here's the schedule starting in Fall of 2022:
Oak Middle School will start at 8:40am with dismissal at 3:00pm which is a ten minute difference from the current schedule.
McAuliffe Middle School will stay the same and start at 8:45am and end at 3:10pm
Los Alamitos High School will shift by 30 minutes. The school day will start at 8:30am and end at 3:17pm.
This according to Los Al USD Deputy Supt. Ondrea Reed. She made the announcement during last Tuesday's Board of Education Workshop. (You can watch her presentation here from TC: :42 until :59)
HOPKINSON HERO OF THE HEART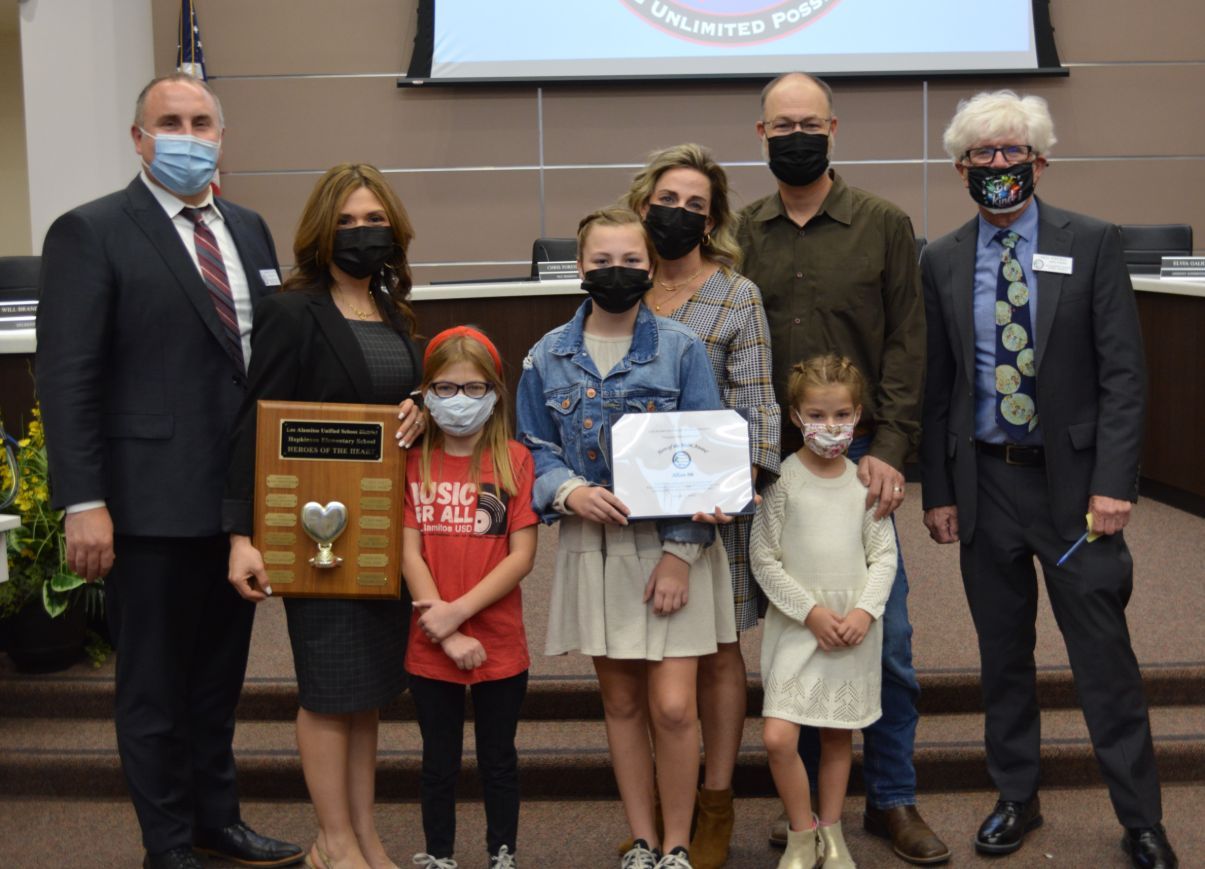 Photo courtesy of the Los Alamitos Unified School District
At last Tuesday's Board of Education workshop, Hopkinson Elementary School parent Allison Isle was awarded one of the highest honors for a parent volunteer, the Hero of the Heart.
Isle is pictured here with her husband Tim Isle, daughters, Gretta, Molly, and Charlotte Isle, Supt. Dr. Andrew Pulver, Principal Evelyn Garcia, and Board Vice President Chris Forehan.
Isla serves as the President of the parent booster club Friends of Hopkinson.
Other Stories Worth Reading
EXTRA CREDIT
Meetings // Events // Opportunities // Resources
EVENTS
HAPPENING FRIDAY, JAN. 21 9:30am – PTA Advocacy Forum with OC Superintendents. This event is open to PTA members and is being hosted by 4th District PTA. Not a member yet? Click here.
To register, click here.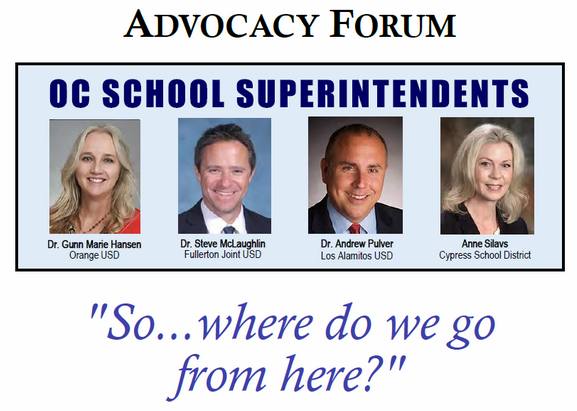 OPPORTUNITIES
HAPPENING JAN. 24-28: Students and grownups can participate in The Great Kindness Challenge by committing to as doing as many kindness as possible in one week. See a list of 50 acts of kindness here.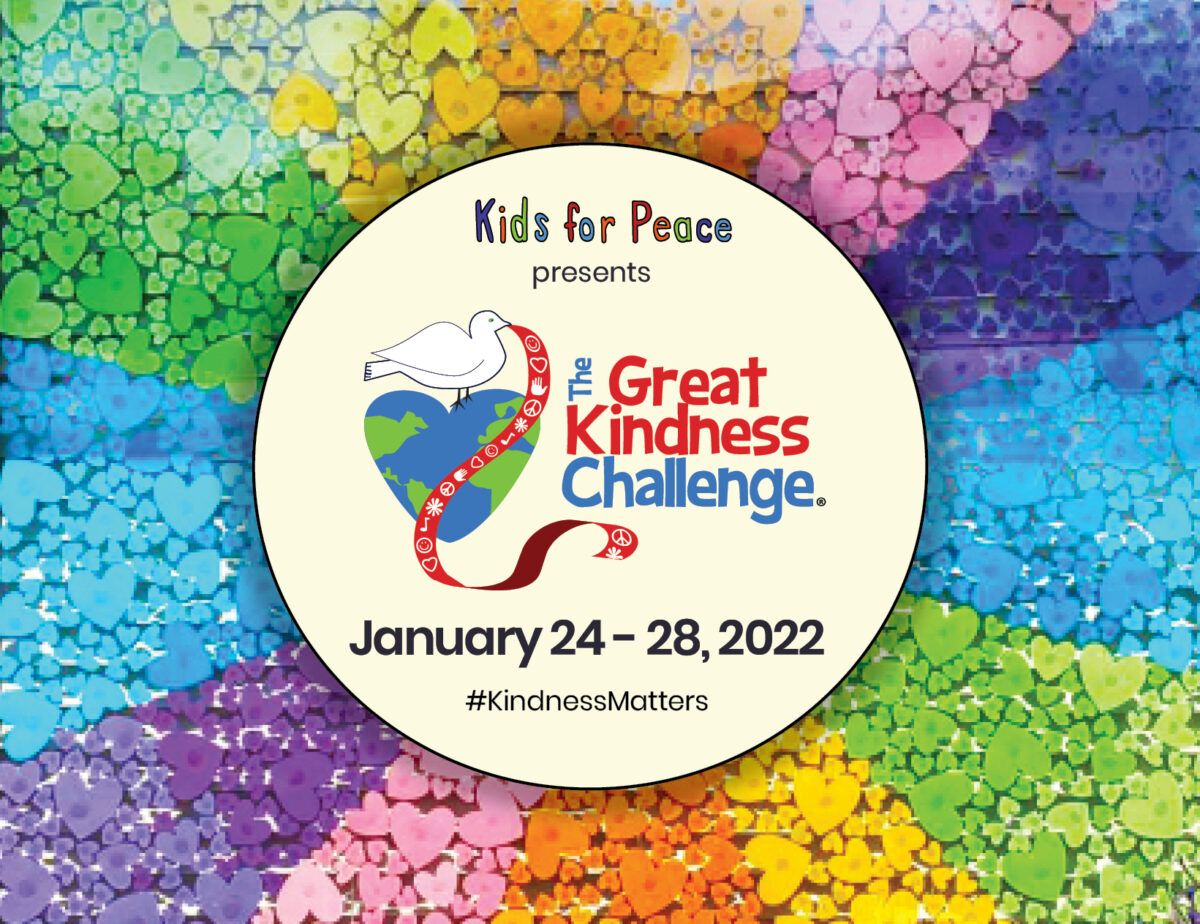 Beach Cities Miracle League Seeks Baseball Players
This baseball season, Seal Beach Pony Baseball League is teaming up with Beach Cities Miracle League, a sports league for children of all ages with special needs. Both leagues will play at McGaugh Elementary. The Miracle League's registration for baseball season is now open. Find out more here.
RECESS
Your Dose of Good News
OC Teen's Poetry Sparks 'Dear Asian Youth' Organization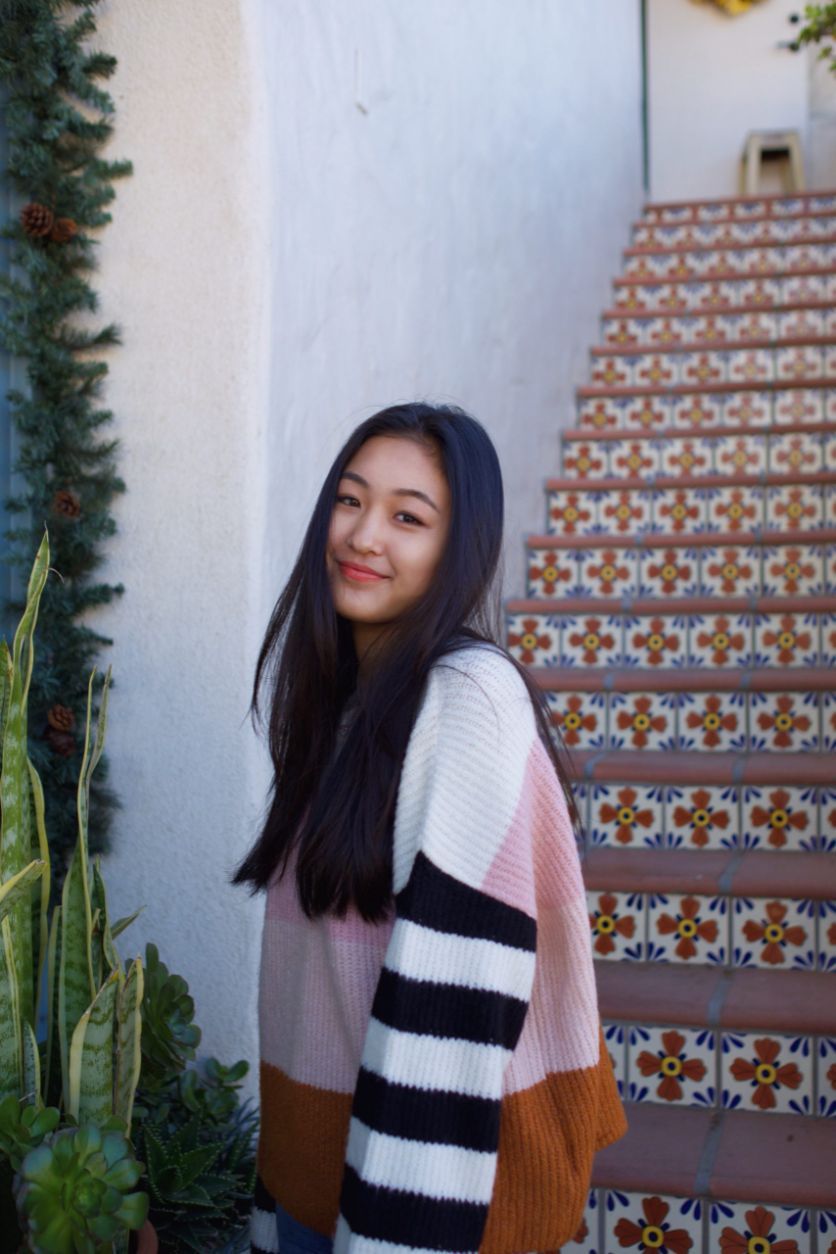 Tesoro High School Senior Stephanie Hu launched Dear Asian Youth, a literary magazine and organization that has chapters around the world. Photo from the Dear Asian Youth website.
As a Chinese-American growing up in Orange County, Stephanie Hu has many stories of challenges.
And it's how the 17-year-old Tesoro High School senior shared those experiences, with her poetry, that formed what is now an international community.
Born in New York, Stephanie lived in China and Taiwan before coming to OC as an 8th grader, as reported in CUSDInsider, the online newsroom from the Capistrano Unified School District.
"It was a huge culture shock," Stephanie said of her return to her native country. "I expected everyone to be accepting and culturally aware."
Instead she faced bullying and racism. It was then that Stephanie began writing about her experiences. In 2020, she started posting some of her work online and the response was encouraging.
"Once I started publishing my poetry I got great feedback," she told CUSDInsider. "I thought, what if I made a space where others could be empowered? My primary mission was to empower Asians."
That's how Dear Asian Youth was born. She recruited other young writers to create a literary magazine dedicated to the Asian narrative.
Fast forward to today and Dear Asian Youth has grown to become an international organization of 180 chapters, some in OC and others spanning 18 countries, nearly 300 volunteer members, and an Instagram following of more than 100,000.
Stephanie is now the executive director of Dear Asian Youth. You can read more about what her group does here.
BOOSTER DOSE: High fives to the athletes on the Los Alamitos High School Girls Soccer team. Read about their stellar season in the OC Register.
Thanks for reading!
Missed a newsletter? You can find past editions here.
Forwarded from a friend? Subscribe to the Spotlight Schools newsletter here.
Follow us on Instagram @SpotlightSchools.
Our mailing address:
P.O. Box 164
Seal Beach, 90740 CA

Copyright © 2022 Spotlight Schools, All rights reserved.