🗳Election 2022: Dynamics impacting races for Los Alamitos USD Board of Education
Candidates address a shift from districtwide voting to one based on trustee areas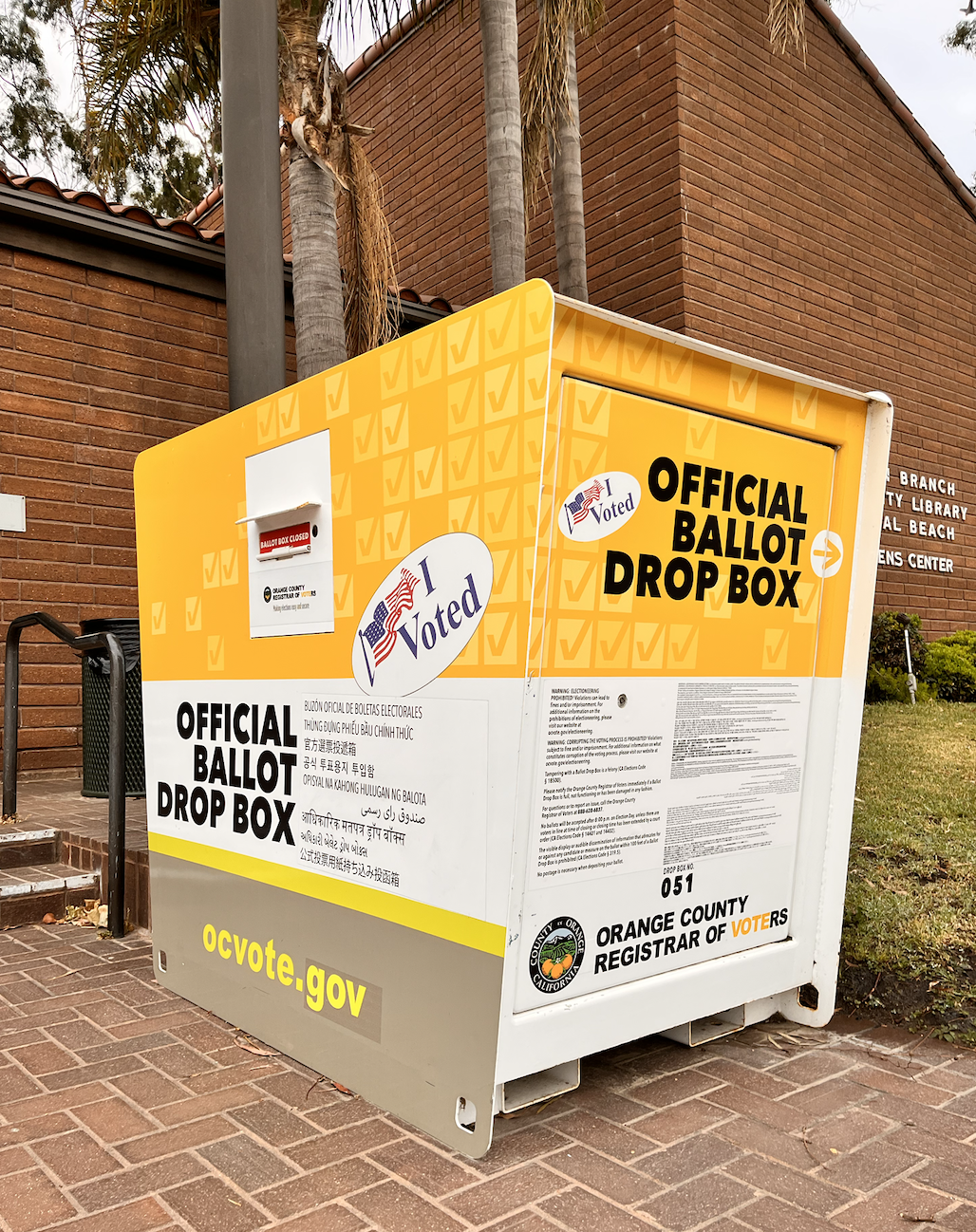 Editor's Note: This article is an example of a news analysis. For Spotlight Schools, a news analysis is defined as a story that examines, explains and interprets facts, events and trends to foster public understanding.
Today, the final votes will be cast in the Nov. 8, 2022 General Election. As of Oct. 30, more than 231,000 vote-by-mail ballots had already been returned to the Orange County Registrar of Voters. (Find out where you can vote at ocvote.org/voting.)
That likely includes ballots for  candidates running for the Los Alamitos Unified School District Board of Education. Voters will decide who will fill two of the five seats on the board that governs nine schools, with roughly 9,000 students, in Seal Beach, Rossmoor and Los Alamitos.
For the first time, the seats for  Trustee Area 1 and Trustee Area 3 are on the ballot. In Trustee Area 1, incumbent and retired longtime district teacher Marlys Davidson is facing Colin Edwards, a parent of young children and a former staffer for elected officials, including Travis Allen.
In Trustee Area 3, current Board President Diana Hill, a former district parent and active volunteer who was first elected to the board in 2010, is facing Rona Goldberg, a former teacher in L.A. and parent of two children enrolled in district schools. (See how all four candidates responded to the Spotlight Schools candidate survey here).
Much has happened since the last time voters picked candidates for the Los Alamitos Unified School District Board of Education in 2020. Even more has changed since the two incumbents running for reelection won their races in 2018.
That includes:
A shift to
to elect all five Los Alamitos USD board members;
The Covid-19 pandemic with historic disruptions to education which impacts are
;
Some board meetings featured
and
between a divided public and trustees over an
,
,
, and
.
Two failed
against board members;
A $97 million bond measure paying for new infrastructure including an
,
at Los Alamitos High School;
Increased focus on students'
including construction of
at district
, hiring more mental health professionals and adoption of a new
.
Spotlight Schools conducted in-person and phone interviews with each of the candidates lasting between 30 minutes and an hour and followed up with emails. This article is intended to help voters better understand how some of these dynamics listed above are playing out in 2022 and what the people vying for your vote think about them.
Shift to Trustee Area Voting
With this election, Los Alamitos USD will complete its  transformation from an at-large voting system to one based  on trustee areas. The  2020 election was the first time voters in Trustee Areas 1, 4, and 5 elected board members in the new system.
Now only voters in Trustee Area 1, which covers part of Los Alamitos, will select between Davidson and Edwards. And voters in Trustee Area 3, which covers parts of Rossmoor and Leisure World in Seal Beach, will choose between Hill and Goldberg.
When Davidson and Hill were last elected in 2018, it was at-large, meaning every voter in the school district could cast ballots in the contests for two open seats. In that race, Davidson had the most votes, Hill was second, while her running mate, Jeff Barke, M.D., lost the seat he had held for twelve years by a mere 31 votes.
This shift has changed how candidates are campaigning and could impact how they govern. The priorities of voters in a trustee area might differ from the school district at-large which could impact turnout and support. In interviews most of the candidates said they see their role as serving the whole school district population, not solely the people, or campuses, in their trustee area.
In Trustee Area 3, Diana Hill said this is the first time she has run on her own without other candidates. "As long as I've been on the board, 11 years, we'd all run as a slate every time because we felt we were doing great work. For me, that is a big difference … and it is a really positive difference because I have the ability to really just have my voice heard. And I just appreciate that opportunity," Hill said. While she was campaigning to a more specific set of voters, she stressed the importance of representing all families and making decisions based on what's best for everyone in the district. She said she is happy to meet with any constituents. "It doesn't matter whether they're in my trustee area or not. Their children go to our schools and we govern our schools."
Hill's challenger, Rona Goldberg, said:  "From what I understand, you still have to represent everyone, not just the people in your … trustee area." But she recognized that it's hard to separate because "while you're a board member for everyone …. you want to represent your trustee area." She said she put it in terms of how you might deal with your family. "That's where, at particular times you have to, you know, you deal with your children individually, but then also in the context of the whole. So I guess that's kind of how I would approach it."
Trustee Area 1 candidate Marlys Davidson said she "represents every single child." "Because I am a board member of the Los Alamitos Unified School District. Unified. That's how I feel." When she makes a decision she said she sees herself as a "cheerleader" for every campus. But she adds, "What I believe that's good about the trustee areas is that you have one person as a parent that you can go to who is not being pulled in 15 different directions. That one person that you can hold accountable, much more easily to, to the issues that matter to you."
Colin Edwards, the other candidate in Trustee Area 1, said he aims to strike a balance in how he would govern. "Yes, you're responsible to the voters of Trustee Area 1" and you are campaigning to them, but he really sees it as representing all the families of the school district. "I don't want to limit myself to only being responsive to folks that are just in my [trustee area]," Edwards said, adding, "I will represent everyone and be a voice for everyone."
Partisanship in a nonpartisan race
In Orange County, school board elections are nonpartisan contests. That means a candidate's party preference is not listed on the ballot. But, as three of the candidates have shared, a lot of voters do ask about their political leanings.
Voter  registration data from October 24 show the school district has around 35,700 registered voters. Of that, 13,944 are registered Republicans and 12,773 are registered Democrats. There are nearly 7,000 voters in the school district registered as No Party Preference.
In Trustee Area 1, Democrats have a very slight edge of 327 more registered voters than Republicans. In Trustee Area 3, there are 413 more registered Republicans than Democrats.
Having said all of that, in interviews, all of the candidates running said they see party affiliation as not a major influence in the job of a school board member.
"The division in our country makes people think that even in nonpartisan elections, they have to take a political side," Davidson said in an interview. "I don't consider …  my personal politics when I make decisions for the schools," she added.
Her opponent, Edwards, who has worked for Republican elected officials in the past, also embraced the idea of leaving national party politics out of school board governance.
"Our politics are so polarized that regardless of what you're running for, everyone kind of has a responsibility, for better or worse, for their national political parties, performance or lack of, which is frustrating because there's so many different issues, distractions at the national level that really don't have anything to do with how we educate our kids," Edwards said. He said that when voters ask him about his party affiliation he responds, "I'm Republican, but you know, … we all want the same things for our kids. We just have different ways to get there."
"I believe that my job is to represent all the voices in this district," Hill said. She shared that in past campaigns, party preference didn't come up very often, but said a shift happened in 2018.
She said that nowadays, she reminds voters the position is nonpartisan and attempts to have conversations about the issues. But, she added, "If they push, I say, I'm a moderate Republican. I've always been a Republican, but my Republican tenets are that I believe in local control, I believe in less government, I believe in utilizing the systems we have, instead of just creating more systems and more bureaucracy."
Hill noted that some political schisms making headlines nationally but not occurring locally, such as book banning, get brought up which can fuel the divisions. "But that's part of the problem as well, is that they're taking this national political narrative, and they're trying to bring it to our district when it doesn't even apply," Hill said.
Goldberg, who describes herself as a "common-sense conservative," said she feels that "a lot of the constituents are conservative, and we share similar values." But she said she understands it is a nonpartisan position and said she finds it frustrating when people make assumptions about what she might think based on her party affiliation.
"I feel if we can talk things out, most people can meet in the middle somewhere. And that's where I try to come from, a place of, 'Where do we agree?' And work from there," Goldberg said.
Watch Goldberg and Hill answer questions in the Rossmoor Homeowners Association candidates forum here.
🗳Click  here for a full list of the candidates running for school boards in Orange County's 28 public school districts.
🗳 Be sure to check out the  Spotlight Schools Instagram account for the latest updates on school board races in Orange County.