Crossing guard named Rossmoor Elementary's 'Hero of the Heart' for 2022-23
Tom Germscheid: 'It's not just a job to me anymore. It's who I've become.'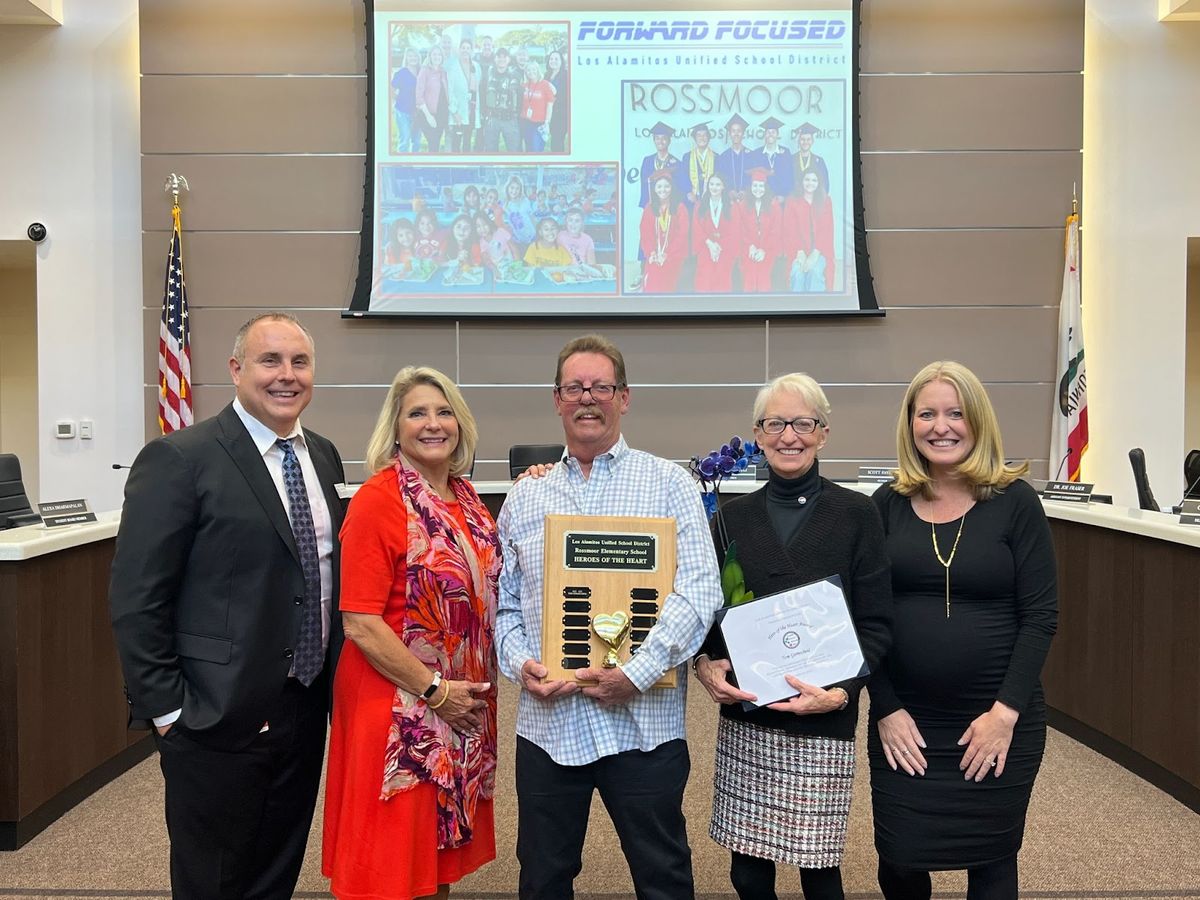 For the past eight years, Rossmoor Elementary School crossing guard Tom Germscheid has been a fixture at the intersection of Montecito Road and Shakespeare Drive. On school days, Germscheid makes sure Rossmoor families get to and from campus safely and with a smile.
"Tom's presence is a positive staple in our community. Everyone looks forward to seeing him in the morning," Rossmoor Principal Amy Coltey said, noting that he is the first person she sees most mornings when she drives to campus.
Now Germscheid is being recognized for his commitment to keeping students safe. He was named the 2022-23 "Hero of the Heart"' for Rossmoor Elementary, one of the highest honors awarded by the school. The presentation of the award came during Rossmoor Elementary's annual report to the Los Alamitos Unified School District Board of Education on October 25.
"He's all about the heart and his goal is to spread happiness and joy to everyone he encounters," Coltey said, speaking  during the workshop before a crowd of students, parents and staff that filled the board's meeting room.
One of the ways he spreads joy and happiness is by greeting the students by name. According to Coltey, Germscheid has memorized the names of many Rossmoor students. "And if he doesn't know a name, he writes it down and he figures it out but he's got it next time," Coltey shared.
Coltey noted that Germscheid, a Vietnam War veteran, regularly attends the school's annual Veterans Day assembly paying tribute to men and women who served in the U.S. military. He also attends Rossmoor's fifth grade promotion ceremonies, when he can, "To make sure he says goodbye to our Knights and sends them off on their journey to middle school," Coltey said.
"I'm grateful to both the staff at Rossmoor Elementary, and the parents who put their trust in me to get their little ones to and from school safe each day," Germscheid said after accepting the award last week. It's a job that takes his full attention, but he feels rewarded in the greetings and smiles he sees daily from students.
"It's a responsibility … I take and accept seriously," Germscheid said, and added, "And it's not just a job to me anymore. It's who I've become, it's who I am. It's who the kids say I am, Mr. Tom, the crossing guard."
Board President Diana Hill also praised Germscheid.
"Tom, I just want to say from the whole board, thank you very much for what you do every day, keeping our students safe. It means the world to us."