Conference has 'Stranger Things' theme at O.C. middle school; 🐝 O.C. Spelling Bee champ crowned; Time capsule from 1970 opened at Los Alamitos High School
Resources for summer camp plans
Summer camp planning season is starting!
Helping you better understand, navigate and participate in the TK-12 public school experience in Orange County.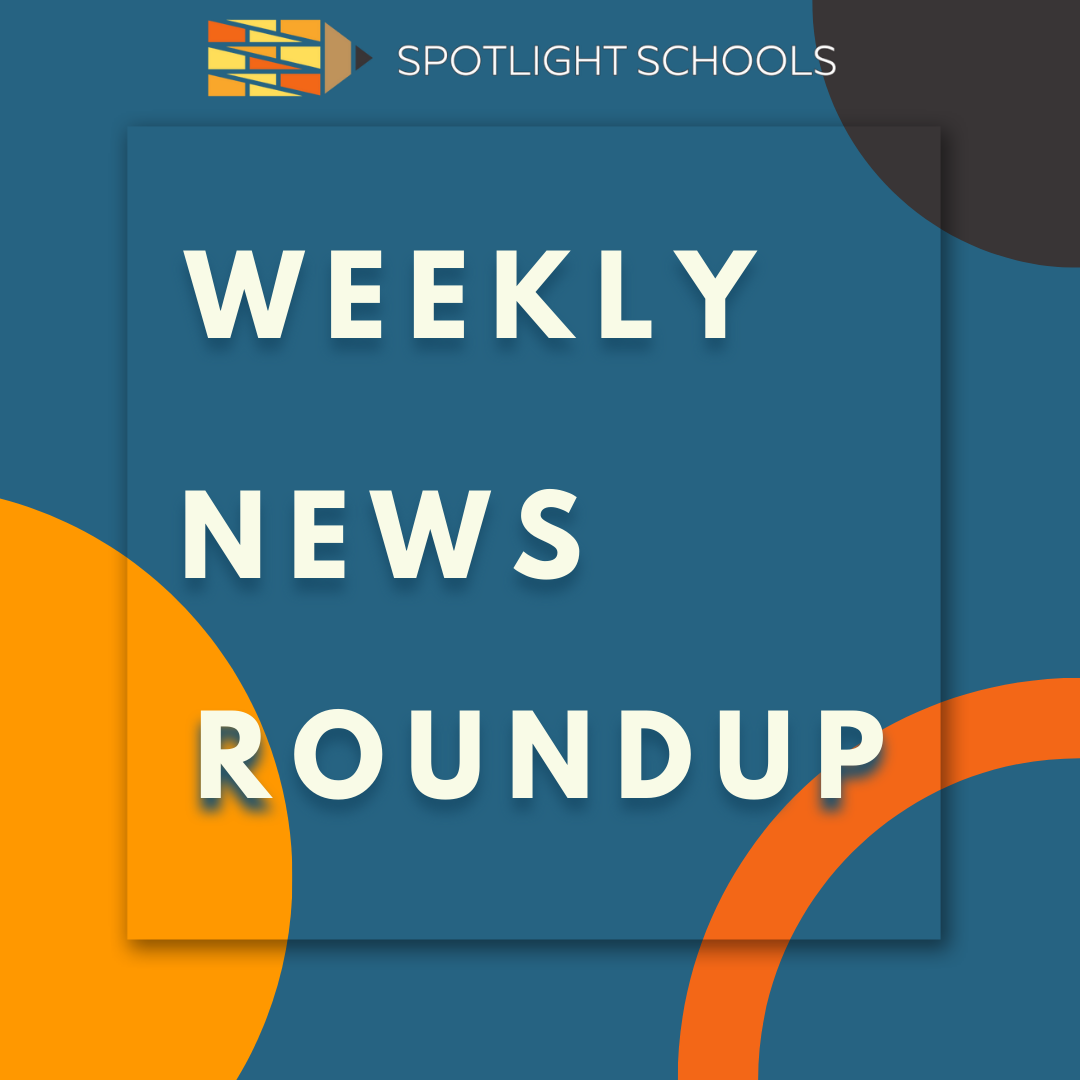 Spotlight Schools is a hyperlocal newsroom covering education in Orange County and this is the Weekly News Roundup newsletter.
You'll find original reporting from Spotlight Schools in addition to curated links to articles from a variety of newsrooms, education agencies and more to keep you on top of what's happening.
Let us know what you think! Email hello@spotlightschools.com.
Follow Spotlight Schools on Instagram and Twitter.
Don't forget to visit our website to view all of our stories or support our coverage at SpotlightSchools.com.
Yours in knowledge,
Jeannette Andruss, Cofounder and Chief Editorial Officer
SPOTLIGHT SCHOOLS SPONSOR

WEEKLY NEWS ROUNDUP
Annual Kid Conference held at Warner Middle School with 'Stranger Things' theme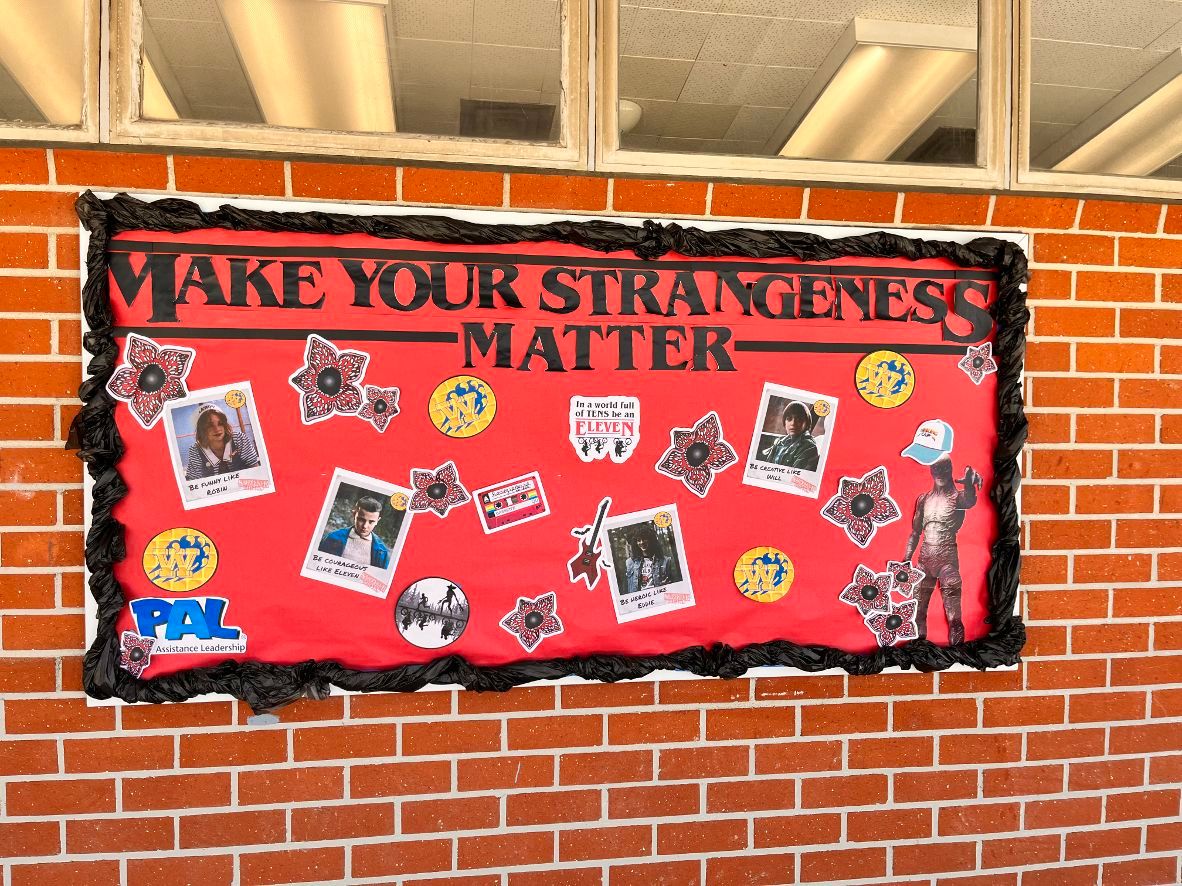 A display during this year's Kid Conference at Warner Middle School in Westminster encourages students to "Make Your Strangeness Matter." Run by students, for students, the annual event dates back more than 25 years at the Warner campus. Photo by Jeannette Andruss
On March 8, the kids were in charge at Warner Middle School in Westminster.
That's when the campus held its annual Kid Conference, an all-day event that is run by students for students. It featured a variety of grade-level-specific activities and an assembly that were all developed and led by kids.
"It's an opportunity for our students to connect with one another in a fun and engaging way," Warner's principal Kenneth Lopour, Ed.D., said in an interview with Spotlight Schools during the conference this past Wednesday. "The more connected those kids are [to school], the better they do," he added.
Warner is one of the largest of the 17 schools in the K-8 Westminster School District. Kid Conference dates back more than 25 years at the campus, according to Dr. Lopour. Its goal is to help students develop communication and cooperation skills, boost their confidence and overall mental health.
In addition, the conference is designed to prepare them for high school and beyond.
Students participated in sessions developed and led by other students from Warner's Associated Student Body (ASB), its yearbook committee, and its Peer Assistance Leadership (P.A.L.) group.
Students from Westminster High School also visited the campus to discuss the programs and activities that will be available to Warner students after they finish middle school.
Each year, students select a theme for the conference and this year it was based on the show "Stranger Things."
In case you're unfamiliar, the hit Netflix series follows a group of young friends living in a small town in Indiana during the 1980s. A secretive government lab's experiments unleash supernatural forces (the Upside Down) into the community, and it's up to the kids to work together to save the day.
Accordingly, fliers and posters covered Warner's campus on Wednesday encouraging students to "Make their Strangeness Matter."
Math teacher Robin Talbot has been in charge of Warner's P.A.L. team for about 15 years and helped oversee this year's Kid Conference and many previous ones.
Talbot said she thought the "Stranger Things" theme was a meaningful one.
"It so fits middle school because [the show] is about found family; a family made up of friends that protect each other," Talbot said and added that the friends must work together to achieve their goals.
Talbot also sees students using the show's Upside Down, the supernatural world, as a way to refer to personal issues students might be struggling with.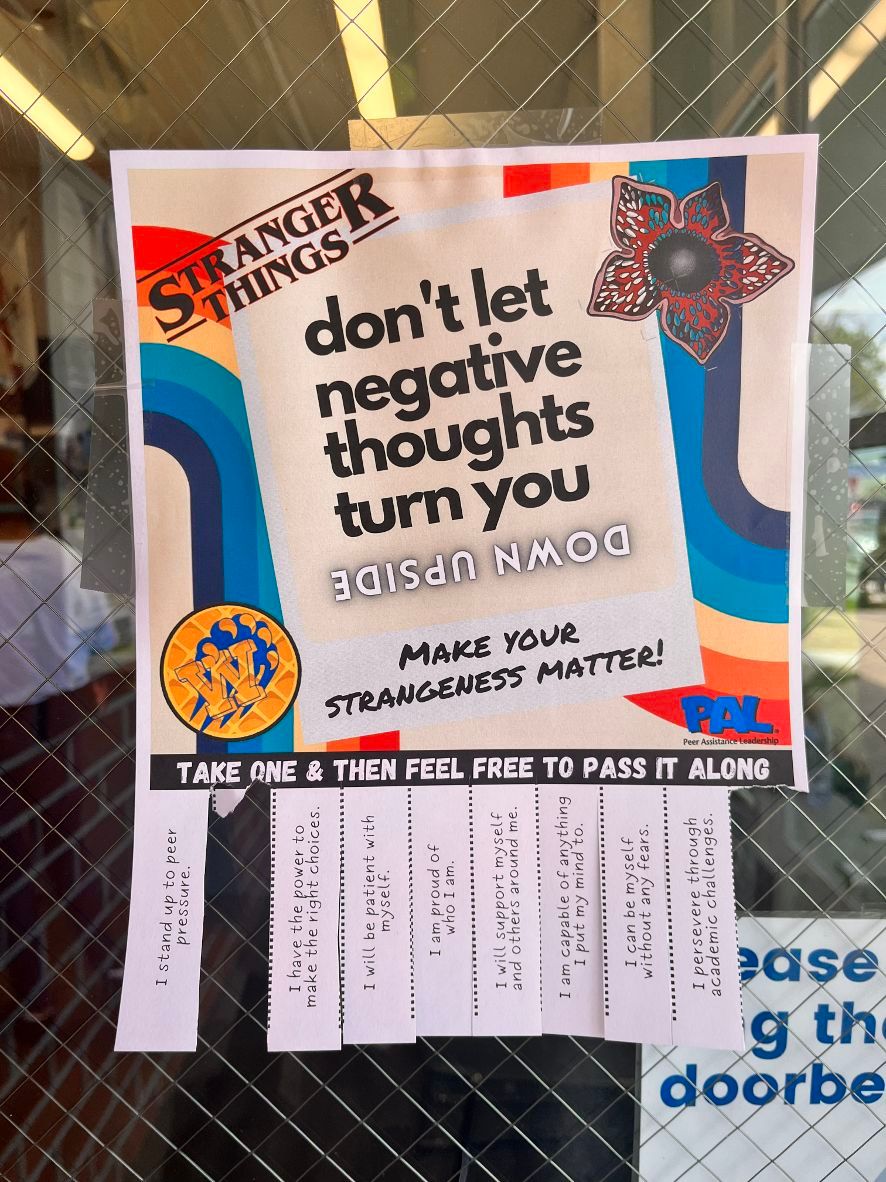 Warner's Kid Conference used creative ways to tap into the 'Stranger Things' theme to focus on promoting positivity and boosting mental health, including this flier on campus. Photo by Jeannette Andruss.
One flier on the walls at Warner warned students, "Don't let negative thoughts turn you upside down." On the bottom of the flier were strips of paper that featured positive messages including one that said, "I am proud of who I am."
Another read, "I stand up to peer pressure." Students could tear the strips off to take and keep or give to a friend.
Dr. Lopour sees multiple gains from Kid Conference, a tradition he said leaves a palpable, uplifting feeling that lingers on campus for weeks afterwards.
"I think as a school, what we find is that after this conference, there's a tangible benefit, and that students actually are treating each other nicer, they're kinder to one another," he said in a video interview provided by the Westminster School District.
Read the whole story at SpotlightSchools.com.
Mother says daughter was called 'slave' and bullied at Santa Ana school; Investigation launched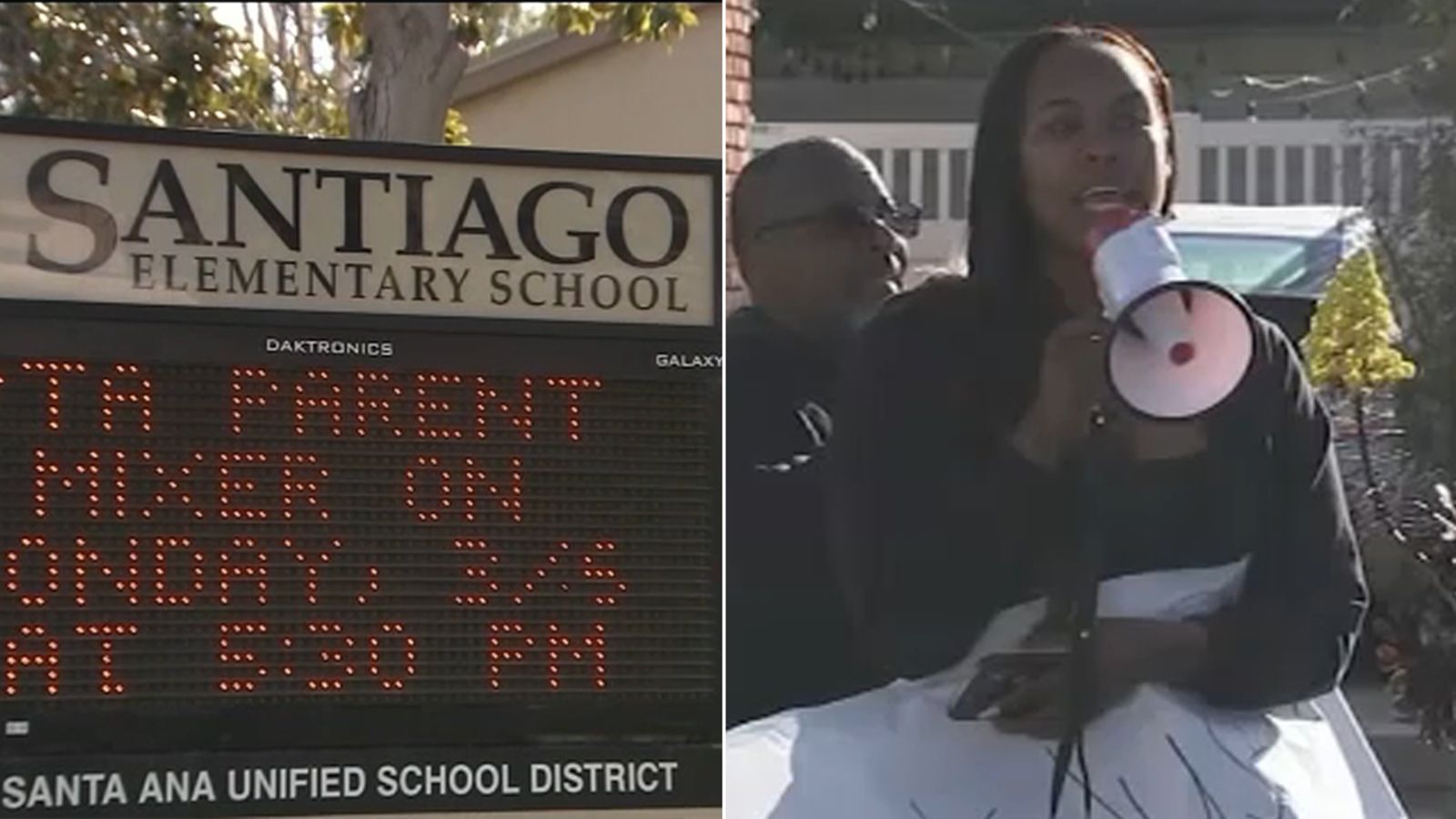 Images from ABC7.com
Jasmine Harris tells ABC7 that her daughter Paris Barnes, a 5th grader at Santiago Elementary School in Santa Ana, was bullied by a classmate during lunchtime on March 1.
Paris said a boy whipped a jump rope towards her and told her, "Get back to work, you slave."
"It was very disrespectful and I just felt really hurt inside," Paris told the TV station. Harris held a protest outside the campus last week objecting to how the incident is being handled by the district. She requested the boy be expelled and inquired about pressing charges against him.
Santa Ana Unified School District Superintendent Jerry Almendarez told ABC7: "My heart goes out to Paris, to the young lady, and I just want to make sure that she gets the support that the student needs, but also making sure that we also provide the support so this doesn't happen again."
Last Monday, the district issued a statement on social media that read: "Santa Ana Unified School District has initiated a formal independent investigation in response to an incident that occurred last week at Santiago TR-8 School. This investigation will follow all appropriate district policies and procedures, and aims to ensure the rights of all our students and our families are protected. In the meantime, SAUSD wants to assure our community that we value the rich diversity in our schools, we will always promote inclusivity, and we continue to support the well-being of all our students."
Sobering lesson on drunk driving for LAHS students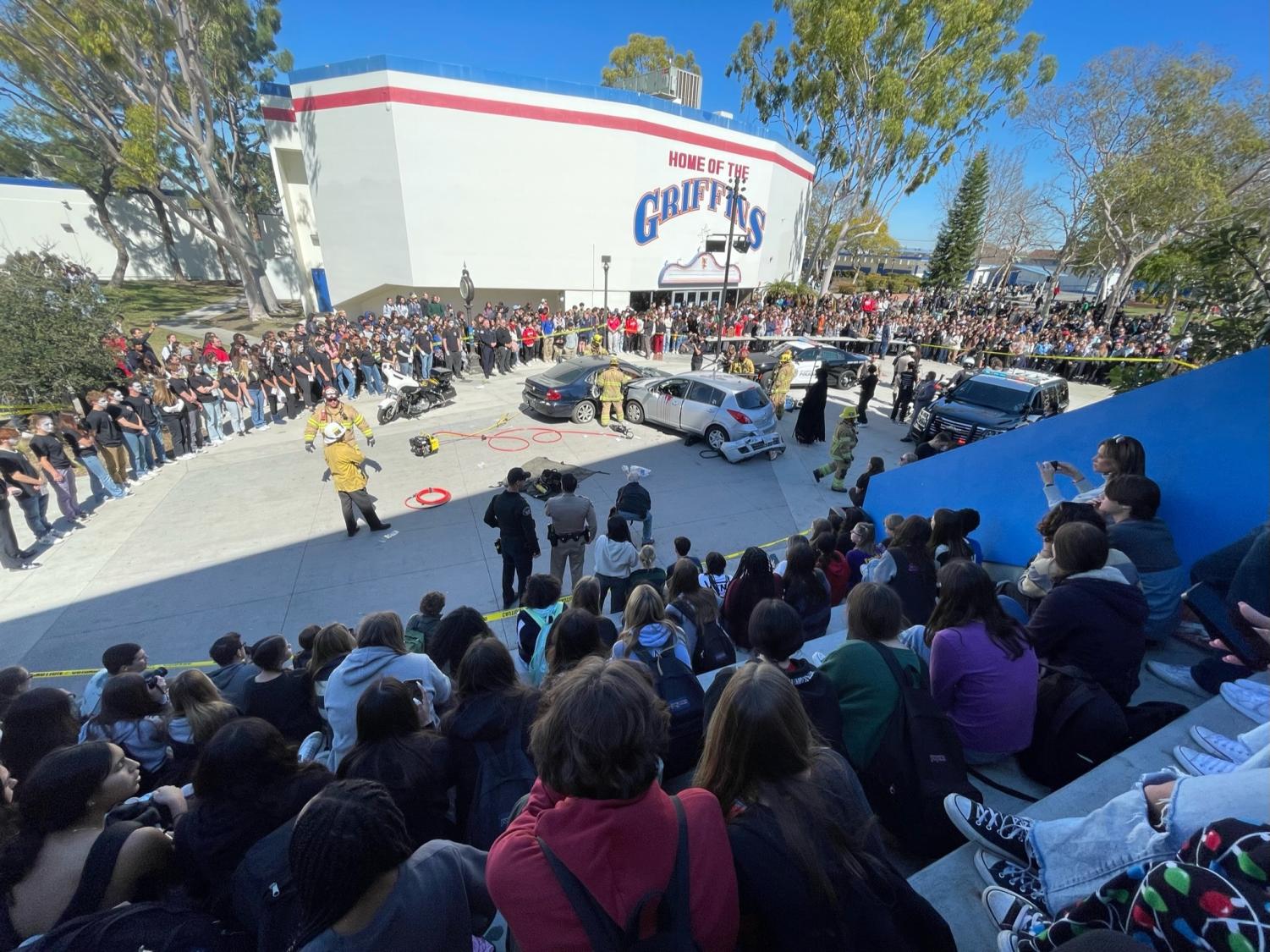 Courtesy photo
Last week, students at Los Alamitos High School witnessed "the horrific results of reckless driving through a two-day simulated school tragedy," Bella Kim and Isabella Gasper reported for the Griffin Gazette.
The simulation, known as "Every 15 Minutes," attempts to educate students about the impact drunk driving can have on communities.
The event is put on by The Youth Center in Los Alamitos and brings together students, school administrators and families who team up with local law enforcement agencies, emergency responders, medical and legal professionals to drive home the point that getting behind the wheel while under the influence can have deadly consequences.
Read the whole story in the Griffin Gazette.
Time capsule from 1970 opened at Los Alamitos High School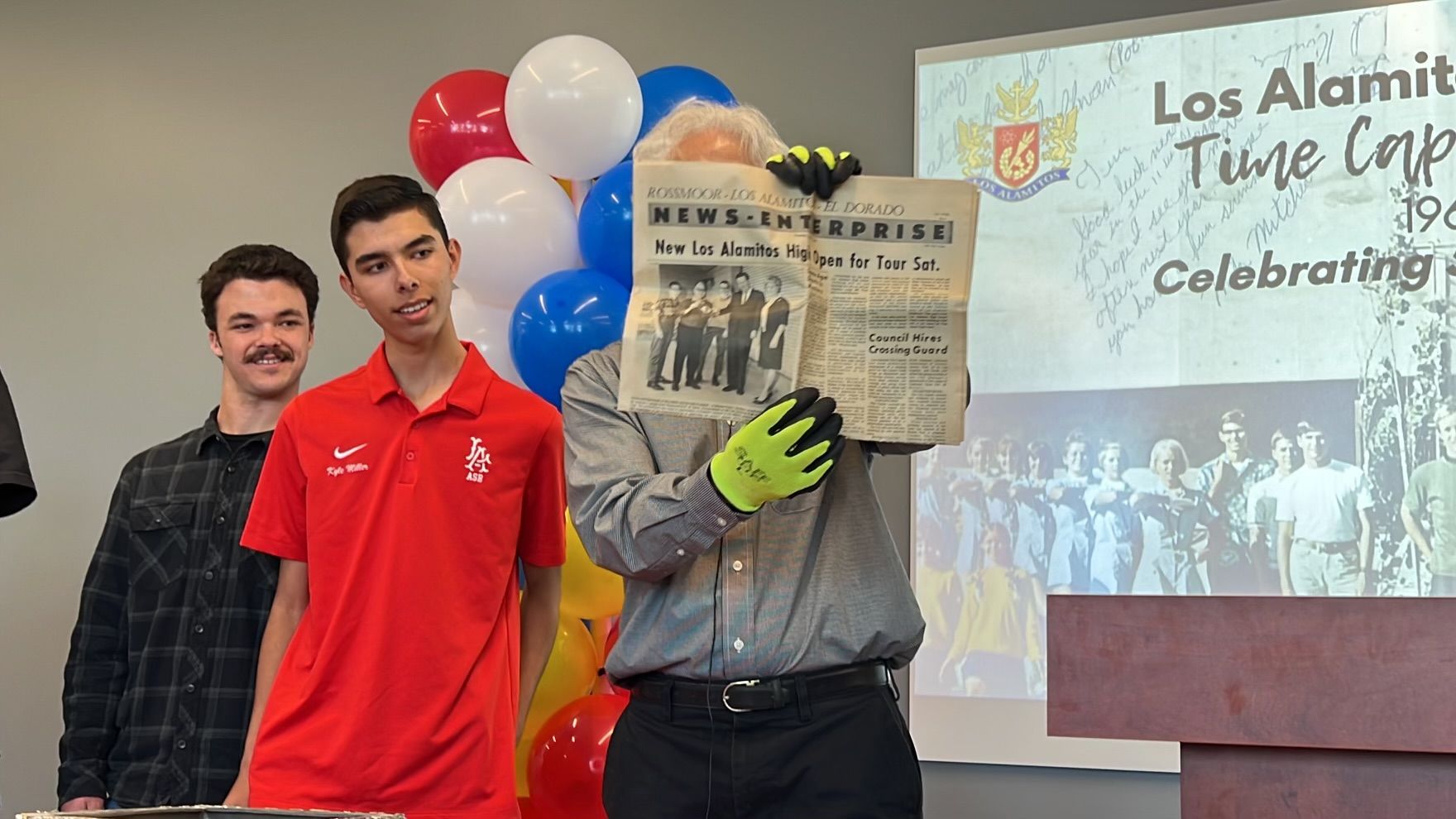 An old edition of a local newspaper announcing the opening of Los Alamitos High School was among the items contained in a time capsule from 1970 that was unveiled last week on the LAHS campus. Photo courtesy of Nichole Pichardo of the Los Alamitos Unified School District.
The past and present merged on the campus of Los Alamitos High School recently.
An unveiling ceremony to open a more than 50-year-old time capsule connected the Griffins of yesterday with the Griffins of today.
On March 7, Tim Thomas, the Associated Student Body Senior Class President from the Griffin class of 1970, was joined by current members of the school's ASB to unpack the 30-pound lead box that had been stored on the campus for decades.
Nearly 80 people witnessed the unboxing, including dozens of Griffin alumni who were among the first students to learn inside the school's classrooms from 1968-1970.
"There's an energy and a passion that comes with being a Griffin graduate. And so we're fortunate today to witness and honor history. To celebrate the foundation of our past Griffins, … what you have laid down for all of us in this community," Los Alamitos Unified School District Superintendent Andrew Pulver, Ed.D., said at Tuesday's event.
"You might be called, you know, the O.G.s – the original Griffins," Pulver told the former grads.
Find out what was inside the time capsule by reading the whole story on SpotlightSchools.com.
Buena Park School District names Interim Superintendent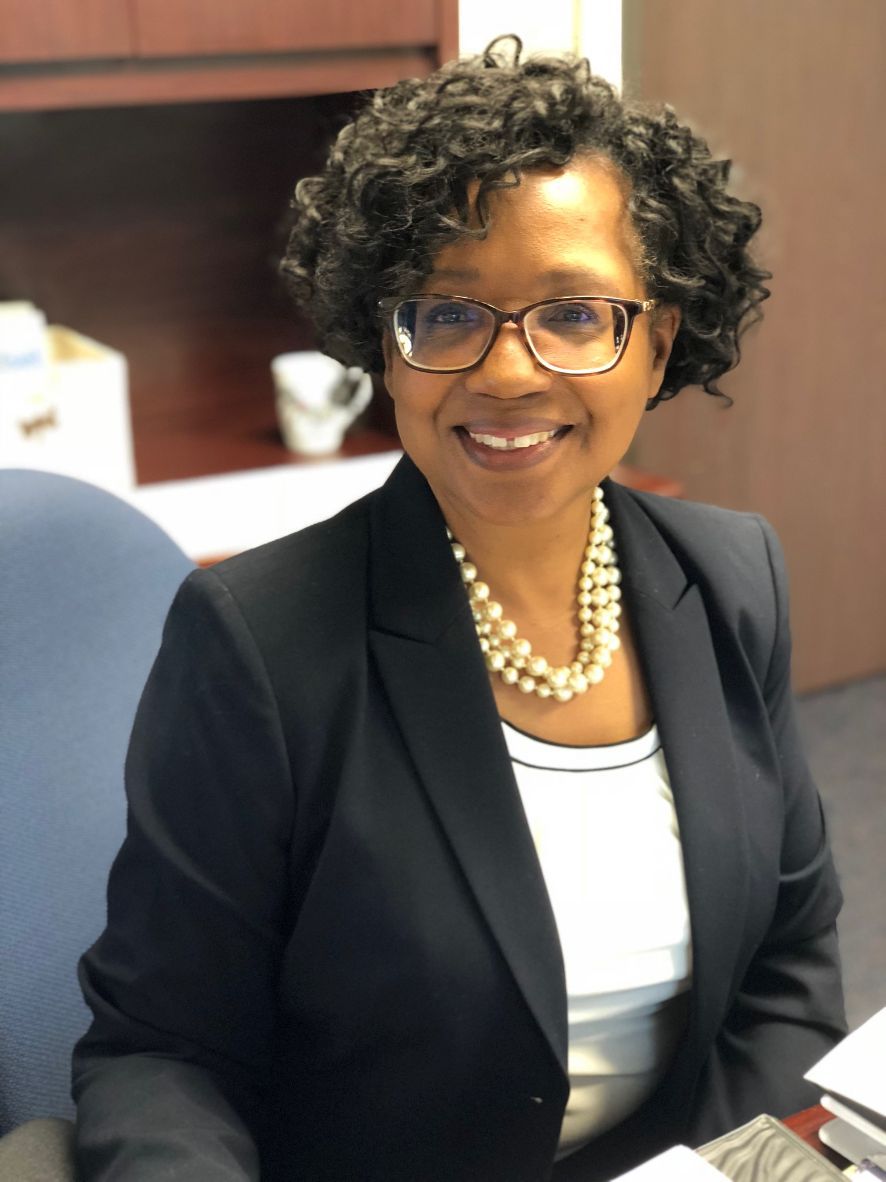 Yvette Cantu, Ed.D., was selected by the Buena Park School District Board of Education to serve as interim superintendent for the remainder of the 2022-23 school year. Photo from BPSD.
At its February 21 meeting, the Buena Park School District Board of Education appointed longtime educator Yvette Cantu, Ed.D., as interim superintendent for the remainder of the 2022-23 school year.
Dr. Cantu has been with BPSD since 2018, and most recently served as its chief academic officer. She replaces Ramon Miramontes, Ed.D., who was recently hired to take on a newly created deputy superintendent position with the Orange County Department of Education.
"When I started working in Buena Park School District, I made a promise to our families to ensure their children have the best possible education and I aim to keep that promise as I now step into a larger role," Dr. Cantu said in a press release from BPSD.
The board plans on hiring a new superintendent in time for the 2023-24 school year. Read more at the district's website.
O.C.'s stellar spellers for 2023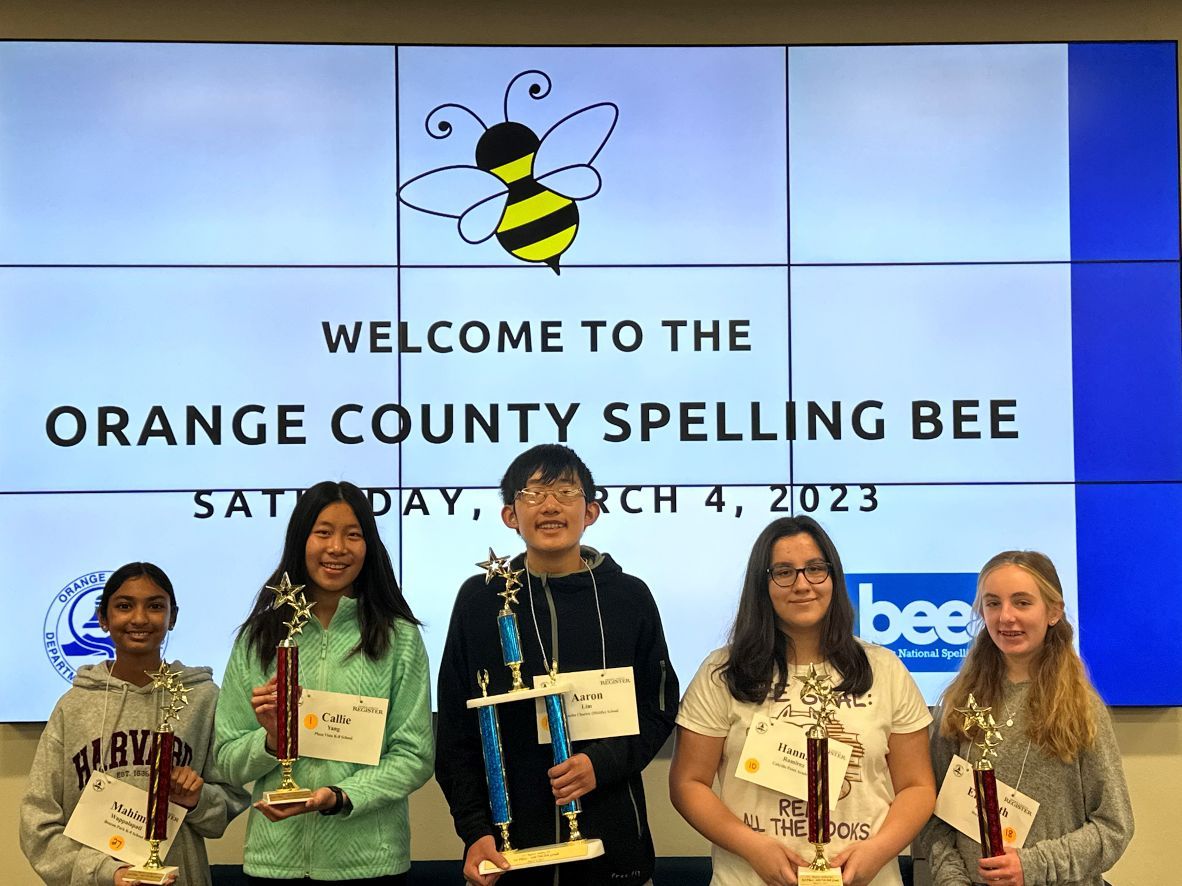 The top spellers in Orange County were recognized at the O.C. Spelling Bee on March 4. The winner was Aaron Lim, center with blue trophy, an 8th grader at El Rancho Charter School in Anaheim. Pictured From left to right: Second place finishers who tied, Mahima Wuppalapati of Beacon Park K-8 School and Callie Yang of Plaza Vista School, both in the Irvine Unified School District. On Lim's other side, third place finishers who also tied, Hannah Ramirez from Cabrillo Point Academy and Elizabeth Horner of Heritage Oak Private Education. Photo courtesy of the Orange County Department of Education.
We now know who will represent Orange County at the Scripps National Spelling Bee for 2023.
Aaron Lim, an 8th grader at El Rancho Charter School in Anaheim, will be heading to the competition later this year after winning the Orange County Spelling Bee on March 4.
He captured the title by correctly spelling the word "gallivat." That's an East Indian ship.
It took Aaron 18 rounds to become champion of the two-day competition that is put on by the Orange County Department of Education and The Orange County Register.
"I've been studying for this — for what, three years? — and put in over a thousand hours," a relieved Aaron told the OCDE Newsroom after his win.
Read the whole story at the OCDE Newsroom website.
Summer camp planning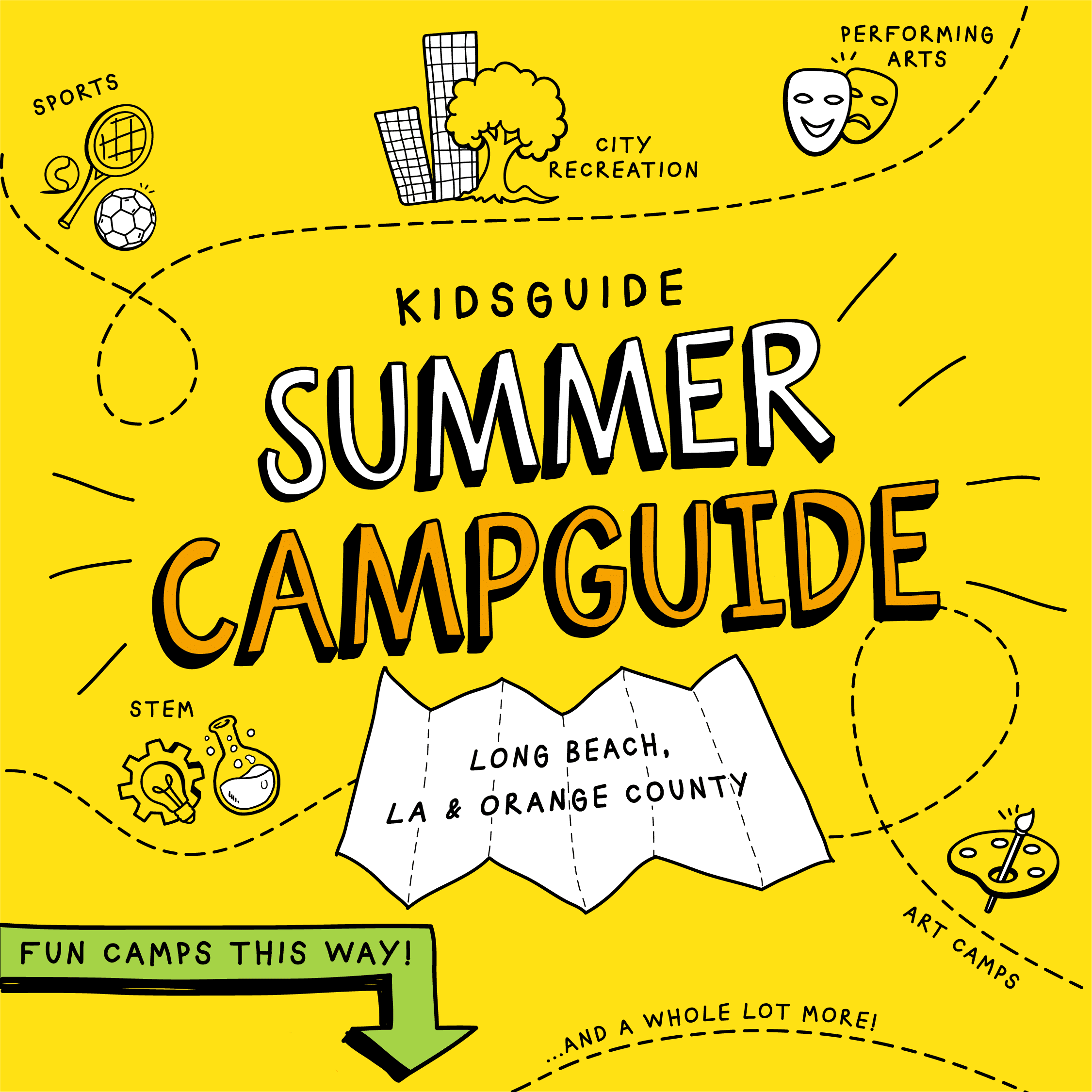 O.C.-based Kidsguide has released its annual guide to summer camps for 2023. From S.T.E.A.M. to sports to performing arts, you'll find information on camps for all interests and ages located in Orange County and Long Beach.
Speaking of summer... Enrollment for the Los Alamitos Education Foundation's Summer Enrichment programs opens on March 30 at noon. For more information, click here.
Share Spotlight Schools
Like what you're reading?
Forward this newsletter to a friend and tell them to sign up today at SpotlightSchools.com.
Copyright © 2023 Spotlight Schools, All rights reserved.
P.O. Box 164, Seal Beach, CA 90740