🗳 Close contests in multiple school board races in Orange County as vote count continues
Candidates tied in one race for a seat on the Los Alamitos school board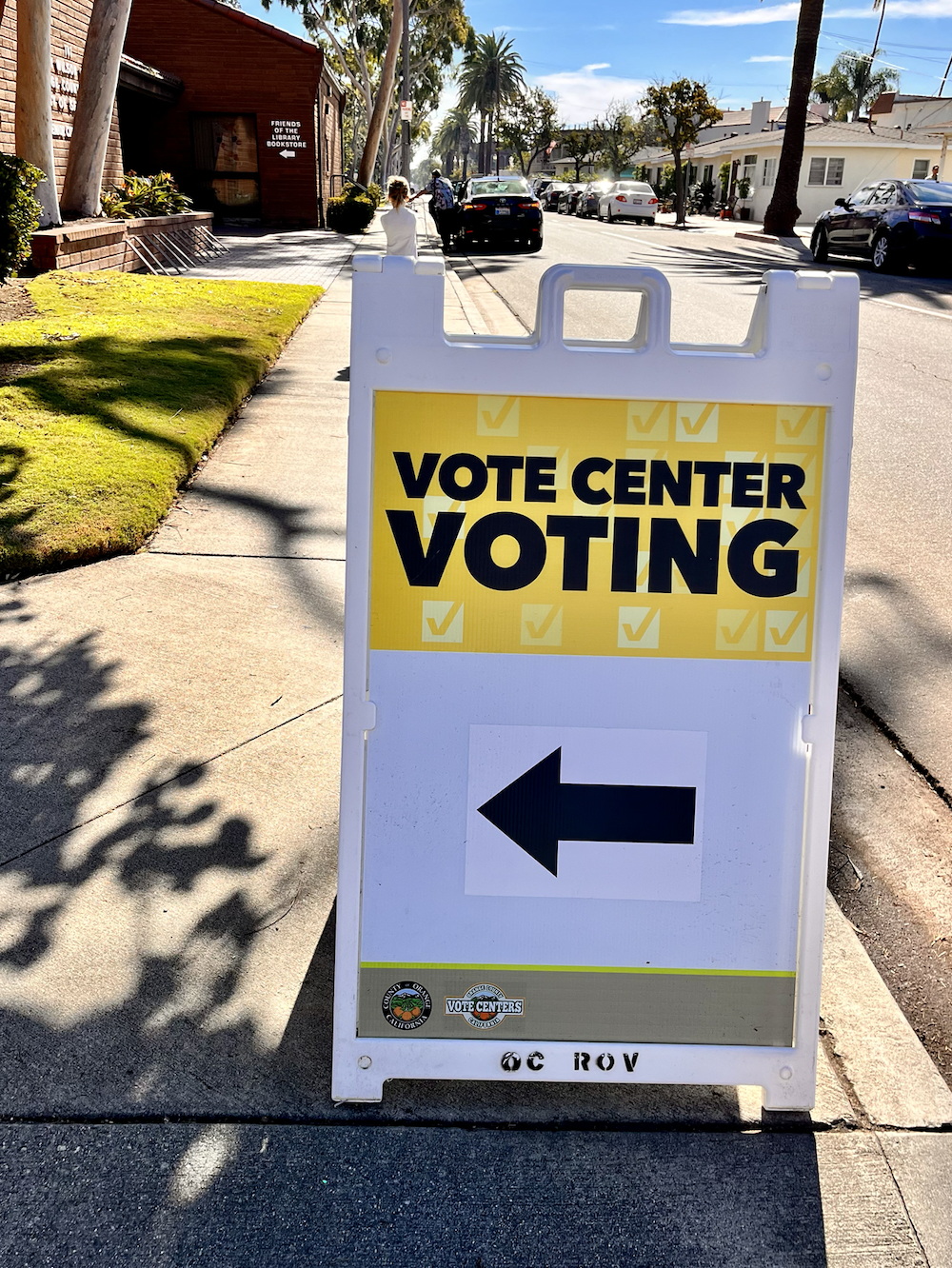 Vote counting continues almost a week after polls closed in the Nov. 8, 2022 General Election as vote-by-mail ballots are tabulated. In Orange County, there's an estimated 176,541 total  ballots left to process , according to the Nov. 14 update from the O.C. Registrar of Voters who oversees local elections.
While winners are being  declared in some races, the outcome remains unknown for a number of close contests including races for multiple school boards in Orange County.
At least seven races for local school boards are extremely tight with candidates currently  within one percentage point of each other.
LOS ALAMITOS UNIFIED SCHOOL DISTRICT
So far, the biggest nail-biter this election could be the race for Trustee Area 1 on the Los Alamitos Unified School District Board of Education. The latest election  results update from Nov. 14 shows incumbent  Marlys Davidson and challenger  Colin Edwards tied with 930 votes each. (Check for the latest election results here.)
The lead has changed in this race more than once. Two hours after polls closed, Davidson led. In the following days Edwards pulled ahead but not by more than 20 votes. Over the weekend, Davidson inched back on top with a lead of seven votes and now the candidates are even.

According to Education Code section 5016, if there is a tie after all the votes are counted, local school districts choose how to resolve it either with a runoff or deciding the "winner by lot."
Meanwhile, in the race for the other seat on the ballot for the Los Alamitos school board, incumbent  Diana Hill leads with 55.80% of the vote to parent and former teacher  Rona Goldberg's 44.20%.
CYPRESS SCHOOL DISTRICT
There have been lead changes in the race to represent Trustee Area B on the Cypress School District Board of Education. Right now Troy Tanaka, a parent endorsed by the teachers union, leads Jon Peat, a Cypress city council member who is terming out this year. Tanaka has just 15 more votes than Peat at this point. Peat had been ahead of Tanaka in recent days, on one day by a single vote.

In the other race for Cypress school board, incumbent Sandra Lee has 69.72% of the vote, well ahead of her opponent Kyle Chang.
ORANGE UNIFIED SCHOOL DISTRICT
There are two tight races in the Orange Unified School District. In Trustee Area 1, incumbent and current board president  Andrea Yamasaki has 24,721 votes or 50.71% of the vote compared to Angela Williams, a parent and teacher, who currently has the support of 24,028 people representing 49.29% of the vote.
Also in the Orange Unified School District, in the race to represent Trustee Area 4, incumbent  Kathy Moffat has 49.30% of the vote and is trailing challenger Madison Klovstad Miner, a parent and teacher, who has 50.70%, which amounts to 694 more votes out of the more than 49,000 tabulated in the contest so far.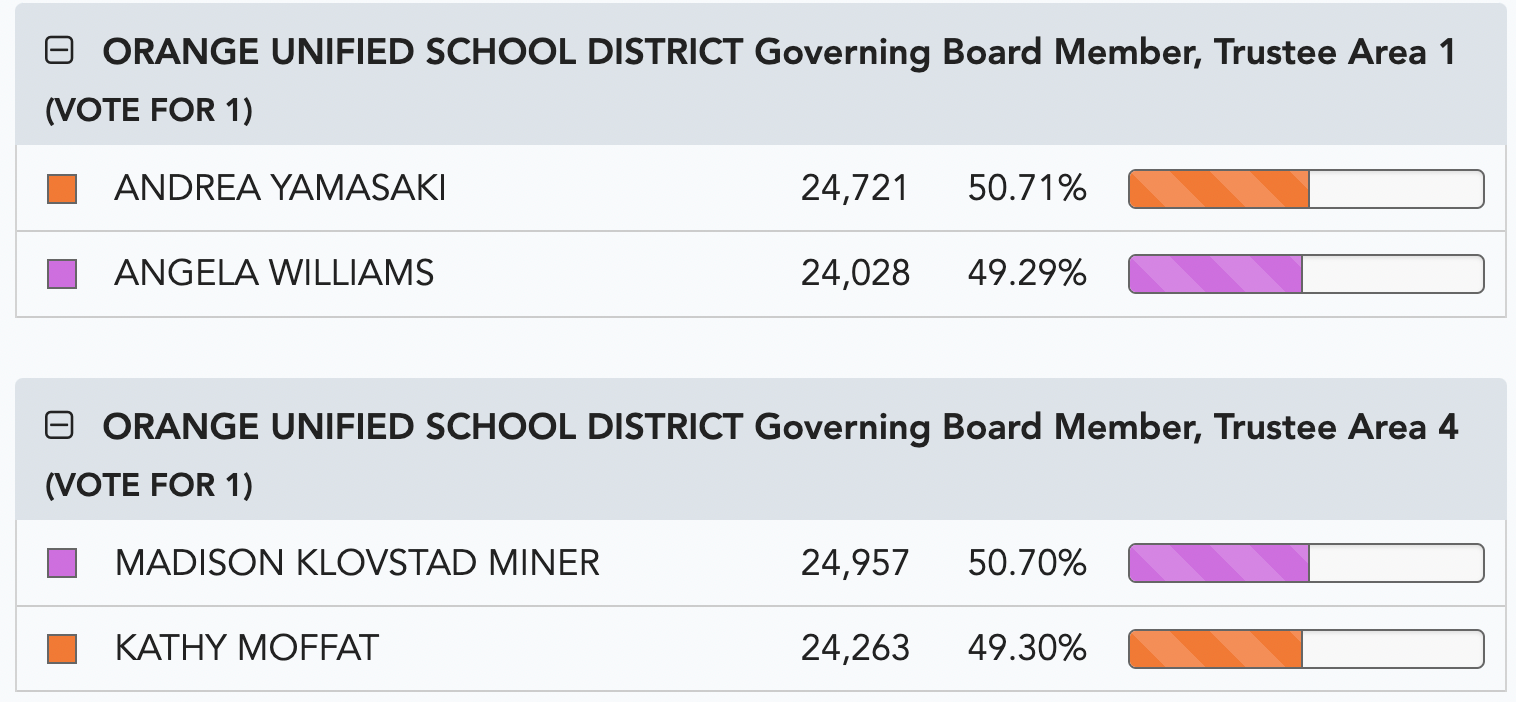 Williams and Miner have been featured in  campaign materials together and both were  endorsed by the entire Orange County Board of Education and the Republican Party of Orange County, according to the "Vote OUSD 2022" campaign website.
SANTA ANA UNIFIED SCHOOL DISTRICT
Three candidates vying to represent Trustee Area 4 on the Santa Ana Unified School District Board of Education are very close.  Sylvia Iglesias leads with 1,856 votes as of the Nov. 14 update but  Katelyn Brazer Aceves was only 51 votes behind in second place. And  Andrew Linares was 176 votes behind Aceves.

DISTRICT-WIDE ELECTIONS
In other tight school board contests, candidates are competing for second or third place in races where up to three seats are on the ballot. These elections are held district wide, meaning voters there can consider all of the candidates running.
That includes the race for  Fountain Valley School District Board of Trustees which has three seats on the ballot. Incumbent  Sandra Crandell is in the lead followed by Orange County Department of Education employee  Dennis Cole in second. But the race for the third and final seat is very close with Phu Nguyen,  Megan Irvine and  Trisha Rintoul all hovering close to 15% of the vote.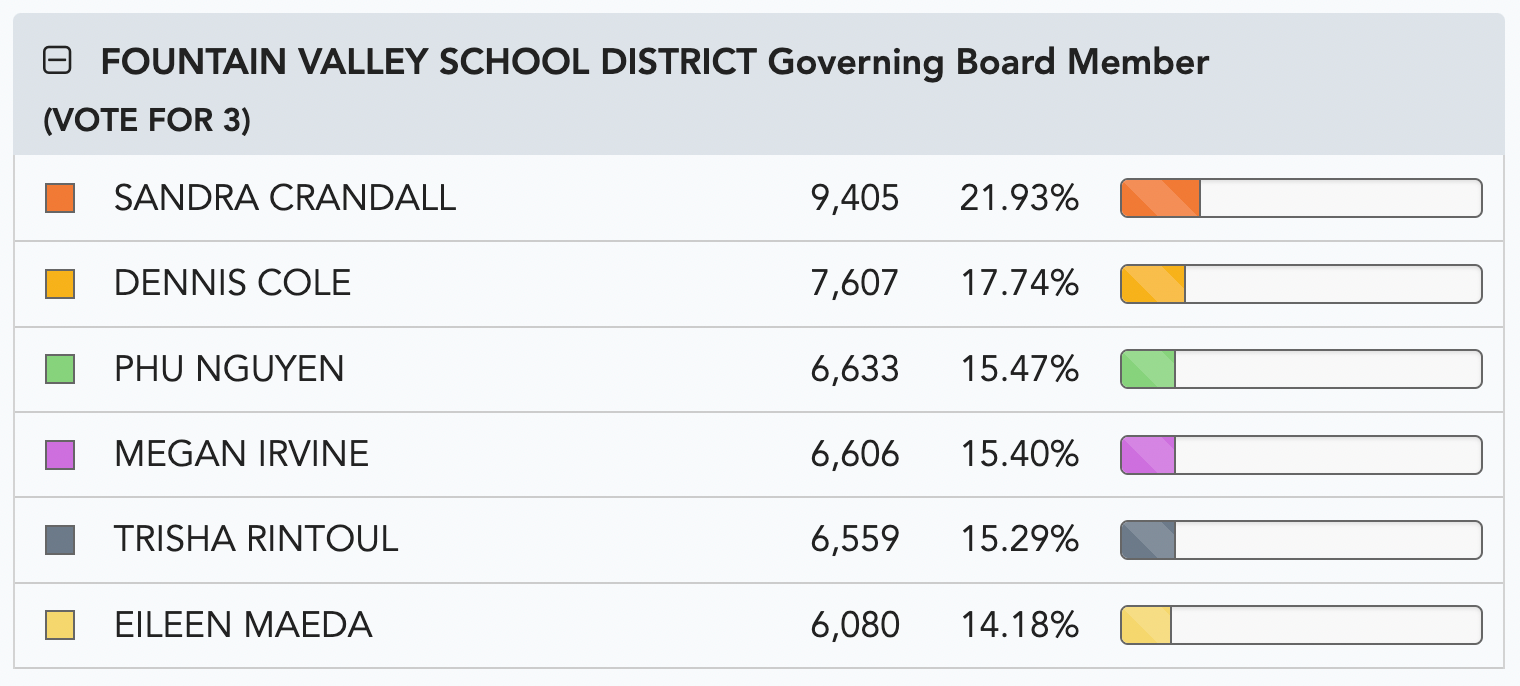 It's a similar situation in the race for the Ocean View School District Board of Trustees. Incumbents  Patricia Singer and  Jack Souders are currently in the top two positions. The race for the third seat is very close with incumbent  John Briscoe trailing nurse and parent  Morgan Westmoreland by only 25 votes.

Meanwhile, in the  La Habra City School District the race for third place is extremely tight with three candidates all having around 17% of the vote. Incumbent  Emily Pruitt is leading for the final seat with 3,508 votes but Rocio Carmona is only back 25 votes while Joshua Atwater is just 32 votes behind Carmona.

What's left to count?
Spotlight Schools is not reaching out to any of the candidates in these close contests for comment until the final election results are announced. That could take several days. The results must be certified in Orange County by Dec. 8.
As reported above, there's 176,541 total  ballots left to process , according to the O.C. Registrar of Voters. All of the in-person votes (except provisional ballots) and mail-in ballots received before Election Day have been counted.
That means the remaining ballots to process consist mostly of vote-by-mail ballots dropped off at Vote Centers and in drop boxes, eligible mail-in ballots postmarked by Election Day as well as provisional ballots and  RAVBM ballots which can include votes from U.S. service members stationed overseas. What's not clear is which districts the remaining ballots are from.
Again, votes are still being counted and Spotlight Schools will continue to update readers here and on the Spotlight Schools  Instagram account.
'Red Wave' in education races?
The California Republican Party with its "Parent Revolt" as well as the O.C.-based think tank the California Policy Center, worked to  help conservative candidates run for local school boards and races impacting education. As we stated above, votes are still being tallied, but according to a Nov. 10  EdSource story, so far the GOP-backed candidates have not been widely successful in flipping school boards in more liberal areas.
California Policy Center education expert  Lance Christenesen conceded in the race to become the state's top education official. Incumbent Tony Thurmond  leads him with 63.6% of the vote.
In a  statement Christensen said:"The preliminary election results are in and, unfortunately, I will not have the votes to move forward in my quest to become the next California Superintendent of Public Instruction. While I am disappointed, I am proud of what our campaign has accomplished over the last 8 months."
In a state where registered Democrats greatly  outnumber registered Republicans, it's not surprising Christensen lost. But even in the more "purple" Orange County, Christensen currently  trails Thurmond by 10 percentage points.
Another high-profile candidate who attended California Policy Center events is Sharon McKeeman. She is the founder of the San Diego-based parent group Let Them Breathe, which is known for its opposition to mask mandates and  legal challenges against school vaccine mandates during the height of the Covid-19 pandemic.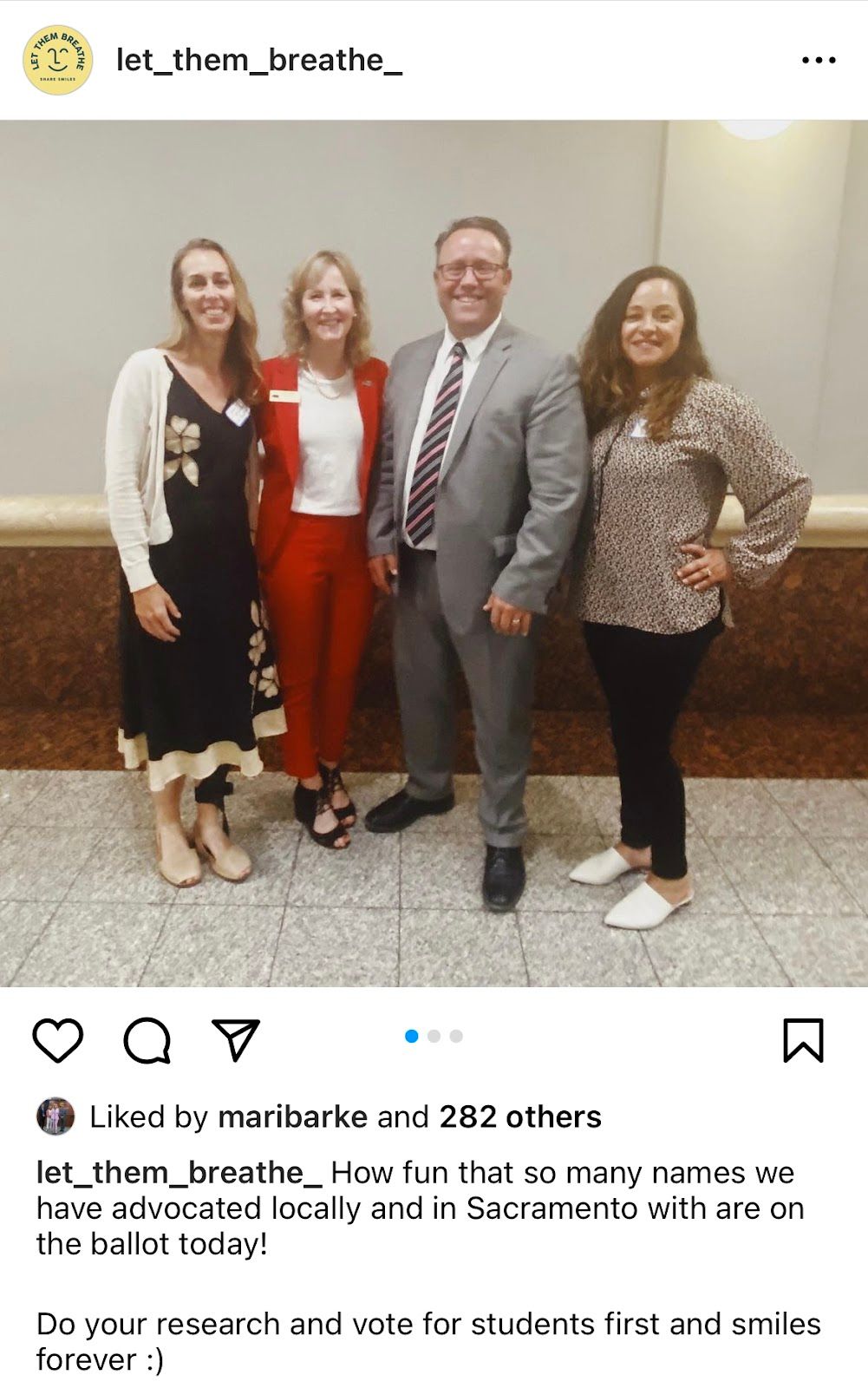 McKeeman is currently trailing her opponent by about 15 percentage points in a race for a seat on the Carlsbad Unified School District Board of Trustees, according to the latest  results from the San Diego County Registrar of Voters office.
Stay with Spotlight Schools for continuing coverage of election results for school board races.
If you feel this coverage has been valuable, please consider making a donation to support our independent and hyperlocal newsroom. We will be having a fundraiser on Giving Tuesday on Nov. 29. More information to come.