Orange County's charter schools steadily growing
While public school enrollment has been declining across California, some O.C. charter campuses are gaining pupils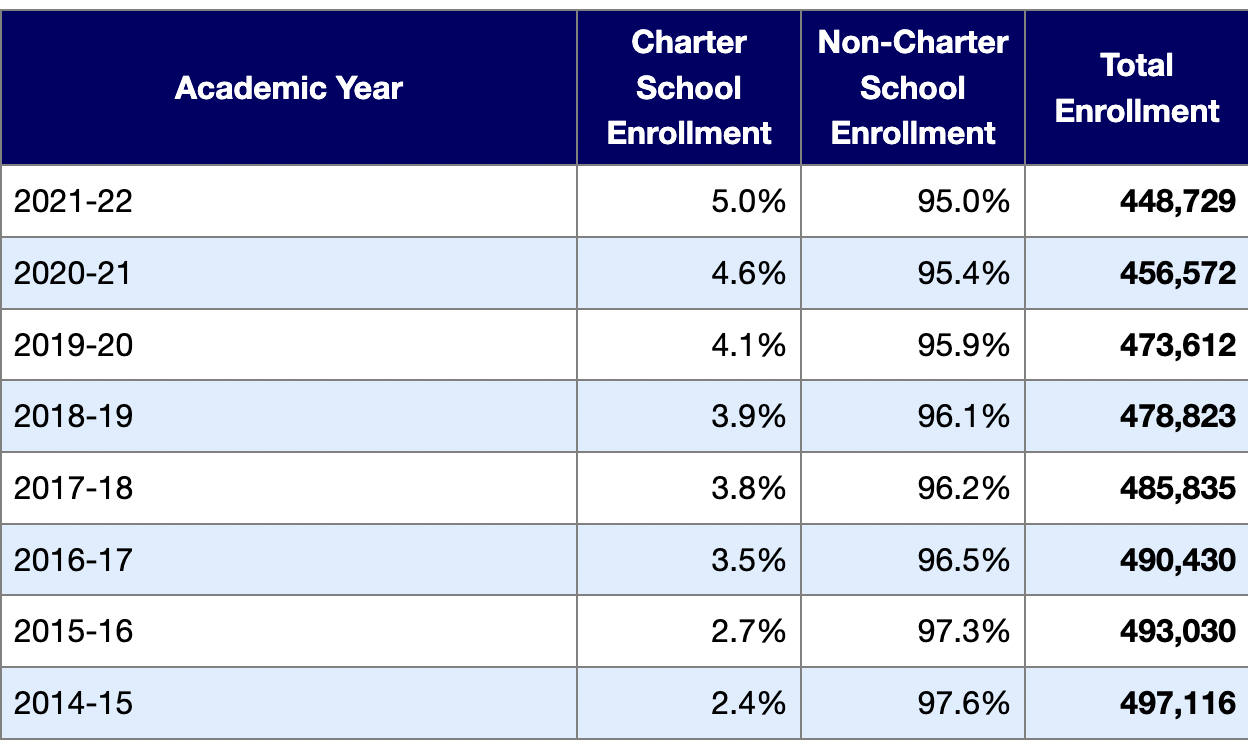 California's K-12 public schools have been registering fewer students for the past five years. Last school year, statewide enrollment dropped by 110,000 students, according to the  California Department of Education as the  forces of rising housing costs, people having fewer kids, the disruption of the Covid-19 pandemic and other factors converged.
Charter schools statewide also  saw a 1.8% dip in enrollment in 2021-22. But there is a slightly different story playing out at some campuses in Orange County.
Public charter schools have actually been slowly but steadily gaining students in O.C. since 2014, according to CDE data.
Charter schools are taxpayer funded but are able to operate independently and with more flexibility in their curriculum than traditional K-12 public schools. They are subject to increased local oversight. Their charter is approved by boards of education at the local, county or state level.
Although a small fraction of the total number of students in Orange County attend charter schools, their numbers are growing. Last school year, charter school students accounted for 5% of the total number of students in O.C. public schools. That's up from 2.4% in 2014-15.
And that's also while total public school enrollment in O.C. dropped by more than 48,300 students over the same time period. That means while some local public school districts are facing the prospect of downsizing, charter schools in O.C. have been growing.
That's been the case for the  award-winning charter schools of Oxford Preparatory Academy (OPA) in Orange County which has a wait list of 1,000 people, according to OPA's Executive Director, Amy Kernan, Ed.D.
OPA's first K-8 campus opened in 2011 in the Capistrano Unified School District, the county's largest and also the one with the most charter schools. Roughly  14% of Capo Unified's nearly 50,000 students attend a charter school.
OPA created a second  Saddleback Valley K-8 campus in the 2016-17 school year. In October, OPA  received authorization from the Orange County Board of Education to expand again, and is planning to open a middle school campus in the fall of 2023.
"We're excited that we have the interest that is allowing us to expand even at a time where most everybody else's [enrollment] is declining," Dr. Kernan said in a recent phone interview with Spotlight Schools. "We feel very lucky that we have that ability, and we want to just make sure that we keep serving our students and our families and … keep providing a great option for families here in South Orange County."
OPA's campuses are among the  39 charter schools authorized to operate in Orange County. Some are overseen by local school districts. Others are under the oversight of the Orange County Department of Education.
The current Orange County Board of Education has been vocally pro-charter schools and even hosted a  forum in September titled: "Strengthening California's Charter Schools at a Local and State Level."
OCBE has granted five charter schools countywide status, meaning the schools can more easily establish a campus anywhere in O.C. That includes Orange County Classical Academy, Samueli Academy, Orange County Workforce Innovation High, Scholarship Prep Orange County and Explore Academy.
Explore Academy received the status in October 2021. The OCBE  approved the charter's petition by a vote of 4-1, going against the recommendation from the OCDE's charter school unit to deny the petition.  Explore Academy is slated to open its O.C. campus in the fall of 2023 but the location has not been announced.
There have also been stories of California charter schools struggling. That includes Irvine International Academy, a dual language immersion program that was under intense scrutiny at the end of the last school year, as  The O.C. Register reported.
It's been  30 years since California established the  Charter Schools Act that ushered in a new era in education. According to a  poll released by the California Charter Schools Association in July 2022, support for charter schools is at an all-time high. Fifty-five percent of California voters polled in the survey reported saying they hold a favorable view of charter schools.
"The way that I see it is that, you know, charter schools exist because they have something that they're offering that is not available in the local public schools," said Oxford Preparatory Academy's Chief Academic Officer, Stephanie Henry, Ed.D. Dr. Henry says OPA's focus on the "multiple intelligences"of its students is one of the school's core values and what makes it unique.
Dr. Kernan said the disruption to education including school closures caused by the Covid-19 pandemic may have led some families to explore other educational options and that could help keep charter school enrollment growing.
"A lot of people are looking for something a little bit different. So I think that it is likely that as people are researching schools that charter school enrollment will probably continue to increase up to a certain point. District enrollment has been pretty significantly declining. There are a lot of different reasons for that. But I don't foresee charter school enrollment declining at the same rate," Dr. Kernan said.