Charter school approved; Student dies after allergic reaction at school dance; Westminster schools showcase 'specialty programs'
CA's plans for student Covid-19 vaccine mandate ends 🧪 O.C. teacher inspiring kids with new S.T.E.A.M. book
CA's plans for student Covid-19 vaccine mandate ends 🧪 O.C. teacher inspiring kids with new S.T.E.A.M. book

Helping you better understand, navigate and participate in the TK-12 public school experience in Orange County.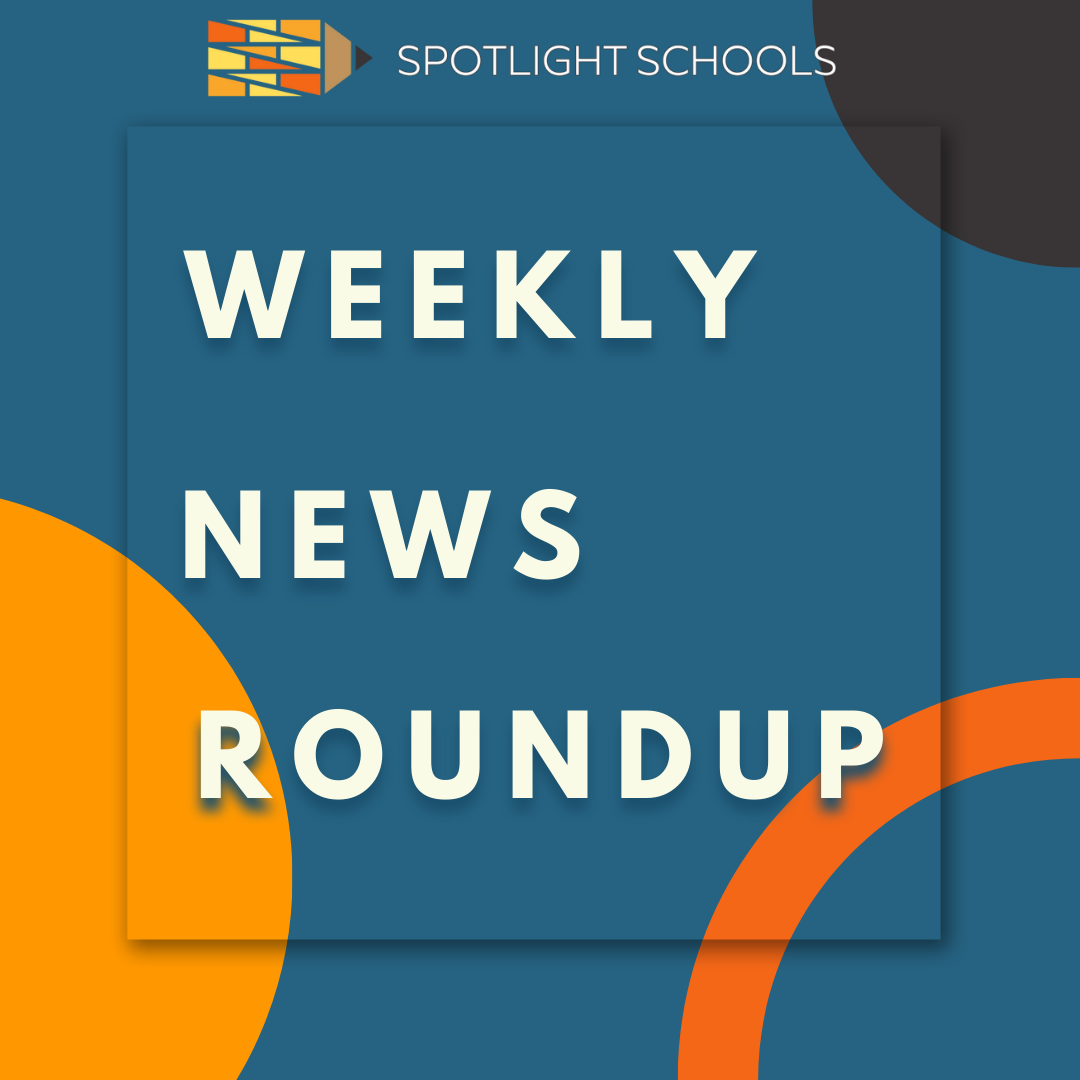 Spotlight Schools is a hyperlocal newsroom covering education in Orange County and this is the Weekly News Roundup newsletter.
You'll find original reporting from Spotlight Schools in addition to curated links to articles from a variety of newsrooms, education agencies and more to keep you on top of what's happening.
Let us know what you think! Email hello@spotlightschools.com.
Yours in knowledge,
Jeannette Andruss, Co-founder and Chief Editorial Officer
WEEKLY NEWS ROUNDUP
Westminster schools showcase
District's event highlights 'specialty programs' at campuses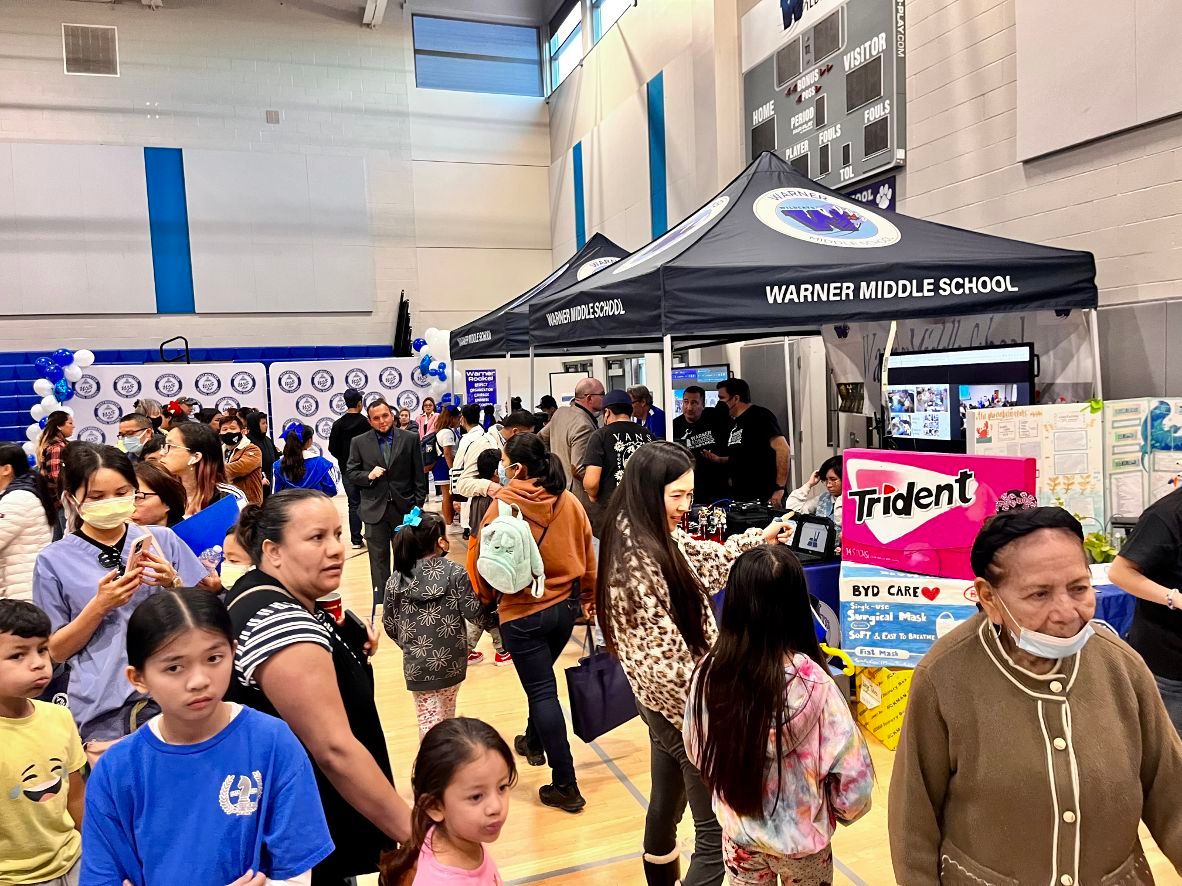 Families attend the Westminster School District's Academic Innovation Showcase on Jan. 25 at Warner Middle School. Photo by Jeannette Andruss
The gymnasium at Warner Middle School was bustling with activity on the evening of Jan. 25 for the Westminster School District's first Academic Innovation Showcase.
The event had the feel of a college or job fair. The district's TK-8 schools had canopies set up with their names and logos. Tables were covered with students' school work, pamphlets marketing what each school offers and sign-up sheets for prospective parents to leave their contact information.
With declining enrollment hitting schools across California, including in Orange County, many districts are making an extra effort to publicize what sets their schools apart. Enrollment for the 2023-24 school year is getting underway or will be soon for many O.C. public school districts.
At the showcase, the district's focus was on "specialty programs" at its 13 elementary schools and three middle schools located in Westminster, Midway City, Huntington Beach and Garden Grove.
Each school seemed to have a program to share at last week's event. At Fryberger Elementary the focus is on environmental science. Webber Elementary School was described as "an arts pathway school." Finley Elementary School is the Computer Science Magnet School.
Perhaps the most well-known specialty programs in the district are the two dual language immersion schools, including the Spanish/English program at Willmore Elementary School and the Vietnamese/English program at DeMille Elementary School.
DeMille Principal April Derr said last week's showcase gave schools a chance to present what each campus is doing.
"I think it's great for parents and our community to come out and see what our schools have to offer. We have some very unique programs," Derr said. "[Parents] need to be looking for the right fit for them," she added.
Read the whole story on the Spotlight Schools website.
O.C. student dies following allergic reaction at high school dance
'Her joy was contagious,' Community mourns and supports family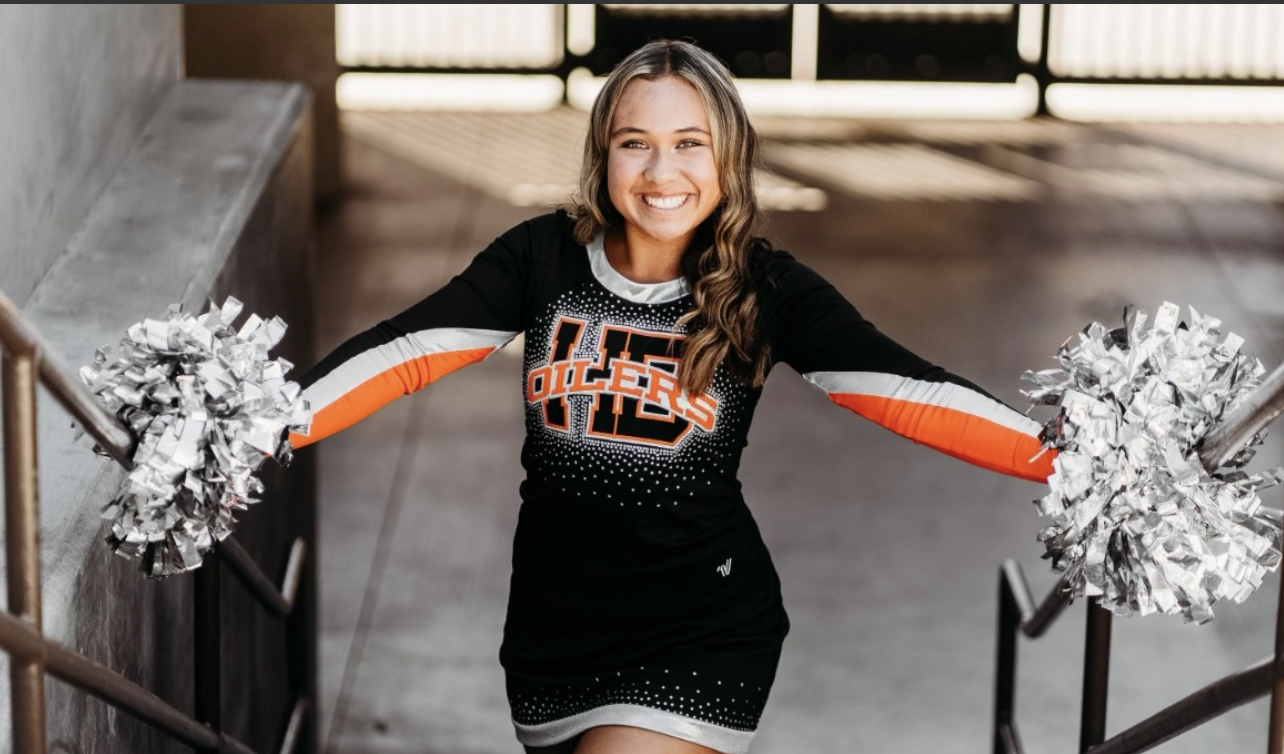 An image from a GoFundMe page set up to support the family of Alyssa "Aly" West, a cheerleader at Huntington Beach High School, has raised nearly $150,000. Photo from GoFundMe site.
The Huntington Beach High School community is in mourning after the passing of one of its students. Alyssa "Aly" West suffered a "severe allergic reaction" on Jan. 28 during the high school's winter formal dance, according to a GoFundMe page set up to support her family that has already raised more than $150,000.
"It is with deep sadness that we announce the passing of our beautiful and loving daughter, Aly, as she went home to be with our heavenly Father. Aly was the center of our world and the light of our lives. We are lost without her," reads a message said to be from her parents.
Aly was a cheerleader for the HBHS Oilers. The team's Instagram account posted a tribute to her that reads, in part, "Aly had the biggest, brightest smile. Her joy was contagious. She lit up every room she walked into."
You can find out more on the GoFundMe site set up for Aly.
Stabbing at Tustin High School leaves one student hospitalized, another in custody
A student at Tustin High School is recovering after being stabbed during a fight on campus that happened midday Tuesday, Jan. 31. Another student was taken into custody.
Read more from The O.C. Register
Orange County Board of Education approves another charter school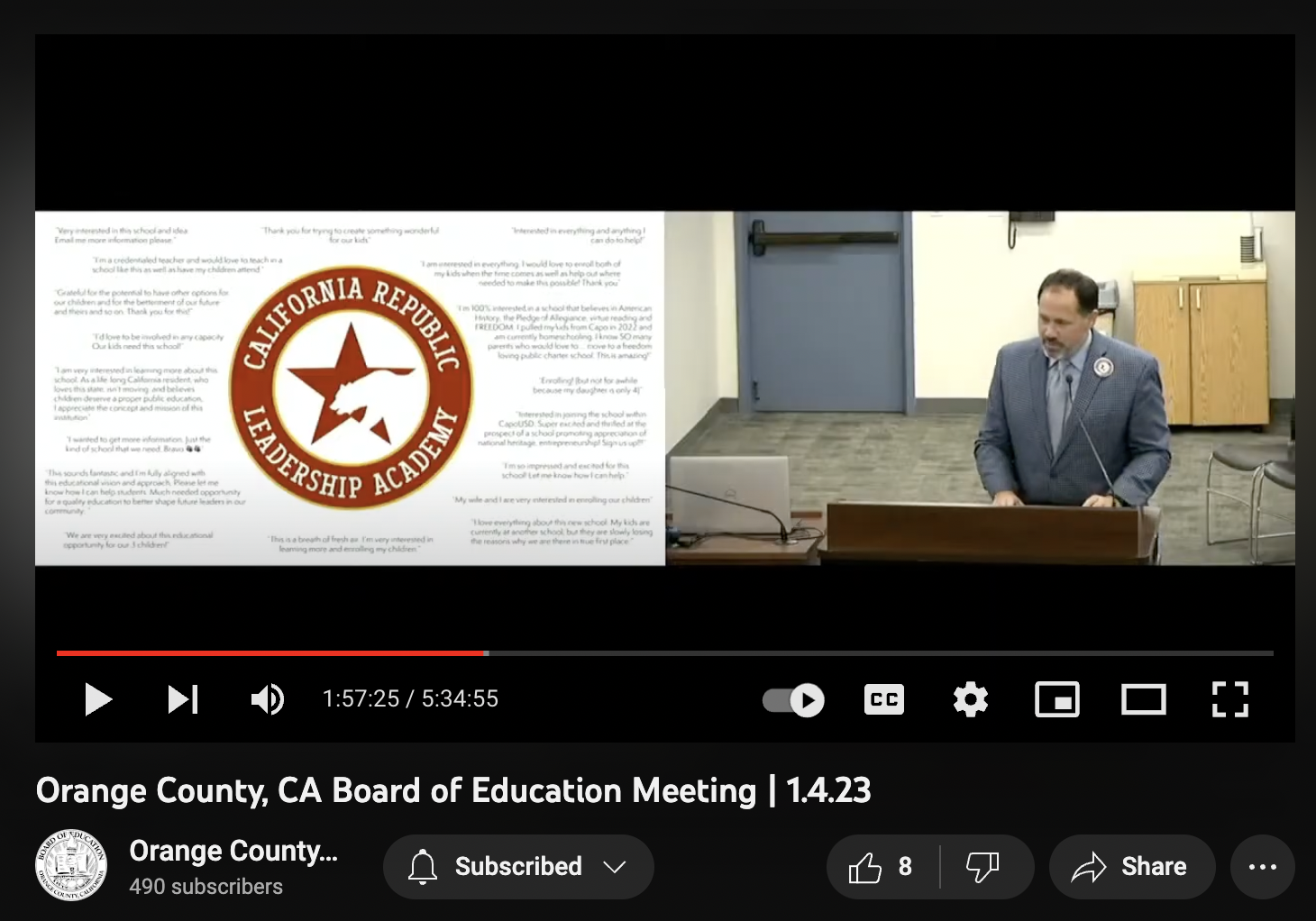 On Jan. 4, the Orange County Board of Education held a public hearing on the petition from California Republic Leadership Academy to open a charter school. Screenshot from YouTube.
At its Feb. 1 meeting, the Orange County Board of Education approved the plan for a new charter school to open within the boundaries of the Capistrano Unified School District.
California Republic Leadership Academy appealed to the OCBE after the Capistrano Unified School District Board of Trustees took no action on its request to open a TK-8 charter school. The OCBE held a public hearing on the petition on Jan. 4.
The Orange County Department of Education Charter Schools Unit recommended approving the new charter school with some conditions. The board voted 5 to 0 to approve the petition without the conditions for a term from July 1, 2023 to June 30, 2028.
The school's website reads: "California Republic Leadership Academy inspires and empowers the next generation of California's leaders to excel academically, to be proud Americans, proud Californians, and to impact the world with excellence derived from an education like that which produced the inspired servant leaders who founded our great nation."
Watch the Feb. 1 OCBE meeting here.
Orange Unified School District suspends digital library following parent complaints
Orange Unified School District Interim Superintendent Edward Velasquez announced a temporary suspension of student access to the online library Sora app after some parents raised concerns about the books available on it, reports Voice of OC.
Other parents say the move amounts to censorship of books with LGBTQ characters "that offend conservative sensibilities," opinion columnist Teri Sforza wrote in The Orange County Register.
In a press release, Velasquez stated: "In no way is it my intention to ban books or impose censorship: My goal is to ensure that our students are protected from content that is not appropriate for their age level and to give parents the ability to control what types of content their children can access."
Opponents of the new board majority are in the early phases of organizing a recall effort.
Covid-19 vaccine mandate for California's schoolchildren won't take effect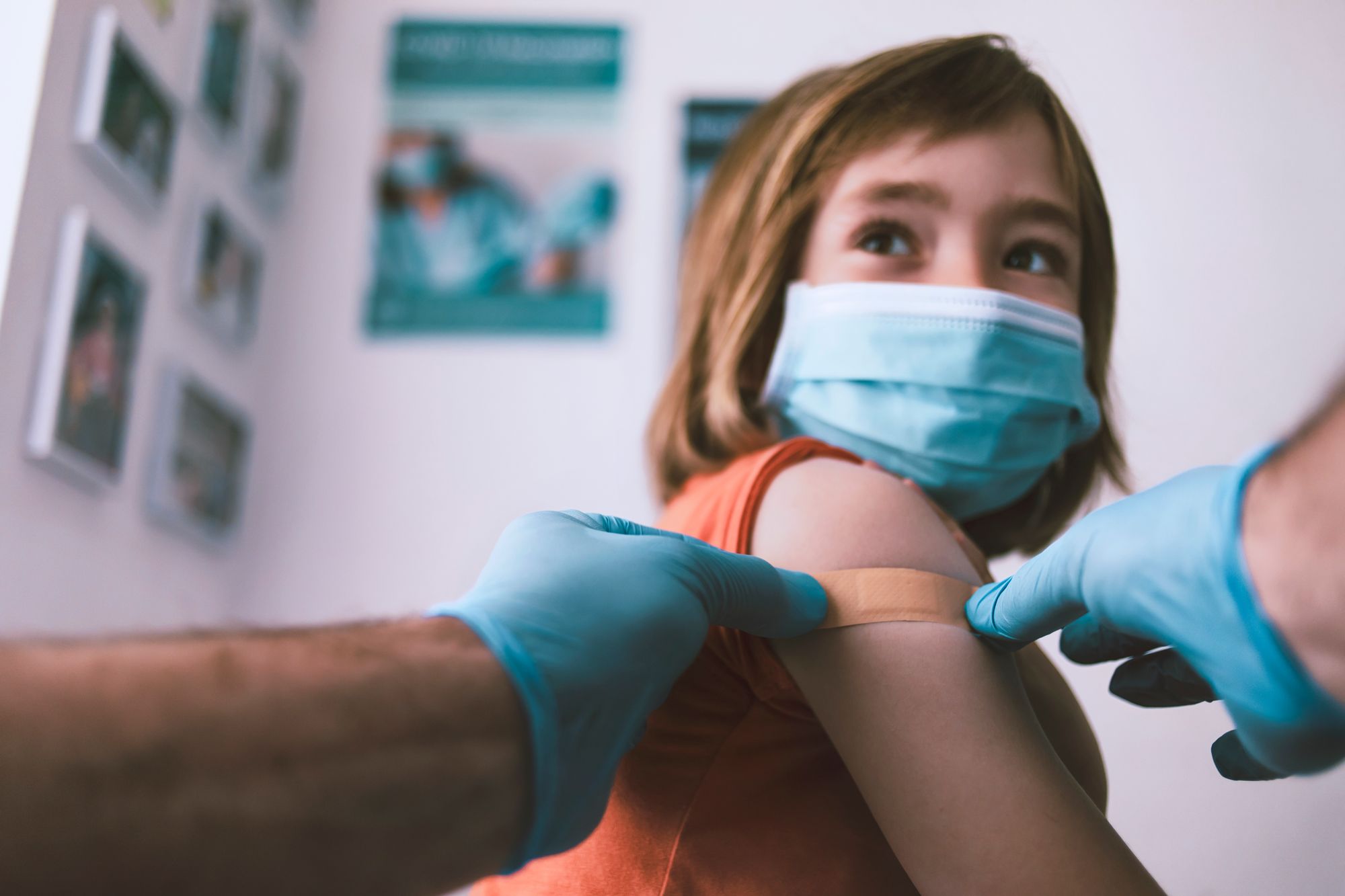 iStock
Originally slated to take effect in July of this year, a requirement for students at California's TK-12 schools to get vaccinated against Covid-19 will not happen.
As EdSource reports, the California Department of Public Health has not issued an official announcement but officials told the online newsroom "that the end of the state's Covid-19 state of emergency on Feb. 28 effectively ends its current plan to add Covid-19 vaccinations to the list of 10 vaccinations children are required to have to attend school in person."
Read the EdSource story here.
Rah or blah? The state of school spirit at LAHS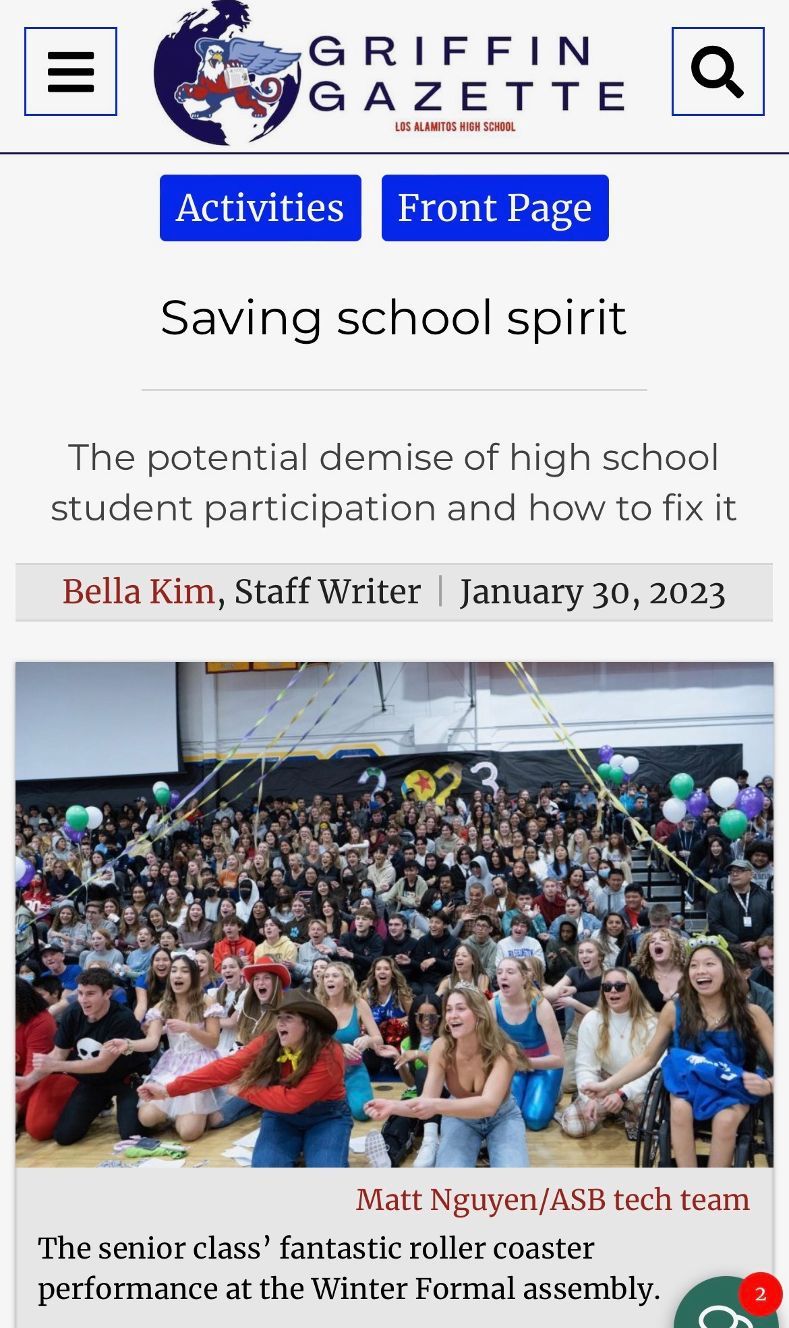 Los Alamitos High School sophomore Bella Kim writes in the student newspaper the Griffin Gazette that, "While dress-up days and pep rallies may seem pointless now, it can be fun, and these experiences are what people remember from high school."
Read the whole story here.
O.C. teacher co-writes book to inspire kids' interest in science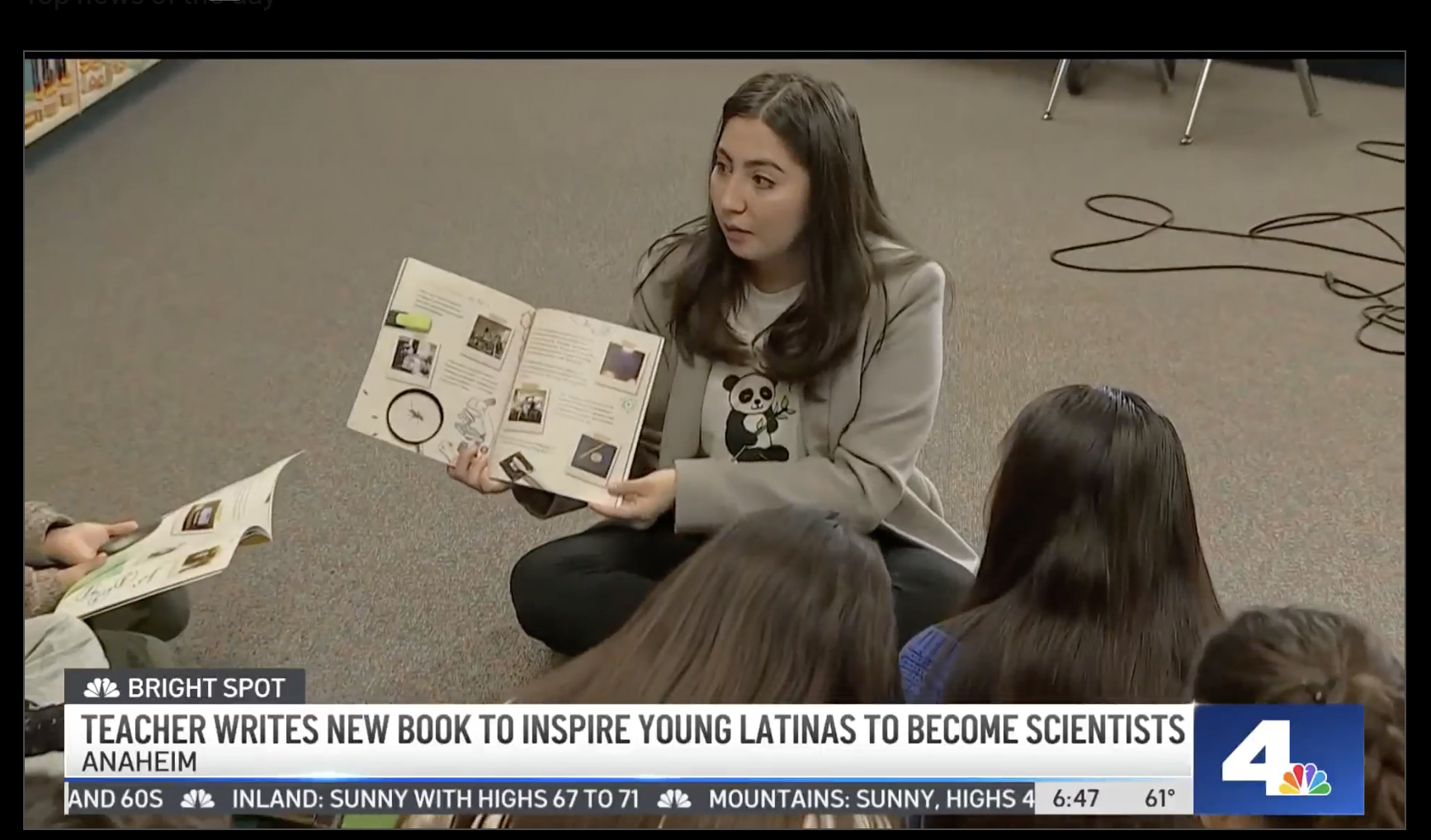 Screenshot from NBC4 website
A teacher in the Anaheim Elementary School District has co-authored a children's book that's meant to promote S.T.E.A.M. – science, technology, engineering, arts and math – to students of diverse backgrounds.
Price Elementary School teacher Brittany Acevedo co-wrote the book "Nanotechnology" with Dr. Alina Garcia Taormina.
Learn more from NBC4 or on the Orange County Department of Education Newsroom website.
Thanks for reading.
We want to hear from you!
Respond to this email and tell us what you liked about this week's newsletter.
Our mailing address:
P.O. Box 164
Seal Beach, CA 90740

Copyright © 2023 Spotlight Schools, All rights reserved.