California Will Drop Mask Mandate at TK-12 Schools; What's Sparking Parent Complaints regarding Outdoor Science School? And Los Al USD names its Teacher of the Year!
A New Poll Shows California Voters' Grades for Public Schools; Plus, what's on the agenda for the next Orange County Board of Education Meeting
A New Poll Shows California Voters' Grades for Public Schools; Plus, what's on the agenda for the next Orange County Board of Education Meeting
Spotlight Schools
In this week's newsletter...
March 1, 2022
FIRST🔔California Won't Require Masks in TK-12 schools after March 11
SECOND 🔔What's sparking parent complaints in connection to this year's Outdoor Science School?
📌The Orange County Board of Education may adjust the Salary of the county's Supt. of Schools
👏🏼Meet the Los Alamitos Unified School District Teacher of the Year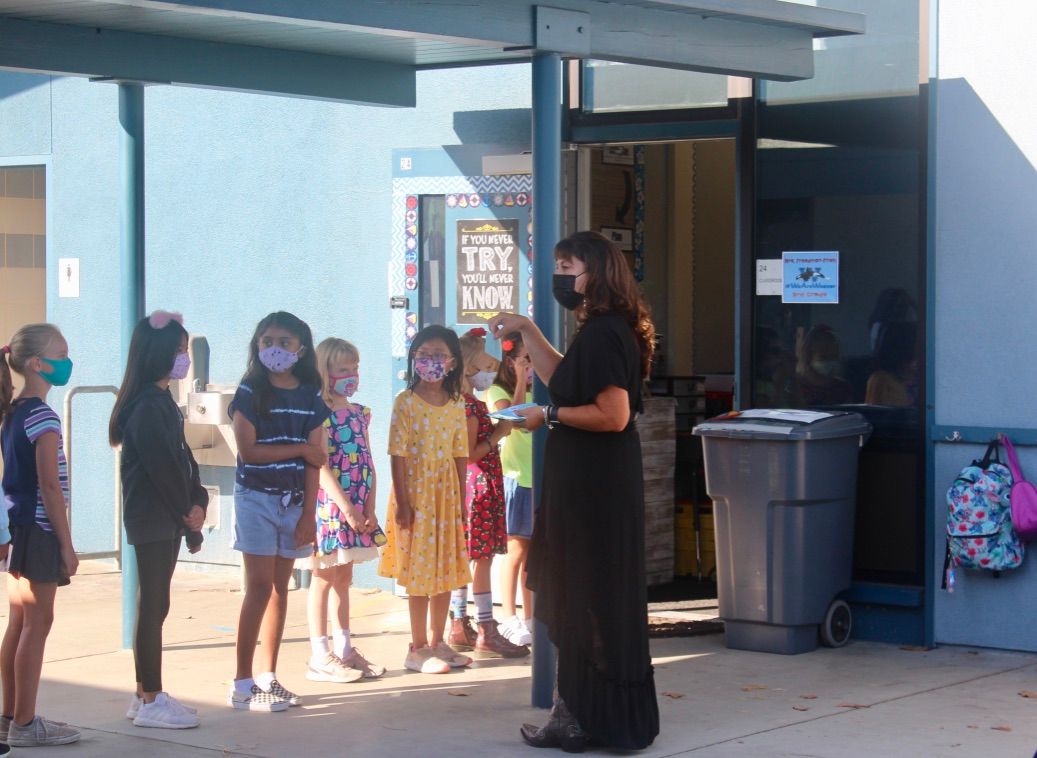 Students at Weaver Elementary school line up before class. Starting March 12, California will no longer require masks to be worn at TK-12 schools.
Spotlight Schools is here to help you better understand, navigate and participate in the TK-12 public school experience in Orange County.
Please send feedback/story ideas/questions to hello@spotlightschools.com.
Yours in knowledge,
Jeannette Andruss, Spotlight Schools Founder and parent of two students in the Los Alamitos Unified School District
FIRST BELL
This Week's Top Story
California Will No Longer Require Masks at TK-12 Schools
Starting March 12, masks will be strongly recommended, but not required on California's TK-12 campuses.
California Governor Gavin Newsom made the announcement yesterday in a joint press release with the Governors of Oregon and Washington.
"California continues to adjust our policies based on the latest data and science, applying what we've learned over the past two years to guide our response to the pandemic," Newsom wrote. He said masks remain an "effective tool" to minimize spreading the virus when transmission rates are high.
"We cannot predict the future of the virus, but we are better prepared for it and will continue to take measures rooted in science to keep California moving forward," Newsom wrote.
While schools must wait about two weeks to drop mask mandates, starting today, the state will no longer require masks in most other public indoor settings regardless of vaccination status. (Masks are still mandatory on public transit and in health-care settings.)
The shift comes as the number of Covid-19 cases and hospitalizations continues to decline in the state.
According to the Centers for Disease Control and Prevention, Orange County is at a medium level, which is based on metrics like hospitalization rates and new cases. For this level, the C.D.C. says masks are not required except possibly for people at high risk for severe illness.
While local jurisdictions can choose to keep mask mandates in place, the Los Alamitos Unified School District said it won't require masks starting March 12.
"I'm excited to see a clear timeline for our families to get the choice many have been advocating for," Los Al USD Board of Education President Diana Hill wrote in a text message to Spotlight Schools.
Students across California have been required to wear masks since classes resumed for in-person instruction in the 2020-2021 school year. Masks have been part of a layered approach to prevent virus transmission on campuses that includes improved ventilation, increased cleaning, and vaccinations.
The mandate will end almost exactly two years since the day schools shut down when the coronavirus pandemic first hit the U.S.
For Los Al USD, that was on March 13, 2020.
"For the past 2 years, our entire community made tremendous sacrifices to keep everyone safe enabling us to open our schools and keep them open," Board member Marlys Davidson wrote in a statement noting the district was one of the first in the state to offer in-person instruction in the fall of 2020. "Our students demonstrated such courage. However, it took a toll not only on learning but also on social-emotional well-being for many of them. Being able to see faces and read emotions is important. I am glad families will now have a choice about masks."
Supporters and opponents have discussed the mask mandate at numerous school board meetings over the course of the pandemic.
In mid-February, some district parents started sending their kids to school without masks to protest the state's mask rules. Students refusing to wear masks were placed in an alternative setting outside of their classroom and given independent work, according to the district.
Gina Anderson's kids participated in the anti-mask mandate protests. While she's glad to see an end date in sight, she questioned why it's two weeks away.
"It is hard to understand why not do it now, since the rest of the state besides schools are allowed [to not wear masks]," Anderson wrote in a text message.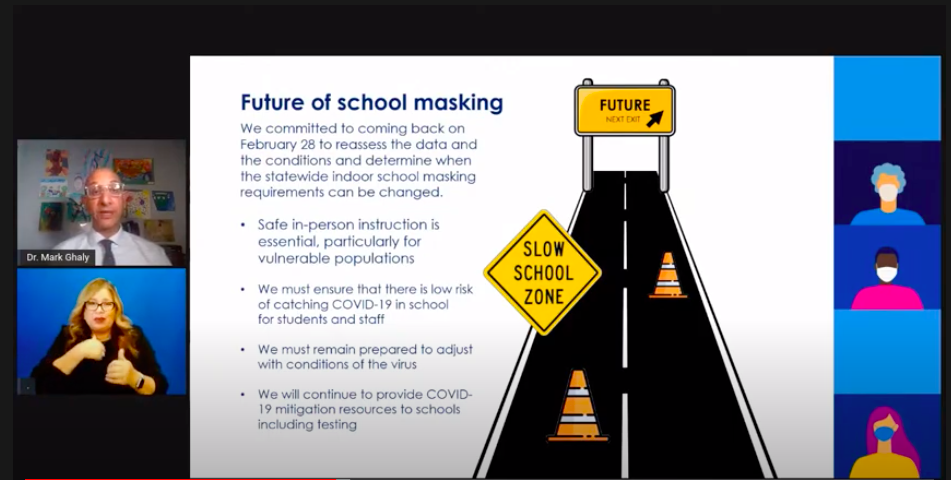 California's top health official, Dr. Mark Ghaly, explains why masks will not be required at TK-12 schools after March 12.
The two weeks matter because risk could be lowered further, according to Dr. Mark Ghaly, California Health and Human Services Secretary, who held a press conference Monday afternoon.
"If we can cut transmission rates by 25 or even 50% more in the next 11 or so days, that creates an even lower risk of individuals, masked or unmasked, from getting infected in schools," Ghaly said.
In a statement, E. Toby Boyd, president of the California Teachers Association expressed optimism that Covid-19 risks would ease as health officials predict but added that "...while some students are ready to immediately remove their masks, others remain very afraid. We urge local school districts to continue to work with educators and families and to act cautiously while prioritizing the safety of students, educators, and their families."
In a message issued to families, Los Al USD Supt. Dr. Andrew Pulver reminded people to be kind and respectful of personal choices.
"I encourage each of us to avoid making assumptions regarding someone's beliefs or health status based upon their choice to wear or not wear a mask," he wrote.
RELATED READ: In O.C., some pleased, others wary about mask rules being relaxed in schools // The Orange County Register
SECOND BELL
Other Stories We're Following
What Spotlight Schools Found out about the Controversy regarding Outdoor Science School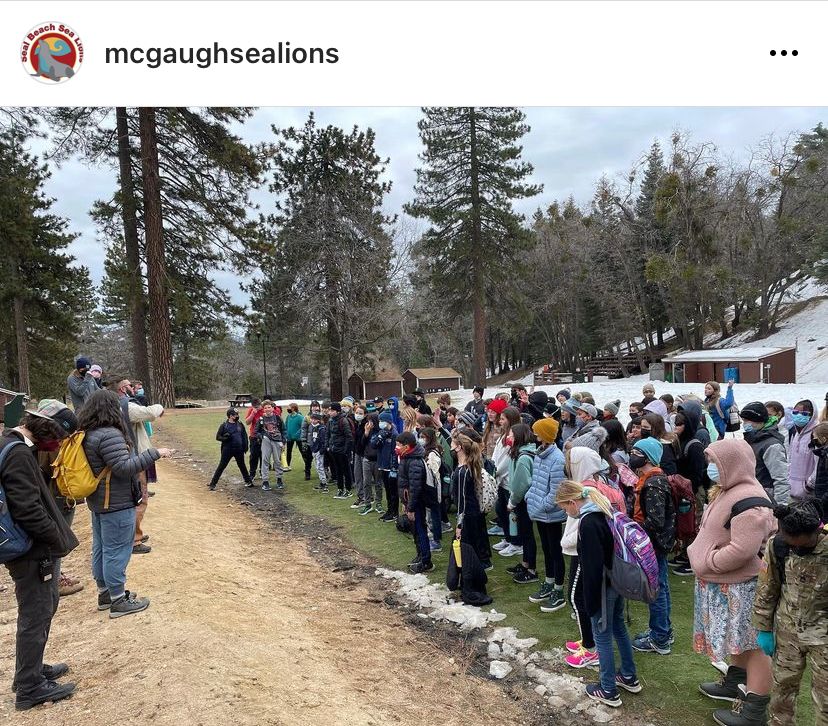 McGaugh Elementary students take part in Outdoor Science School at Pali Institute in Running Springs last month. Photo from McGaugh's Instagram.
A rite of passage for elementary school students in the Los Alamitos Unified School District has become the subject of parent complaints, debates on social media, and cable news coverage.
Outdoor Science School (OSS) is a four-day trip most students take as fifth graders. At OSS, school staff aided by camp counselors take kids to explore nature, conduct science experiments and stay in cabins. The $375 cost-per-student for this year's OSS was paid for by parents, school fundraisers and the district, including some Covid-19 relief funds.
OSS has been a district tradition for decades, according to Dept. Supt. Ondrea Reed who said the district has used different camps over the years.
This year, around 600 fifth graders from the district's six elementary schools participated during late January and early February. For the first time, the district used the Pali Institute in Running Springs which was established in 2003, according to its website. The camp is accredited by the Western Association of Schools and Colleges and the Association for Experiential Education, according to the district.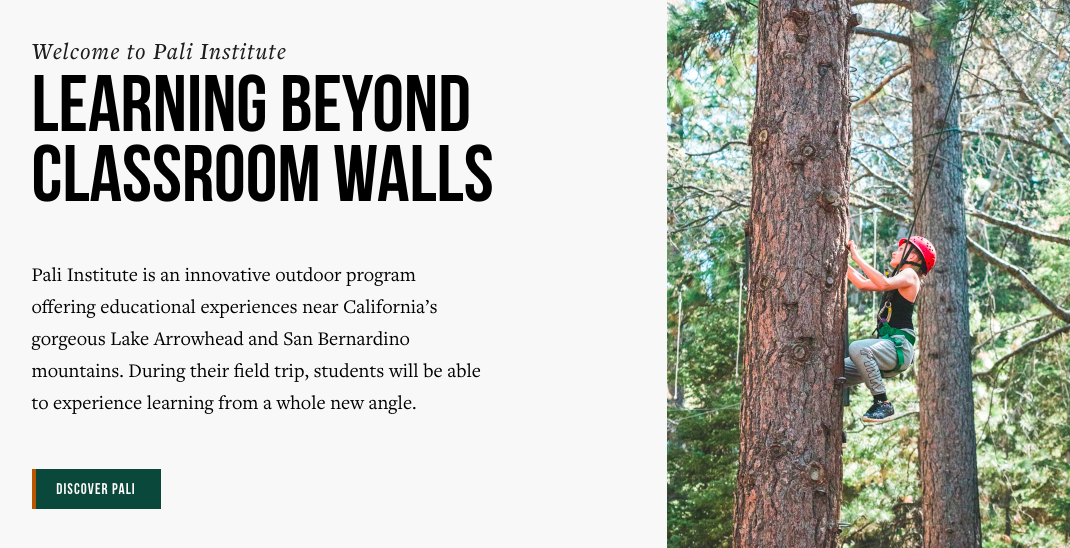 Screenshot from Pali Institute website. Pali hosted Los Al USD's Outdoor Science School for fifth graders this year.
What Sparked Complaints?
Concerns surfaced after parents said they learned from their children that some of the camp counselors used "they" and "them" pronouns. While some parents expressed discomfort with gender identity being discussed with 10-and-11-year-olds; others said it triggered a valuable conversation at home.
Some parents started to question how non-binary counselors were housed at Pali. That included Weaver Elementary parent Rachel Sandoval whose daughter took part in OSS in late January.
In a Feb. 17 phone interview, Sandoval said she was not happy counselors were discussing gender pronouns with her daughter but her top concern was a fear that a biological male could be allowed to stay in a cabin with girls.
She said she reached out to the school and district and was told they would look into it. She also said she reached out to Pali and shared an email from an administrator that said counselors were placed in cabins based on the gender they identify with per California law.
Sandoval's interpretation was that children could possibly be placed in cabins with counselors of the opposite biological sex.
"There is no knowledge [it happened] but there is also nothing stopping them," Sandoval said on Feb. 17 and added, "If it did not happen this time it's a crapshoot if it's going to happen."
As the district looked into the issue, things got more complicated. Around Feb. 18, Sandoval and another parent were interviewed for a local TV news story and appeared on a cable news show. Both reports suggested biological males were put in cabins with fifth grade girls.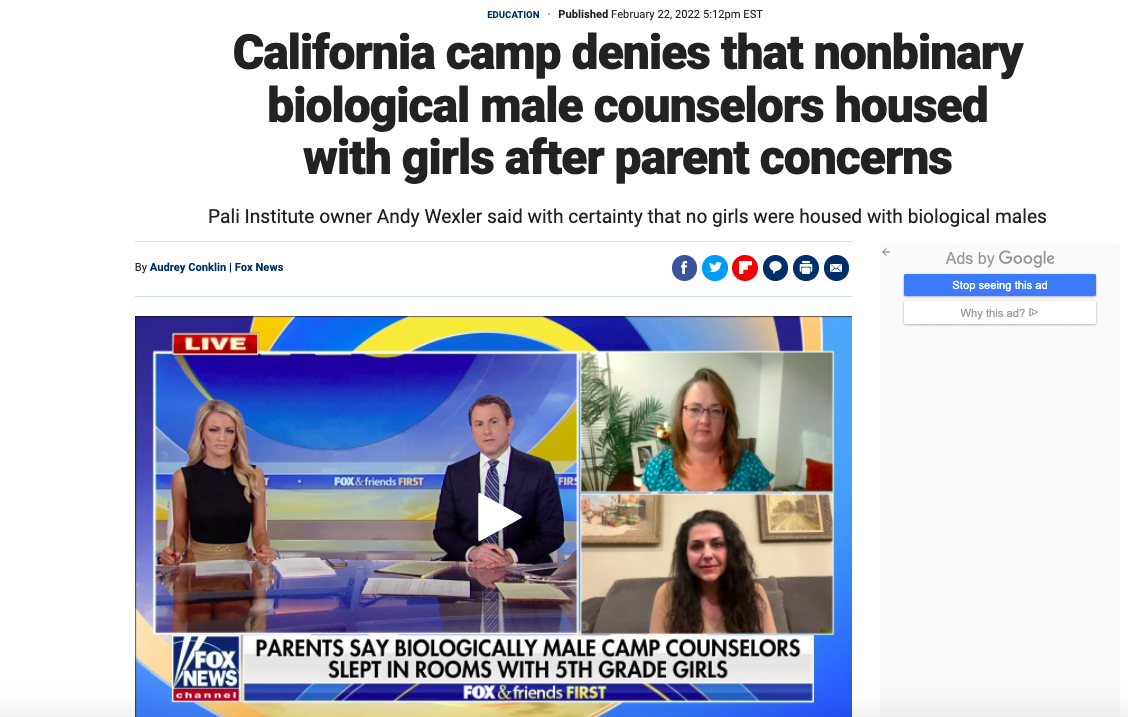 Los Al USD parents appear on the Fox News Channel regarding OSS with a banner that showed unproven claim that biological males stayed in cabins with girls. Parent Rachel Sandoval tried to clarify that the claim had not been confirmed but the hosts continued to repeat it. The district later said that claim was false.
During the Fox&Friends segment, Sandoval tried to clarify saying, "we have not actually confirmed that there was a biological male in the cabin." But she did say Pali Institute told her it places counselors in cabins based on the gender staff identify with. The hosts continued to say biological males shared cabins with fifth grade girls and the graphic stating that remained on screen during the interview.
On Feb. 23, the district said that claim was not true.
"The District has confirmed with certainty that these allegations are false," read a statement from Supt. Dr. Andrew Pulver.
The statement to families quoted Pali Institute owner Andy Wexler saying "that no girls were housed with biological males who identified as they/them" and additionally stated "we can tell you for sure that did not happen."
In a statement to Spotlight Schools, Wexler said Pali was working on "a crystal-clear statement of policies." He added, "Once people read our statement of policies they will see that we are in line with what we believe will make everyone feel safe, comfortable and secure."
Dr. Pulver told families the district will not be using Pali Institute next year. The district said it is looking to return to C.O.D.E.S. camp.
Coverage frustrates LGBTQ Community
While the policies surrounding non-binary counselors infuriated some, the news reports on OSS upset others.
The coverage frustrated members of the LGBTQ community and their allies who said it "ramped up tension at a time when many increasingly feel targeted," according to The Orange County Register. (During public comment at the Feb. 8 Los Al USD Board of Education workshop, eleven speakers, including two teachers, discussed some of the challenges and safety concerns felt by LGBTQ students in the district.)
District parent Meggan Berthold said her child had no problem with counselors sharing pronouns and suggested more acceptance is needed.
"If any parent sends their child to an accredited, trained, (district security cleared) adult camp counselor, then that parent needs to be OK with gender fluid people. They have existed all throughout time and in every country. It is appalling that we are still in a pandemic and allowing for such limited thinking," Berthold wrote in a message to Spotlight Schools.
Another mother said her child was "ecstatic" to hear a camp counselor use "they" and added that their child "felt seen."
For some parents, the main problem was that they just wanted to be told about the camp's policy prior to OSS.
"Parent complaints stemmed from not being told [pronouns] would be a conversation topic nor non-binary counselors sleeping arrangements. Two topics that should have been discussed [with] parents prior to OSS," read a post on a Los Alamitos Parent Group Facebook page. "This is not about being anti-transgender or anti-pronouns. It's about parental notification."
The district appears responsive to these concerns.
"As we move forward with Outdoor Science School, we remain committed to reviewing and sharing all camp policies and procedures with families and ensuring that all students have a safe and healthy camp experience," Dr. Pulver wrote in a Feb. 23 message to 5th grade families.
Look for more coverage on OSS in this week's edition of The Event-News Enterprise which is published tomorrow.
Other stories we're reading
EXTRA CREDIT
Meetings // Events // Opportunities // Resources
HAPPENING TOMORROW, MARCH 2: The Orange County Board of Education meets at 4:00pm at 200 Kalmus Drive in Costa Mesa.
On the agenda:
Resolution to adjust the salary of Orange County Superintendent of Schools, Al Mijares. In the board's resolution (p. 53 of the agenda) it states Dr. Mijares received $450,454 in total compensation in 2020. The resolution does not state how the salary will be adjusted.
Discussion of amendments to an agreement regarding charter school Explore Academy. The charter was granted county wide status in Oct. 2021.
Closed session items include discussion on the Board's several lawsuits including one against Gov. Gavin Newsom, one against Supt. Al Mijares and another against the committee tasked with approving voting maps for school districts.
Watch the meeting live on YouTube here.
HAPPENING FRIDAY, MARCH 4: Introduction to Special Education. This virtual workshop is for parents and family members of students looking to learn more about Special Education programs. It's put on by the The Greater Anaheim Special Education Local Plan Area (SELPA). Topics include the Assessment Process, Parental Rights, Understanding the IEP, IEP goals and services, and other issues related to special education. Participants will also have an opportunity to ask questions. RSVP by emailing Jennifer Cox: jcox@gaselpa.org
OPPORTUNITIES
FINANCIAL AID: Applying for financial aid for college? The deadline for California students to apply for aid for the 2022-23 school year is tomorrow, March 2. More information here.
SPEECH CONTEST: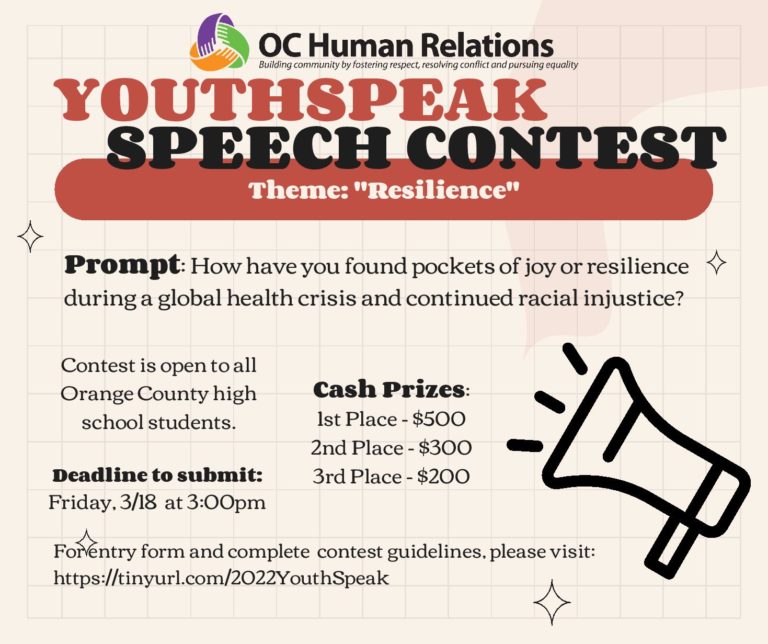 For more information, click here.
RESOURCES
SUICIDE PREVENTION TRAINING: The California Department of Education wants you to help prevent suicide in young people. California pays for middle school (13+) and high school staff and students to get trained to learn the signs of suicidal ideation. You can take the 90-minute interactive LivingWorks Start Training for free and students who complete it are eligible to earn community service hours. Questions? Email Monica Nepomuceno at mnepomuceno@cde.ca.gov.
RIDE THE BUS FOR FREE: Youths 6-18 can continue to ride Orange County Transportation Authority (OCTA) buses for free after leaders approved an extension of the program that started last year. Find out how to get your updated pass here or call (714) 636 RIDE (7433).
ONE MORE THING...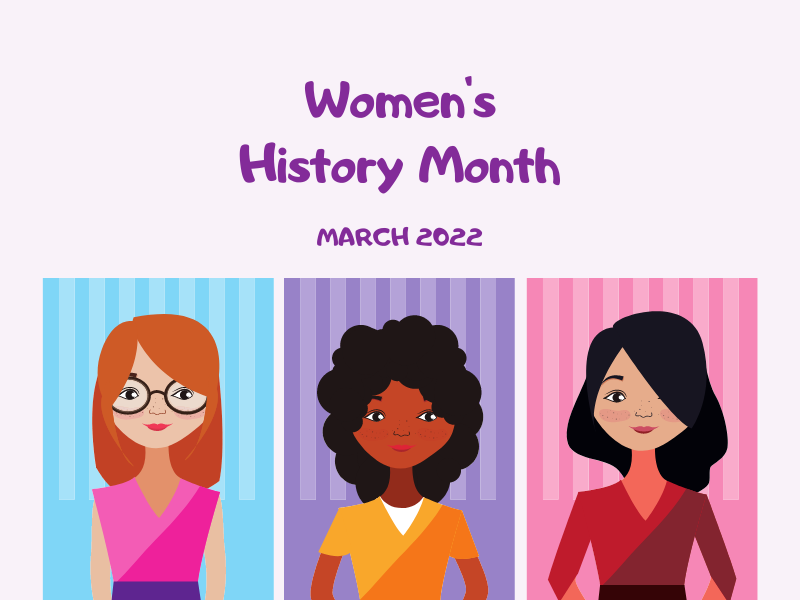 March is Women's History Month. Find out more about events celebrating women in American history here.
RECESS
Your Dose of Good News
Meet Los Al USD's 2022 Teacher of the Year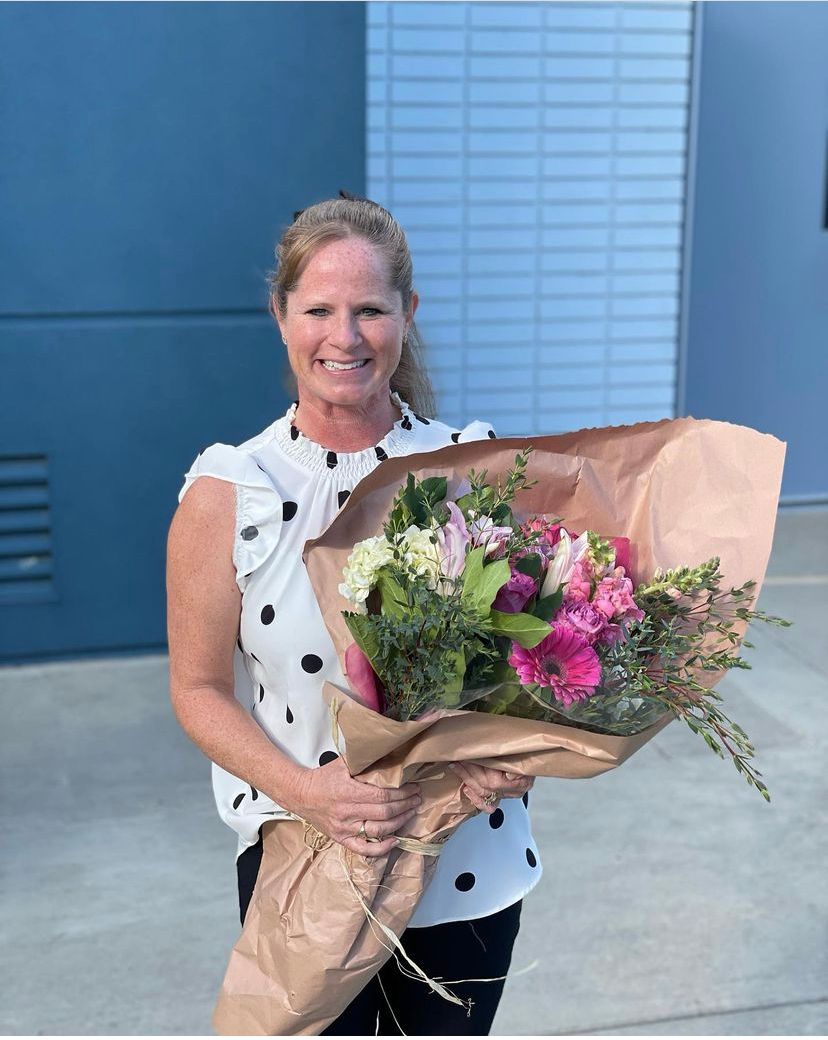 Hopkinson Elementary school kindergarten teacher Angie Haas was selected as the Los Alamitos Unified School District's 2022 Teacher of the Year. Courtesy Photo from Los Al USD Instagram.
The Los Alamitos Unified School District has named its 2022 Teacher of the Year. Hopkinson Elementary School teacher Mrs. Angie Haas received news of the honor this week, according to a post on the district's Instagram account. The kindergarten teacher is said to have a contagious love of learning that she shares with her students on a daily basis. In the district's post, Haas was said to have hosted virtual readings during the pandemic shutdown and made phone calls to students to keep them motivated.
Congratulations to Mrs. Haas!
BOOSTER DOSE: OC Parenting Magazine will soon announce its Teacher of the Year. See the finalists here.
Thanks for reading!
Forwarded from a friend? Subscribe to the Spotlight Schools newsletter here.
Missed a newsletter? Check out past editions here.
Follow us on Instagram @SpotlightSchools.
Our mailing address:
P.O. Box 164
Seal Beach, 90740 CA

Copyright © 2022 Spotlight Schools, All rights reserved.