Anti-Gun Violence Rally planned at LAHS today; O.C.'s top speller advances in Scripps National Spelling Bee; Plus, Eagle Scouts honored
Student short film 'Left Field' premieres; Another Charter school wants to expand; A rich source of summer activities for kids!
Student short film 'Left Field' premieres; Another Charter school wants to expand; A rich source of summer activities for kids!

Helping you better understand, navigate and participate in the TK-12 public school experience in Orange County.
In this week's newsletter...
June 1, 2022
FIRST BELL 🔔Anti-Gun Violence rally expected today at LAHS. Plus, how local law enforcement is reacting to the tragedy in Texas.
SECOND BELL 🔔 #1 speller in O.C. advances in national spelling bee.
EXTRA CREDIT 📌Another Charter school seeks to expand across Orange County; Senior parade this weekend.
RECESS 👏🏼How local Eagle Scouts are supporting our community.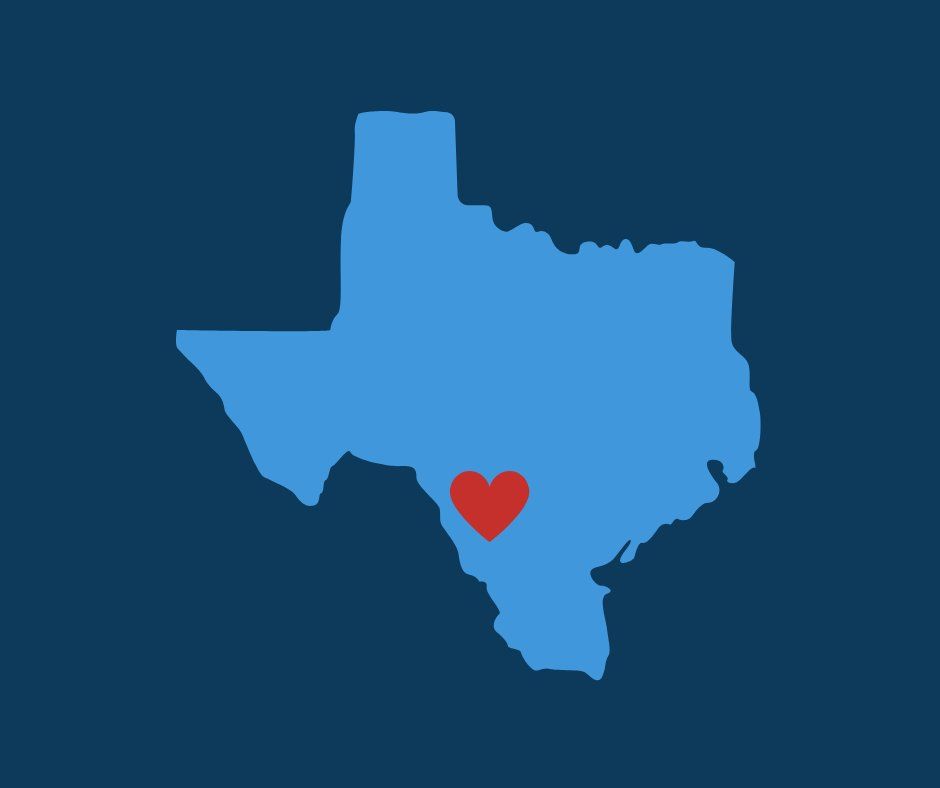 Tragedy in Texas: 19 students and 2 teachers were killed in a shooting at Robb Elementary School on May 24.
Spotlight Schools is a nonpartisan, hyperlocal newsroom covering education. We are part of the Tiny News Collective, an effort to launch local newsrooms across the nation, and supported by a grant from The Google News Initiative.
Please send feedback/story ideas/questions to hello@spotlightschools.com.
Follow us on Instagram for news and updates.
Yours in knowledge,
Jeannette Andruss, Spotlight Schools Founder and parent of two students in the Los Alamitos Unified School District
FIRST BELL
This Week's Top Story
Anti-Gun Violence Rally planned for this morning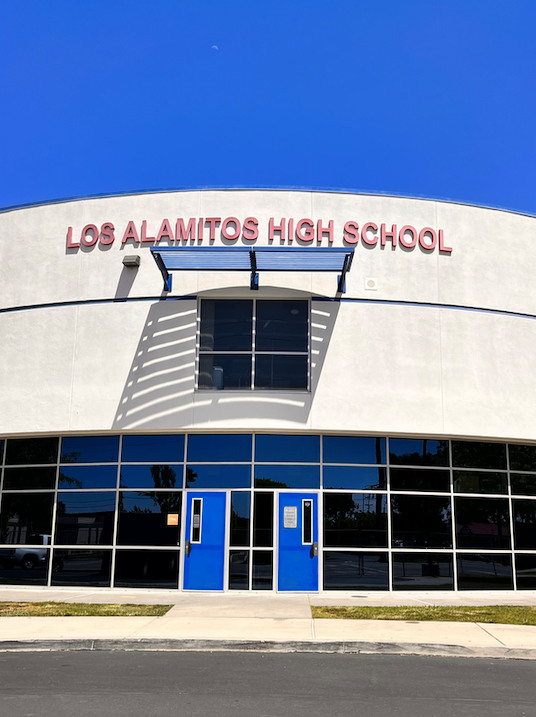 An anti-gun violence rally is expected to be held today in front of Los Alamitos High School before school starts.
The community of Uvalde, Texas is in mourning. Yesterday, the first of nearly two dozen funerals began for the 19 students and two teachers killed at Robb Elementary school by an 18-year-old gunman on May 24.
The tragedy is prompting action here in Orange County.
Spotlight Schools has learned an anti-gun violence rally is planned this morning in front of Los Alamitos High School before classes begin. Los Alamitos Unified School District Board of Education trustee Marlys Davidson said she planned to attend.
There are also fresh safety concerns at another Orange County campus.
Mater Dei High School is closed today after receiving a "credible threat" of violence, reports The O.C. Register. According to the L.A. Times, it appears the threatening message came from a former employee at the private Catholic school in Santa Ana. Santa Ana Police are investigating. In a message sent to Mater Dei families yesterday, school officials wrote: "We acknowledge the alarming nature of this message; however, we at Mater Dei take all threats made to the school seriously." The campus will be closed through Friday.
While a clearer timeline is emerging of what happened at Robb Elementary, there are also ongoing investigations, including a review from the Justice Department into the response from law enforcement in Uvalde.
Here's what we do know: The heartbreaking violence in Uvalde is the deadliest of the 27 school shootings that have taken place so far this year, according to Education Week.
California lawmakers are responding by advancing new gun-control bills, reports CalMatters. That includes an assembly bill that would allow gunmakers to be sued for marketing to kids. It was introduced by Democrat Phil Ting who represents San Francisco.
"We have guns in the hands of the wrong people and we have an industry that takes no responsibility for empowering killers in our community," Ting was quoted as saying by CalMatters.
But the new bills were met by criticism from some including from California Assemblyman James Gallagher. The Republican representing Yuba City wrote on social media that "the CA experience is that more gun control is unlikely to stop mass shootings." He wrote, "There's something deeper going on. A mental health crisis. People who have been radicalized by hate."
Response from Local Law Enforcement
Spotlight Schools reached out to local law enforcement within the Los Alamitos Unified School District last week.
There are nine schools in the district across Seal Beach, Los Alamitos and Rossmoor. They are covered by three law enforcement agencies: the Seal Beach Police Department (McGaugh Elementary), the Los Alamitos Police Department (Los Alamitos Elementary, Los Alamitos High School, McAuliffe Middle School, Oak Middle School) and the Orange County Sheriff's Department (Lee Elementary, Rossmoor Elementary, Weaver Elementary and Hopkinson Elementary).
Following last Tuesday's shooting in Texas, Los Alamitos Police Chief Michael Claborn said his department deployed additional officers to campuses located in the city after consulting with Los Al USD Superintendent Andrew Pulver, Ed.D, and Jerry Friedman, Ed.D, Assistant Superintendent for Safety and Student Services.
"I spoke to both of them and basically asked them about their thoughts about increasing the patrols on all of the campuses," Claborn said. "They were completely supportive of as many officers as we could get on campuses."
Claborn said he will soon formally announce a plan to re-establish a School Resource Officer at Los Alamitos High School. He said the new program is expected to be in place when school resumes in August.
The Seal Beach Police Department stepped up its presence at McGaugh Elementary last week and brought its facility dog Yosa to campus to comfort staff and students.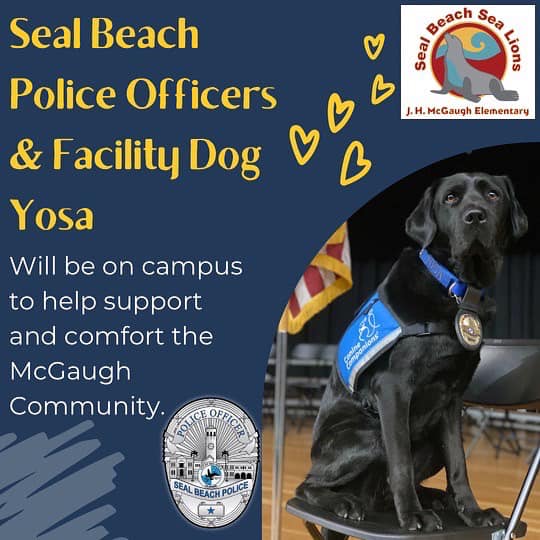 In a statement sent on May 27, Seal Beach Police Chief Phil Gonshak wrote:
"While the details of the Robb Elementary shooting in Uvalde, Texas, are still unfolding, we are all deeply disturbed by the actions of that cowardly suspect. May the families and friends of all the victims find some solace in knowing that even in our small town of Seal Beach, California, we are wishing justice be served swiftly.
With that, please know how much it means to us that all Seal Beach residents have entrusted our police department with their child's protection, whether in school or not. Undoubtedly, the safety and welfare of all children, faculty, and staff at McGaugh Elementary School, remain our number one priority. With that, I take great pride in knowing that we have a phenomenal relationship with all members of McGaugh Elementary School. Further, McGaugh Principal, Dr. Issaic Gates, and I speak regularly, and it is both our persistent desire to continue improving campus security."
In April, the SBPD held an active-shooter training drill at McGaugh while the campus was closed for spring break. Lt. Nick Nicholas told the McGaugh PTA last month that the department is planning to hold another drill with teachers.
Gonshak referenced the number of safety protocols in place at McGaugh including the existence of cameras around campus that are accessible 24/7 to SBPD and a video entrance that requires visitors be "buzzed in" to the school's office. Read more about the safety protocols here.
We want to hear from you – parents, teachers and community members. What do you think needs to be covered in regards to school safety? What do you want to share or ask? Spotlight Schools is listening. Please email hello@spotlightschools.com.
David N. Young contributed reporting to this story.
SECOND BELL
Other Stories We're Following
Top speller from O.C. advances in Scripps National Spelling Bee
McAuliffe eighth grader to compete again today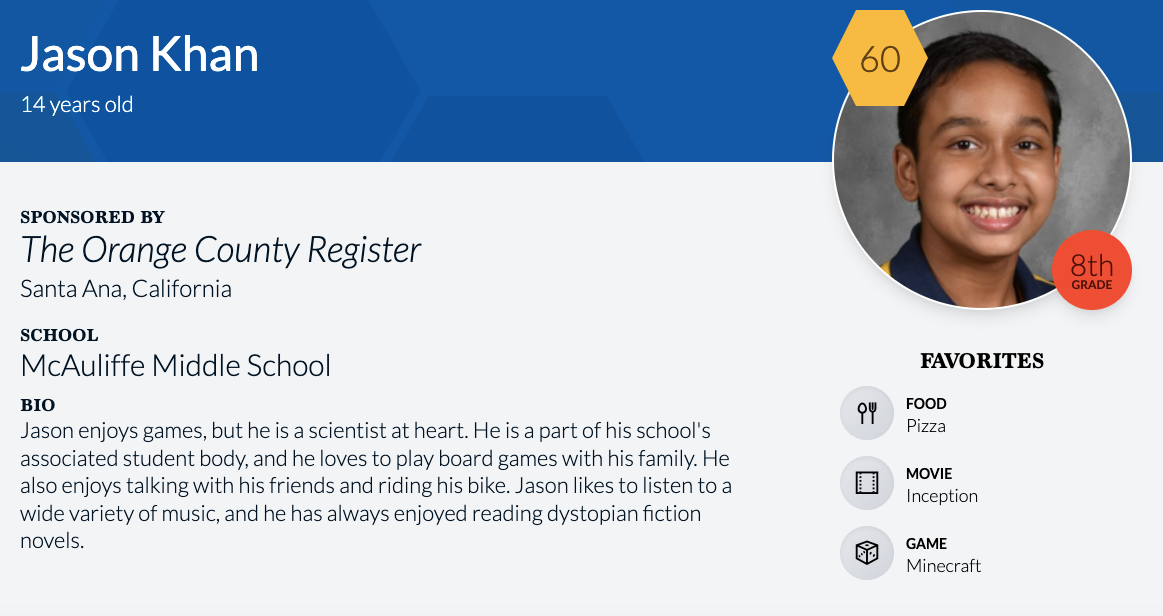 8th grader Jason Khan's profile on the Scripps National Spelling Bee website.
Orange County's top speller has made it past the first rounds in the Scripps National Spelling Bee.
McAuliffe 8th grader Jason Khan is due to compete again today after advancing yesterday by spelling the words "threnody" and "diffident."
Jason earned his spot on the national stage back in March after winning the Orange County spelling bee by correctly spelling the word "ankh."
Jason's classmates in Mr. Thomson's fourth-period history class were able to watch him during the competition that is happening in Washington, D.C.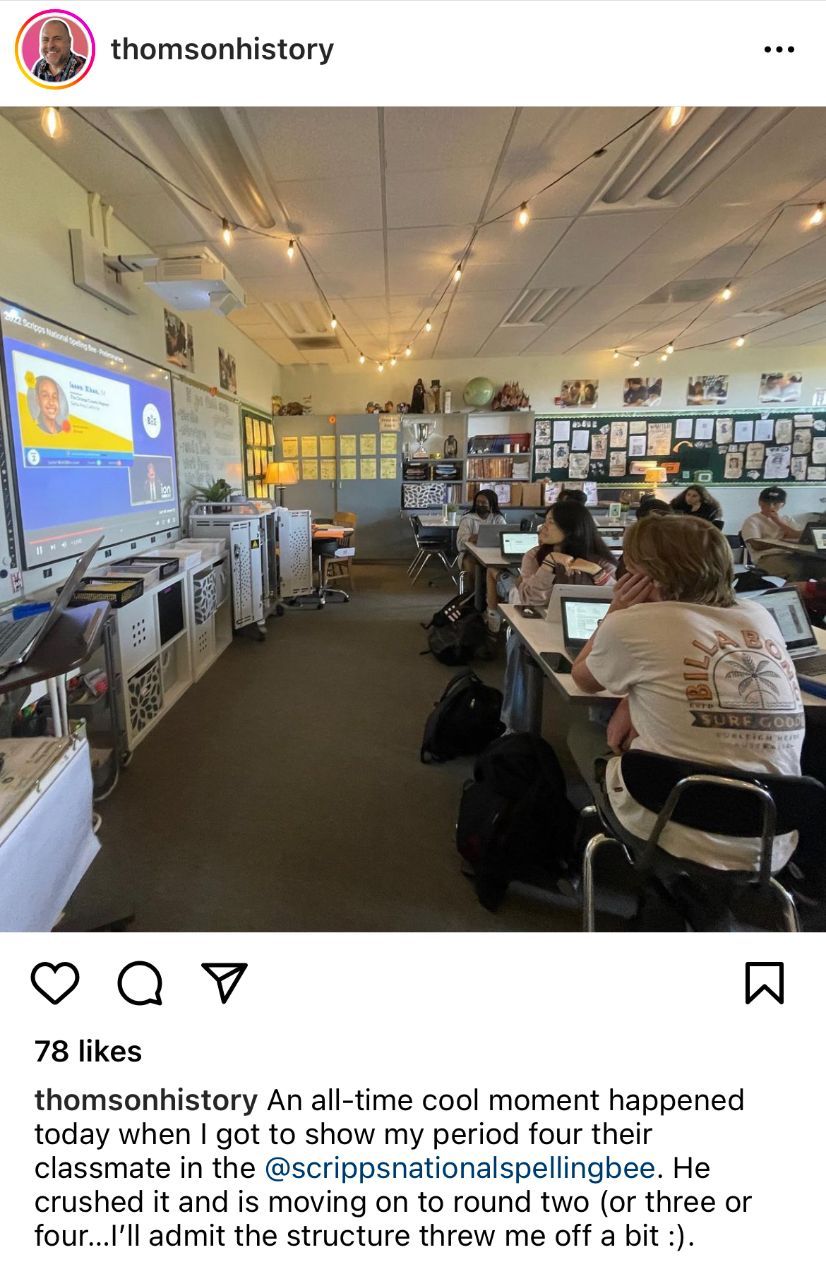 You can watch Jason too! Click here to see how. The competition was due to resume today at 5:00 a.m. California time.
Student film 'Left Field' premieres at Los Alamitos High School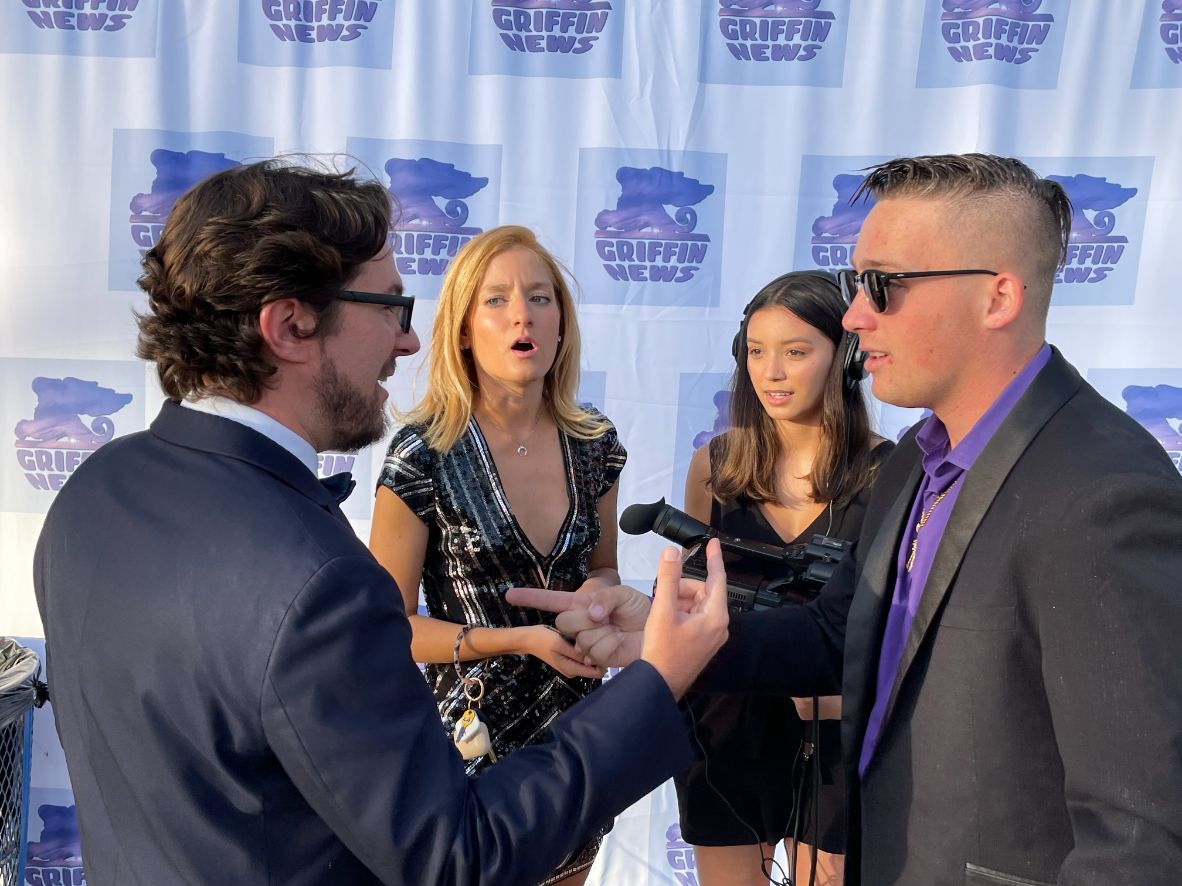 Conner Brown, left, LAHS Film and TV teacher, meets with students at the premiere of the student-made film 'Left Field' on May 27 at Los Alamitos High School. Photo: David N. Young
Trappings of tinseltown came to the Los Alamitos High School Performing Arts Center on May 27 as Conner Brown's Film and TV students presented their second annual student film, "Left Field."
The 16-minute long film is the second one made completely by high school students under Brown's tutelage.
Offering plenty of intrigue, the film revolves around an "incident" involving a high school baseball team's star pitcher and a rival for his girlfriend's affection.
While last year's film "6:20 a.m" was made during COVID, this year's offering demonstrates the potential of filmmaking under less restrictive pandemic protocols.
"I'm really excited to be a part of this project," said Brown. In addition, he said, this year's film features some amazing stunt work, made possible by a parent who is a stunt professional.
Brown thanked several community sponsors, including the Seal Beach Police Department, for working with the students and allowing scenes to be shot at the jail.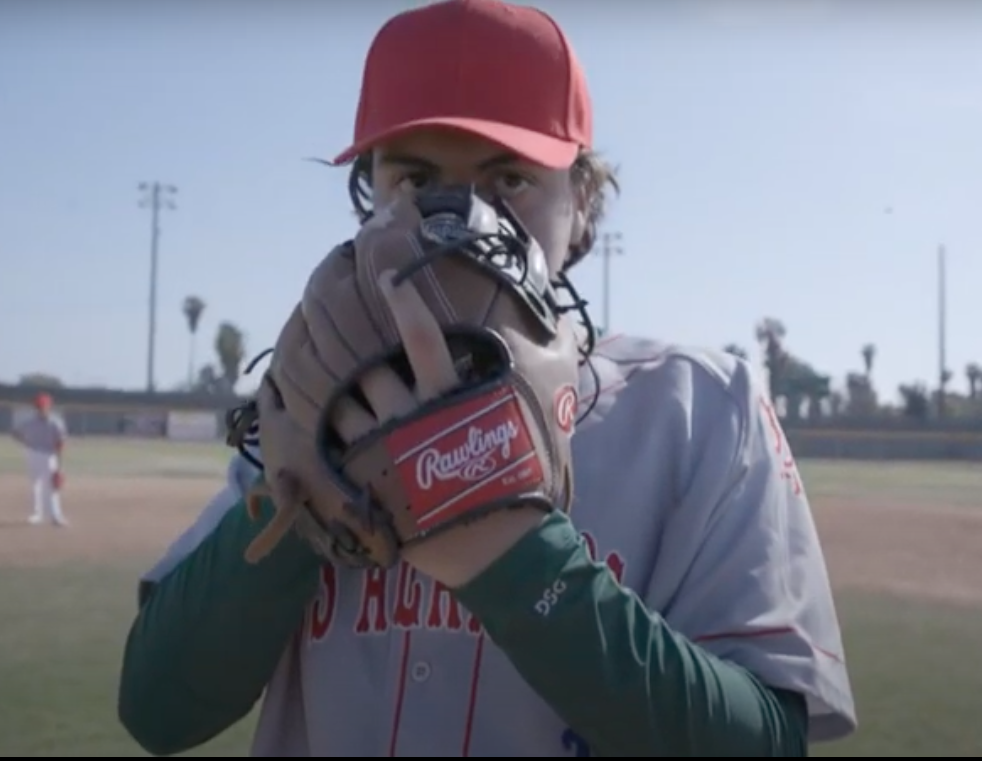 Senior Jacob Guerra plays Shawn Miller, a high school baseball pitcher who is involved in an 'incident' after an important game in the student-made short film 'Left Field."
Student-led Effort to make "Left Field"
"Left Field" was directed by junior Ian McFerson and senior Nikki Ocampo. Junior Sofia Youngs wrote the script. Brown said the roles and responsibilities, from crews to directors, were chosen by the students.
Editor Alexander Russell, a junior, led the way, Brown said, spending countless hours each day leading a team to perfect every minor detail in the story. "It's been an exceedingly difficult process, and things really do start to add up, especially when finals were just around the corner," said Russell.
"We also held casting auditions that were open to the whole school. We were able to find roles for most students with Jacob Guerra, Catie Haynie, and Jonathan Odom (all seniors) being cast as our lead characters," said Brown.
"These guys (students) are rock stars," said Brown before the show, "they are doing amazing work. I'm proud of what they have been able to accomplish."
Missed the premiere? You can watch "Left Field" on YouTube at this link.
This story was written and reported by David N. Young.
Like what you're reading? Please subscribe to this FREE weekly newsletter today by clicking here.
Other Stories Worth Reading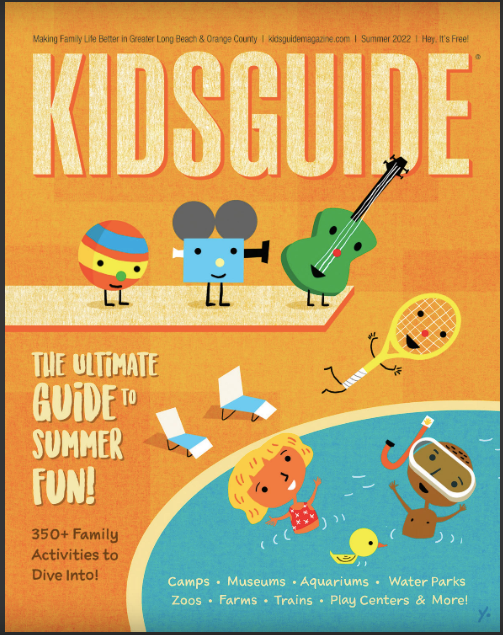 A new issue of KidsGuide features summer activities in O.C. and Long Beach.
EXTRA CREDIT
Meetings // Events // Opportunities // Resources
MEETINGS
HAPPENING TODAY: The Orange County Board of Education (OCBOE) is due to meet at 3:00p.m at 200 Kalmus Drive in Costa Mesa.
On the agenda.
Closed session discussions on the four lawsuits OCBOE is engaged in.
Petition from Vista Public Charter Schools to gain approval for Vista Meridian Global Academy to operate schools countywide. The Orange County Department of Education recommends approving this request for five years but with amendments to the petition. The board will decide whether to approve the petition as is, approve with recommendations, or deny.
Presentations on the Local Control Accountability Plan (LCAP); the 2022-23 OCDE budget; and on Universal Pre-Kindergarten which is expanding next school year.
You can watch the meeting streaming live here.
EVENTS
HAPPENING SATURDAY: It started as a Covid-19 era replacement when graduation was canceled for the class of 2020. Now the Senior Parade through Rossmoor is happening for the third time. It's this Saturday, June 4 from 10a.m. - noon. Spectators are encouraged to hang out curbside as the cars travel through the area. For more information, and a map, visit the Rossmoor Homeowners Association website.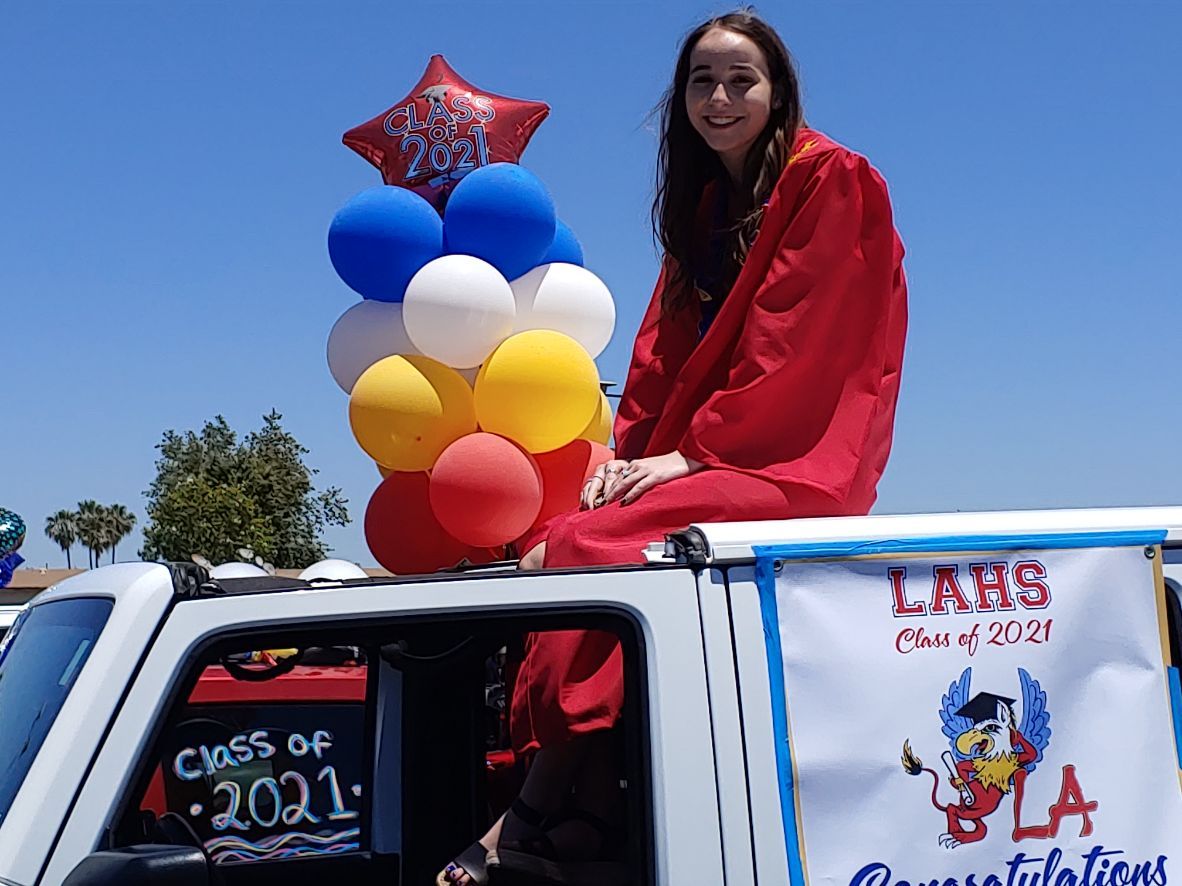 Senior at the 2021 parade. Courtesy photo.
HAPPENING NEXT WEEK: 5th GRADE PROMOTIONS will start next Monday for students at Los Al USD's six elementary schools.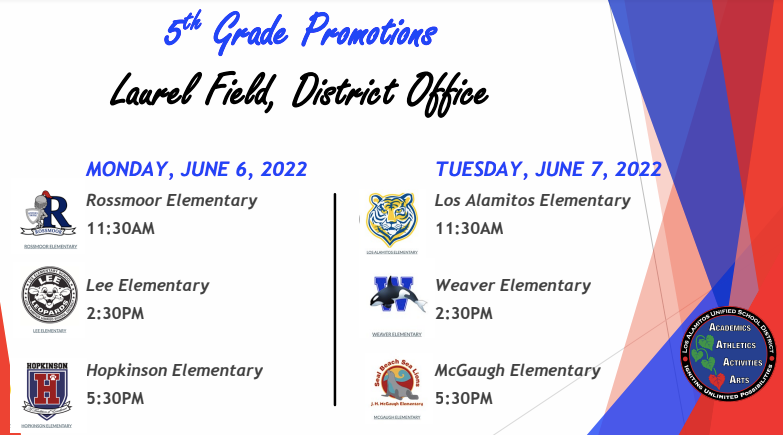 RECESS
Your Dose of Good News
Local Eagle Scouts support the community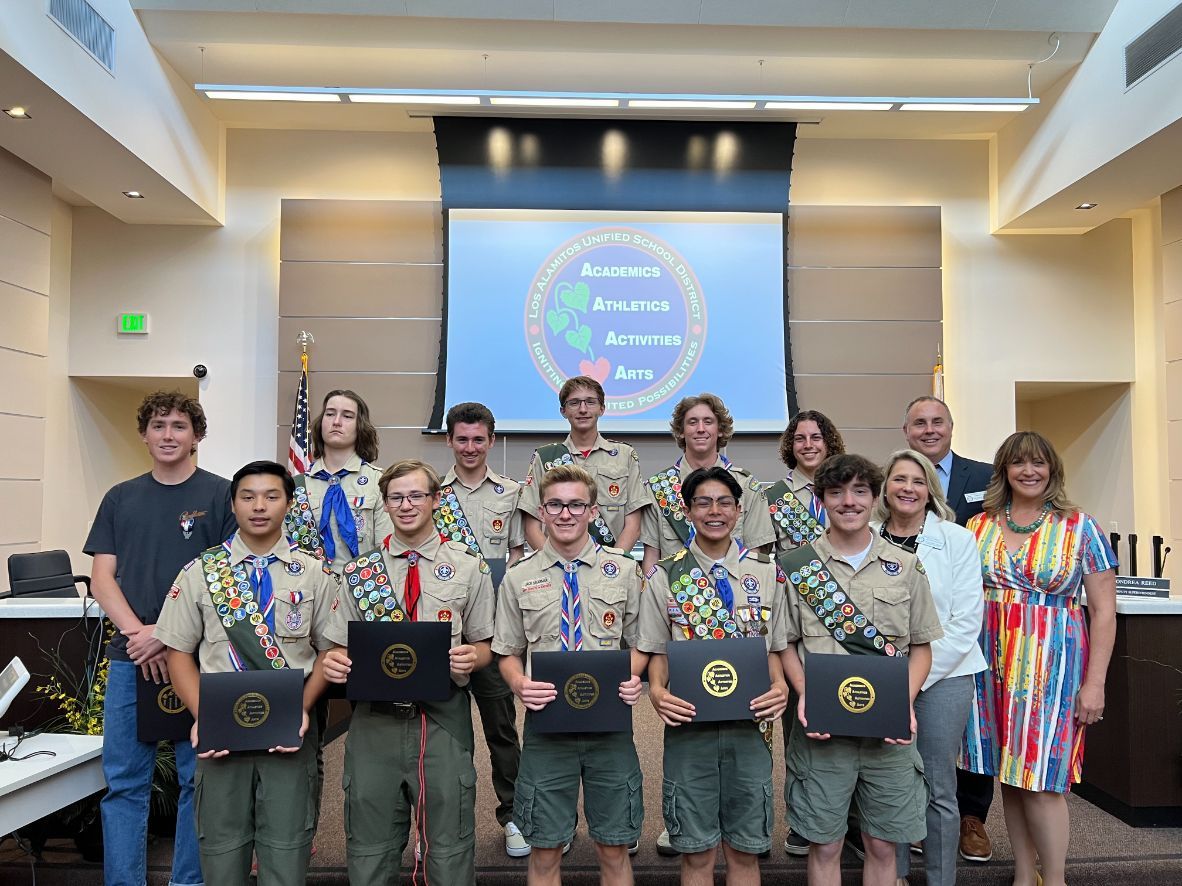 Eagle Scouts who are also students at Los Alamitos High School are recognized for achieving the highest honor in scouting during the May 10 Board of Education meeting. Courtesy photo.
Becoming an Eagle Scout is the pinnacle for Boy Scouts. It represents the culmination of years of hard work and dedication and learning.
On May 10, the Los Alamitos Unified School District Board of Education honored 18 Los Alamitos High School students for becoming Eagle Scouts this year.
A service project is an integral part of the process of becoming an Eagle Scout. And a lot of the projects from this year's group benefited local schools and programs serving youth. For instance, Jack Dagerman built a coffee cart for Weaver Elementary, Matthew London made bookshelves for the library at Rossmoor Elementary and Aidan Cheng built a sales booth for the Youth Center's Christmas tree lot.
You can see more of their projects during the May 10 board of education workshop here.
BOOSTER DOSE: Griffriends event is a win for inclusivity!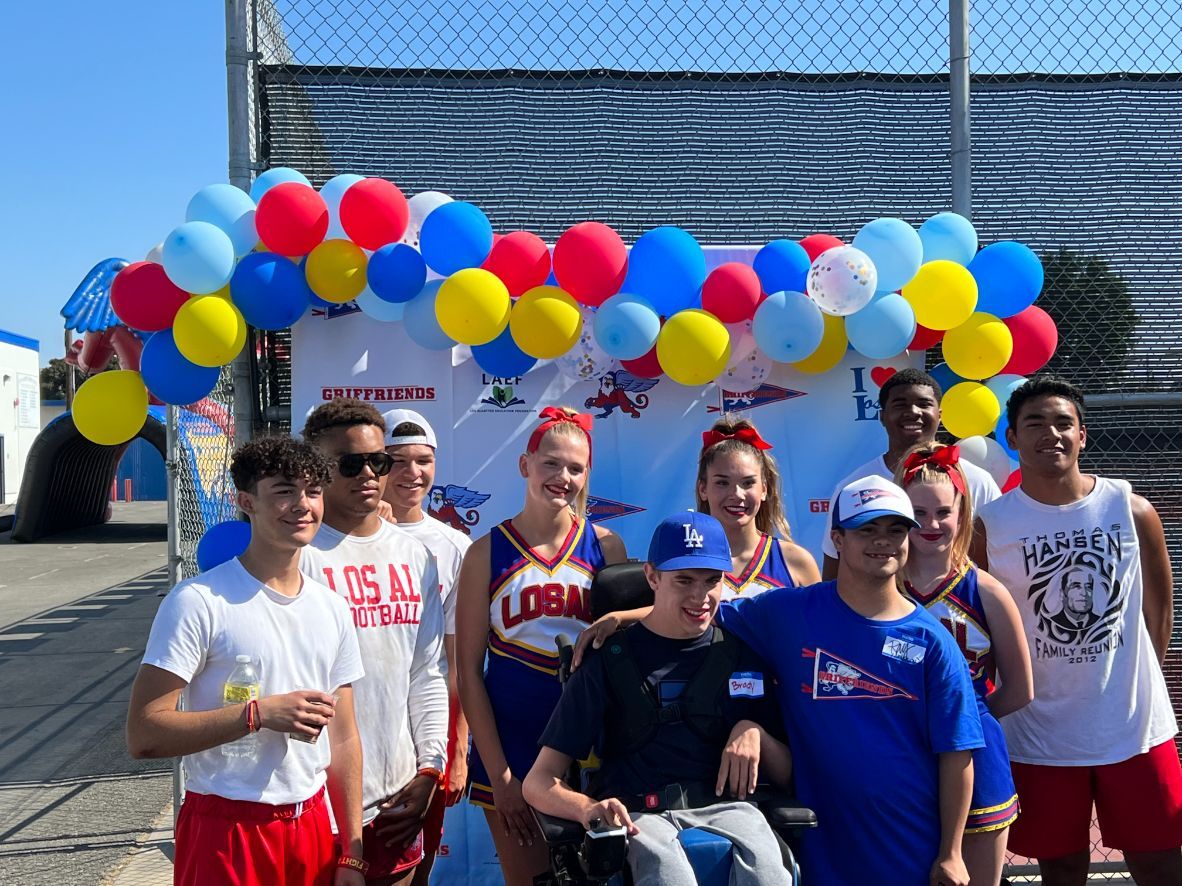 Special needs students and LAHS athletes teamed up for a day of fun and softball at the annual Griffriends event last week. Courtesy photo.
Los Alamitos High School students and athletes teamed up for the annual Griffriends event last week. That's when the district's special needs students from all grade levels are able to take part in a softball game with athletes from the high school.
You can see more of the Griffriends event, and other feel-good news, in the May 27 edition of the district's weekly video recap, The Wrap Up.
Thanks for reading!
Forwarded from a friend? Subscribe to the Spotlight Schools newsletter here.
Follow us on Instagram @SpotlightSchools.
Our mailing address:
P.O. Box 164
Seal Beach, CA 90740

Copyright © 2022 Spotlight Schools, All rights reserved.