'All hands on deck' to keep Los Al USD Schools staffed & open; Students' Scores Drop on Assessments taken during 2020-21 school year; The Public School where Kids Cook the Meals
Plus, find out when more rapid antigen Covid-19 tests will be available for OC students. And the Board of Education meets tonight.
Plus, find out when more rapid antigen Covid-19 tests will be available for OC students. And the Board of Education meets tonight.
Spotlight Schools
January 11, 2022
In this week's newsletter...
'All hands on deck' to keep Los Al USD schools open as students and staff return to campuses after winter break amid surge in Covid-19 infections.
Newly released test scores from 2020-21 school year show setbacks for some California students.
School board to revisit Covid-19 vaccine mandate resolution tonight.
Plus: The California public school where kids cook school meals.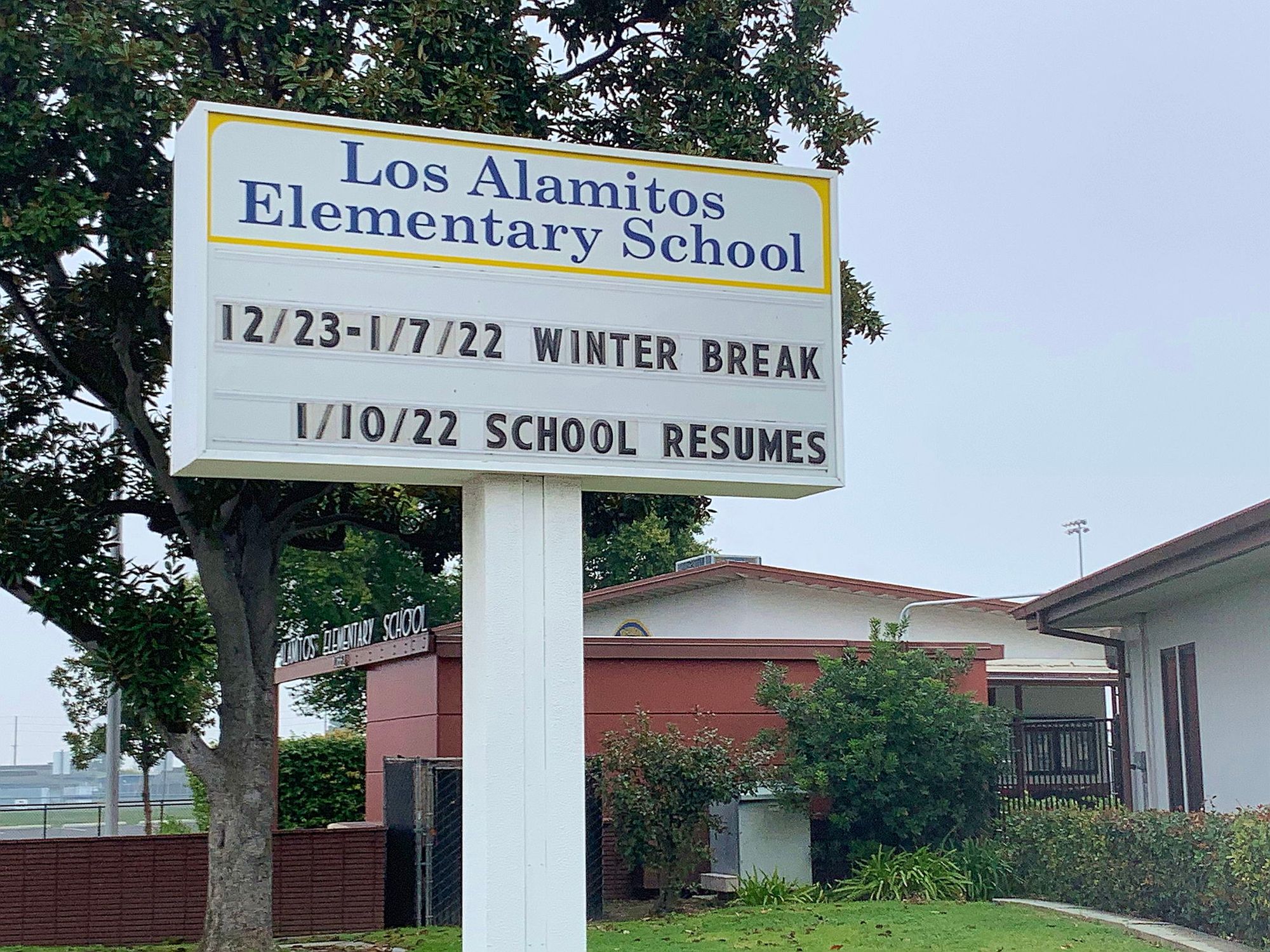 Schools in the Los Alamitos Unified School District are welcoming students back on campus this week after winter break amid a wave of Covid-19 cases in Orange County.
Spotlight Schools is a hyperlocal newsroom covering education in Orange County. Our goal is to help you better understand, navigate and participate in the TK-12 public school experience.
To ensure you don't miss an edition of the newsletter, please add us to your email contacts or safe list. You can find out how to do that by visiting https://www.whitelist.guide/.
Yours in knowledge,
Jeannette Andruss, Spotlight Schools Founder and parent of two students in the Los Alamitos Unified School District
FIRST BELL
This Week's Top Story
'All hands on deck' as Los Al USD schools reopen after winter break amid surge in Covid-19 cases
Thousands of public schools in Southern California are back open after winter break amid a surge in Covid-19 cases fueled by the latest coronavirus variant Omicron.
For some districts, it's been a bumpy start to 2022 due to staff being infected with Covid-19 or in quarantine due to an exposure.
Long Beach Unified started classes last week. Yesterday, nearly 500 teachers missed school. A shortage of substitutes to fill in for sick staff has made things harder.
Despite the challenges, state and local leaders are committed to keeping schools open for in-person instruction.
"It is our goal to keep our students on campus learning in classrooms because we believe our campuses are safe, caring, learning environments for children," Los Alamitos Unified School District board member Marlys Davidson wrote in a text message to Spotlight Schools.
'All hands on deck' to keep schools staffed in Los Al USD
This week, Los Al USD's nine campuses are opening back up after winter break. Yesterday, the district's six elementary schools started and today the two middle schools and Los Alamitos High School welcome students back.
In a phone interview yesterday, Los Al USD Superintendent Dr. Andrew Pulver said there were no major staffing issues on Monday.
"Teacher absences for the first day back [from break] were relatively normal," Dr. Pulver said. He said about 10 elementary school teachers were out and it wasn't known if the absences were all related to Covid-19. As for student attendance, he said it was around 89% which is down from the regular daily average of around 95%.
Asked how the district is preparing for future potential staffing shortages, Dr. Pulver said: "It's all hands on deck."
"When there are shortages, administration, counselors and the Cabinet have and will continue to cover classes. I have volunteered to do so as well," said board trustee Davidson, who taught middle school for years in the district.
Davidson noted that the board recently increased the daily pay for substitute teachers to between $155 and $185 to help attract more applicants.
And it isn't just teachers that may miss work. Dr. Pulver said he visited Los Alamitos Elementary yesterday because the principal was out and the Superintendent ended up helping with lunch duty.
There are currently 114 reported infections among staff and students districtwide, according to a Jan. 10 update on Los Al USD's Covid-19 Dashboard. This only reflects current infections that are voluntarily reported to schools. Thirty-one of the reported infections are among staff.
District Distributed 4,000 test kits to families before school started
In addition to staffing challenges, families have struggled to find Covid-19 tests. Adding to the frustration was the delay of delivering rapid antigen home tests promised by Gov. Gavin Newsom for every public school student in the state. The goal was to test students before they returned to classrooms from the holidays to minimize on-campus transmission.
But the tests arrived last week after school had already started at many Orange County campuses. And the state's shipment of tests was less than half of what is needed to cover all public school students in the county.
A spokeswoman for the Governor's office told the L.A. Times the delays were due to storms and supply chain shortages.
The rest of the antigen test kits are expected to arrive today, according to Ian Hanigan from the Orange County Department of Education.
Some school districts provided their own tests to staff and students prior to the break and others, including Los Angeles Unified, are requiring a negative test to return to campus.
For the Los Alamitos USD, starting a week later than other districts meant more time to hand out the tests from the California Department of Public Health.
During a drive-thru distribution on Friday, around 4,000 of the home antigen test kits were handed out to district families and leftovers were taken to school sites, Dr. Pulver said.
While there is no requirement for students to get tested, Dr. Pulver said he knew families were using the tests to screen students prior to school starting. "I know a lot of our parents took that seriously," he said.
He said the rapid tests from the State have an expiration date of Feb. 2022. He hopes the next batch of test kits, expected to arrive at campuses later this week, will have a longer shelf life.
Dr. Pulver said the rapid tests will be prioritized for symptomatic students or staff, or people who need to test out of isolation or quarantine to return to campus per Orange County Health Care Agency guidelines. The district also has access to tests sent to a lab but the results take 24-48 hours.
Campus Safety Protocols
School officials continue to remind families how they can help reduce on-campus transmission. Students and staff are asked to wear well-fitting masks, vaccination and booster shots are encouraged, and anyone with symptoms is advised to stay home.
In an email to staff, LAHS Principal Christiana Kraus outlined some other safety measures on her campus including staggering student dismissal times from classes in the 700 Building to minimize hallway crowding; advising teachers to keep doors open for increased ventilation and reminding teachers to make sure students are wearing masks when they enter classrooms.
Concerns over safety protocols almost triggered a strike by Los Alamitos High School teachers during the start of the 2020-21 school year.
"We will continue to adhere to California Department of Public Health and county guidelines to keep students and staff on every campus safe," Davidson said.
For families feeling uncomfortable sending students on campus, the options are limited as California no longer provides funding for remote learning.
"At this point, online programs will be orchestrated through the county should parents decide to have their children stay at home," Davidson said. The district has partnered with the Orange County Dept. of Education for an independent study option.
Dr. Pulver said he saw a lot of happy students at L.A.E yesterday.
"They were so joyful and excited to be back at school," he said.
Davidson noted that the pandemic is constantly changing.
"This is an ever evolving, complex situation with no clear end in sight. We will continue to be as proactive as possible with each and every aspect because our children, families, staff, and community deserve the best we can provide for them," she said.
Do you have questions about students going back to school after the winter break? Share your thoughts by emailing hello@spotlightschools.com
SECOND BELL
Other Stories We're Following
Test data show setbacks for California's students during 2020-21 School Year
California's Department of Education recently released scores from the school districts that opted to administer Smarter Balanced assessments in English language arts and mathematics for the 2020-2021 school year.
That's when the pandemic forced many of the state's public school students into distance or hybrid learning.
Statewide roughly half of the assessed students met or exceeded standards in English language arts. Just 34% met or exceeded the standards in mathematics.
In California overall, that reflected a drop in scores and a widening of achievement gaps across student groups, as reported by EdSource and the L.A. Times.
Pre-pandemic, students in grades 3 - 8 and high school juniors took standardized tests every spring. It was suspended during the 2019-20 school year after Covid-19 shut down schools in March of 2020. Last year, the U.S. Department of Education said school districts had to test students. Districts had the option of administering the Smarter Balanced assessments or implementing a locally developed test that aligned with Common Core Standards.
The CA Dept. of Education cautioned that care should be used when interpreting the results, especially when comparing the new data to past years. First of all, not everyone took the tests. Fewer than 25% of California's public school students participated in 2020-21. Still, educators acknowledge the data are relevant.
​​"The statewide performance data from last year confirm what we heard from school districts and county offices throughout the year. Namely, the challenges that students and educators faced during the pandemic were multidimensional and disruptive to learning and mental health. Our goal now is to move all students forward," State Superintendent of Public Instruction Tony Thurmond said in a news release.
Scores from Orange County and Los Al USD
In Orange County, public school students who did take the test outperformed the state as a whole. "About 61% met or exceeded grade-level standards in English and 43% did so in math," reads a post on the Orange County Department of Education Newsroom website. In 2018-19, 60% of OC students met or exceeded English standards. In math, the latest results show a drop from 50%.
In Los Alamitos Unified, only 11th graders took the Smarter Balanced assessment in 2020-21. About 85% of them exceeded or met standards in ELA and 60% did so in math. That's actually a slight increase from the last time testing was done for 11th graders in 2018-19. Back then, 81% exceeded or met ELA standards and 57% did so in math.
Other Stories Worth Reading
EXTRA CREDIT
Meetings // Events // Opportunities // Resources
MEETINGS
HAPPENING TODAY: HAPPENING TONIGHT: The Los Alamitos Unified School District meets for the first time in 2022. There is a workshop at 4:15pm and the regular meeting at 6:30pm.
Here's a look at some of the items on the agenda:
4:15pm Workshop
Hopkinson Elementary School Presentation - The Board will hear an update from the school's leadership and award the Hero of the Heart honor to school volunteer Allison Isle, current President of the Friends of Hopkinson parent booster club.
Report on School Start Times - Under a new law, starting this July California's middle schools can start no earlier than 8 a.m. and high schools cannot start earlier than 8:30 a.m.
6:30pm Meeting
Vaccine Mandate Resolution (Item 13.a.): At its last meeting, the Board first discussed a proposed resolution that urges state lawmakers to keep the personal belief exemption in place for California's planned Covid-19 vaccine mandate for students and employees. The Board tabled the resolution for further discussion with board trustees saying they wanted more input. See more on the discussion at the last meeting in this article.
Relaxed Make-Up Work Policy (Item 13.b.): The board has its second reading to update the policy about make-up work to comply with California's Education Code. Previously, there were limits for when a student could complete make-up work for credit. If a student had an unexcused absence or was truant, it was up to the discretion of the teacher to allow make-up work. Now, students absent for any reason will be given the chance to make up tests or assignments.
Pay Raises for Board Trustees (Item 13.d.): Board members get paid a monthly salary based on the size of the district. If this item is approved, a trustee's monthly pay would increase 5% to $337.70 and would date back to July 2021.
You can attend the meeting in person at the district office at 10293 Bloomfield (masks are required per California's mandate) or watch the meeting streaming live on YouTube at this link.
OPPORTUNITIES
SCHOLARSHIP: High School students can learn skills related to cybersecurity and earn scholarship money with CyberStart America. Details at www.cyberstartamerica.org.
VOLUNTEER: Martin Luther King Jr. Day is observed next Monday, Jan. 17. The day is a national holiday and service day where people are encouraged to volunteer in their communities to celebrate the life and legacy of the civil rights leader. One event is a cleanup of Upper Newport Bay. It's being hosted by Inside the Outdoors Foundation in partnership with the City of Newport Beach. More information here.
AFTER-SCHOOL ENRICHMENT: Enrollment is now open for the Los Alamitos Education Foundation's after-school enrichment programs for the Spring 2022 semester. Classes start Jan. 31. More info at laef4kids.org.
EVENTS
HAPPENING THURSDAY: Los Alamitos High School Intermediate Drama presents Results May Vary: 30 shows in 60 Minutes. Performances are at 3:30pm and 7pm at Los Alamitos Black Box Theater (Room 513). Tickets sold at the door only. More information at https://www.losaldrama.org.
RECESS
Your Dose of Good News
The California Public School where Kids are the Cooks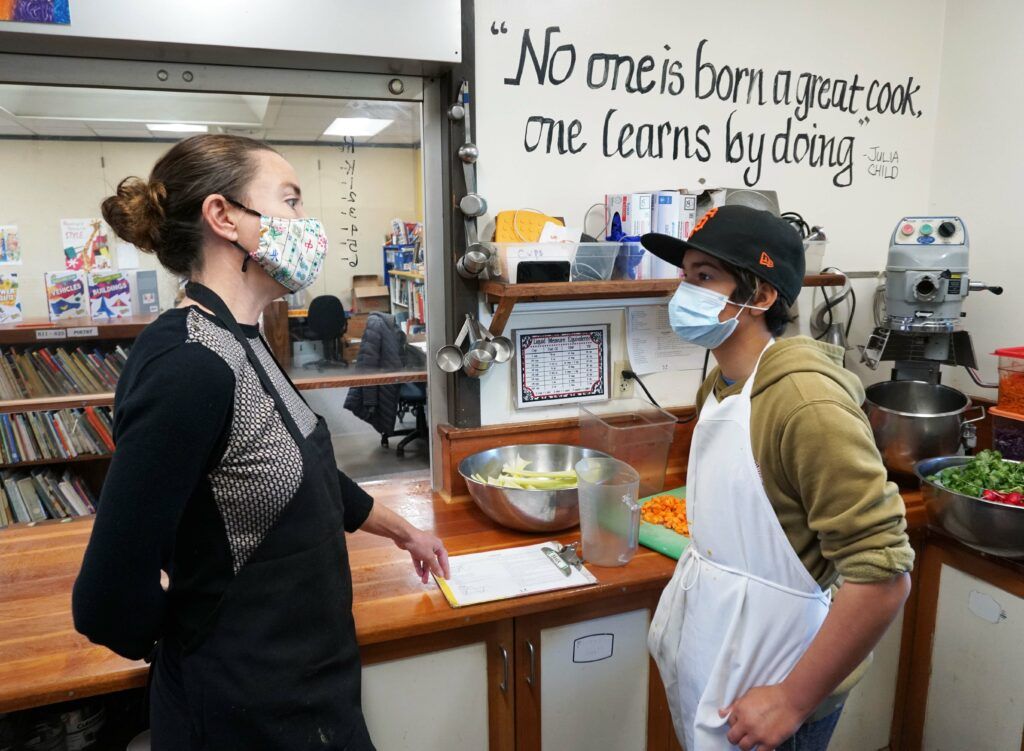 Food Lab Director Emelia Miguel, left, reviews the pozole recipe ingredients with a sixth grader at Pacific Elementary School in Davenport, CA. Photo: Andrew Reed of EdSource
At Pacific Elementary School in the tiny oceanside town of Davenport, California, school meals are made from scratch using locally sourced ingredients from nearby farms.
But the most remarkable thing is who is making the food. The cooks are 10-and-11-year-old students.
The town's only preschool through sixth grade campus is made up mostly of interdistrict transfers. Families from nearby Santa Cruz are drawn to the school's unique Food Lab program that's been around for three decades, according to a recent story in EdSource.
The students prepare breakfast and lunch for 140 people each day as well as after school snacks. The students don't go through a cafeteria line. They are served a plated meal.
The fifth and sixth graders spend one day each week in the kitchen for a three-hour shift. The experience not only teaches them how to cook and work together, but also boosts their confidence.
"It's a huge, huge task to produce all this food for 140 people, keep them safe, and we trust them to do that. They're so empowered and feel good about themselves that they can do these things," said Emelia Miguel, the director of the school's Food Lab. She helps oversee the preparation of meals including tacos, pizza, pozole, Filipino chicken adobo, and Brazilian pumpkin stew.
For much more on the Food Lab, including why Miguel thinks it could be started at other schools, read the story, watch the video and listen to the podcast on EdSource.
BOOSTER DOSE: Be sure to also check out the Orange County high school student whose effort to educate kids about online safety earned her a spot on the O.C. Register's Most Influential List of 2021.
Thanks for reading!
Forwarded from a friend? Subscribe to the Spotlight Schools newsletter here.
Please send feedback/story ideas/questions to hello@spotlightschools.com.
Missed a newsletter? You can find past editions here.
Follow us on Instagram @SpotlightSchools.
Our mailing address:
P.O. Box 164
Seal Beach, 90740 CA


Copyright © 2022 Spotlight Schools, All rights reserved.