Youth football team fundraising to get to Pop Warner 'Super Bowl'
Los Alamitos team qualified for 13U Division II championship game in Florida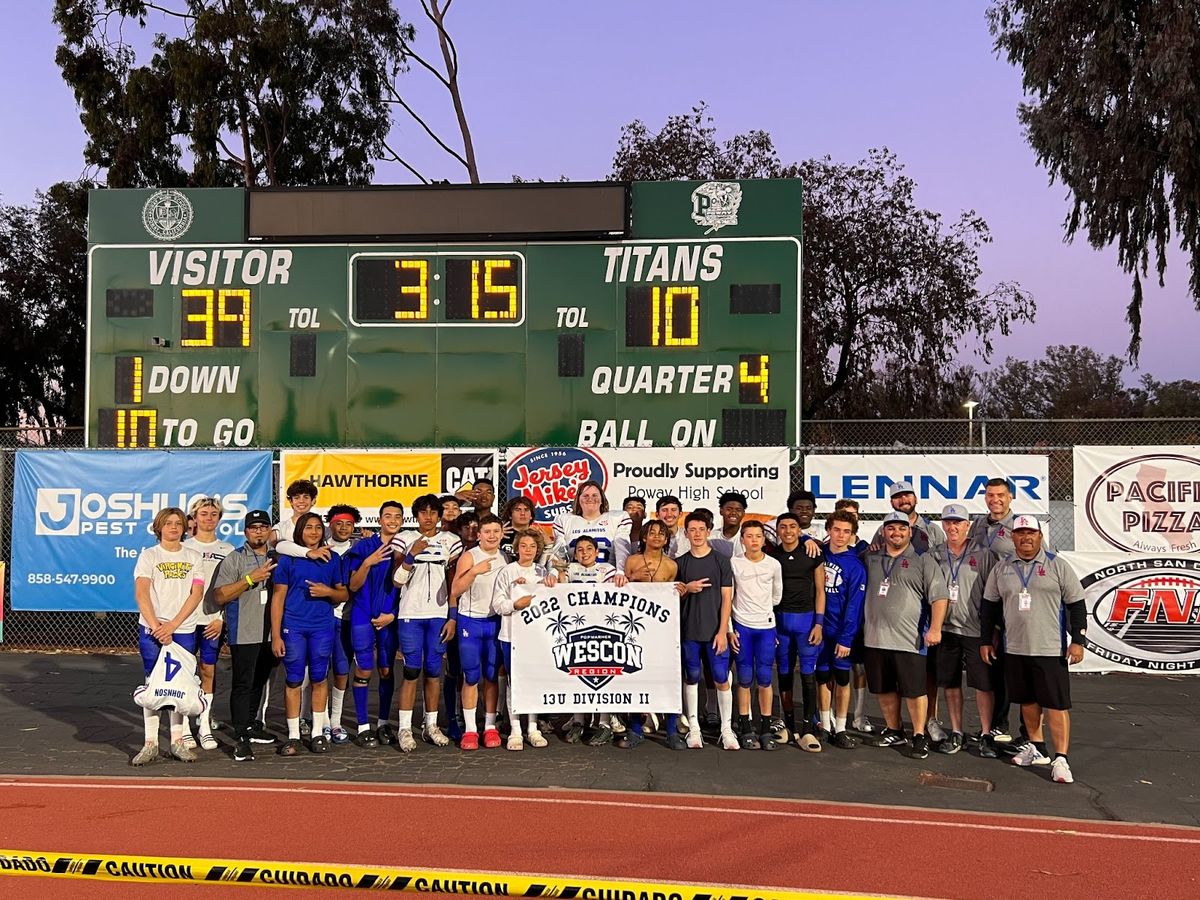 Editor's Note: This article was originally published on Nov. 22, 2022 and updated Dec. 3 to add the  link to watch the games streaming live.
It's something youth football players dream about – playing in the National Pop Warner Super Bowl. And now, a group of local athletes has the chance to make it a reality.
But they need some help getting there.
The Los Alamitos Pop Warner 13U Blue Griffins qualified for a chance to play in the championship taking place next week in Florida.
On Nov. 19,  the team of thirty 7th and 8th graders from Los Alamitos, Rossmoor, Long Beach and surrounding areas beat the Temecula Valley Fighting Bears to win the  Wescon Division II Regional Championship for their age division.
"This is something a lot of these boys have been working towards since they were little," head coach Jonathon Dickison wrote in a recent email to Spotlight Schools. "Making it to Florida is rare and something a Los Alamitos team has not done since 2019, so it is a very special feeling. I am proud of these boys."
Coach Dickison noted that this year's team is a unique group of boys that includes his son, Zackery. While some of his players have been teammates for as long as seven years, others are playing football for their first time. One thing they all have in common? Not one has ever played in the Pop Warner Super Bowl.
"They worked very hard to get here and I am very excited to see what we can do on a national level," Dickison wrote. The team has a record of 10-1.
Player Wyatt Sanchez says the team's job is not finished.
"I want the community to know how much heart and effort we put in on and off the field. We love this sport and can't wait to see what the future holds for us," Wyatt, an 8th grader at McAuliffe Middle School in Los Alamitos, wrote in a text message to Spotlight Schools.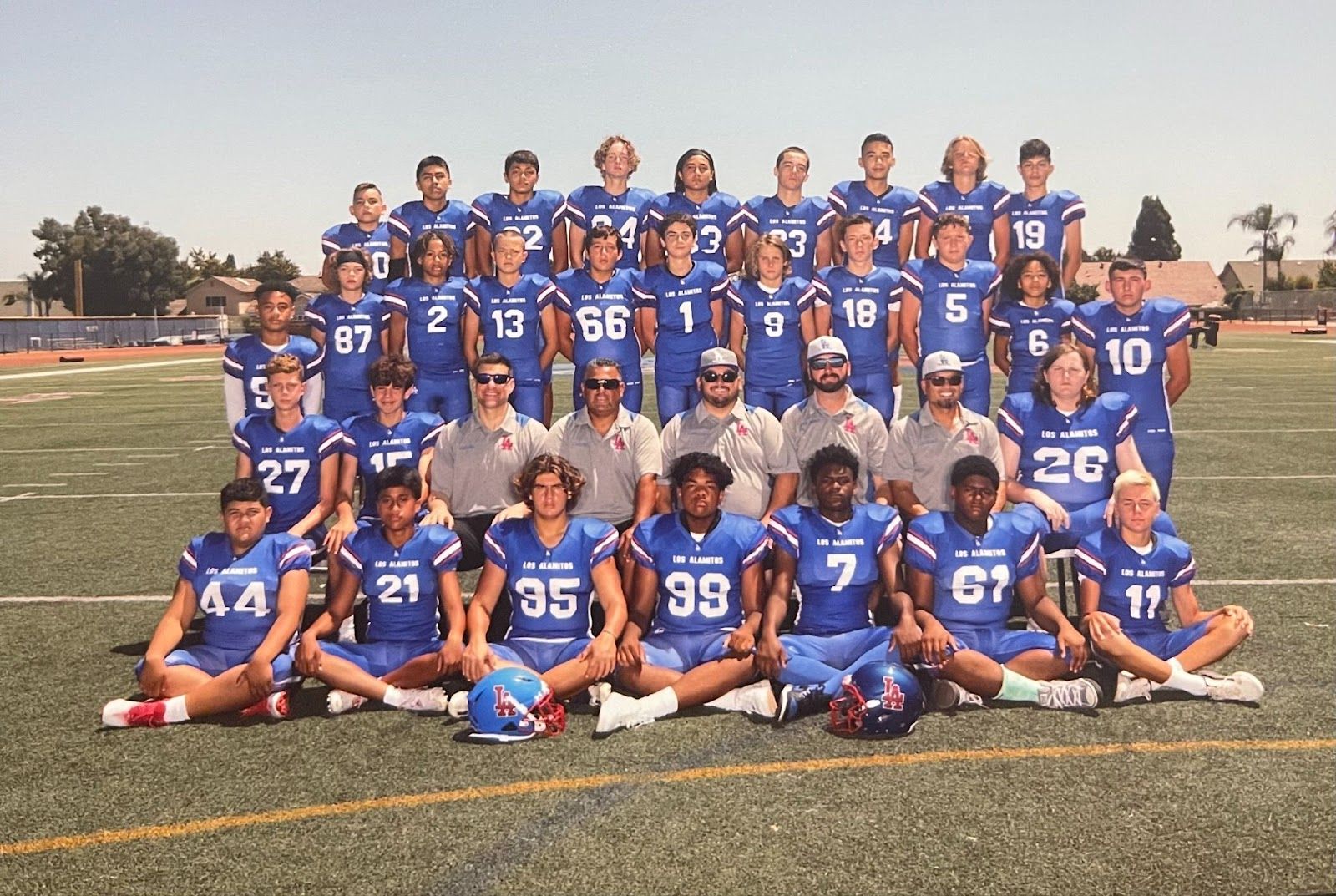 To make it to the  Pop Warner Super Bowl a team has to win its league championship as well as its regional championship. More than seventy football teams from different divisions will compete from Dec. 3 through 10 to be crowned the best in the nation.
While the Blue Griffins skills on the field secured them a shot at the 13U Division II title in Orlando, the required fees to get to the game have created a financial hurdle. The cost for each player is between $750 and $860 and that does not include airfare, according to team manager Breanna Dickison.
In response, the team set up a  GoFundMe page in hopes of raising enough money so every player is able to go. With a matter of days to raise the funds, the team started with a goal of $10,000 and increased that to $15,000. As of Nov. 28, they had  fundraised more than $9,800.
"Please help us get there! This is something these boys will never forget," reads the GoFundMe page.
"Our boys have gone out and faced tough teams and never gave up. They are full of will and heart and will do whatever it takes to win," coach Dickison said.
That's a feeling shared by player Hero Glowaki. "I'm so proud of our hard work and dedication to achieving this goal of winning the Wescon championship. It took everyone's participation to make it this far and they are the most deserving teammates I've ever played with!," Hero said in a text message to Spotlight Schools.
Due to a scheduling conflict, he won't be able to take the field in Orlando with his teammates but he will be rooting for them. "I can't wait to see them dominate in Florida!"
For some of the players, this could be their last season of Pop Warner before moving onto high school teams next year. While his time with his players is coming to a close, coach Dickison emphasized that football isn't the only thing he focuses on during the season.
"When I coach a group of boys my goal is to not only to help them grow as players on the field, but to develop them into responsible and respectful young men off the field," he said noting his players have to maintain their grades to compete, saying football has given some of them a reason to keep up with their school work.
"All of us are grateful for this opportunity and the support of our families, coaches, and our community. For me personally, Coach Jon has been an amazing leader for our team but also the best mentor," player Wyatt Sanchez wrote in a text message.
The Blue Griffins are hoping they can play their final games together in Florida and come home as champions. That includes Wyatt.
"This experience is a once in a lifetime opportunity, this gives not just myself, but my whole team a chance to show our love and passion for football, while creating memories we will never forget," he said.
You can find a link to the team's GoFundMe page at SpotlightSchools.com.
You can watch the team's games streaming live here.