🚨 Threat against schools deemed 'not credible'; Families offered tool in fight against fentanyl; O.C. Artists of the Year named
🏋️‍♂️ Gym giving teens free access for summer
🏋️‍♂️ Gym offers teens free membership for summer
Helping you better understand, navigate and participate in the TK-12 public school experience in Orange County.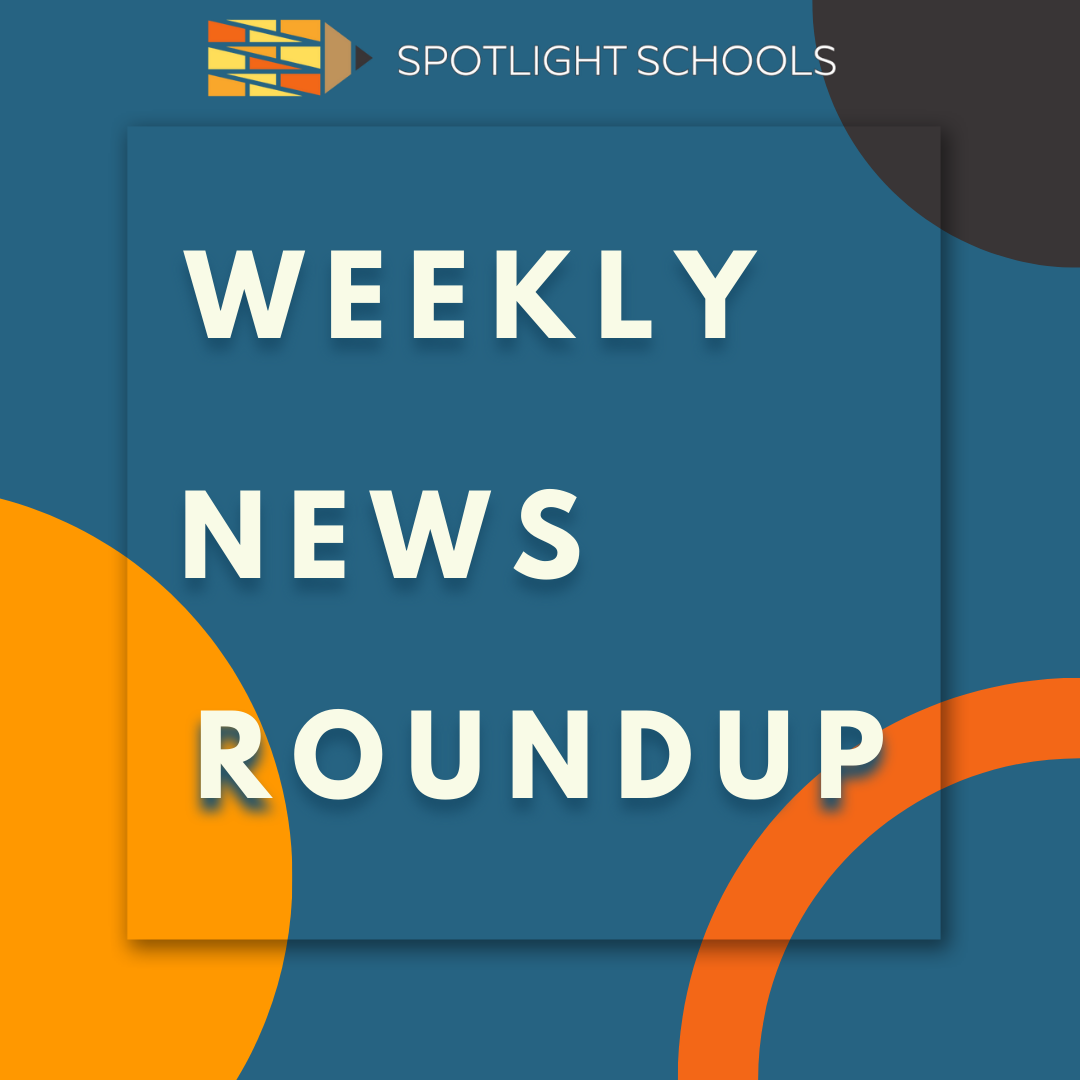 Spotlight Schools is a hyperlocal newsroom covering education in Orange County and this is the Weekly News Roundup newsletter.
You'll find original reporting from Spotlight Schools in addition to curated links to articles from a variety of newsrooms, education agencies and more to keep you on top of what's happening.
Be sure to check our Instagram and Twitter accounts for the latest news. And don't forget to visit our website to view all of our stories or support our coverage at SpotlightSchools.com.
Yours in knowledge,
Jeannette Andruss, Cofounder and Chief Editorial Officer
SPOTLIGHT SCHOOLS SPONSOR

WEEKLY NEWS ROUNDUP
🚨Developing News: Threat on social media to schools deemed 'not credible'
Local law enforcement agencies and school districts in Orange County were informing the public about messages on social media that referred to the possibility of a school shooting taking place at an Orange County school today, May 5.
While deemed not credible, many law enforcement agencies said they would increase patrols at O.C. campuses.
Westminster School District issued a statement this morning that said the threats on social media were not credible and "it is not to any schools in Westminster or Orange County."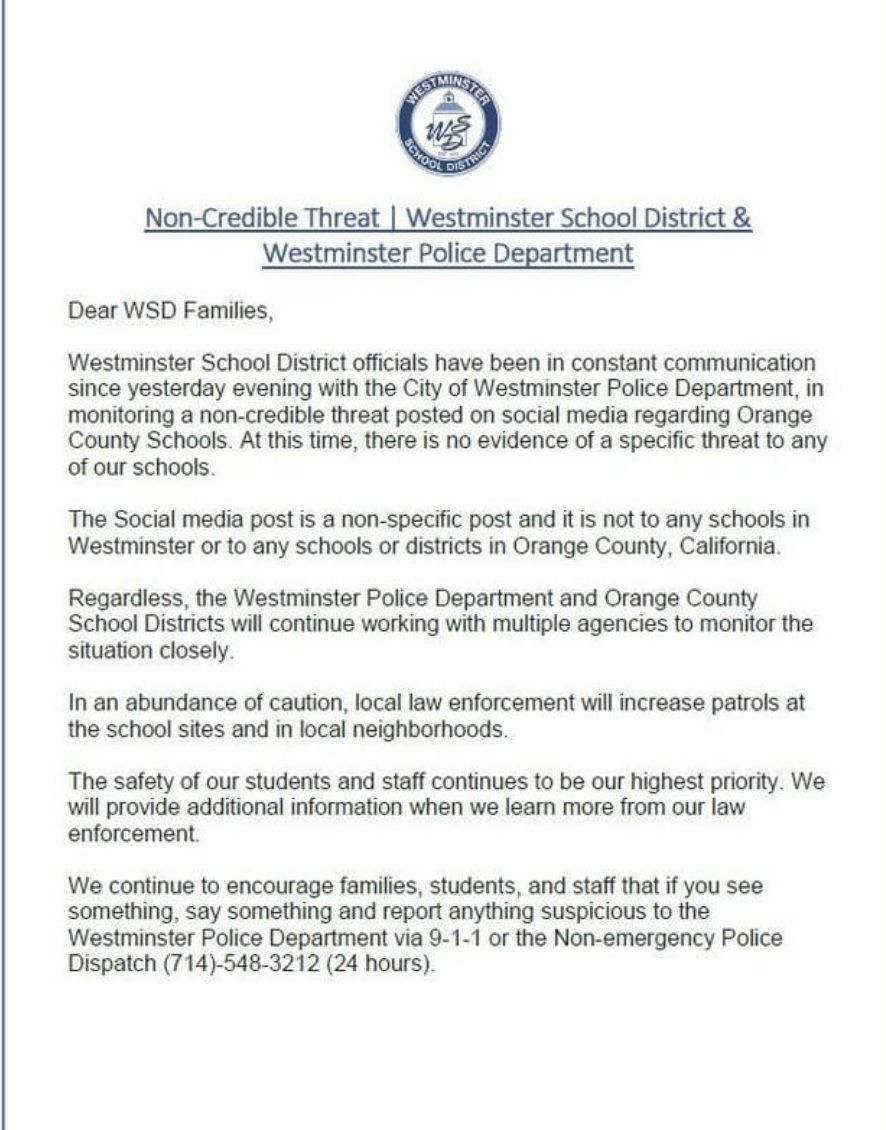 Other school districts including Ocean View and Centralia posted messages on social media informing families of the situation.
Around 7:00 a.m., the Anaheim Police Department posted on its Instagram account that it was working with local school districts, schools, and other law enforcement agencies regarding the threats.
"At this time, the threat was deemed not to be credible," Anaheim PD wrote. The department said it would increase police presence at Anaheim schools and it "will continue to monitor the situation and provide necessary updates."
In a text message, Seal Beach Police Department Lt. Julia Clasby wrote the threat on social media did not specify what school or even a city or state. "There's no indication that the threats are even real," she added.
According to Patch, the Orange County Sheriff's Department issued a statement that read: "We are working closely with the school district, OCIAC, SMART, and other law enforcement agencies. The safety of our community and our schools is a top priority."
This is a developing story. If there is a need for an update, you can find it on our Instagram account.
Families offered tool to fight fentanyl overdoses
Orange County Department of Education to give out opioid overdose treatment at free event May 9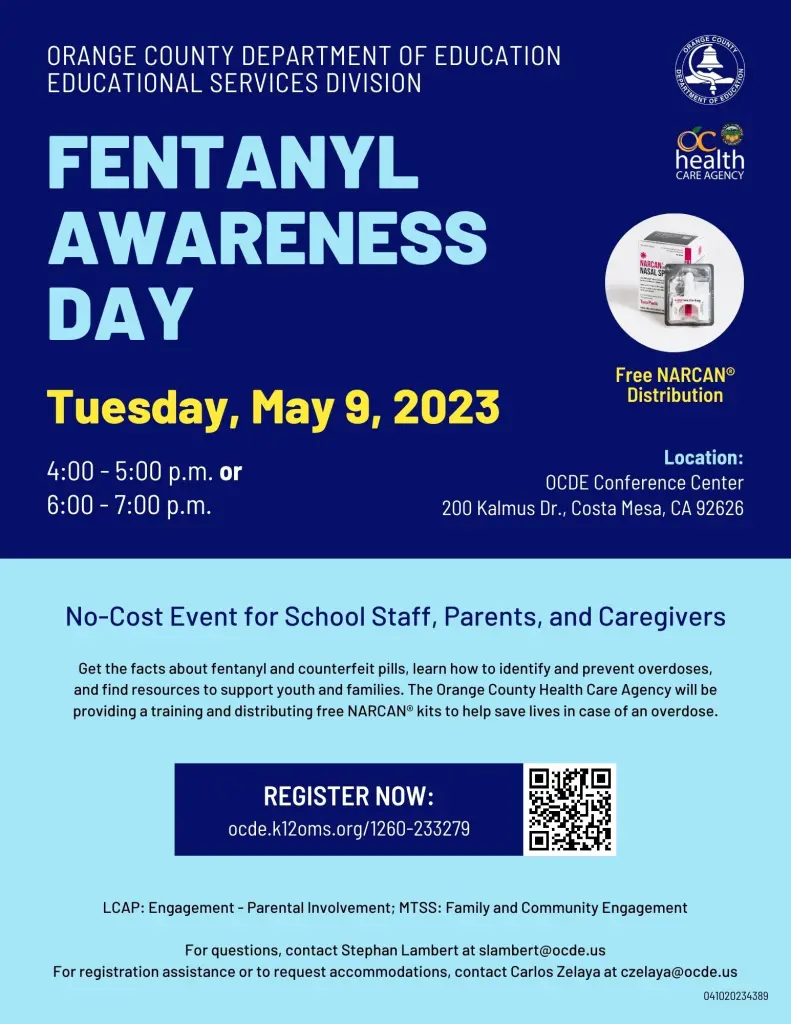 A flyer advertises the upcoming OCDE and OC Health Care Agency event on fentanyl awareness.
Schools, educators, and relatives of people who have died from opioid overdoses are taking action to help families in the fight against fentanyl, arming them with information and life-saving medicine.
Naloxone, also known by its brand name Narcan, acts like an antidote against an opioid overdose. When administered in time, it can quickly reverse the effects of a potentially lethal dose of opioids, including the potent and synthetic fentanyl.
At least 14 school districts in Orange County now keep naloxone on their campuses.
In March, naloxone was approved for over-the-counter use, sparking efforts to get it to more people, including parents and students in Orange County.
On Tuesday, May 9, which is known as National Fentanyl Awareness Day, the Orange County Department of Education and the Orange County Health Care Agency are co-hosting two free events for local families, educators and others about the dangers of opioids.
Attendees will be offered a free dose of naloxone and given information on how to identify and prevent opioid overdoses.
"The impact of fentanyl on our school communities is unprecedented, and the most important step we can take is to become more aware of this deadly drug and how it's getting into the hands of young people," Stephan Lambert, coordinator of prevention education in OCDE's Student Achievement and Wellness Unit, said in a press release.
The events will be held at the Orange County Department of Education at 200 Kalmus Drive in Costa Mesa. Sessions will be offered from 4:00 p.m. to 5:00 p.m. and again from 6:00 p.m. to 7:00 p.m. You can register for either event here.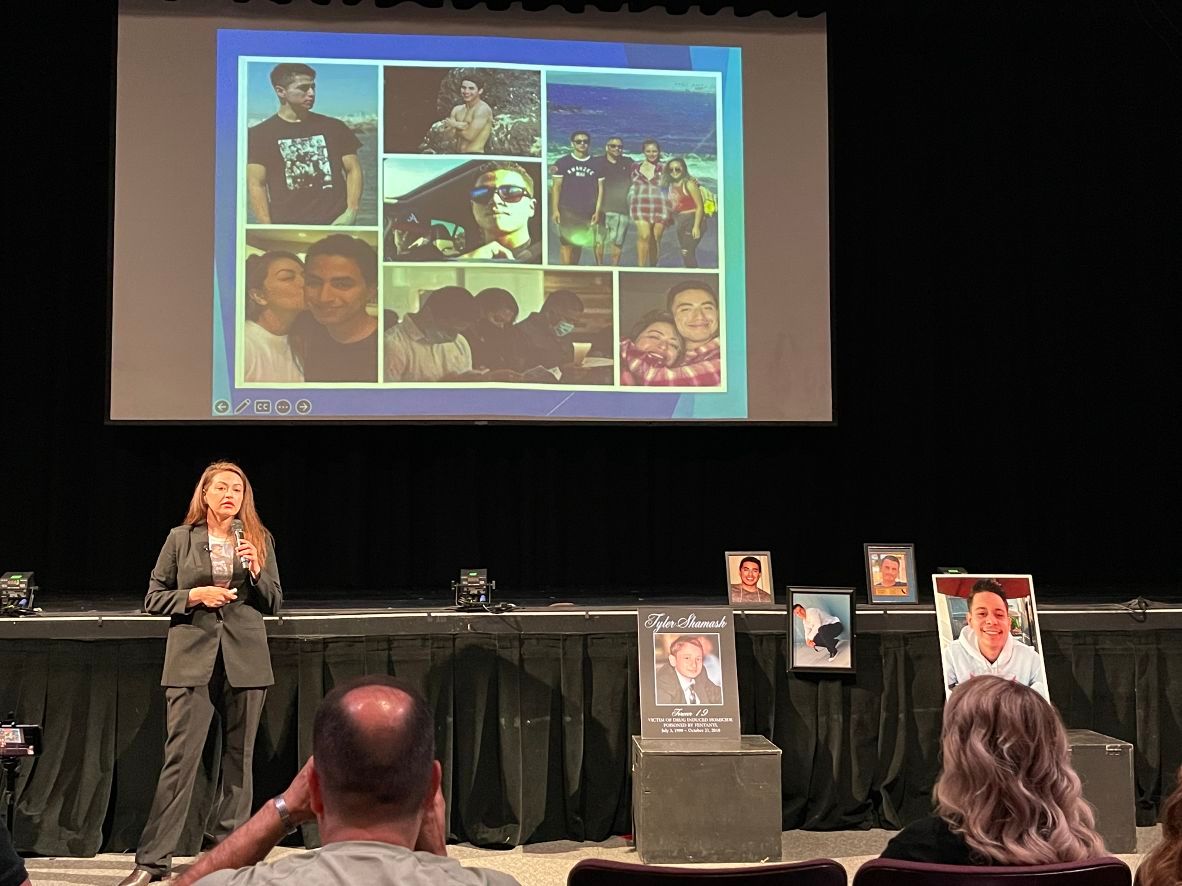 Perla Mendoza, founder of Project Eli, speaks to a crowd at Los Alamitos High School on April 24 about her 20-year-old son's death from taking one pill he thought was a prescription drug. The pill actually contained a lethal dose of the synthetic opioid fentanyl. Photo by David N. Young.
This isn't the first time an education agency has given away naloxone to families. On April 24, the Los Alamitos Unified School District held a fentanyl awareness event.
Families were given a free dose of naloxone and taught how to administer it, watching this 11-minute video from the California Department of Public Health.
The free naloxone was provided by Perla Mendoza, a former Los Alamitos USD parent. She was one of several mothers that spoke at the event which attracted more than 150 people, including parents and kids.
Mendoza has been raising awareness about the dangers of opioids since she lost her 20-year-old son Daniel Elijah Figueroa to a fentanyl overdose on Sept. 15, 2020.
Mendoza said her son thought he was taking a prescription painkiller he purchased from someone through social media. The pill ended up containing a lethal amount of fentanyl.
She started the drug awareness nonprofit Project Eli in his honor.
"I realize my child's gone; nothing I can do will bring him back. But my goal is to save your kids and your grandkids from having the same fate," Mendoza told the audience gathered at Los Alamitos High School, the school her son once attended.
Mendoza explained how dealers use social media and emojis to target kids. She shared the graphic below from the Drug Enforcement Administration.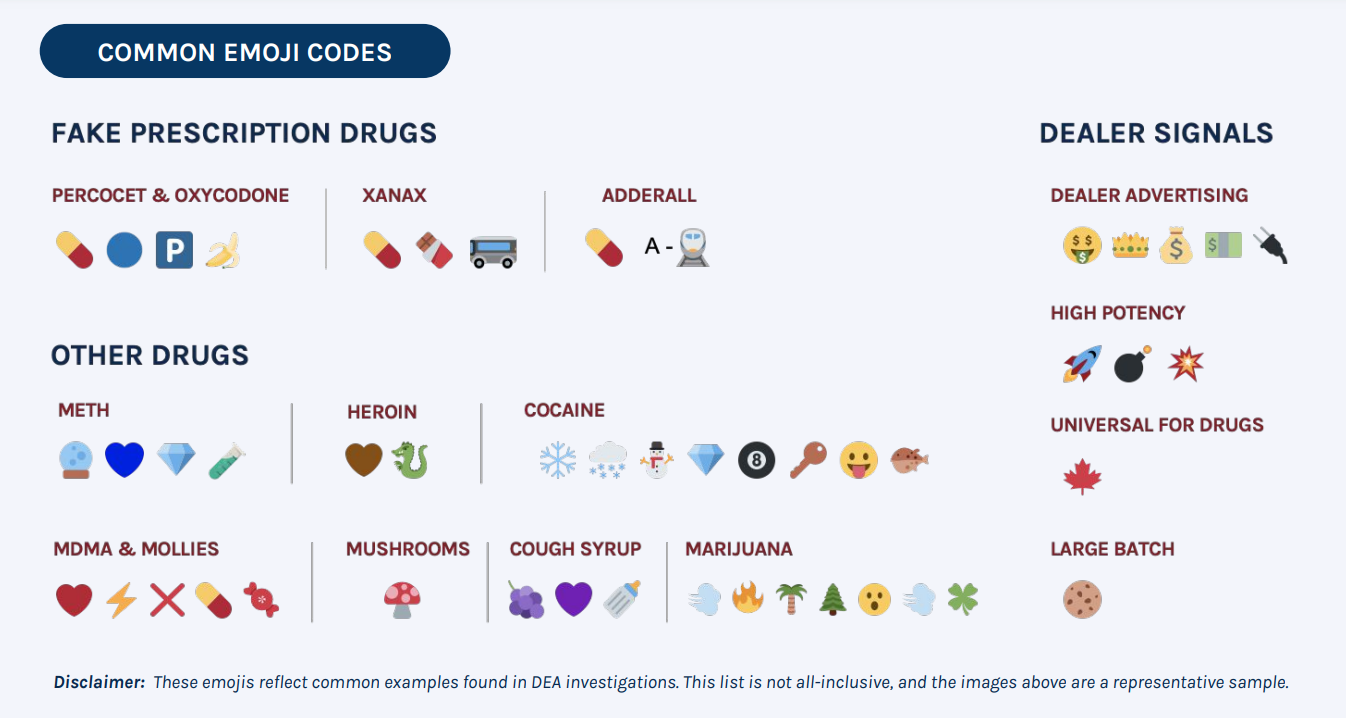 Mendoza said she refers to her son's death as "fentanyl poisoning" rather than an overdose.
"I use the term drug poisoning because many of our children have died thinking that they're taking one thing when it was really something else. They were deceived to death," Mendoza said.
Another mother who lost her son to an opioid overdose stressed the importance of learning about naloxone. She said her son had brought the opioid overdose treatment into his father and stepmother's home but never told them about it.
"They had a life-saving tool in the very next room, but they had no idea what it was for [or] how to use it," she said.
Read the entire story at SpotlightSchools.com.
David N. Young contributed reporting for this story.
Mental Health Awareness Month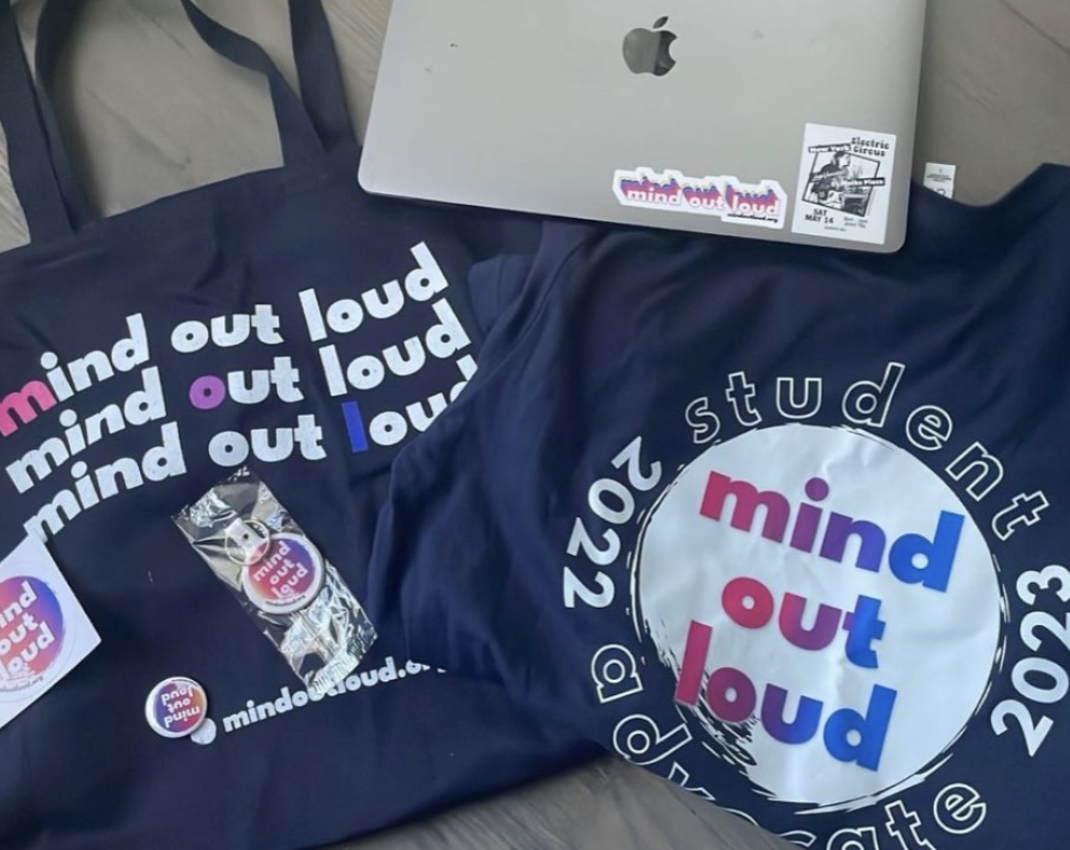 The 3rd annual Mind Out Loud student mental health webinar was held last week. Some student attendees received merchandise as a prize. (@richa.viswanath and @molstudents via Instagram)
May is Mental Health Awareness month and many schools, districts and education agencies are holding events and highlighting resources this month in support of students.
Spotlight Schools Editorial Intern Bella Kim recently attended the Mind Out Loud student mental health webinar, an international event which was cosponsored by the California Department of Education.
Bella writes of the student-led event, "I took away many useful wellness tools. ... I appreciate MOL's mission to normalize mental health conversations, and I felt hopeful hearing from so many young people advocating for their mental health and making a difference."
Read her entire story on SpotlightSchools.com.
EVENT ALERT
On May 16 from 6:00 p.m. - 7:00 p.m., The Orange County Department of Education is hosting a free virtual event titled: Cyberbullying and Digital Drama: Keeping Kids Safe, Happy and Healthy in the Digital Age. Register here. For more mental health resources in O.C., visit ocnavigator.org.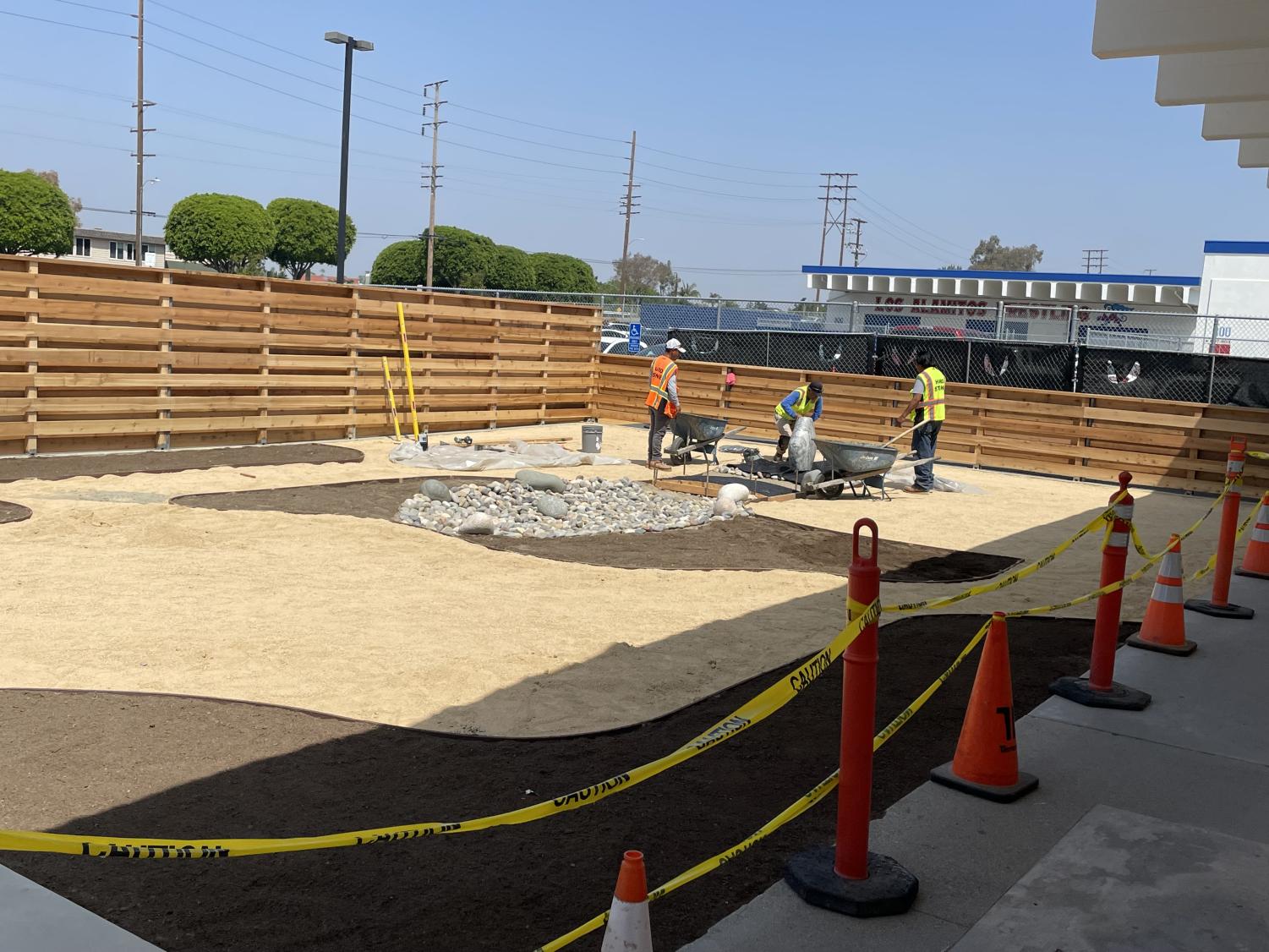 ICYMI: Los Alamitos High School is expanding its WellSpace to the outdoors and has broken ground on a garden thanks to funding from the Los Alamitos Education Foundation, reports the Griffin Gazette.
Test scores for U.S. history and civics drop among nation's 8th graders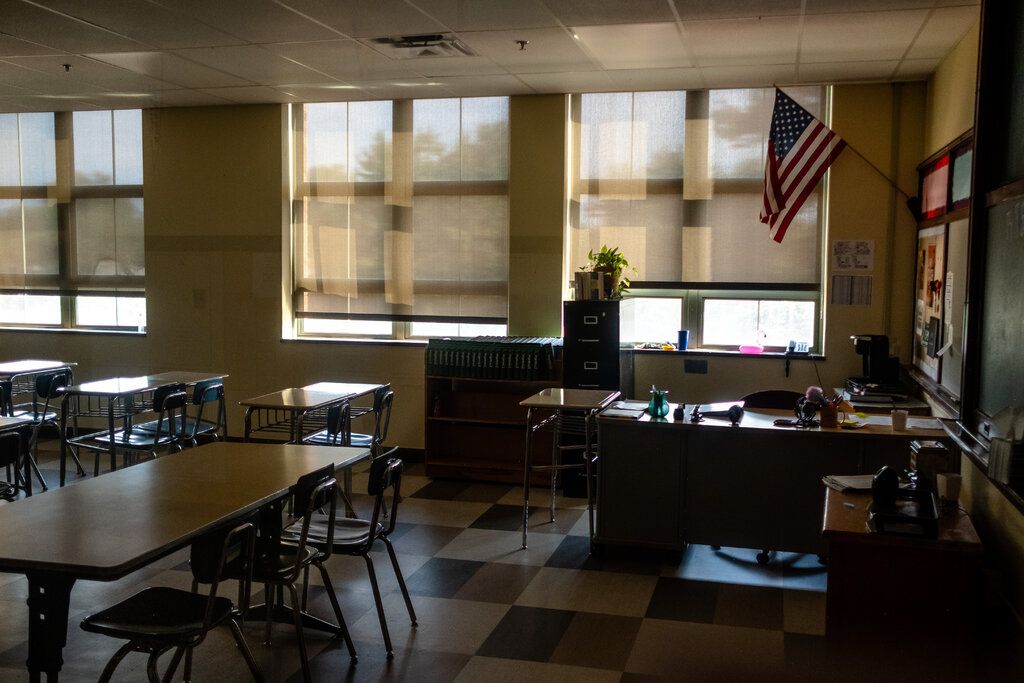 Photo from The New York Times
Nationwide test results show declines in the number of eighth graders with an understanding of U.S. history and civics, according to scores released this week.
"Only 13% of students scored proficient in history and only 22% scored proficient in civics on the National Assessment of Educational Progress; 40% of students scored below the basic level of knowledge in U.S. history, a decline from 34% in 2018," reports EdSource.
"The results, from a national sample of about 8,000 eighth graders in each subject, track with scores in math and reading, which also decreased during the pandemic," reports the New York Times.
🇺🇸 Test your knowledge of U.S. history with some sample questions from the NAEP test on The New York Times.
ICYMI: Eight schools in Orange County were recently recognized as models for civic learning, the OCDE Newsroom reported.
O.C. school districts serving families in need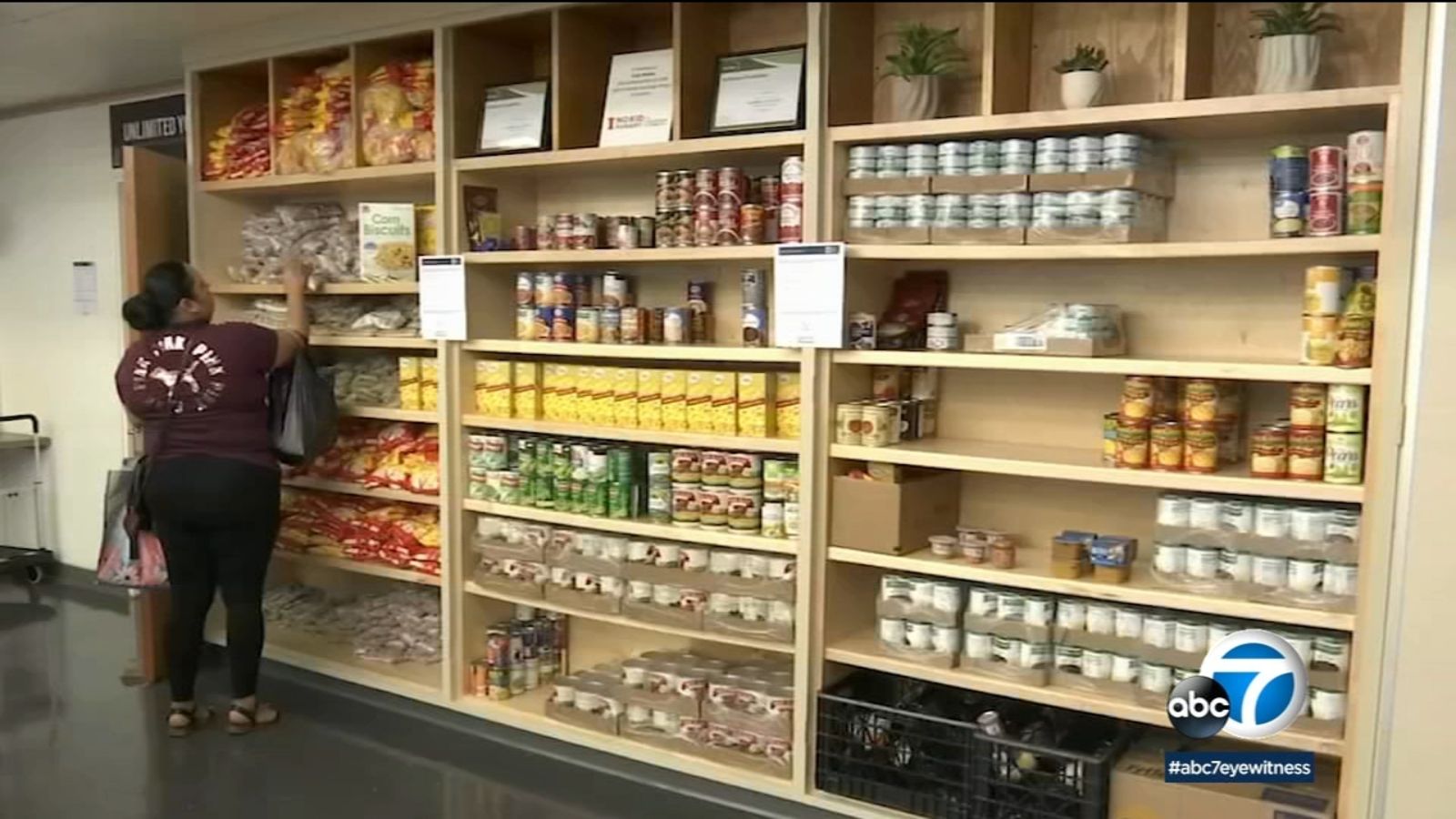 Gilbert High School in the Anaheim Union High School District recently opened "Gilbert Mercadito," the district's first pantry. "Currently, up to 150 families are able to pick up food once a week from the store-like pantry," reports ABC7.com.
Westminster School District was scheduled to hold its grand opening of its first-ever boutique on May 3. Located at Iva Meairs Elementary school, "The store is for anyone who needs additional clothing at no cost," read an Instagram post from WSD.
Donations to WSD's boutique can be made at the district office.
Spotlight on Student Artists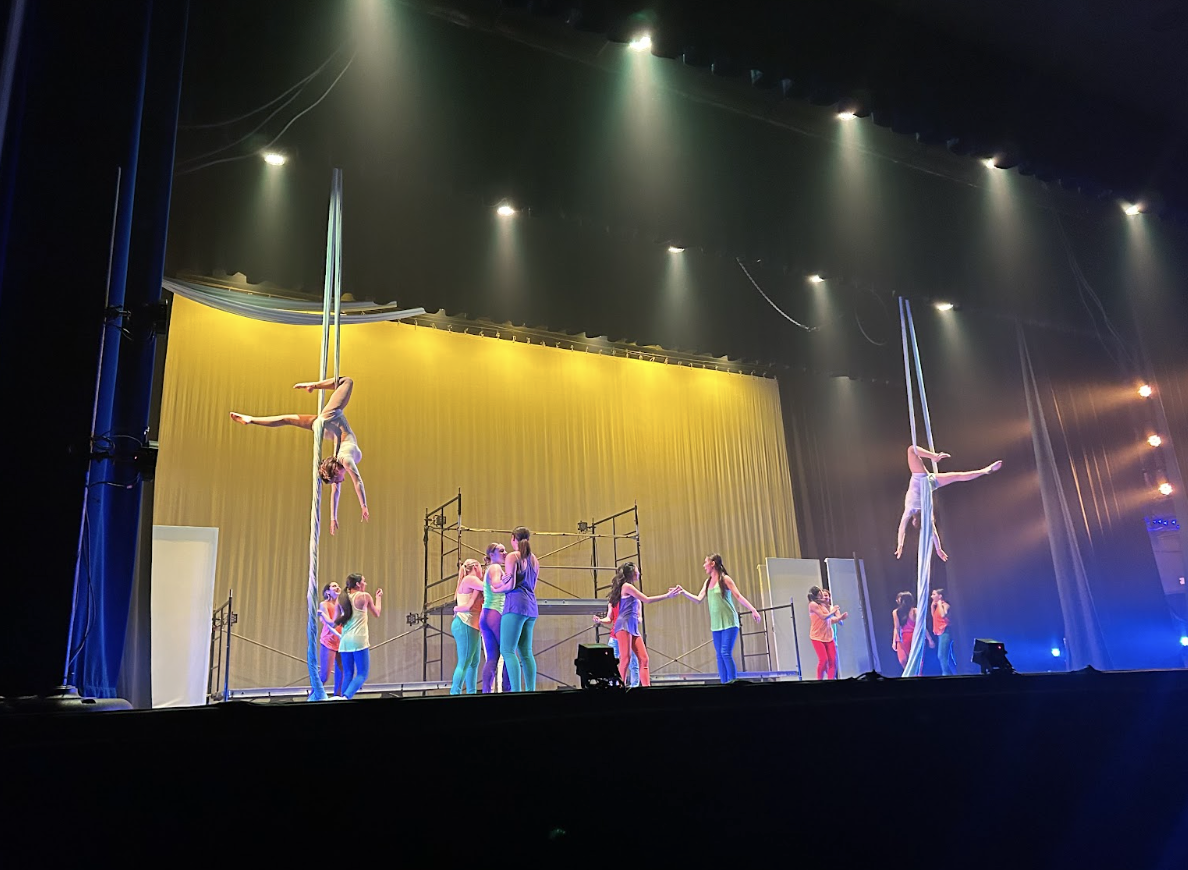 Performers with the Los Alamitos High School Dance teams dazzled in their last show of the school year. Photo by Bella Kim.
Los Alamitos High School's dance program displayed spectacular talent in their spring show, "The Night Council," an original production that tells the story of a group of young people fighting to bring freedom to their dystopian society.
LAHS dance pulled out all the stops for their last show of the year, which included special effects, student choreography, aerial silks, and water features. There was also a dance-off between humans and "robot" dancers.
Read the whole review by Bella Kim at SpotlightSchools.com.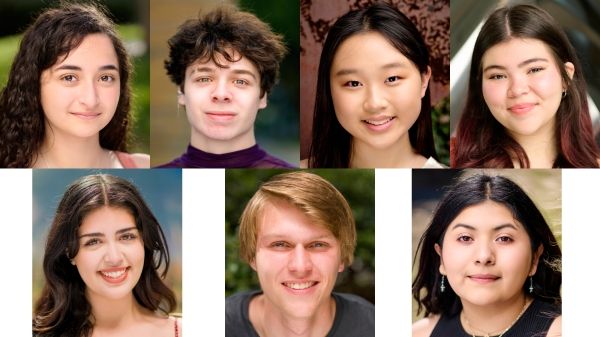 ICYMI: The Orange County Register announced the winners of its 2023 O.C. Artists of the Year contest. Out of 721 nominees, just seven high school students were awarded the honor. Read about each one in The O.C. Register.
🏋️ 🏋️‍♀️ Free gym access offered to O.C. teens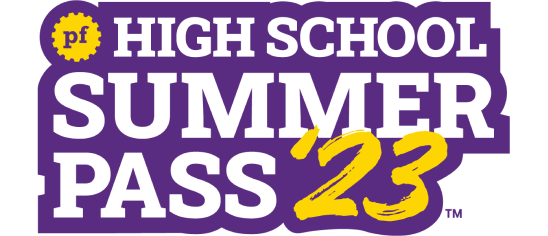 Planet Fitness wants to help local teens stay active this summer.
The gym chain with several locations in Orange County is offering free gym access to 14-19 year olds from May 15 through August 31.
As part of its third annual High School Summer Pass, Planet Fitness is also giving away $200,000 to high schools and students. "Teens who register can help win a grant for their school and participate in a video contest for a chance to win a scholarship," reads the Planet Fitness website.
Find out more here.
What did you like in this week's newsletter?
Respond to this email and share your thoughts.
We love ALL feedback. Yes, even criticism. 😀
Copyright © 2023 Spotlight Schools, All rights reserved.
P.O. Box 164, Seal Beach, CA 90740