🍎 School year starts; STEM building opens to students; ⚾️ Baseball team's inspiring journey to victory near Cooperstown
Deadline extension to run for some school board seats; 🚀 See the cutest questioner at the Alyssa Carson event; New website connects O.C. families to mental health resources
Deadline extension to run for some school board seats; 🚀 See the cutest questioner at the Alyssa Carson event; New website connects O.C. families to mental health resources

Helping you better understand, navigate and participate in the TK-12 public school experience in Orange County.
In this week's newsletter...
August 16, 2022
FIRST BELL 🔔 First classes held at new STEM building as thousands of K-12 students in O.C. start the 2022-23 school year.
SECOND BELL 🔔 Alyssa Carson inspires students in Rossmoor.
EXTRA CREDIT 📌 O.C. Board of Education poised to fill vacancy this week. Plus, free youth leadership conference this weekend.
RECESS 👏🏼 O.C. youth baseball team's remarkable run.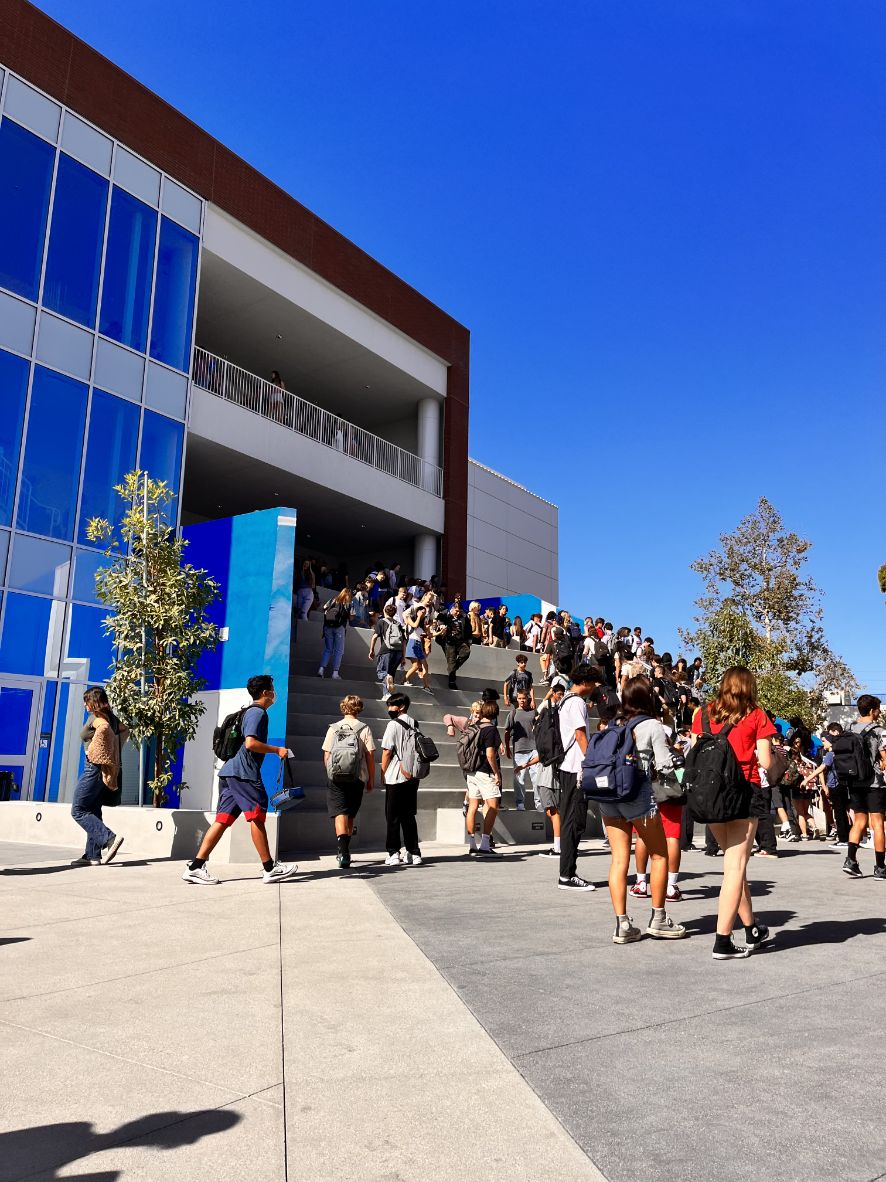 Students walk up and down the 'grand staircase' of the new STEM building at Los Alamitos High School on the first day of school, August 15. It was the first day students were able to attend classes in the new $67 million building. Photo by Jeannette Andruss
Spotlight Schools is a nonpartisan, hyperlocal newsroom covering education in Orange County and this is our weekly newsletter.
Not a subscriber yet? Sign up here! And be sure to follow us on Instagram and Twitter for news and updates.
Please send feedback/story ideas/questions to hello@spotlightschools.com.
Yours in knowledge,
Jeannette Andruss, Spotlight Schools Founder and parent of two students in the Los Alamitos Unified School District
FIRST BELL
This Week's Top Story
First Day of School for 2022-23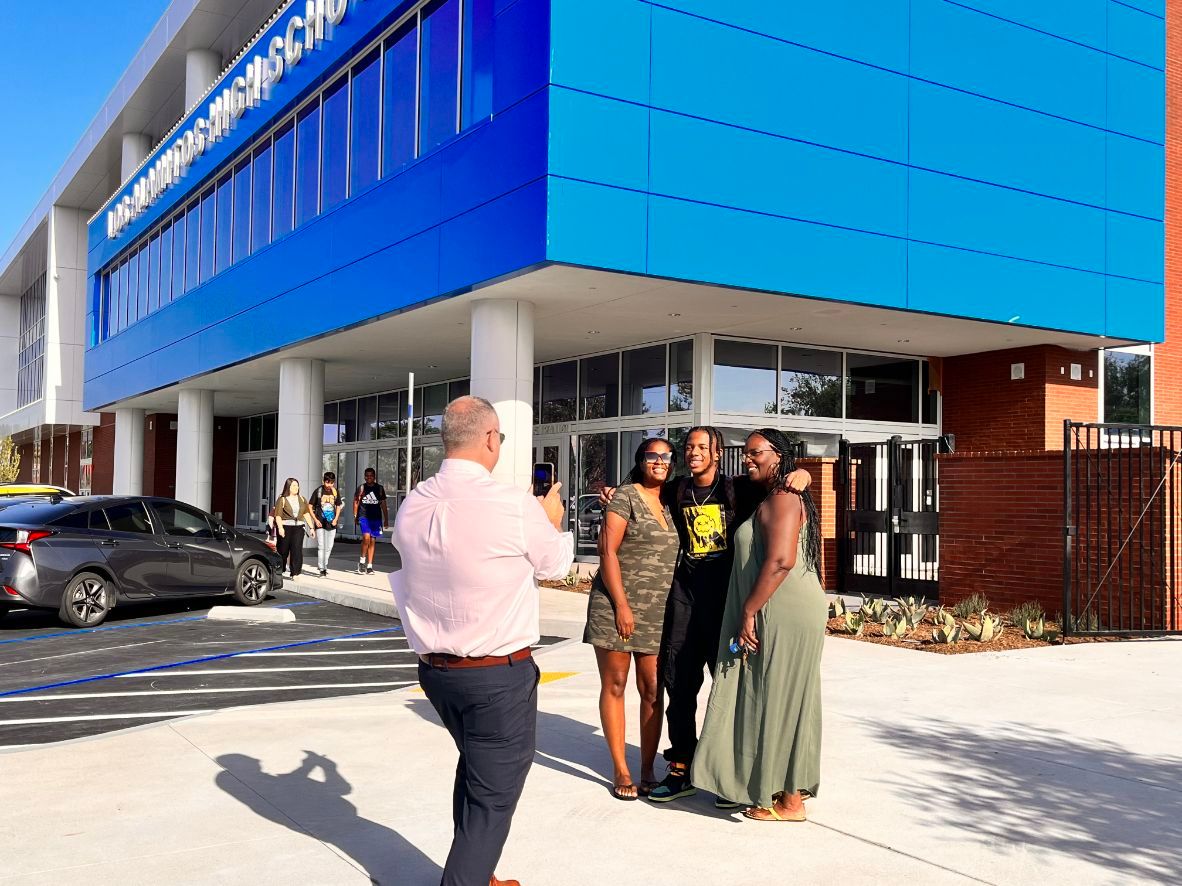 Smiles on the first day of school: Los Alamitos High School freshman Arron Myers poses with his mother and grandmother for a picture taken by Los Alamitos Unified School District Superintendent Andrew Pulver on August 15. Photo by Jeannette Andruss
Arron Myers had a big smile on his face as he arrived at Los Alamitos High School for the first day of the 2022-23 school year.
"I'm nervous … he's excited," Arron's mother, Natasha Myers said with a smile after seeing her eldest child walk onto the LAHS campus for the first time yesterday.
Last year Arron was at Mayfair Middle School in Bellflower, she said. This year the avid dancer decided to come to LAHS to pursue performing arts. The freshman is going to be in the school's award-winning show choir. "I just want success for my baby," Myers said, sharing a feeling most parents know well, and added, "This is the right place for him."
Los Alamitos Unified School District Superintendent Andrew Pulver, Ed.D, greeted Arron and his family and even snapped photos of Arron and his mother and grandmother, capturing the start of his Griffin experience.
"We're thrilled to welcome our students and families to the new year," Pulver said in an interview. Students at the district's other schools started on Monday as well, except Weaver Elementary which started August 3.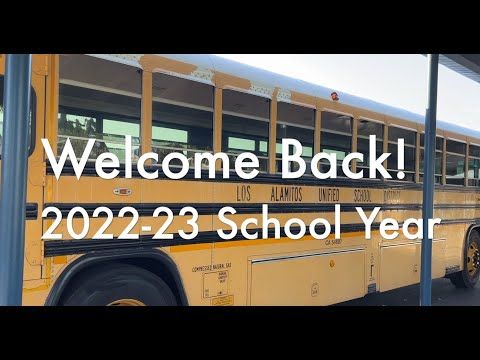 Los Alamitos Unified School District video recap of the first day of school at its nine campuses. Weaver Elementary started August 3 and the other campuses started August 15.
Los Alamitos USD students are among the thousands of students in Orange County whose summer is officially over. The 2022-23 school year is now underway for more than half of the school districts in O.C. while three school districts don't begin until September.
As Spotlight Schools reported last week, the school year starts with a relaxation of rules regarding Covid-19. On August 11, the Centers for Disease Control and Prevention unveiled new looser guidelines which includes dropping the recommendation that students exposed to a Covid-19 positive person test to stay in class, NPR reported.
In response to the CDC guidance, U.S. Secretary of Education Miguel Cardona said in part of a statement: "While COVID continues to evolve, so has our understanding of the science and what it takes to return to school safely."
The California Department of Public Health did not alter its latest Covid-19 recommendations for schools which were released on June 30.
It isn't just Covid-19 that school administrators are thinking about. The monkeypox virus, which Governor Gavin Newsom recently declared a state of emergency over, is also on the radar for some schools.
According to the Voice of OC, the Santa Ana Unified School District trained staff and administrators to spot monkeypox symptoms and has monkeypox tests available upon request.
Meanwhile, for some schools it isn't only viruses, but a shortage of staff and substitute teachers to prepare for, according to The O.C. Register.
STEM BUILDING OPENS TO STUDENTS FOR FIRST TIME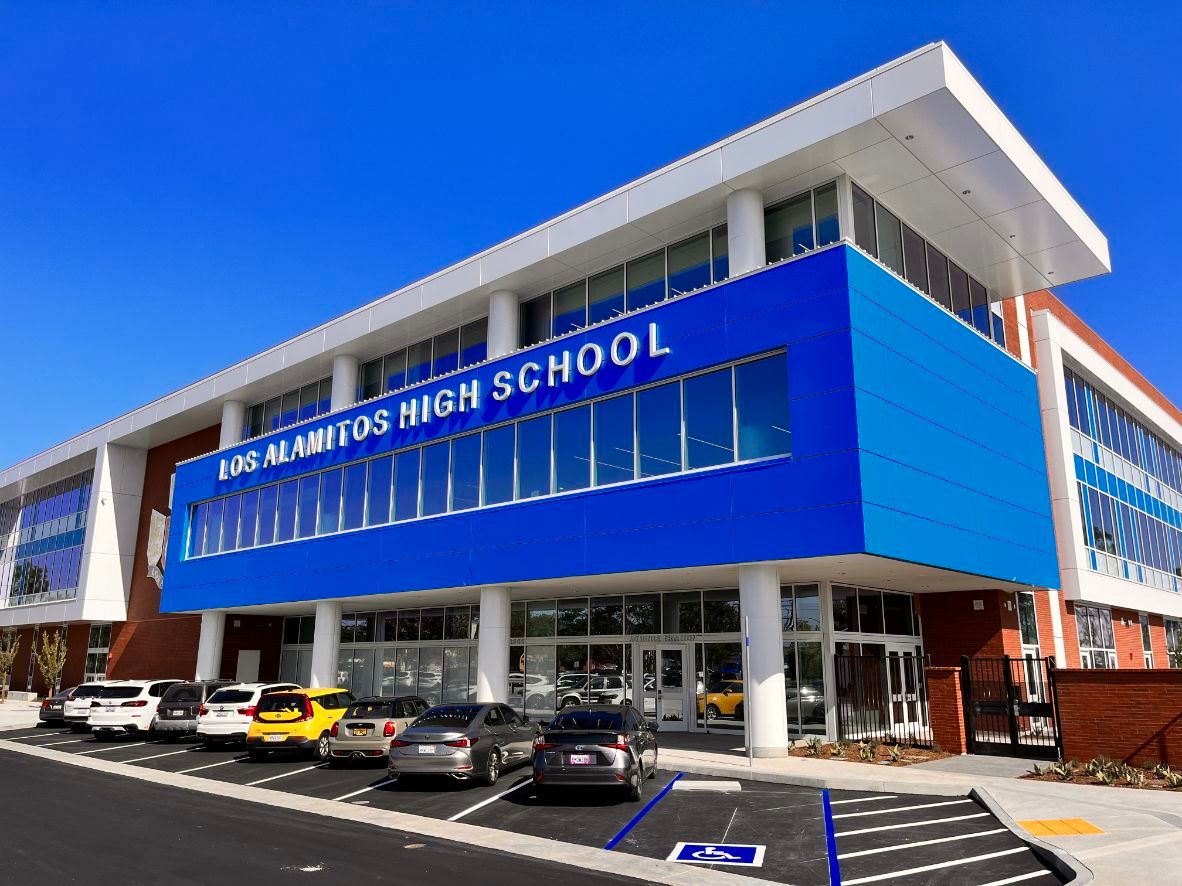 Students at Los Alamitos High School attended classes inside the new STEM building for the first time this week. Photo by Jeannette Andruss
At many schools there are new teachers, administrators, resources and facilities.
For instance, students will be making a splash at the new aquatic facility at El Modena High School in the Orange Unified School District.
For families in the Capistrano Unified School District, there is a new app advertised by the district as putting everything at your fingertips.
And at Los Alamitos High School in the Los Alamitos Unified School District, a brand new STEM building opened to students for the first time on Monday.
After the bell rang at 8:30 a.m., students were searching for their classes in the brand new three-story structure. The gleaming modern building boasting a total of 30 classrooms and labs for math, biology, chemistry and more was built using bond funds.
"It's a beautiful environment to provide such a state-of-the-art education to our students," LAHS Principal Christiana Kraus said. She thanked the community for their support in approving the 2018 Measure G that financed the STEM building.
Kraus said some students were chatting about how excited they were to have a class in the new building, even bragging if they had more than one.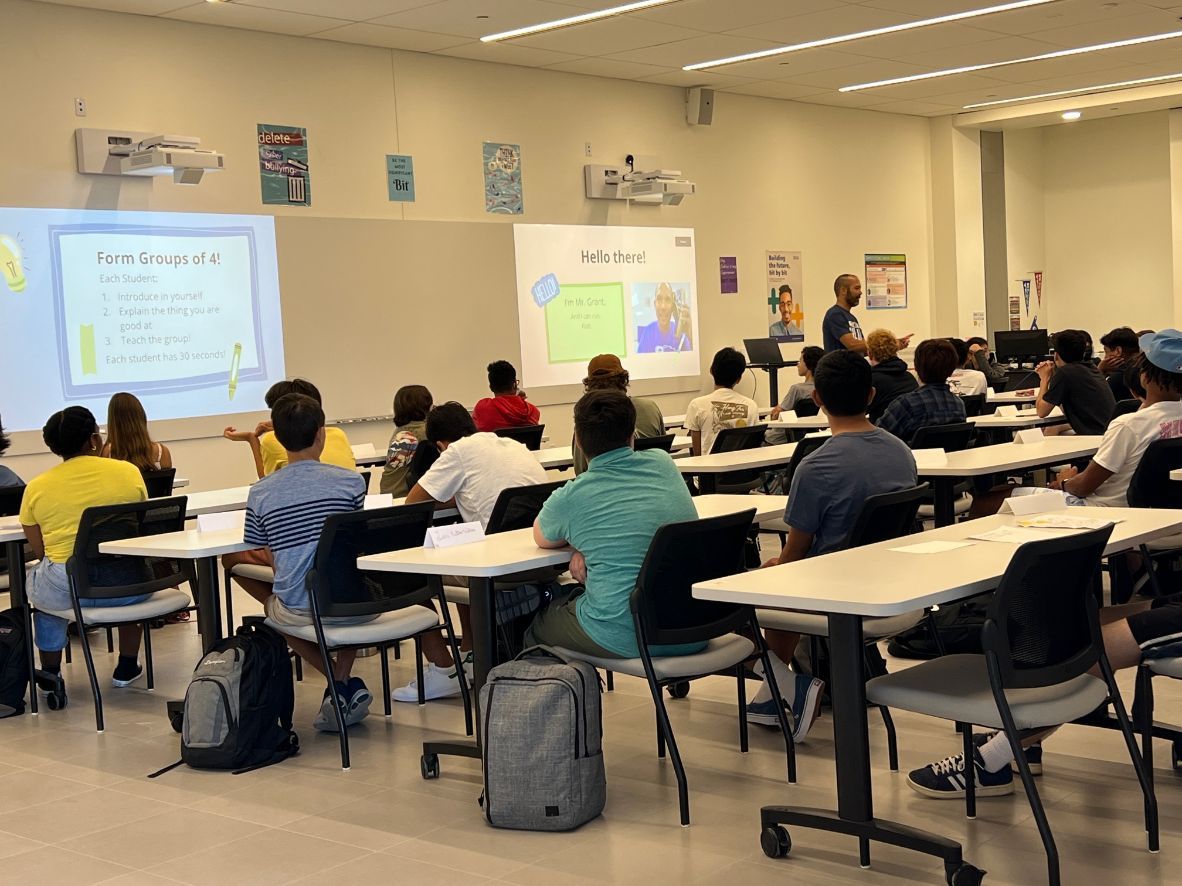 Students in a computer lab class inside a new $67 million STEM building at Los Alamitos High School on the first day of school August 15. Photo by Nichole Pichardo of Los Alamitos USD.
Biology teacher Henry Awad was thrilled with his new classroom on the building's second floor. "This room is amazing," he enthused, noting the sunshine that poured into the lab through large windows.
It's a big upgrade from the room Awad was previously teaching in which he described as a "dungeon" with no windows. In fact, Awad shared that his former classroom was the exact same one he once occupied as a student years ago.
"I feel very blessed and I'm very excited for the kids," Awad said.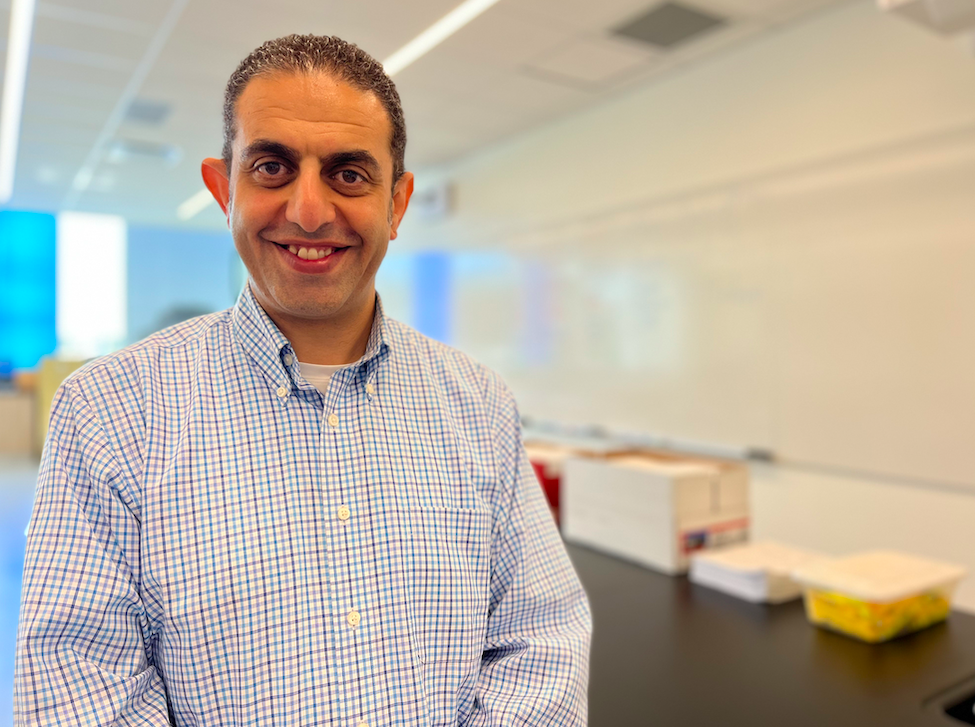 Biology teacher Henry Awad inside his classroom on the second floor of the new STEM building at LAHS. Photo by Jeannette Andruss
While the classrooms were ready for teachers and students on August 15, other parts of the building were not fully operational yet. That includes areas that will house administrative offices, a media center and the career center which are still being painted, getting finishing touches, and other work.
C.J. Knowland, the district's point person on construction of the STEM building, is confident everything will be ready in time for next week's Open House on August 24. That's when the public is invited to tour the new STEM building at 6:15p.m. Knowland said work would continue to be done daily on the STEM building from 3:00 p.m. to 10:00 p.m.
PAID ADVERTISEMENT
SECOND BELL
Other Stories We're Following
Deadline to declare candidacy extended for some local school board races
There's still time (but not much) for people interested in running in some school board races in Orange County this November.
Last Friday, the O.C. Registrar of Voters' office announced that for some contests, the deadline to declare candidacy was extended to tomorrow, August 17 until 5:00 p.m. for the November 8, 2022 Statewide General Election. The extension is because eligible incumbents did not file for reelection during the regular filing period, which ended on August 12. So now, qualified candidates, other than incumbents, are eligible to file. Anyone interested can get documents at the registrar's office at 1300 S. Grand Ave., Building C in Santa Ana from 8:00 a.m. until 5:00 p.m.
"This is a great opportunity for someone who was initially hesitant to run against an incumbent to put their hat in the ring," Registrar of Voters Bob Page said in a press release.
There are 11 races for school board with deadline extensions. That includes the contest for Cypress School District Board of Education Trustee Area B. Incumbent Bonnie Peat did not file paperwork to run, but her husband Jon Peat, who is termed out on the Cypress City Council, did. Parent Troy Tanaka also declared his candidacy for the seat.
🗳 See the entire list of races with extended deadlines here.
🗳See the list of declared candidates here.
🚀Aspiring astronaut inspires local students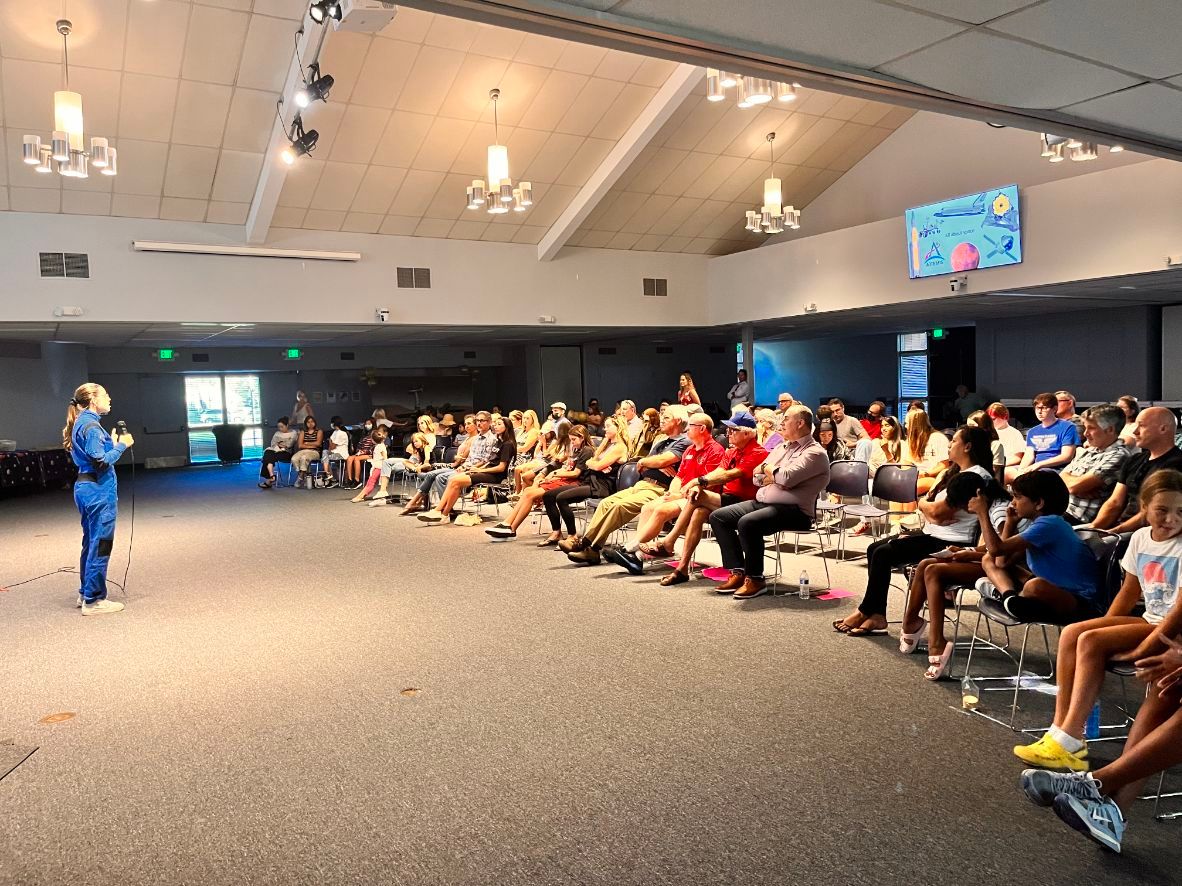 Aspiring astronaut Alyssa Carson speaks to the crowd inside Rush Park Auditorium on August 10. Photo by Jeannette Andruss.
It was the kind of night where the buzz of infinite possibilities filled the air.
Last Wednesday, August 10, more than 120 people, including dozens of children, came out to Rush Park Auditorium in Rossmoor to hear aspiring astronaut Alyssa Carson speak about her journey to fulfill her childhood dream of becoming one of the first people to land on Mars.
The 21-year-old astrobiology major at the Florida Institute of Technology has become a global ambassador of STEM, garnering worldwide media attention as the youngest astronaut in training.
The event was packed with kids who were around the same age as Alyssa when she first declared her goal of visiting the Red Planet.
That included a Rossmoor family that rolled up to the event in their homemade rocket on wheels, constructed out of a cardboard box. A child popped her head out of the "shuttle" ready to blast off into an evening of learning.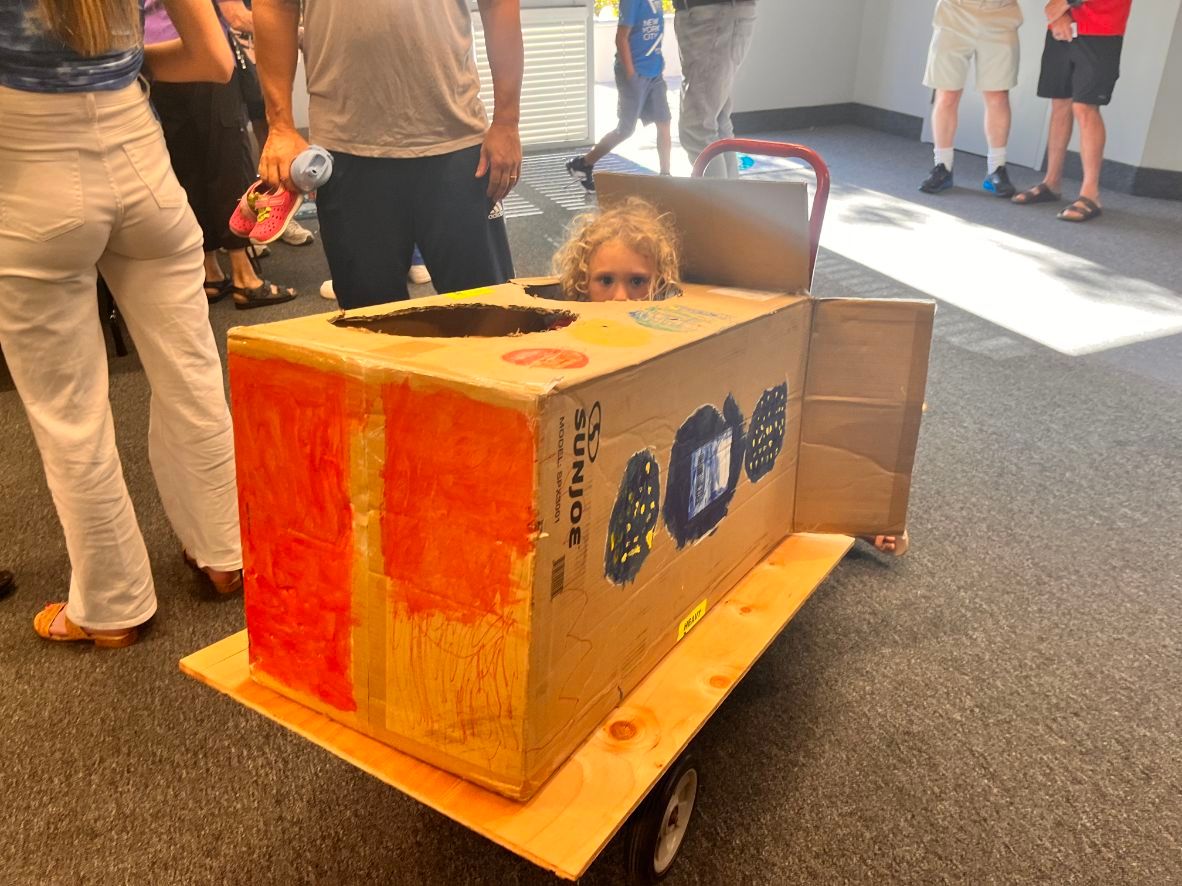 Child attending the August 10 event with Alyssa Carson arrived in a homemade space shuttle. Photo by Jeannette Andruss
The evening began with a brief presentation from Los Alamitos Unified School District Superintendent Andrew Pulver, Ed.D., sharing details about the district's brand new STEM building at Los Alamitos High School. Dr. Pulver also presented Carson with a certificate for her dedication to her studies.
Alyssa then took the microphone to explain her dream, journey and fascinating things she's learned along the way about space.
Perhaps the most entertaining part of the evening was when Alyssa took questions from the audience filled with school-age kids. Carrie Logue, Executive Director of the Los Alamitos Education Foundation, moderated the Q and A.
"How big is space?," one kindergartner asked. "What's the biggest thing you can think of?" Alyssa asked back, garnering chuckles from the crowd. "It's bigger than that!" She went on to explain how scientists believe the universe is expanding.
The cutest moment came when a preschooler asked how astronauts can push buttons when they're floating around. The girl then tested out gravity herself with an excited jump as Alyssa answered.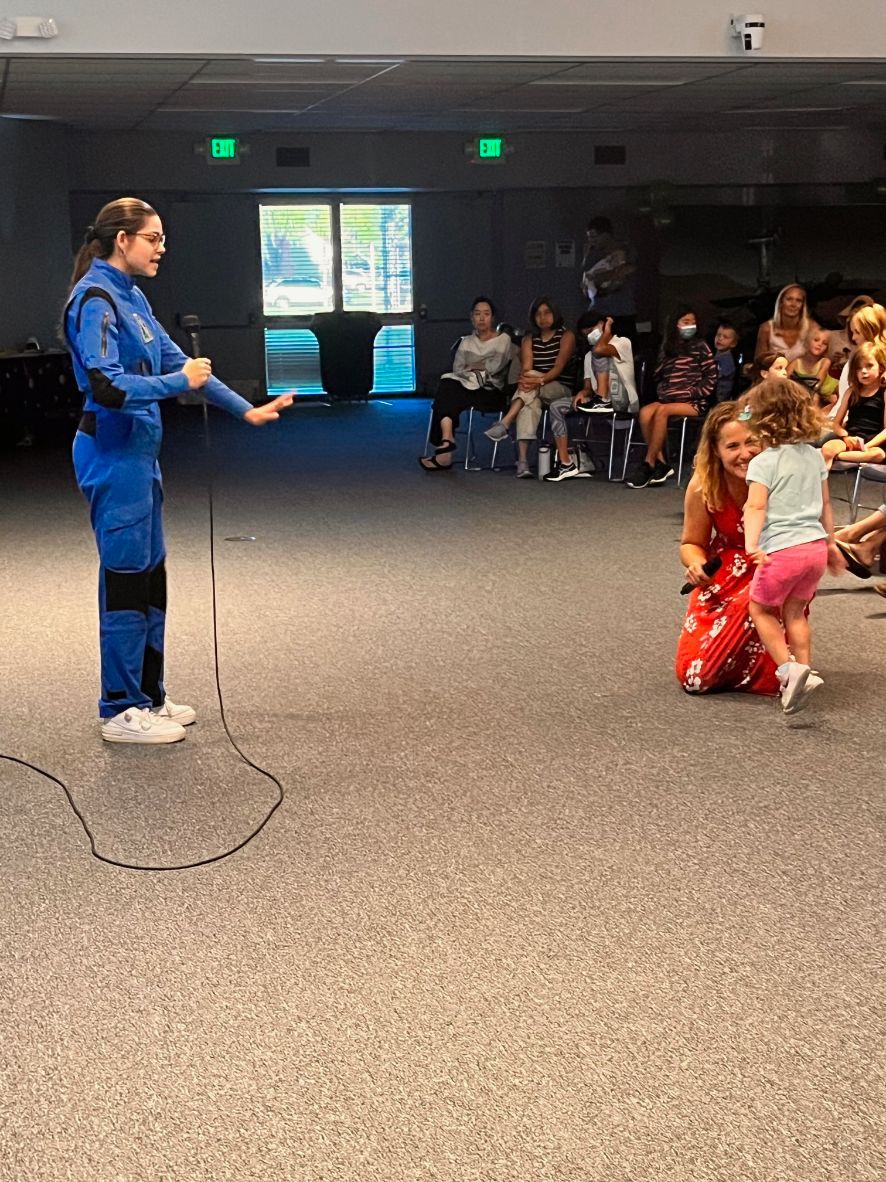 Girl asks question to aspiring astronaut Alyssa Carson during Q&A session moderated by LAEF Executive Director Carrie Logue. Photo by Jeannette Andruss.
While kids learned about galaxy formation, how astronauts use the restroom in space, and how to spot planets among the stars, the biggest lesson of the evening was to never give up on your dreams.
"This has been wonderful," said one parent in attendance after her son got his free book signed by Alyssa.
Spotlight Schools would like to thank the volunteers from The Youth Center and Seal Beach Leos who helped make the evening a success as well the staff of Rossmoor Community Services District, Dr. Andrew Pulver from Los Alamitos USD and Carrie Logue from LAEF.
🏈 High School Football Games Starting
High school football games start this week in O.C. Check out the schedule courtesy of The O.C. Register. A preseason ranking of the top 25 Football teams in O.C. from the Register has Mater Dei at #1. And in Scorebook Live's ranking of the top 50 teams in California, the top six are in Southern California, with the Los Alamitos High School Griffins at #6.
📩 Subscribe to the FREE Spotlight Schools newsletter here.
Other Stories We're Reading
EXTRA CREDIT
Meetings // Events // Opportunities // Resources
MEETINGS
HAPPENING TONIGHT: The Los Alamitos Unified School District Board of Education has a workshop and meeting scheduled to take place at 10293 Bloomfield Street in Los Alamitos.
On the agenda for the 4:00p.m. workshop:
Introduction of the new administrators in the district.
You can watch a livestream of the workshop on YouTube here.
On the agenda for the 6:00p.m. meeting:
New homework policy: There will be an overview of the district's revised homework policy adopted over the summer. Read more coverage from Spotlight Schools on the homework policy here.
Budget revision: Governor Gavin Newsom's budget revision has meant a big boost for public education funding. The district will report on what that means for its budget. You can see the impact in this summary on the budget
District Goals and Priorities: The Board of Education will vote on the district goals and priorities for 2022-23 which were drafted over the summer.
You can watch a livestream of the meeting on YouTube here.
HAPPENING TOMORROW, AUGUST 17: The Orange County Board of Education is scheduled to meet at 4:00 p.m. at 200 Kalmus Drive in Costa Mesa.
On the agenda:
Charter School Appeal: Hearing on charter school Oxford Preparatory Academy-Middle School's petition to appeal denial by Saddleback Valley Unified School District to operate in the district.
Board Vacancy Appointment: The Board is expected to vote on a candidate to represent Trustee Area 1 for the remainder of the term of Rebecca "Beckie" Gomez who resigned in July. According to the agenda, candidates being interviewed include: Cecilia Iglesias, Marlene Barba and Jorge Valdes.
The meeting will be streaming live on YouTube.
EVENTS
HAPPENING THIS WEEKEND: A first for Orange County high school students is happening in Anaheim this weekend. The Youth Leadership Summit & Expo takes place on August 20 and it is free. Details here.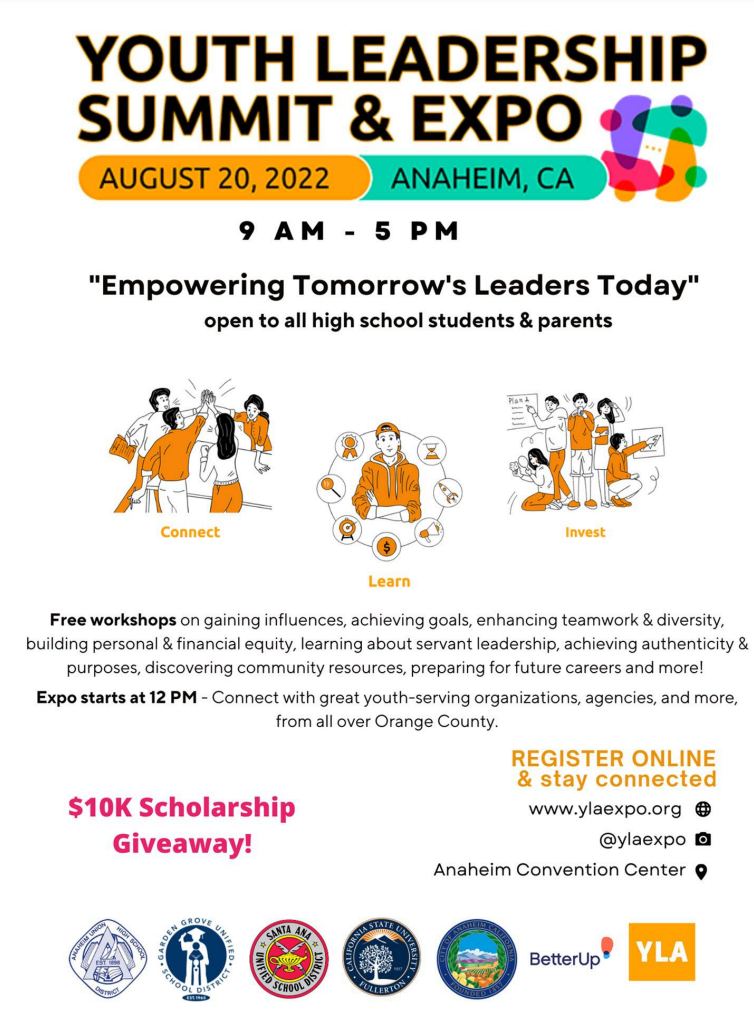 RESOURCES
WEBSITE FOR MENTAL HEALTH SUPPORT: Orange County has launched a new website aimed at helping families better connect to local resources. OC Navigator is an "online resource navigation tool designed to help community members connect with local mental health, substance use treatment and supportive resources including physical, transportation, education, housing, childcare, and more." Search the website at: https://www.ocnavigator.org
AFTER-SCHOOL ACTIVITIES: There's still time to enroll in the Los Alamitos Education Foundation's Fall Enrichment programs. They feature a variety of classes, including mindfulness and meditation, and a new offering called Masters of the Field which features classic outdoor games such as Capture the Flag and Relay Races that will be used to challenge students in subjects including math, spelling, science, and history. Find out more information here.

RECESS
Your Dose of Good News
Determined to Play: Youth baseball team's remarkable run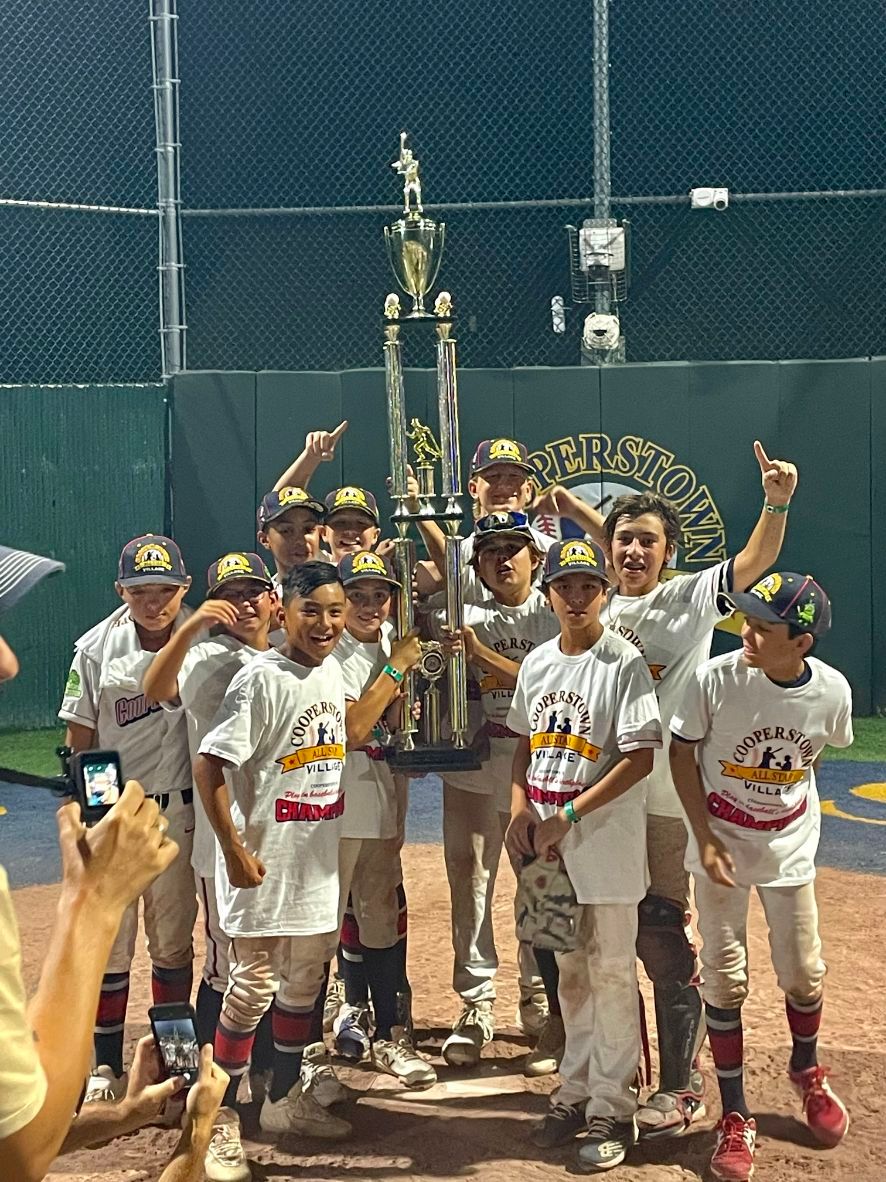 Teammates of the SoCalHawks celebrate last month after winning a Cooperstown All Star Village 12U tournament. Courtesy photo.
The SoCal Hawks, a baseball team of middle schoolers from Los Alamitos, Cypress, Garden Grove, and Long Beach have played their way into a league of their own.
Playing in a field of dreams near the Major League Baseball Hall of Fame in Cooperstown, New York, the Hawks beat out 56 other teams to win the championship in Week 8 of the 12U All Star Village tournament.
The tournament is run by the Cooperstown All Star Village which is described on its website as a resort and baseball camp that "offers players the opportunity to compete against the best 12U teams from across the country."
"It was mind-blowing," said coach Matt Hammond. "There were 57 teams, and we knew they were all good," he said, adding that "and we knew that we were not one of the favorites."
Nevertheless, Hammond said he and the other coaches focused on teamwork. "We may not be the most talented team, but we are the best team," Hammond said he told his team.
He said the Hawks formed when COVID-19 restrictions were eased in 2021. "They knew they wanted to make this trip in 2022," said Hammond. So the team started a fundraising campaign for the $20,000 they needed to make it to Cooperstown.
The boys opened a lemonade stand in Rossmoor (among other places). "One man stepped up and handed the boys a $100 bill," said Hammond. Soon enough, they raised $23,000 worth of community support.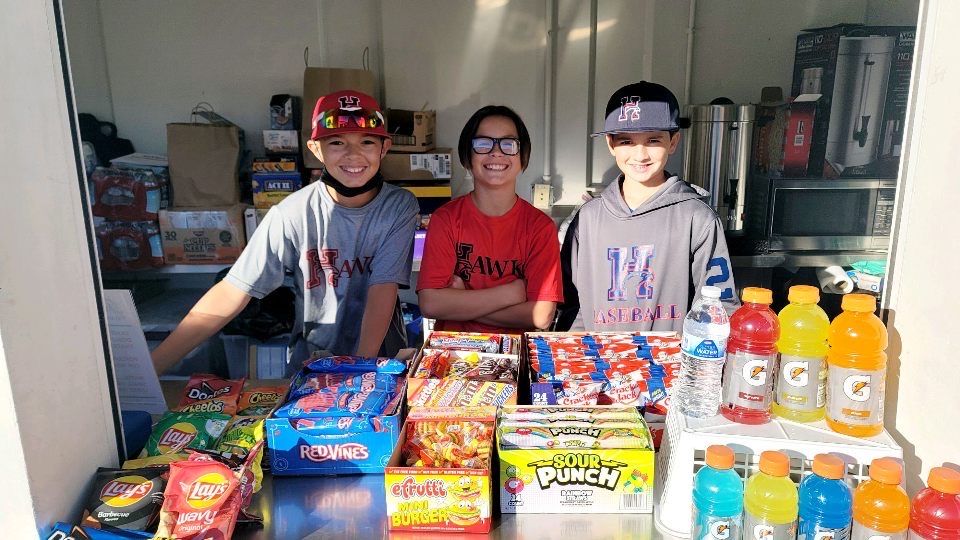 Teammates Justin Hall, GJett Jenkins, and Hud Pease at the "Snack Shack" to raise money for the trip. Courtesy photo.
Hammond said the team stayed at the Oneonta, NY All-Star Village baseball camp for a week in mid-July.
And, when the umpire said, "play ball," the Hawks were ready to fly. The victories quickly piled up. They beat Toledo. Beat Jackson Bears. Beat OC Hawks. It went on until the final day when they racked up a miraculous four victories on July 22.
"We were underdogs in three of the four games," said Hammond.
In the final game, the Hawk bats accounted for a whopping 12 hits, as they managed to smoke the Bandits 7-2 to win the tournament championship.
"When I went to Cooperstown, it was awesome," said Oak Middle School student Logan Hall, a standout on the SoCal Hawks team. "The teamwork was really good," he said. "We were supportive of each other and did really well," he added.
For Drew Mapanao, another Hawk, "Cooperstown was a dream come true."
"My ABSOLUTE most favorite thing about Cooperstown was hanging out with my teammates. Together we made memories we will never forget. It was a once-in-a-lifetime experience. I will never forget Cooperstown," said Mapanao, a 7th grader at Oak.
While the shine of their five-foot championship trophy may one day fade, the joy and lessons of teamwork and dedication from Cooperstown could indeed last a lifetime.
David N. Young wrote and reported this story. Read more of David's story in this week's Event-News Enterprise.
Thanks for reading!
Forwarded from a friend? Subscribe to the Spotlight Schools newsletter here.
Follow us on Instagram @SpotlightSchools.
Our mailing address:
P.O. Box 164
Seal Beach, CA 90740

Copyright © 2022 Spotlight Schools, All rights reserved.