🏆 O.C.'s Teachers of the Year; 💜 Honoring military children; Bill aims to boost teacher salaries by 50%
Teachers take part in BMX stunt show
Brave teachers take part in BMX stunt show
Helping you better understand, navigate and participate in the TK-12 public school experience in Orange County.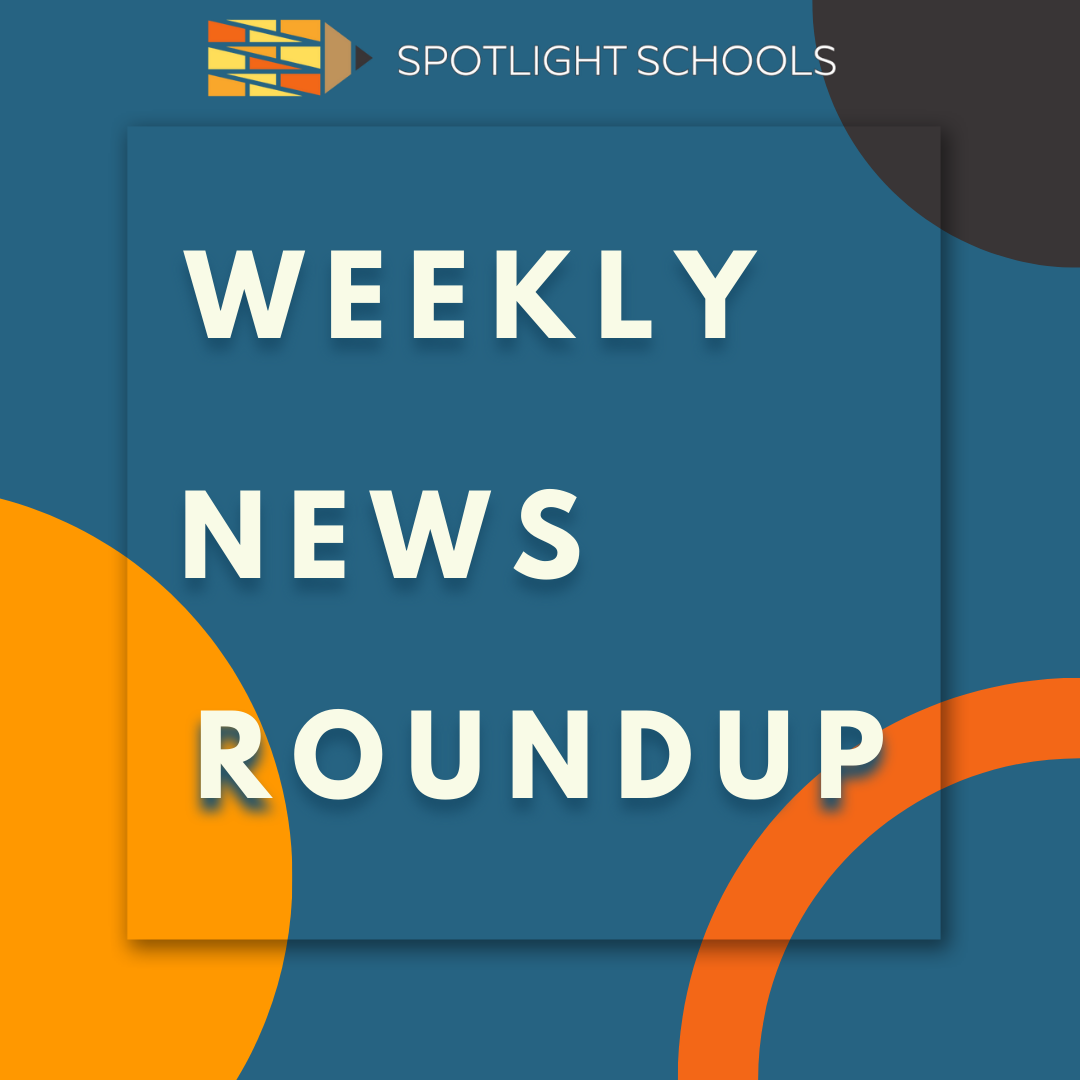 Spotlight Schools is a hyperlocal newsroom covering education in Orange County and this is the Weekly News Roundup newsletter.
You'll find original reporting from Spotlight Schools in addition to curated links to articles from a variety of newsrooms, education agencies and more to keep you on top of what's happening.
Be sure to check our Instagram and Twitter accounts for the latest news. And don't forget to visit our website to view all of our stories or support our coverage at SpotlightSchools.com.
Yours in knowledge,
Jeannette Andruss, Cofounder and Chief Editorial Officer
SPOTLIGHT SCHOOLS SPONSOR

WEEKLY NEWS ROUNDUP
Saluting Students who Serve
Military-connected students honored during "Month of the Military Child"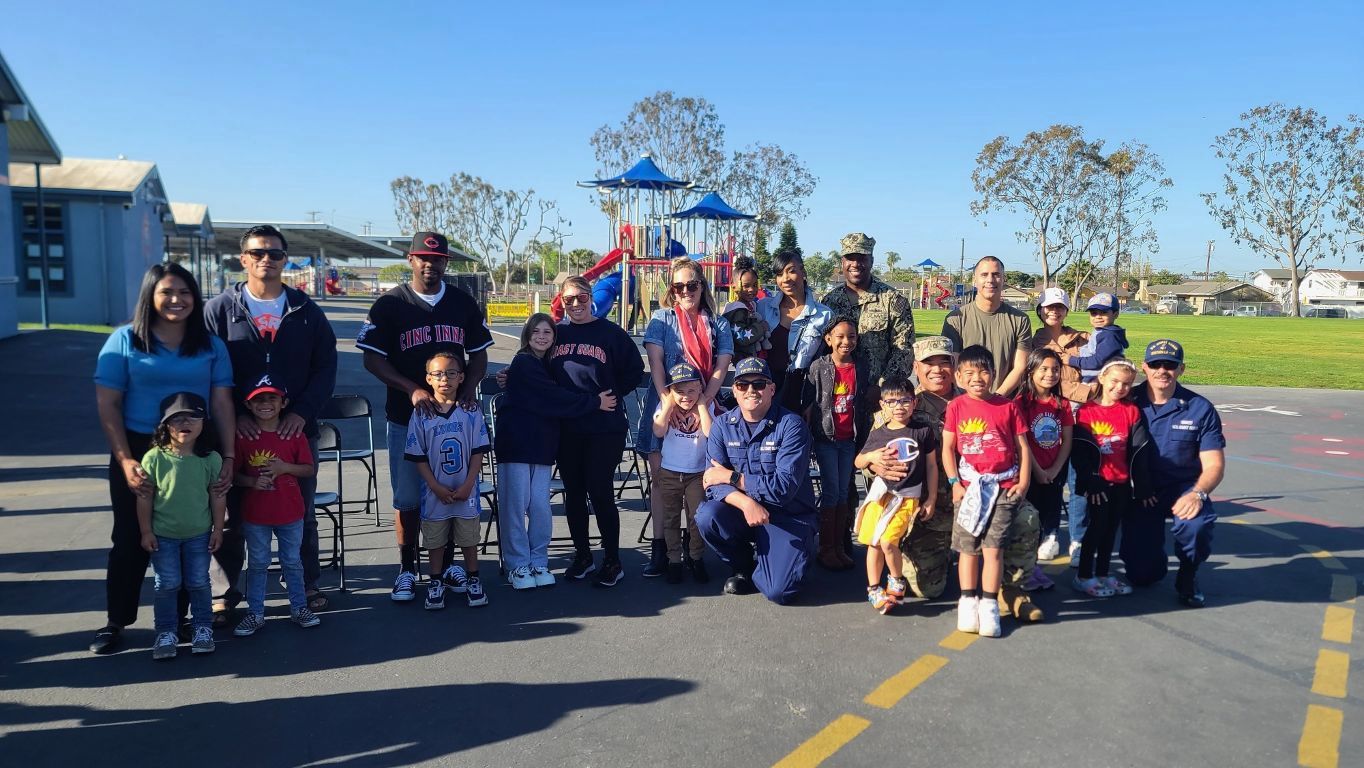 The military families of J.H. McGaugh Elementary School were recognized during the school's tenth annual 'Week of the Military Child' that took place April 17-21. More than 100 military-connected students attend the Seal Beach campus. Photo by Cynthia Villa.
J.H. McGaugh Elementary School fourth grader Christian Deleon remembers feeling sad when his father, a service member in the Navy, was deployed several years ago.
"I missed him," Christian shared in a recent interview. The ten-year-old was quick to explain that he understands why enlisted men and women like his father periodically have to leave their families: "They're going away to help out."
Christian is one of the more than 450 children identified as a military-connected student in the Los Alamitos Unified School District. The Naval Weapons Station Seal Beach and the Joint Forces Training Base Los Alamitos are both within the school district's boundaries.
Christian lives in military housing located across the street from the McGaugh campus where 15% of the school's student body is part of a military family.
Last week, McGaugh saluted Christian and his peers during its tenth annual "Week of the Military Child."
The event is tied to April being "Month of the Military Child," a nationwide tradition started in 1986 to recognize the unique sacrifices military children make.
"Although they are some of the bravest, most resilient kids out there, they face many challenges that non-military connected kids do not," Cynthia Villa, McGaugh parent and volunteer who headed up this year's "Week of the Military Child," wrote in an email message.
"Frequent relocations, the absence of a parent for months at a time due to deployments, changing schools, and leaving friends behind all have an impact on them," Villa added. (Disclosure: I've worked with Villa as a PTA volunteer and our kids are in the same class.)
Active-duty military members visited J.H. McGaugh Elementary School as the campus hosted its 10th annual 'Week of the Military Child' from April 17-21. Photo by Cynthia Villa.
To honor the students, morning announcements broadcast daily to classrooms included facts about the military. Military personnel visited campus and brought equipment to showcase. Children were encouraged to participate in dress up days, for example, wearing camouflage. Purple ribbons decorated the campus as purple represents what you get when you combine the official colors of the different U.S. military branches.
This month, two of the school's weekly video reports, known as The Sea Lion Splash, also featured some of the school's military-connected families, including a message from a parent who is currently deployed.
"Our military Sea Lions have felt so special this week," McGaugh Principal Wendy Wood wrote in an email message. "It has had a huge impact on them."
Read the whole story, including how the founder of "Week of the Military Child" returned to McGaugh, on SpotlightSchools.com.
Orange County's Teachers of the Year surprised with awards
April 27 was a day full of surprises for six educators in Orange County.
The Orange County Department of Education took its "prize patrol" bus all over the county to deliver its 2024 Teacher of the Year awards.
Spotlight Schools was invited by OCDE to be on board yesterday for the festivities where five TK-12 teachers and a community college educator were honored.
The winners were selected from 62 nominees who had been named their district's teacher of the year.
Each OCDE finalist received a trophy, a check for $25,000 from the Orange County Teachers of the Year Award Foundation, and prizes from the program's sponsor, SchoolsFirst Federal Credit Union.
The TK-12 winners will now go on to compete for California Teacher of Year.
We'll have a full report on SpotlightSchools.com in the coming days but here's a brief snapshot of the winners.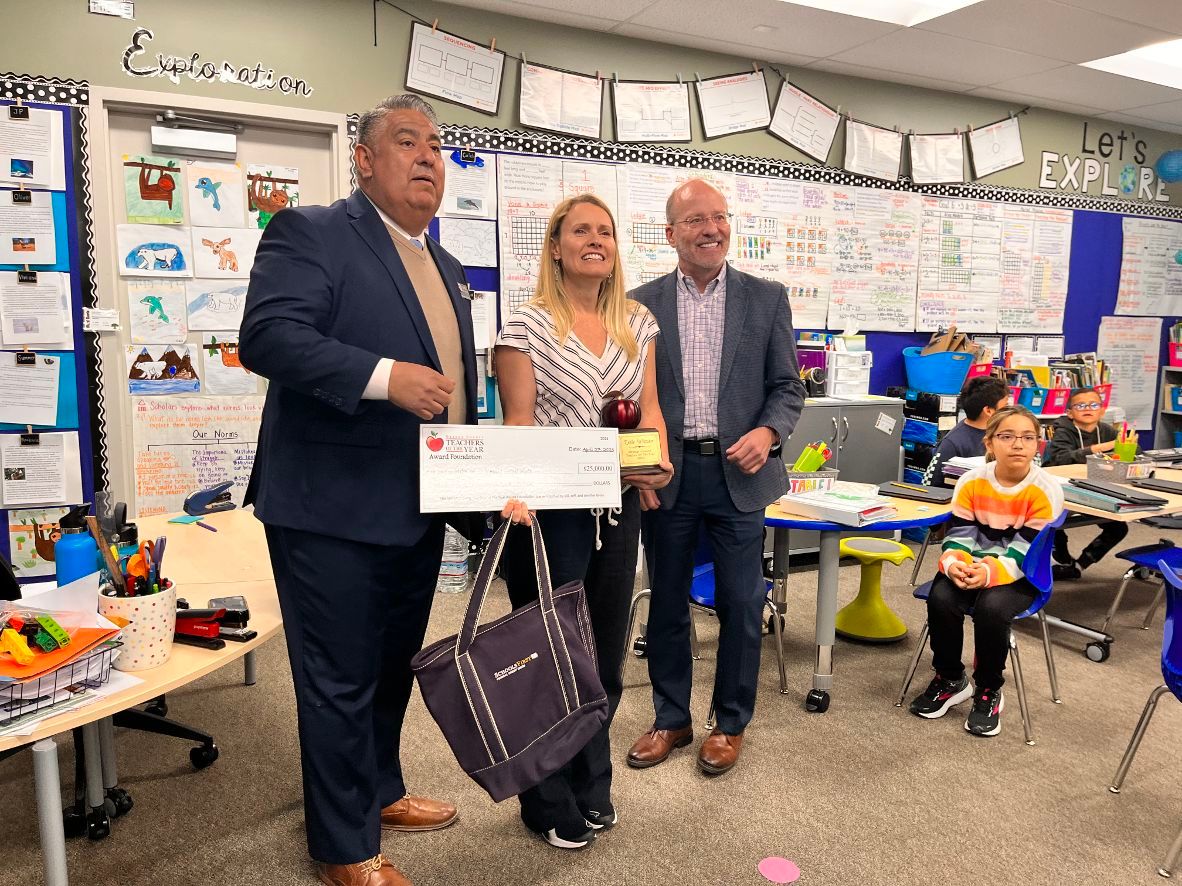 Leslie Whitaker of Esencia K-8 in Rancho Mission Viejo was the first 2024 Teacher of the Year to be surprised by Orange County Department of Education Deputy Supt. Ramon Miramontes, Ed.D., on April 27. Photo by Jeannette Andruss.
Leslie Whitaker was the first honoree of the morning.
The third grade teacher at Esencia K-8 in Rancho Mission Viejo in the Capistrano Unified School District was beaming after hearing the news.
She called the award "an honor beyond belief." Her students couldn't resist hugging her and offering congratulations during the celebration.
Whitaker has been teaching for 23 years.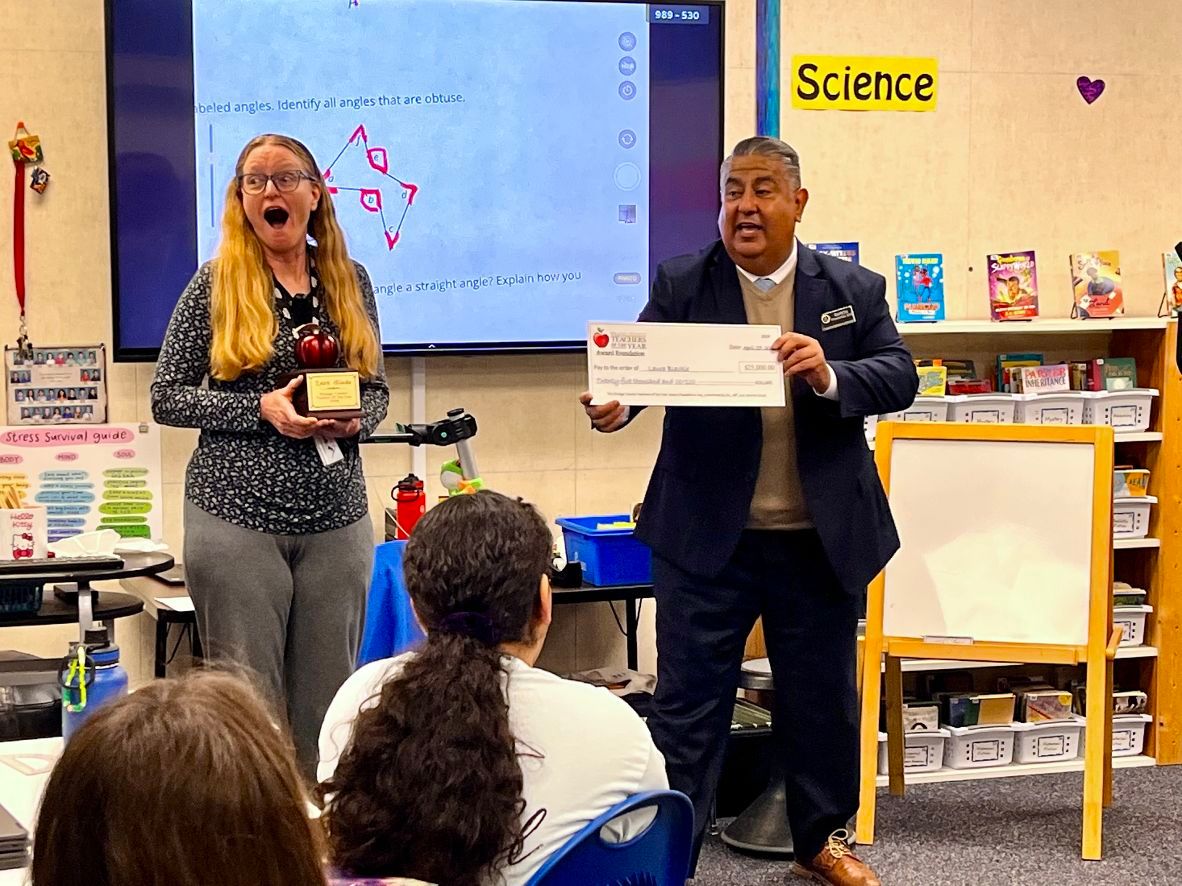 San Joaquin Elementary School teacher Laura Blackie was the second of six local educators to be surprised with a 2024 Teacher of the Year award by Dr. Miramontes. Photo by Jeannette Andruss.
San Joaquin Elementary School teacher Laura Blackie was surprised with her award in front of her fourth grade class.
Blackie has been teaching within Saddleback Valley Unified School District since 1995.
"I'm so happy because I wanted … to represent our district and I want to represent ... so many hardworking teachers out there," Blackie said after receiving her award.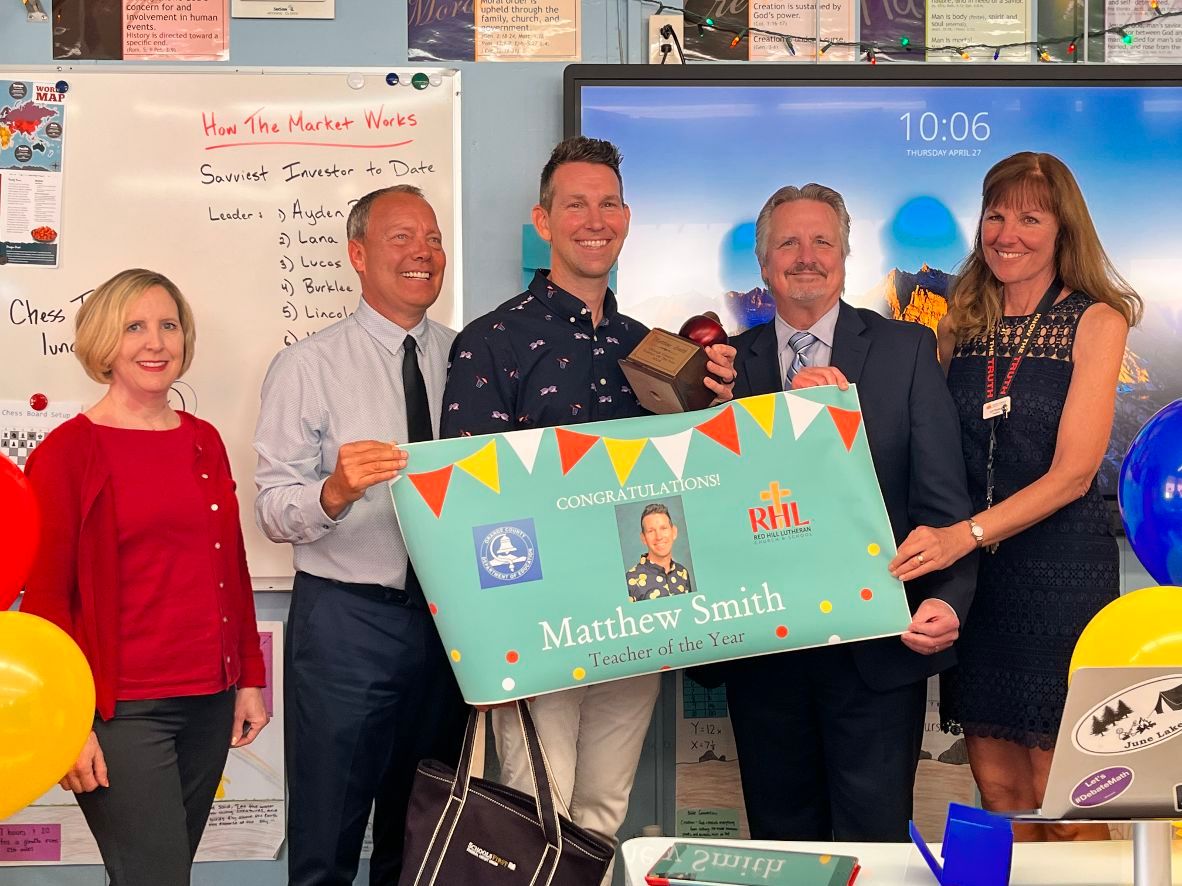 Red Hill Lutheran School teacher Matthew Smith poses with campus colleagues after receiving his 2024 Teacher of the Year award. Photo by Jeannette Andruss.
Matthew Smith said he was "blown away" when he was presented with his Teacher of the Year award.
Smith teaches math, robotics and more to 6-8th graders at Red Hill Lutheran School, a private school in Tustin. Smith is the first private school teacher to receive an OCDE Teacher of the Year honor.
"He's one of the best teachers ever," Annie Gillin, one of his students, said.
After she was surprised with her 2024 OCDE Teacher of the Year award, Vivian Chang got to high five cheering students lined up at Red Hill Elementary. Photo by Jeannette Andruss.
Fifth grade teacher Vivian Chang was wiping away tears of joy after she was presented with her 2024 Teacher of the Year award.
Chang teaches fifth grade at Red Hill Elementary in the Tustin Unified School District.
"I love what I do," Chang said. The campus celebrated her with a "clap out" where Chang ran around giving high fives to students as they applauded and chanted her name.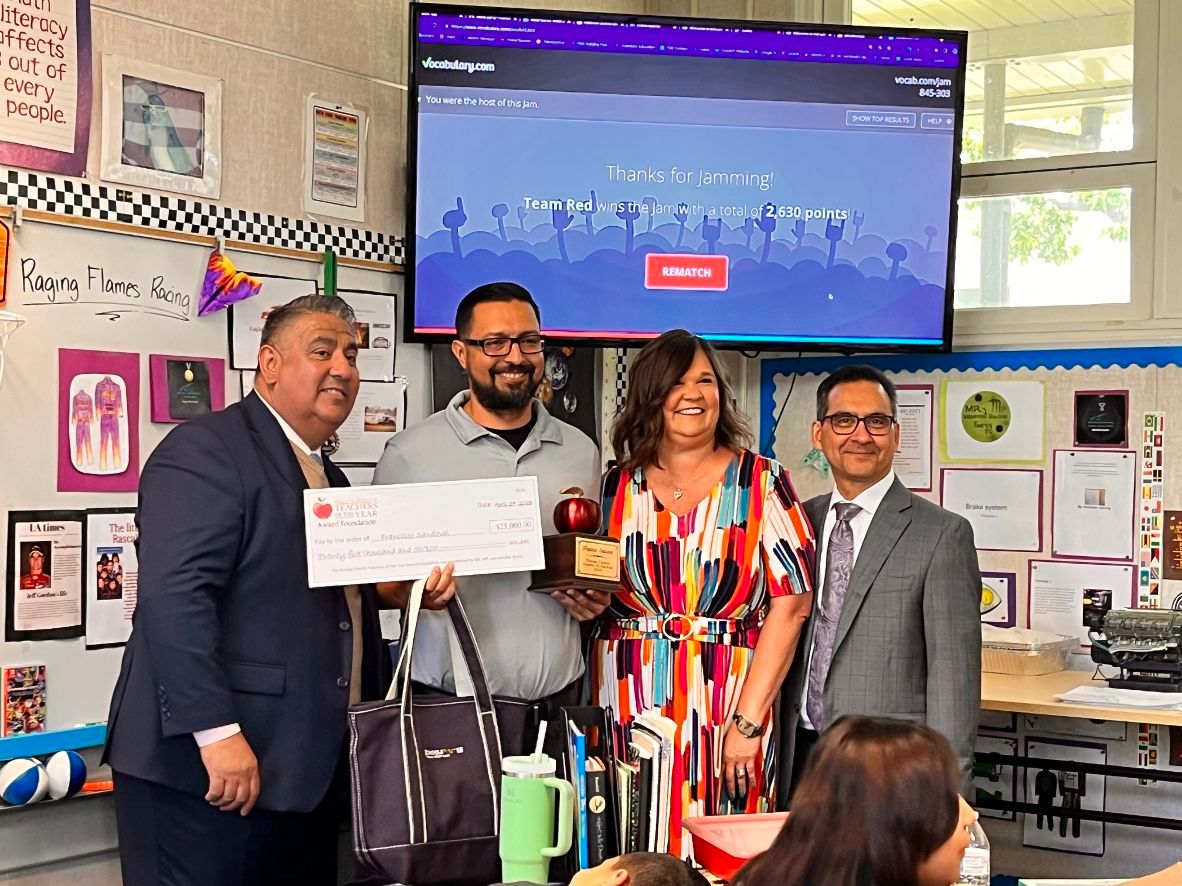 Orangethorpe Elementary school teacher Francisco Sandoval poses with Dr. Miramontes and representatives from SchoolsFirst Federal Credit Union after being surprised with his 2024 Teacher of the Year award. Photo by Jeannette Andruss.
Francisco Sandoval teaches sixth grade at Orangethorpe Elementary School in the Fullerton School District.
After receiving his 2024 Teacher of the Year award, Sandoval said, "I never thought I'd receive anything like this."
He lifted up his trophy and said: "Boys and girls, this is because of you," sparking wild applause from his students.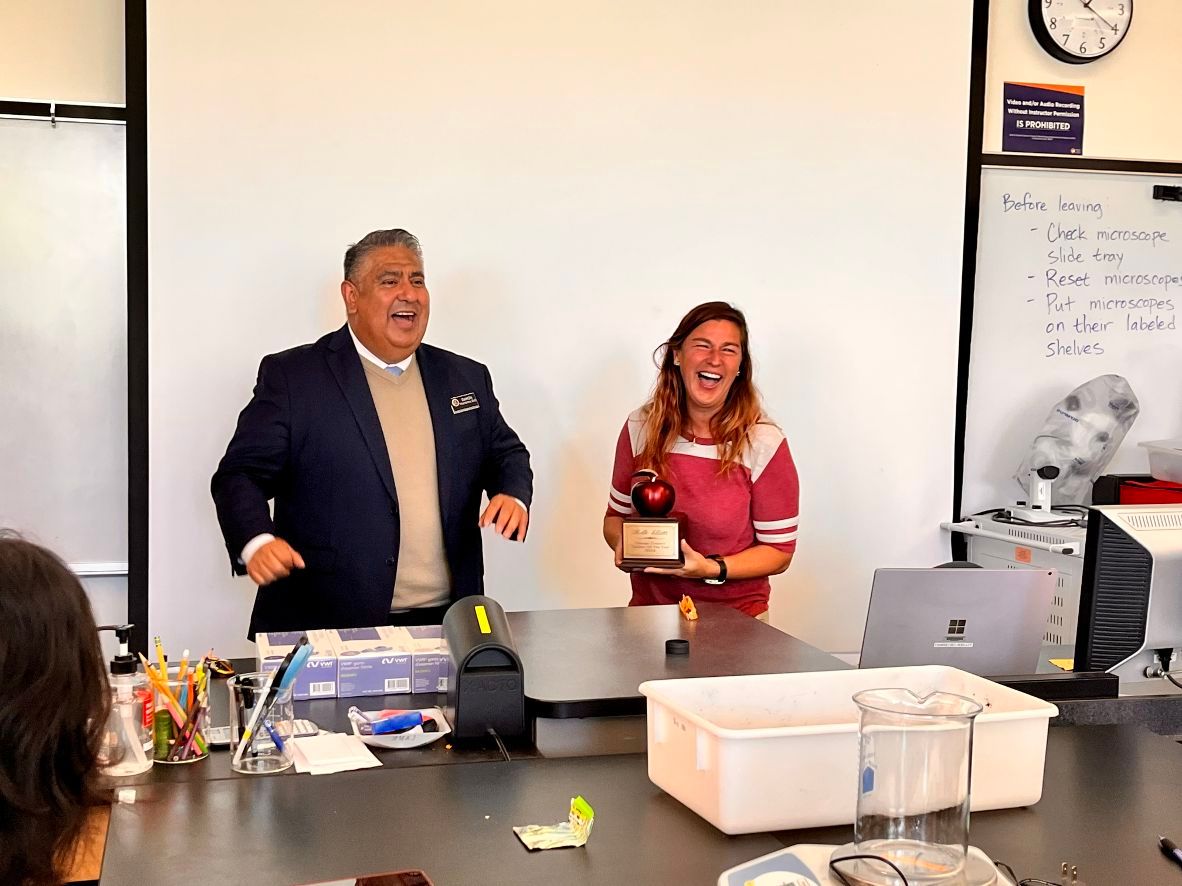 Orange Coast College professor Kelli Elliott was all smiles after being surprised with her Teacher of the Year award from Dr. Miramontes. Photo by Jeannette Andruss.
Orange Coast College professor Kelli Elliott was the final educator to get a visit from the "prize patrol" bus.
She said she was "truly honored and surprised" by being named a 2024 Teacher of the Year.
Elliott teaches biology and environmental sciences at OCC and has been an educator for 19 years. She said her favorite thing to do with students is to take them on field trips.
"I'm always curious what questions they are going to ask me," Elliott said.
We'll have much more on these educators in the coming days on SpotlightSchools.com.
California's standardized testing season is here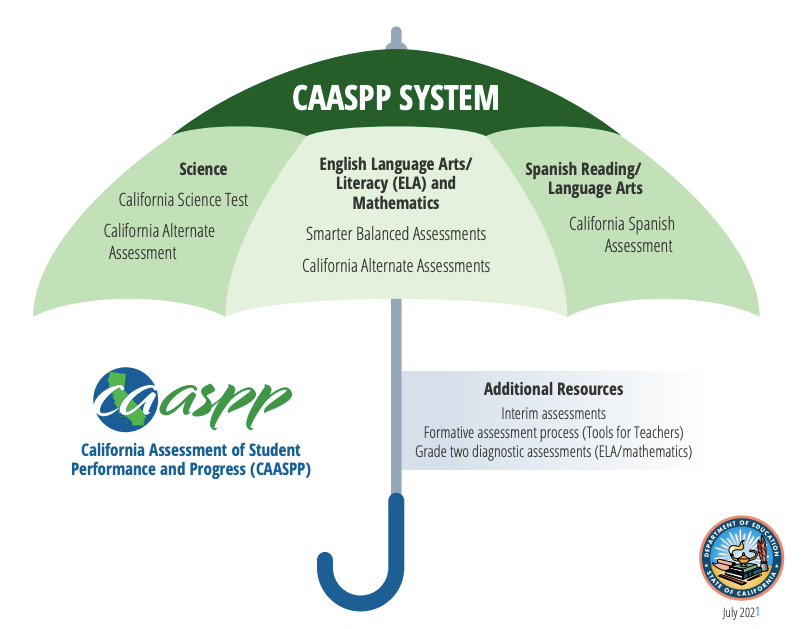 Testing season is upon us for California schools. Public school students from elementary school to high school will be taking California Assessment of Student Performance and Progress tests or CAASPP, the state academic testing program.
Done annually and online, the CAASPP assessments include English Language Arts/Literacy (ELA) and mathematics for students in grades 3 through 8 and 11 and science for students in grades 5, 8 and high school.
💡 Wondering what your student is being asked? Check out sample test questions here.
Last year was the first time California required schools to administer the CAASPP tests since the Covid-19 pandemic caused widespread disruption to education in 2020. Results from 2022 showed scores dropped for students statewide, and in Orange County, compared to scores from the last time students were tested in 2019.
The results from this year will provide more data on how students are doing academically as we get farther away from the most challenging days of the pandemic. It's not clear when the 2023 results will be released but there is an effort to create an Oct. 15 deadline, reports EdSource.
You can find your school's results for the 2022 CAASPP testing here.
California bill aims to raise teacher salaries by 50% over 7 years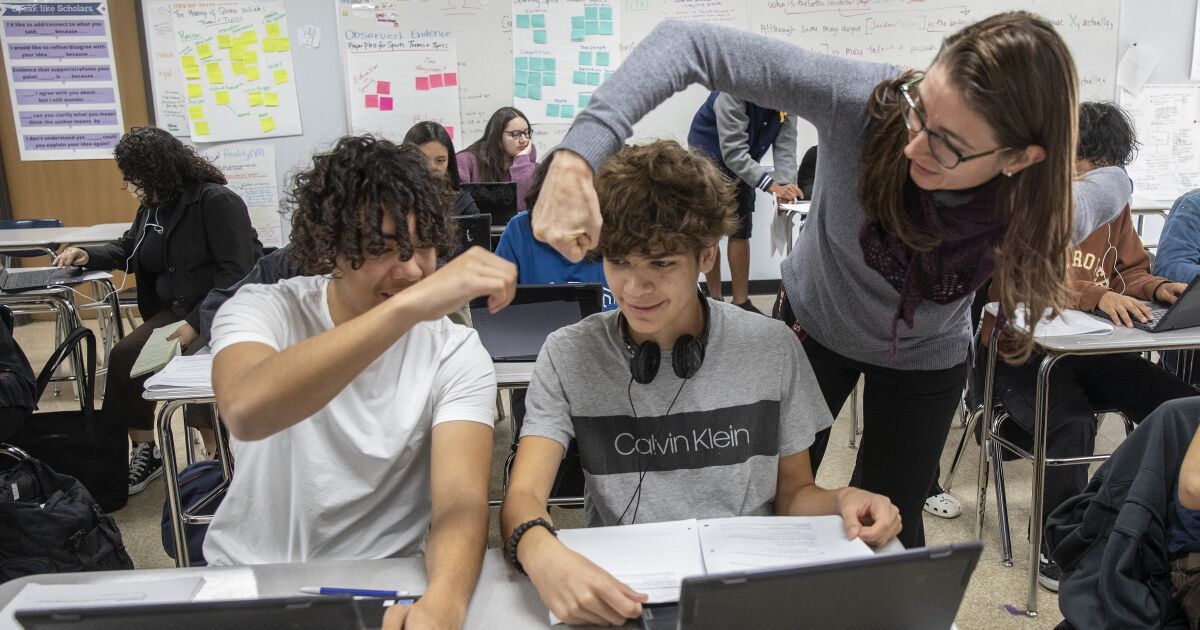 Photo from L.A. Times story
Citing staffing shortages at California's TK-12 public schools, State Assemblymember Al Muratsuchi (D-Torrance) is proposing boosting teacher and school staff salaries by 50% over seven years.
Muratsuchi, the chair of the Assembly Education Committee, introduced AB 938, which would "create state Local Control Funding Formula (LCFF) funding targets over a seven-year period, with the specific intent of increasing school-site staff salaries by 50 percent by 2030," according to a press release from Muratsuchi's office.
The measure is supported by California's teachers unions.
With the state facing a projected $22.5 billion budget deficit, it's unclear if AB 938 will become law.
"It's clearly an issue that we need to address now. Of course, we're very much aware of the realities of the budget, but the plan is, this is a seven-year plan," Muratsuchi said at an April 27 press conference.
While AB 938 proposes setting targets for districts to pay staff more based on state funding increases, the bill "would state an intention, not impose a mandate," as EdSource reported.
Read more in EdSource // L.A. Times // Patch
Honoring student artists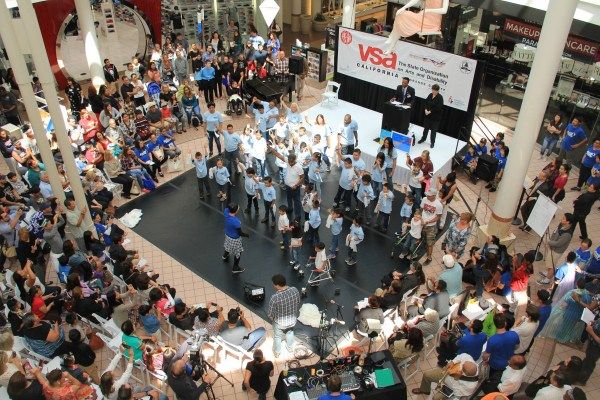 Photo from OCDE Newsroom
Tomorrow the 47th annual Orange County Arts and Disability Festival will take place at MainPlace Mall in Santa Ana.
The free event starts at 11:00 a.m. and features an exhibit of artwork from students and adults with disabilities.
You can see their work in categories including theater, music, visual art, dance and more displayed in the Macy's Court area of the mall.
There will also be a collaborative art mural, small painting project workshops, performances with ASL interpretation, an arts and disability resource fair and more, according to the MainPlace Mall website.
You can find more information from the OCDE Newsroom.
HIGH SCHOOL ARTISTS OF THE YEAR TO BE NAMED
🏆 Also, The Orange County Register is set to announce the winners of its Artists of the Year competition on April 30.
Dozens of high school students from across O.C. are taking part. See the semifinalists here.
One last thing...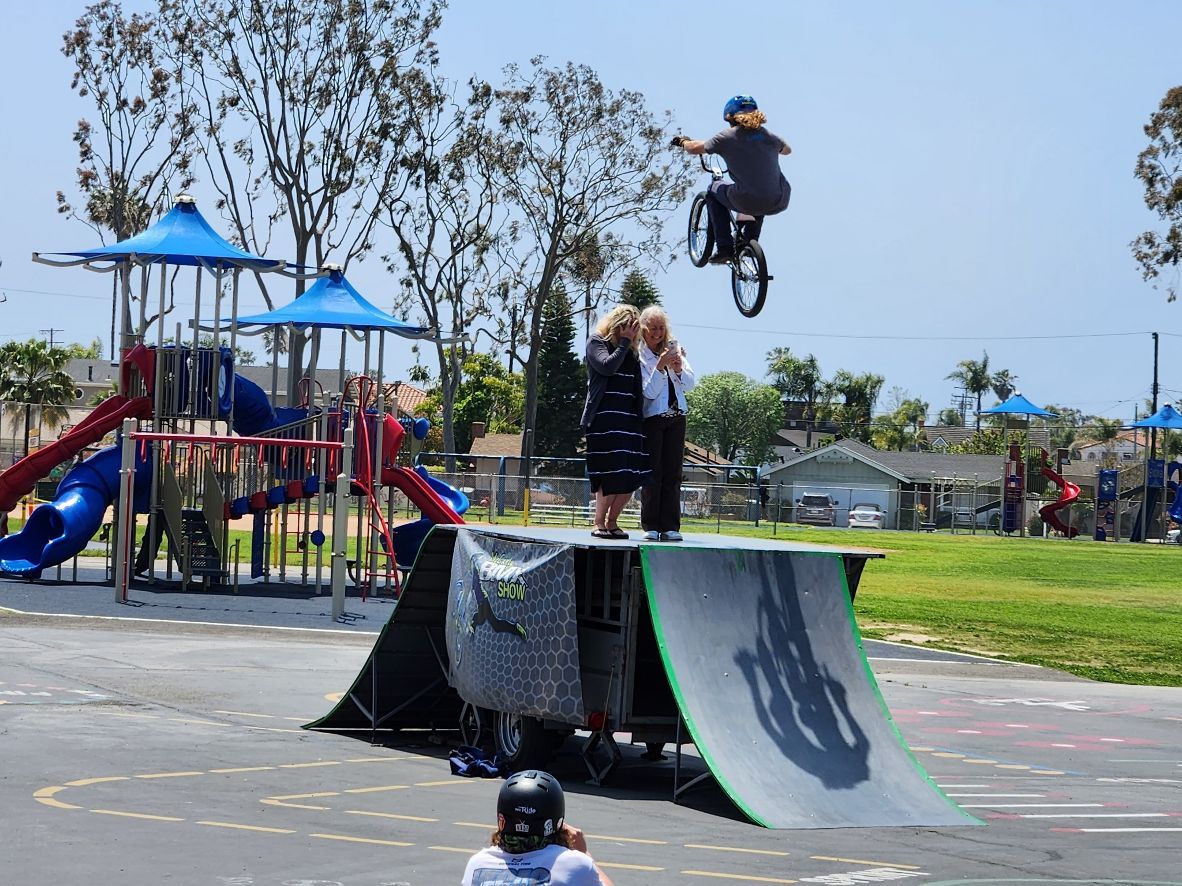 Photo by Kelley Hoisington
I just had to share a moment from my kids' school this week.
Check out the bravery of McGaugh Elementary school teachers Carrie Francisco and Leslie Obert, who is my daughter's teacher. They volunteered to be part of a BMX stunt show on campus in front of the whole school.
I was holding my breath as the stunt rider soared over the two teachers.
The show was a reward for students and families meeting a fundraising goal in the campus a Jog-a-Thon.
You can see more on the McGaugh PTA's Instagram.
(Disclosure: I'm on the board of the McGaugh PTA)
Have something fun to share from your campus? Email hello@spotlightschools.com and you could see it in an upcoming newsletter!
Copyright © 2023 Spotlight Schools, All rights reserved.
P.O. Box 164, Seal Beach, CA 90740