✏ Back-to-School Edition: Covid-19 rules for 2022-23; 🏈 Is the #1 HS Football recruit switching colleges? Plus, back-to-school safety tips.
🎃 Calendar Check: No school the day after Halloween; After-school activities; Plus, inspiring speakers at 'Careers without Borders'
🎃 Calendar Check: No school the day after Halloween; After-school activities; Plus, inspiring speakers at 'Careers without Borders'

Helping you better understand, navigate and participate in the TK-12 public school experience in Orange County.
In this Back-to-School Edition newsletter...
August 9, 2022
FIRST BELL 🔔 From Covid-19 rules to school meals: What's new in the 2022-23 school year.
SECOND BELL 🔔 Back-to-school safety tips. 🏈Plus, LAHS QB's trip sparks intrigue before the start of the football season.
EXTRA CREDIT 📌 After-school programs you don't want to miss.
RECESS 👏🏼 'Careers without Borders' connects students to inspiring speakers.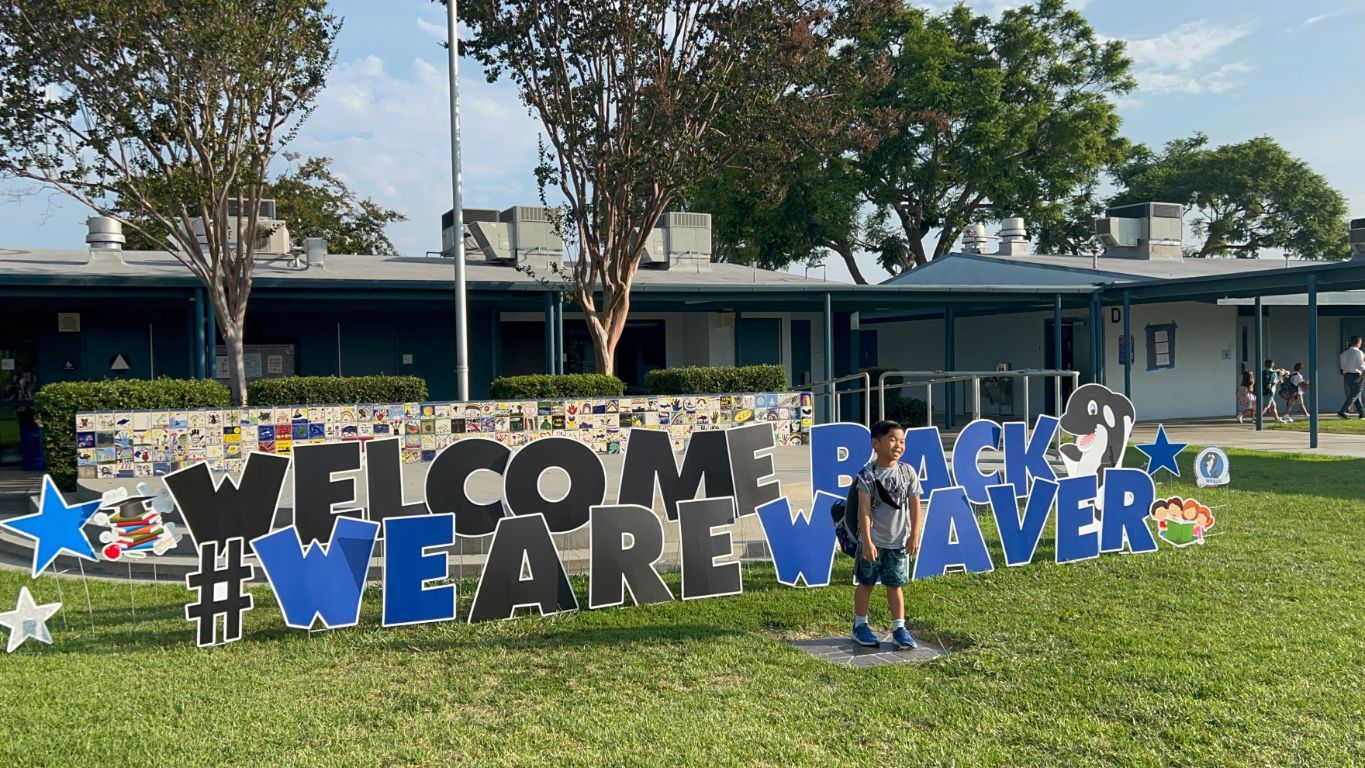 Back-to-school season has started. Weaver Elementary school in Rossmoor started the 2022-23 school year on August 3. Photo courtesy of Nichole Pichardo, Public Information Officer for the Los Alamitos Unified School District.
Spotlight Schools is a nonpartisan, hyperlocal newsroom covering education in Orange County and this is our weekly newsletter.
Not a subscriber yet? Sign up here! And be sure to follow us on Instagram and Twitter for news and updates.
Please send feedback/story ideas/questions to hello@spotlightschools.com.
Yours in knowledge,
Jeannette Andruss, Spotlight Schools Founder and parent of two students in the Los Alamitos Unified School District
FIRST BELL
This Week's Top Story
Back-to-School Season has officially started
What's new for the 2022-23 academic year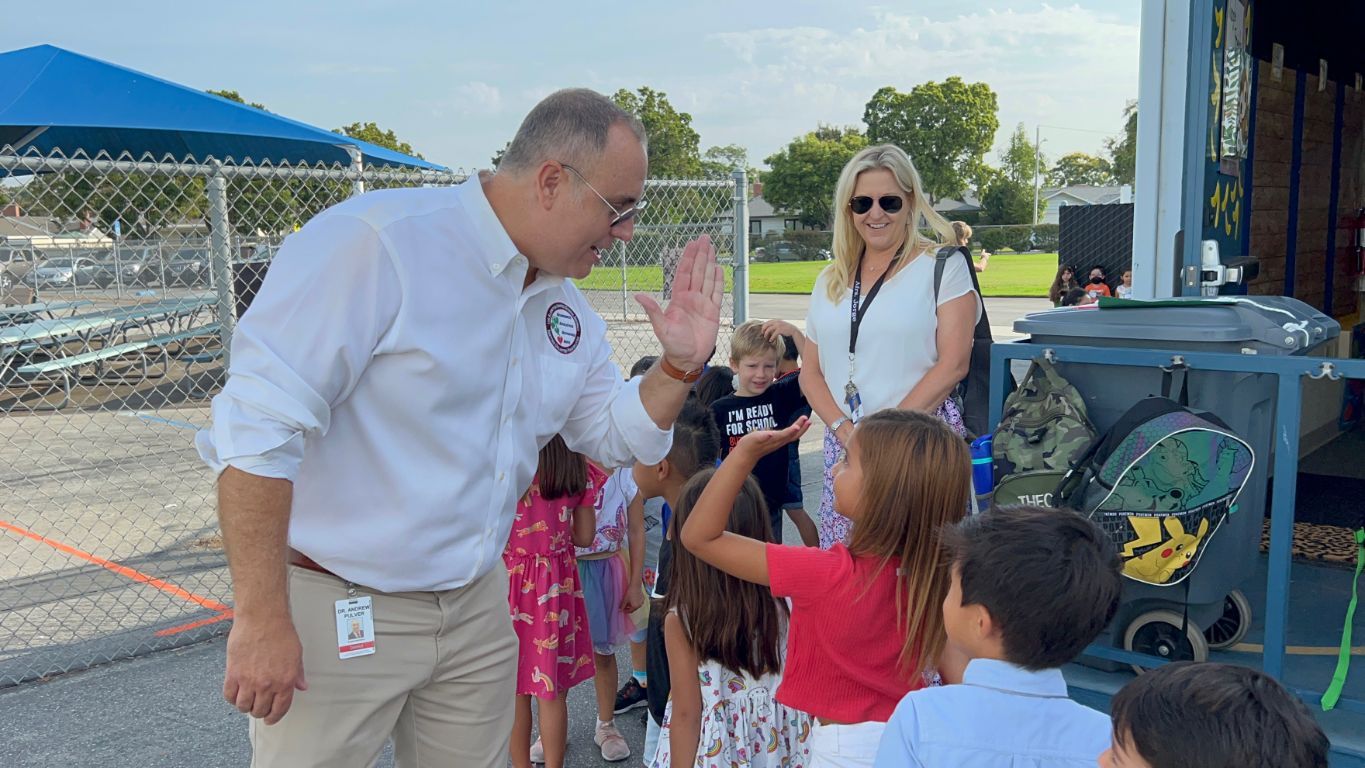 Los Alamitos Unified School District Supt. Andrew Pulver, Ed.D., greets students at Weaver Elementary school on their first day of the 2022-23 school year. Photo courtesy of Nichole Pichardo, PIO for Los Al USD.
It's happened again. Summer has flown by and school will soon be back in session. For most TK-12 students in Orange County, the 2022-23 school year starts this month.
Meanwhile, some children are already back in class. That includes students at Weaver Elementary School. On August 3, families crowded back onto the Rossmoor campus to start the new school year.
Last week, Weaver was buzzing with energy as students bustled about, toted their backpacks and reunited with friends. Grownups greeted one another, then paused to snap pictures of their children before they ventured into a new year of learning. Teachers welcomed their new pupils with smiles and open arms.
"We're feeling all the nerves but we're feeling so excited," said mother Samantha Roberts whose son was starting his first day of kindergarten.
The other eight campuses in the Los Alamitos Unified School District will welcome back students on August 15. Most of the 27 other public school districts in Orange County also start in August.
As families return to campuses, Spotlight Schools compiled some vital information for our back-to-school newsletter.
Here's what you need to know for the 2022-23 school year.
COVID-19 RULES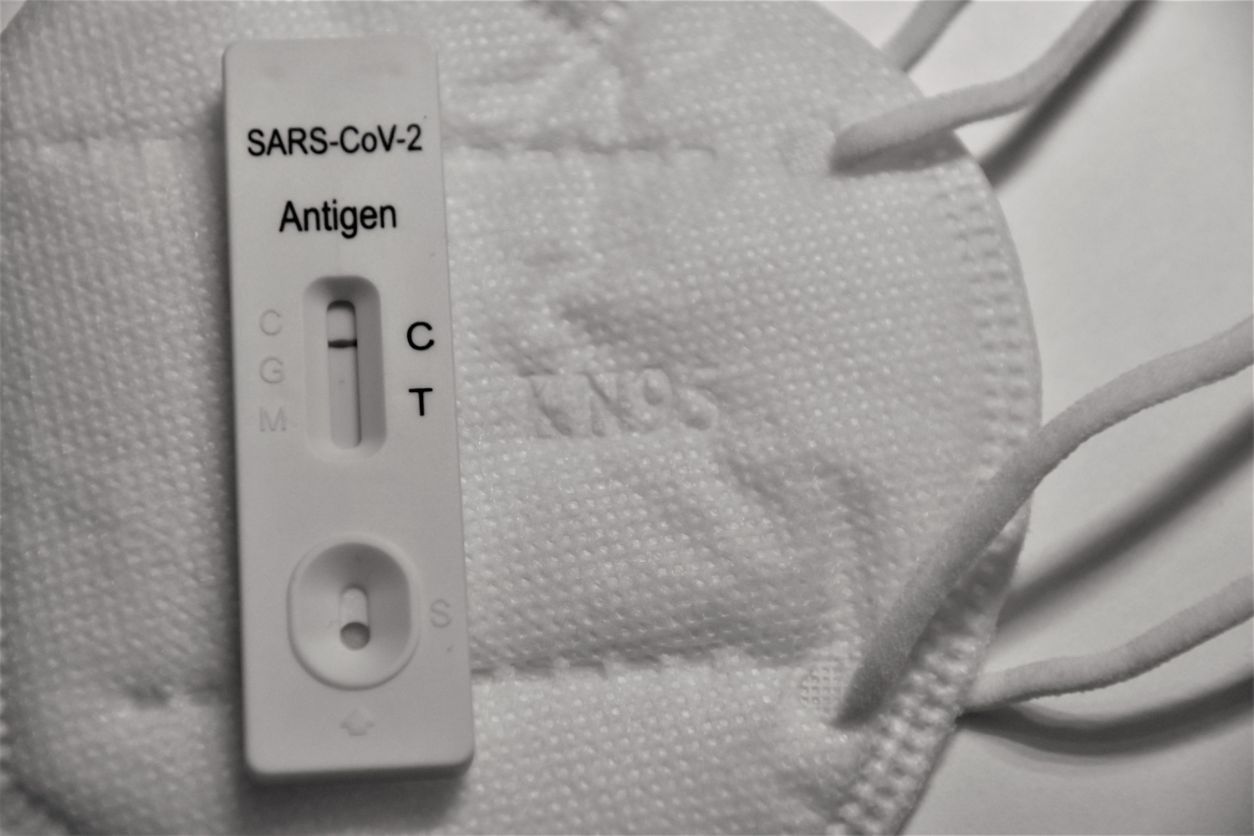 Photo by Waldemar Brandt on Unsplash
We have all been dealing with Covid-19 since March of 2020.
But for students, teachers and families, this upcoming 2022-23 school year marks a shift.
This is the first academic year to start since the pandemic emerged without a statewide universal indoor mask mandate at TK-12 schools.
The California Department of Public Health's (CDPH) guidance for TK-12 campuses released June 30 reads: "COVID-19 is here to stay, but we have learned methods and gained tools to decrease its impact on our health and well-being. California's schools can manage this disease in sustainable and adaptive manners."
According to CDPH, that includes being aware of community transmission levels, encouraging vaccination, optimizing indoor air quality on campuses, and increasing the availability of testing.
Orange County currently ranks in the "high" transmission category by the Centers for Disease Control and Prevention. The number of Covid-19 positive people hospitalized in the area has dropped in recent days.
Health officials are still cautious. "I'm predicting that after the kids come back to school ... we probably will have another wave in early fall," Dr. Clayton Chau, director of the Orange County Healthcare Agency, was quoted as saying in a recent L.A. Times story. (Spotlight Schools emailed questions to OCHCA but did not hear back before the newsletter deadline.)
Remember there are levels of guidance when it comes to Covid-19. The CDC, the California Department of Public Health, county health care agencies and local school districts can all implement protocols and issue recommendations.
Based on what we've read at these levels, it appears there will continue to be an easing of Covid-related restrictions at TK-12 schools this academic year.
CNN recently reported that the CDC will soon loosen Covid-19 rules for communities, including for schools. Chalkbeat reports most districts are already doing that, including in Orange County.
After being the only O.C. school district requiring Covid-19 testing for students and staff, Santa Ana Unified announced it will drop mandatory Covid-19 testing this school year, according to The O.C. Register.
Guidance to school administrators from the Orange County Health Care Agency reads: "Effective July 1, 2022, all individual student case reporting stops." Schools are now only required to report to local health officials when there's an outbreak of Covid-19 which is when three or more people within a classroom or group activity test positive for Covid-19 within 14 days.
CDPH guidance still recommends "families notify schools if their child has COVID-19 and was on school grounds during their infectious period" so campuses can inform other families of a potential exposure.
Some school districts, including Los Alamitos Unified, will continue to notify families of confirmed Covid-19 infections and will update the dashboard that tracks cases among staff and students on a weekly basis.
So what does this all mean for you? Here is what you can expect with Covid-19 rules for school this year.
MASKS RECOMMENDED, NOT REQUIRED
CDPH will continue to make face coverings optional for students and staff at TK-12 schools. Wearing a well-fitting, higher-quality (N95 or K95, not cloth) mask is strongly recommended for indoor spaces.
COVID-19 VACCINATION ENCOURAGED
Public health officials continue to urge everyone who is able to get fully vaccinated against Covid-19. Right now vaccines are available for people six months and older.
There is no statewide Covid-19 vaccination mandate for TK-12 students. The earliest one could take effect is July 1, 2023, according to the CDPH. State lawmakers could act before that date but a bill that would have enacted a Covid-19 vaccine requirement for students was pulled in April.
School employees and campus volunteers are still required to show proof of vaccination against Covid-19 or provide a negative Covid-19 test.
ISOLATION/QUARANTINE/EXPOSURE
Right now, the OCHCA guidance for schools says people who test positive for Covid-19 should isolate for five days per CDPH guidelines.
For people deemed a "close contact" of someone infected with Covid-19, no quarantine is required as long as you do not develop symptoms or test positive for Covid-19. "Students may continue to take part in all aspects of K–12 schooling including sports and extracurricular activities," reads the CDPH guidance. It's recommended "close contacts" test 3 to 5 days after their exposure and wear a mask around others.
Remember school districts can implement stronger rules than CDPH or OCHCA so be sure to check with your local leaders.
Last month, the San Diego Unified School District required masking indoors during summer school after San Diego County was placed in the "high" category for Covid-19 transmission by the CDC.
SCHOOL START TIMES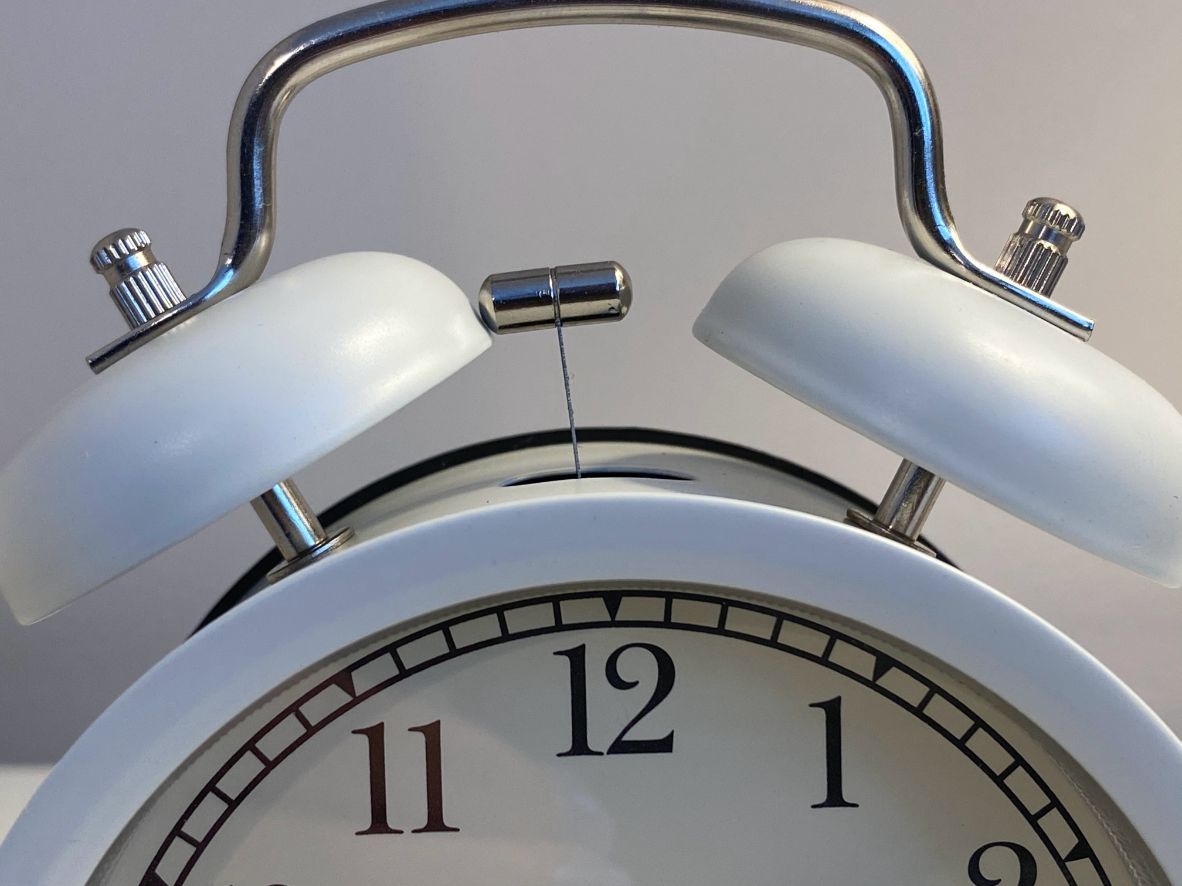 Photo by Catherine Hughes on Unsplash
There might be some extra snoozing in the morning for California's middle and high school students this fall. That's because a California law governing school start times is in effect for the 2022-23 school year. In 2019, California became the first state in the nation to pass a law mandating that high school could not start before 8:30 a.m. and middle school could not begin before 8:00 a.m. Zero periods are still allowed. Be sure to check with your campus to make sure you show up at the right time.
RELATED: Here's what some CA school districts have learned after implementing new school start times // EdSource
FREE SCHOOL MEALS
Serving free meals to all students became common during the coronavirus pandemic. That will continue in California, thanks to legislation that created a Universal Meals Program beginning this school year. The state's meal mandate requires schools to serve both "a nutritiously adequate breakfast and lunch for all children each school day."
PAID ADVERTISEMENT
SECOND BELL
Other Stories We're Following
Back-to-School Safety on the Roads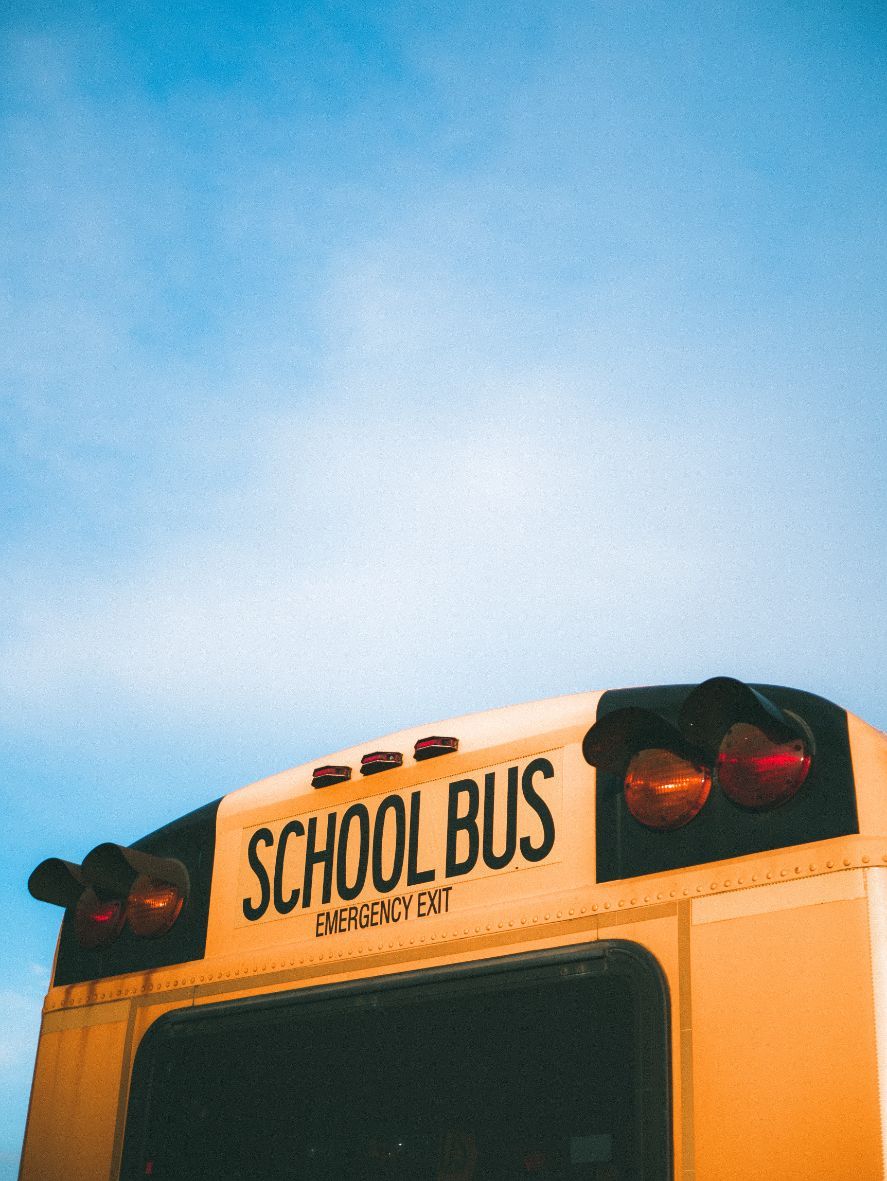 Photo by Nick Quan on Unsplash
Students will be back hopping on and off school buses, riding bikes and walking to campuses in the coming weeks and local law enforcement agencies want drivers to be aware.
"Please drive like it is your child, grandchild, niece or nephew walking or riding their bike to school," Seal Beach Chief of Police Philip L. Gonshak said in a press release.
"Pick-up and drop-off times can be hectic, but it's important to be patient and stay safe as children are getting to and from school," Gonshak added.
If you're driving by a school bus parked with a stop sign and flashing red lights, you must stop and remain stopped until the red lights stop flashing. That's so students can safely enter and exit the bus. This applies to drivers in both directions on any two-lane road without a median or a center turn lane, according to SBPD.
Some other tips include:
For parents with children walking or biking to school, teach them safe walking and riding behaviors, such as wearing a helmet, looking both ways before crossing the street, and crossing at marked crosswalks with stop signs or signals.
Drivers please slow down and follow the speed limit.
Adhere to school rules for dropping off and picking up students.
Avoid blocking the crosswalk while waiting to make a right-hand turn.
Please keep an eye out for crossing guards whose job it is to make sure students get to campus safely.
Top QB's trip adds plot twist to upcoming high school football season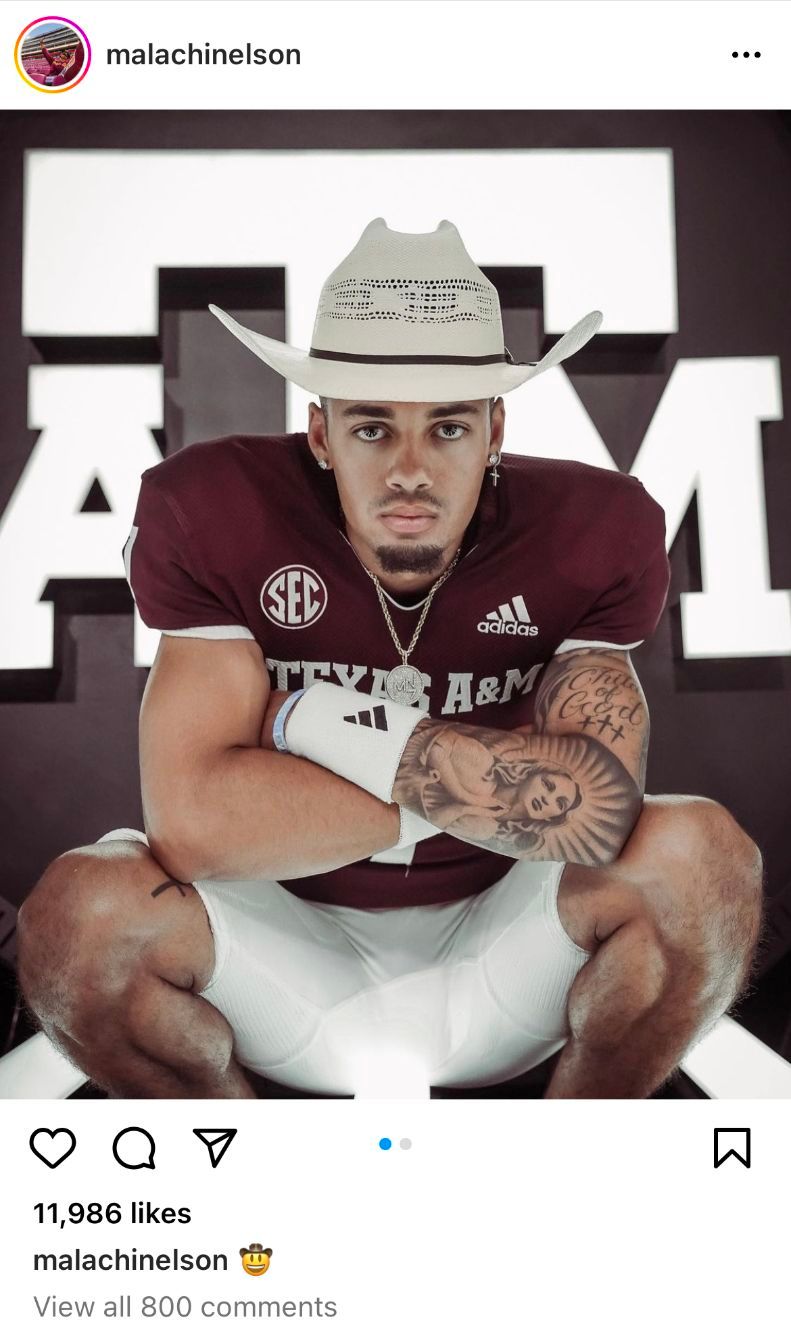 Los Alamitos High School quarterback and #1 recruit for the class of 2023 had committed to attending USC next year. Nelson recently visited Texas A&M and posted this picture on his Instagram account.
He knows how to make plays on the field and how to create buzz online.
Los Alamitos High School football star and incoming senior Malachi Nelson is stirring up intrigue just weeks before the season kicks off. He recently made an unofficial visit to Texas A&M University and posted pictures of himself in an Aggies jersey on Instagram.
It wouldn't be strange for the #1 recruit of the 2023 class to tour a college campus. But the teenage quarterback has already publicly committed to playing next year at the University of Southern California.
According to an August 7 article on SBLive, it's not yet clear if the Texas visit means Nelson is wavering in his commitment to USC. Nelson had previously pledged to play for Oklahoma but last November decommitted to follow coach Lincoln Riley when Riley left the Sooners to lead the Trojans.
No matter where Nelson plays next year, you can watch him this year in O.C. wearing the #7 Griffins uniform. See the Los Alamitos High School varsity football team's full schedule here.
RELATED: Malachi Nelson rated #1 in OCVarsity's Hot 150 high school football player rankings // The O.C. Register
🔥 FIRING UP STUDENT SECTIONS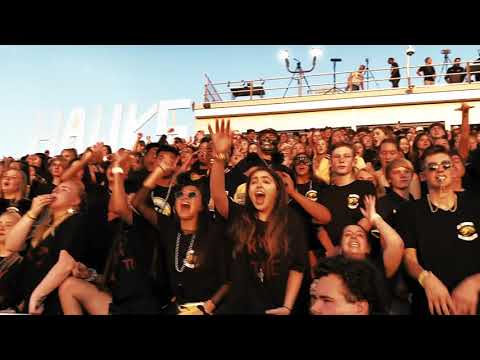 You bet the Los Al Locos will be yelling for their Griffins in a few weeks. And expect the Edison M.E.S.S. to be cheering for their Chargers.
Yes, it wouldn't be a high school football season without the fans. Boisterous student sections have become a rowdy staple in the bleachers and sidelines each fall. And in Orange County, they are also in competition with one another.
Check out OCStudentSections on Instagram for the latest on the battle to be the best student section in 2022.
🎃Time to Check the Calendar
Looking to schedule your family's upcoming vacation or figure out childcare for school breaks? Better check the calendar.
For instance, kids in the Los Alamitos Unified School District don't have to go to school on Tuesday, Nov. 1, the day after Halloween. While that could be a treat for kids, it could also be tricky for some families so it's best to plan ahead.
👉🏼 You can find calendars for all Los Alamitos USD schools here.
👉🏼 Find a link to every school district's homepage, which connects to their calendars, on the Orange County Department of Education's website.
📩 Subscribe to the FREE Spotlight Schools newsletter here.
Other Stories We're Reading
EXTRA CREDIT
Meetings // Events // Opportunities // Resources
HAPPENING TOMORROW, AUGUST 10: The Spotlight Schools event featuring aspiring astronaut Alyssa Carson happens at Rush Park Auditorium in Rossmoor. Click here to get tickets and more information.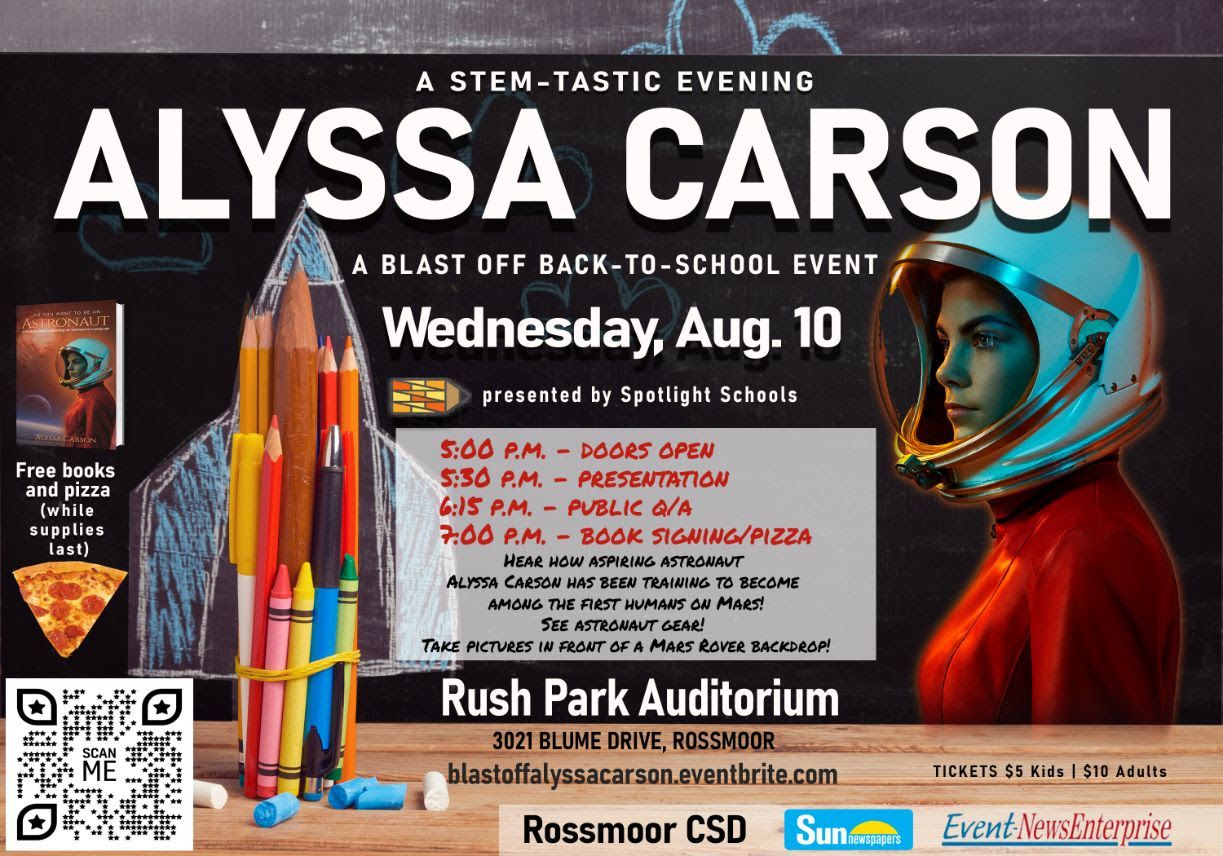 RESOURCES
AFTER-SCHOOL ACTIVITIES: Preparing for school is one thing, but what about scheduling those after-school activities?

On Thursday, the Los Alamitos Education Foundation's Fall Enrichment programs will be released. They feature a variety of classes that take place at the district's campuses. Enrollment begins August 12. Find out more information here.
The Youth Center also offers an after-school music academy for local children. You can find out more here.
RECESS
Your Dose of Good News
O.C. program connects students to inspiring people
Trailblazing Ballerina Misty Copeland is latest speaker in 'Careers without Borders' series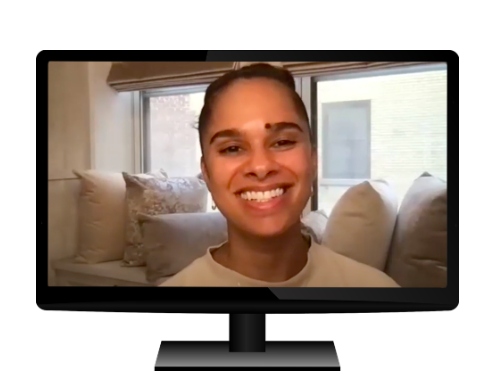 Ballerina Misty Copeland was the latest virtual speaker in the Careers without Borders program offered by the Orange County Department of Education. Screenshot from website.
Some Orange County students got an inspirational boost this summer. Trailblazing ballet dancer Misty Copeland shared her story with students and educators in the Orange County Department of Education's ACCESS Program during a virtual speech on July 25.
Copeland grew up in nearby San Pedro with five siblings. She didn't find her passion with ballet until she was 13 years old and took a class at her local Boys & Girls Club.
"It was the first time that I felt seen," Copeland was quoted as saying in a recent article by the Orange County Department of Education Newsroom. "It was the first time I felt confident that I was good at something and that I was being told I was good at something."
And Copeland isn't the only inspirational figure to be interviewed through the OCDE's Careers without Borders program. Since 2020, it has hosted virtual speakers representing a variety of industries and professions including actor Danny Trejo, astronaut Dr. Bernard Harris, and former NFL star Ronnie Lott.
The goal is to expose students to a spectrum of career options by hearing stories from people who share similar backgrounds with ACCESS students.
OCDE leaders hope that by hearing these stories and engaging with these speakers, students will feel that their goals are within reach.
You can check out all the interviews from from Careers without Borders here.
Thanks for reading!
Forwarded from a friend? Subscribe to the Spotlight Schools newsletter here.
Follow us on Instagram @SpotlightSchools.
Our mailing address:
P.O. Box 164
Seal Beach, CA 90740

Copyright © 2022 Spotlight Schools, All rights reserved.