👩🏼‍🚀 Aspiring astronaut's advice for students; When you can tour the new STEM building at LAHS; Plus, O.C. teen helping students get school year off on the right foot;
Update on Cypress Teachers' contract dispute; Signature verification underway in recall effort; Save the Date for the State of the District
Update on Cypress Teachers' contract dispute; Signature verification underway in recall effort; Save the Date for the State of the District

Helping you better understand, navigate and participate in the TK-12 public school experience in Orange County.
In this week's newsletter...
July 26, 2022
FIRST BELL 🔔 What an aspiring astronaut 👩🏽‍🚀 wants students & educators to know.
SECOND BELL 🔔 When you can tour the new bond-financed STEM building at Los Alamitos High School. Plus, Cypress teachers meet with district in mediation over contract.
EXTRA CREDIT 📌 The O.C. Board of Education to meet today; Bounce houses, 'Crops with a Cop' garden, K9 demo and more expected at National Night Out events.
RECESS 👏🏼 O.C. teen needs your help getting sneakers for students in need.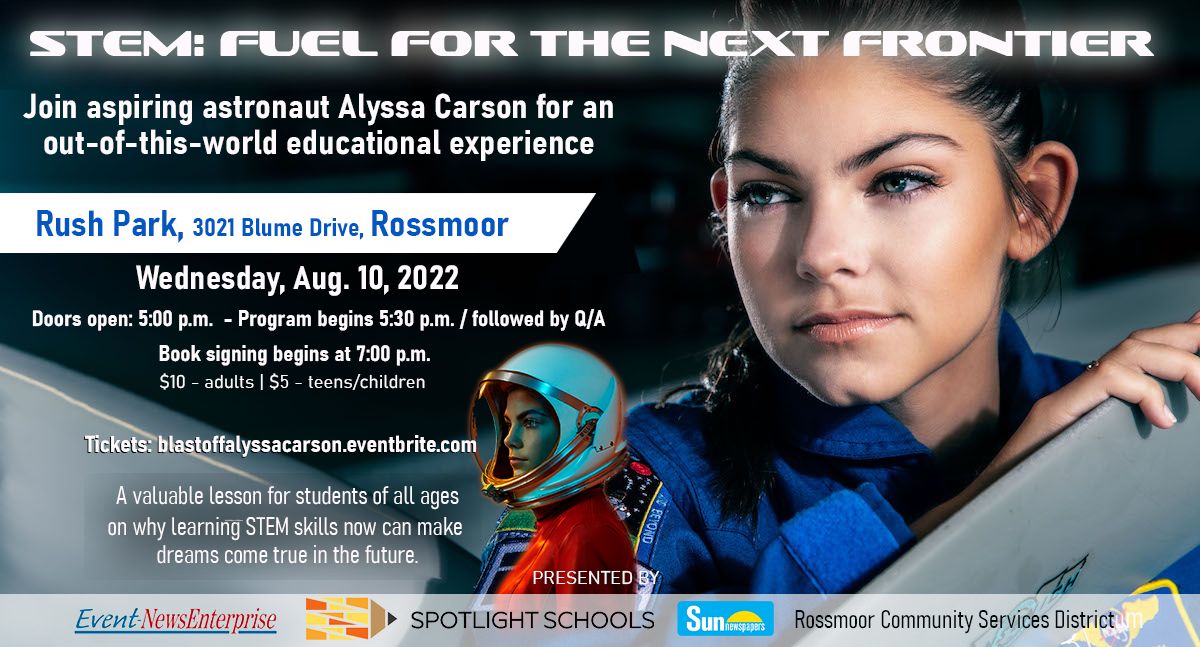 Aspiring astronaut Alyssa Carson will make her first visit to Orange County next month to inspire local students.
Spotlight Schools is a nonpartisan, hyperlocal newsroom covering education in Orange County and this is our weekly newsletter.
Not a subscriber yet? Sign up here! And be sure to follow us on Instagram and Twitter for news and updates.
Please send feedback/story ideas/questions to hello@spotlightschools.com.
Yours in knowledge,
Jeannette Andruss, Spotlight Schools Founder and parent of two students in the Los Alamitos Unified School District
FIRST BELL
This Week's Top Story
Future Mars Walker's message for students: 'Think outside the box'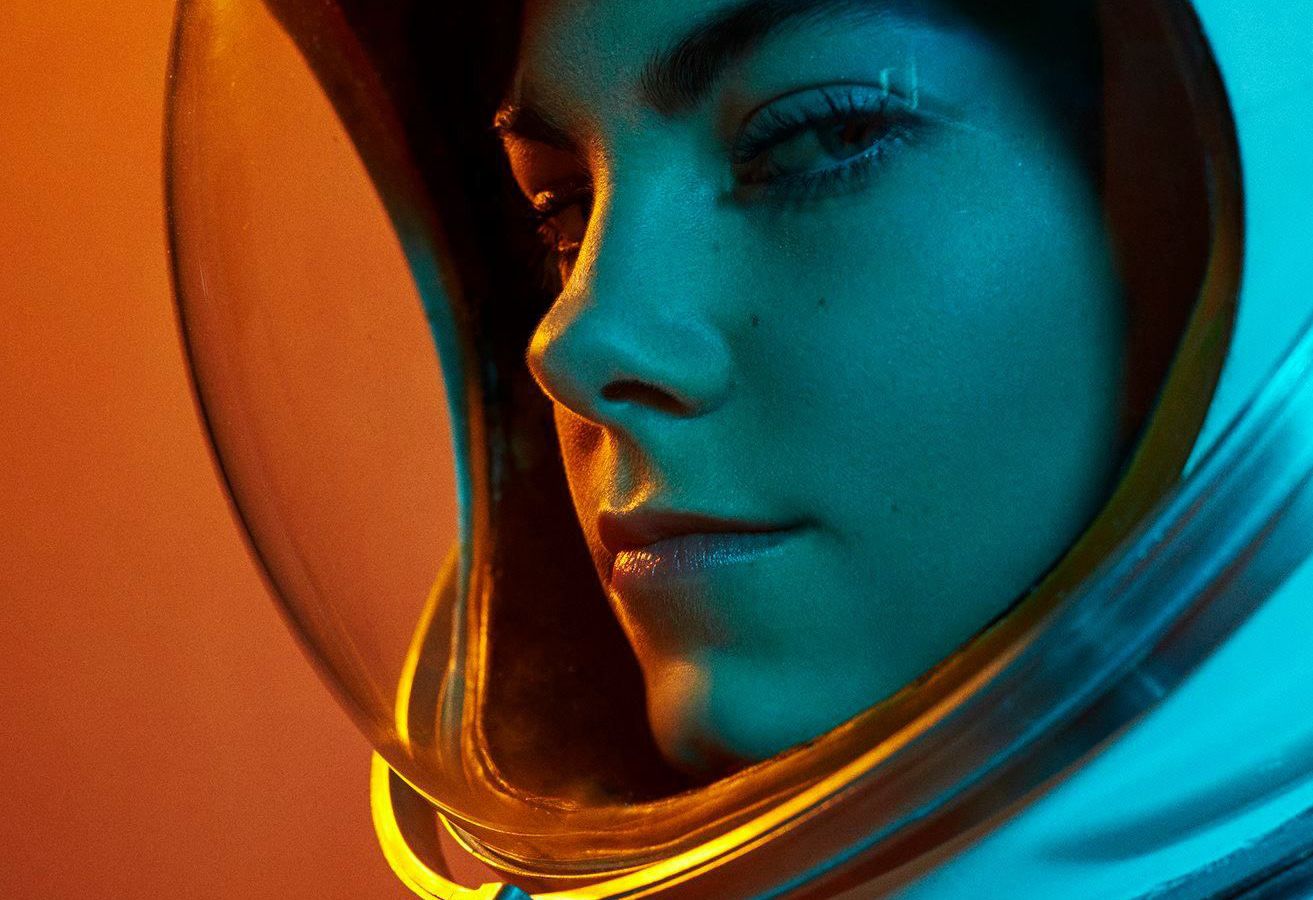 Billed as the youngest astronaut in training, Alyssa Carson encourages students to follow their dreams. Courtesy photo.
Aspiring astronaut Alyssa Carson hopes to be among the first humans to visit Mars.
But before she blasts off, the 21-year-old astrobiology major will make her first visit to Orange County. Next month, in an out-of-this-world educational experience, Alyssa will share the story of her inspiring journey to become an astronaut and showcase how Science, Technology, Engineering, and Math (STEM) skills are fueling the future of the space industry.
It's happening Wednesday, August 10, at Rush Park Community Center at 3021 Blume Drive in Rossmoor. (Click here to get tickets!) The first 100 students to get tickets will receive a free copy of Alyssa's book "So you want to be an Astronaut," a guide for kids interested in careers in space.
Earlier this month, Spotlight Schools chatted with the space enthusiast who boasts nearly a million followers on her social media accounts. In a phone interview, the undergraduate at the Florida Institute of Technology talked about her mission to inspire young people on Earth to pursue their dreams.
Here's a quick Q and A from the conversation, which has been edited for length and clarity.
When Alyssa was very young and dreaming of landing on Mars, it "wasn't realistic" she said. But now, NASA, space agencies from other nations and private companies are exploring sending humans to the Red Planet.
What is your message to young people?
"I'm just really encouraging young people that you don't have to wait until you're in college or graduate high school to start working towards your dream. If you're interested in something, go for it. And be open to talking about your dreams and your goals and sharing whatever ideas that you have. Because I know that someone like me, when I was young, saying I want to be an astronaut, go to Mars, all these really big ideas, that wasn't realistic whatsoever at the time. … But the more I work towards this, the more of a reality it's becoming. So never really shy away from even some of those crazier ideas."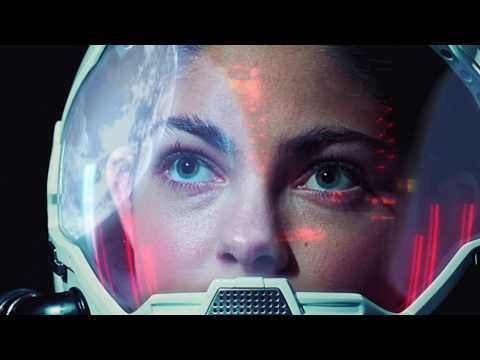 Alyssa Carson was featured in a Nike ad in 2020 about her dream of living on Mars.
Alyssa said when she was in elementary school, the professions she heard about were traditional. Think doctors, teachers, lawyers. But she encourages kids to think outside of the box when they are looking to the future.
What should kids today think about a career in the space industry?
"I really want kids to know that if they have an interest in space, make connections to some of their other interests, you know, whether that is psychology, whether that's journalism, maybe it's food, maybe it's design, you know, there are so many different jobs within space that we don't even think about. And so just exposing kids to maybe think outside the box a little bit because they can have a passion or dream or even mix some of their interests to really find something that they're most passionate about. I even kind of joke around with some future careers that you know, maybe don't even exist yet. Maybe in the future, we'll have space flight attendants or you know, kind of these crazy careers that we think are completely impossible at the moment."
Alyssa grew up in Louisiana and attended a private K-12 school. She credited her teachers for fostering her love for science and math in pursuit of her goal to become an astronaut.
What role can educators play to prepare kids for a future in space?
"Educators have such a special role in impacting kids' lives and it's super important educators are just as supportive as a parent would be. The thing that I love to tell kids is that it's important to have at least someone supporting you with your dream and by supporting you, they can just be there to tell you, 'you got this.' If a kid brings up a certain topic in class, teachers can help them learn a little bit more, even if it's not something they are super knowledgeable about. Because I think that teachers have a very special way of shaping kids, I'm really excited to see some of the really cool space topics like images from NASA's James Webb telescope and things like that trickle down into the classroom."
Have a question for Alyssa?
You can get it answered at the Blast Off Back-to-school event on August 10. She will participate in a Q&A session after her presentation.
💫 Don't miss out on the event that will have children reaching for the stars and beyond.
Get tickets here now!
SECOND BELL
Other Stories We're Following
STEM Building Nearing Completion at LAHS
Community can attend Open House to tour bond-financed facility
Recent photo of the front of the new three-story STEM building at Los Alamitos High School. Photo courtesy of Los Alamitos USD
Los Alamitos High School students will soon have a new facility to learn chemistry, physics, engineering and more.
Construction on a new three-story 86,000 square foot building is wrapping up right now. The gleaming STEM building with 30 classrooms is slated to welcome students on August 15, when classes start for the 2022-23 school year.
Today, a final concrete pour was scheduled outside the impressive building at the intersection of Los Alamitos Boulevard and Cerritos Avenue.
At the July 12 Los Alamitos Unified School District Board of Education workshop, C.J. Knowland, who is in charge of the project, gave a presentation on the progress.
Knowland alluded to some recent challenge in the construction including the delayed delivery of a fiber cable. Nevertheless, he expressed confidence the building would be ready in time for the fall. "We do expect it all to be complete," Knowland said. He emphasized that the priority has been on getting classrooms finished and functional for students.
"This project is a huge project for the community, the school district and I'm not gonna lie also for me, I'm really proud of the work that our whole team has put into it. And we're really trying to really wrap it up nicely for the start of the school year," Knowland told board members.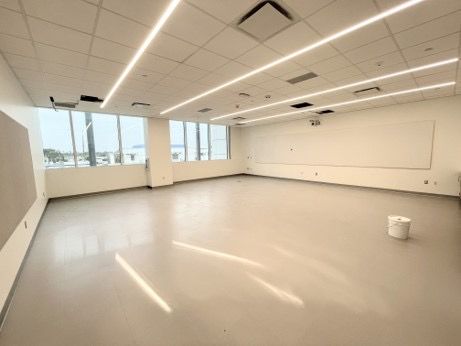 The interior of one of the new STEM building's classrooms. Photo courtesy of Los Alamitos USD.
The $67 million STEM building is being paid for with bond money from Measure G which voters approved in 2018.
An official invitation-only ribbon cutting ceremony at the STEM building will take place during the morning of August 24. Later that same day, the community is invited to tour the building during an Open House from 6-7:30 p.m., according to Los Alamitos USD Public Information Officer Nichole Pichardo. Pichardo said more details about the Open House will be made public soon so stay tuned.
Recall group turns in signatures to Election officials
Registrar of Voters' office has until August 29 to verify signatures
July 18 marked a deadline for proponents of an effort to unseat a Los Alamitos Unified School District Board of Education member.
The organizers attempting to trigger a recall election against Scott Fayette, who has represented Trustee Area 4 since 2020, did turn in signatures by the deadline, according to the Orange County Registrar of Voters' (ROV) office.
Now the office has until August 29 to verify if the group gathered enough valid signatures from registered voters in the trustee area to get a recall on the ballot. They need roughly 1,800 signatures to make that happen.
The signature verification can be done two ways: a 100% review of the signatures submitted or a random review. The prior applies if there are fewer than 500 signatures submitted, according to the handbook on recalling elected officials. "The random sampling shall include an examination of at least 500 or 5% of the signatures submitted, whichever is greater," reads the handbook.
According to the ROV, it costs $3.40 per signature verification and the bill for that will be sent to the district.
No deal after Cypress teachers and district hold first mediation
Contract dispute might not be resolved before school starts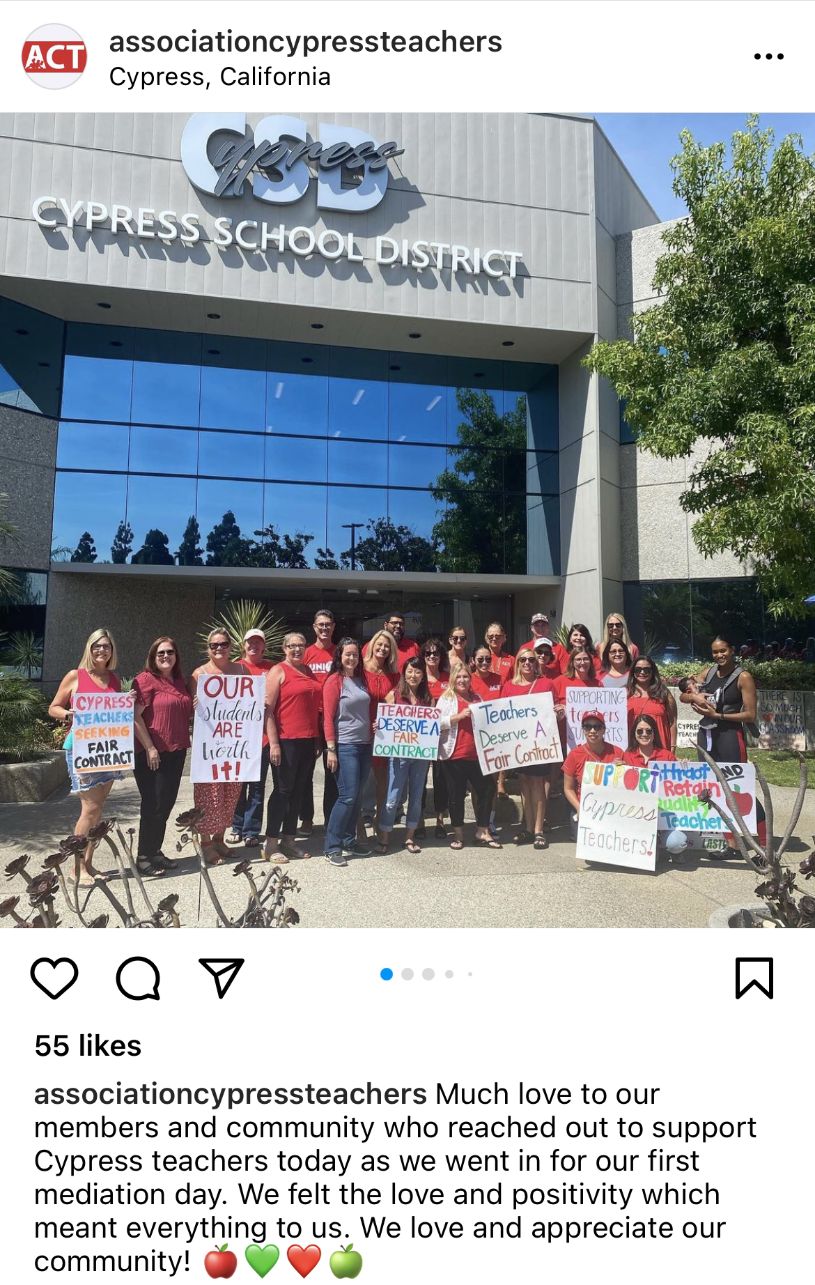 Cypress teachers and supporters rally last week on the first day of mediation between the union and the district over the teachers' contract. Image from ACT Instagram account.
The Association of Cypress Teachers (ACT) and the Cypress School District are no closer to resolving their contract dispute, even though the two sides held their first official mediation meeting on July 21.
According to Dr. Tim McLellan, Assistant Superintendent for Business Services, the two sides met as expected last Thursday. However, he said, the two sides simply met with the mediator from the California Public Employees Relations Board (PERB).
"We met, discussed preliminary and basic things," said McLellan, "and agreed to hold our first substantive meeting in September."
That suggests that an agreement may not be reached before the start of the 2022-23 school year.
Spotlight Schools also reached out to Elizabeth Dunagan, the ACT's top negotiator, but was unable to reach her before the deadline.
According to Instagram posts, teachers and community supporters rallied last week in advance of the mediation session. Members of the Los Alamitos Education Association showed up to show their support, according to an Instagram post.
The district and Cypress teachers have been meeting since January but have been unable to reach mutually satisfying terms for an employment agreement. The sticking points have been pay raises and health care benefits.
Declaring an impasse, the district pulled the plug on negotiations in May, forcing the process to enter into professional mediation for the first time in the district's history.
This story was written and reported by David N. Young.
✏️ Forwarded from a friend?Subscribe to this free newsletter here.
Other Stories We're Reading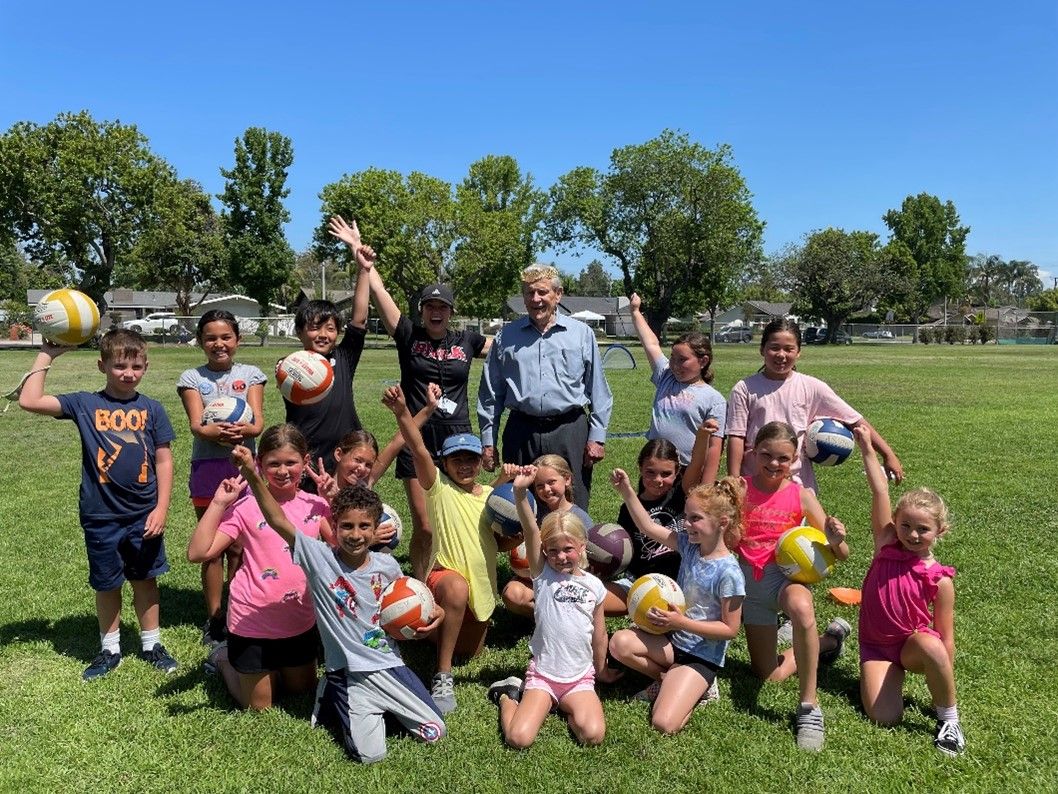 Summer Enrichment Institute Students posing with LAEF's King of Hearts, Mr. Dave Appling. Photo courtesy of LAEF.
EXTRA CREDIT
Meetings // Events // Opportunities // Resources
MEETINGS
HAPPENING TODAY, JULY 26: The Orange County Board of Education is holding a special meeting at 2:00p.m. at its meeting room at 200 Kalmus Drive in Costa Mesa.
On the agenda:
The hiring of Washington, D.C. based lobbying firm David Turch & Associates. Under the contract, the firm would be paid $120,000 for one year to "advise, counsel and represent the Board with, principally but not limited to, its affairs with the Legislative and Executive Branches of the Federal Government."
Seven inter-district transfer appeals from students.
You can watch the meeting streaming live on YouTube here.
EVENTS
Local law enforcement agencies announce events for National Night Out, a "national community-building campaign that promotes police-community partnerships."
HAPPENING TUESDAY, AUGUST 2: In one week, the Los Alamitos Police Department is hosting its National Night Out event from 5-8p.m at Little Cottonwood Park. Meet officers, listen to live music, participate in scavenger hunts and more. Details here.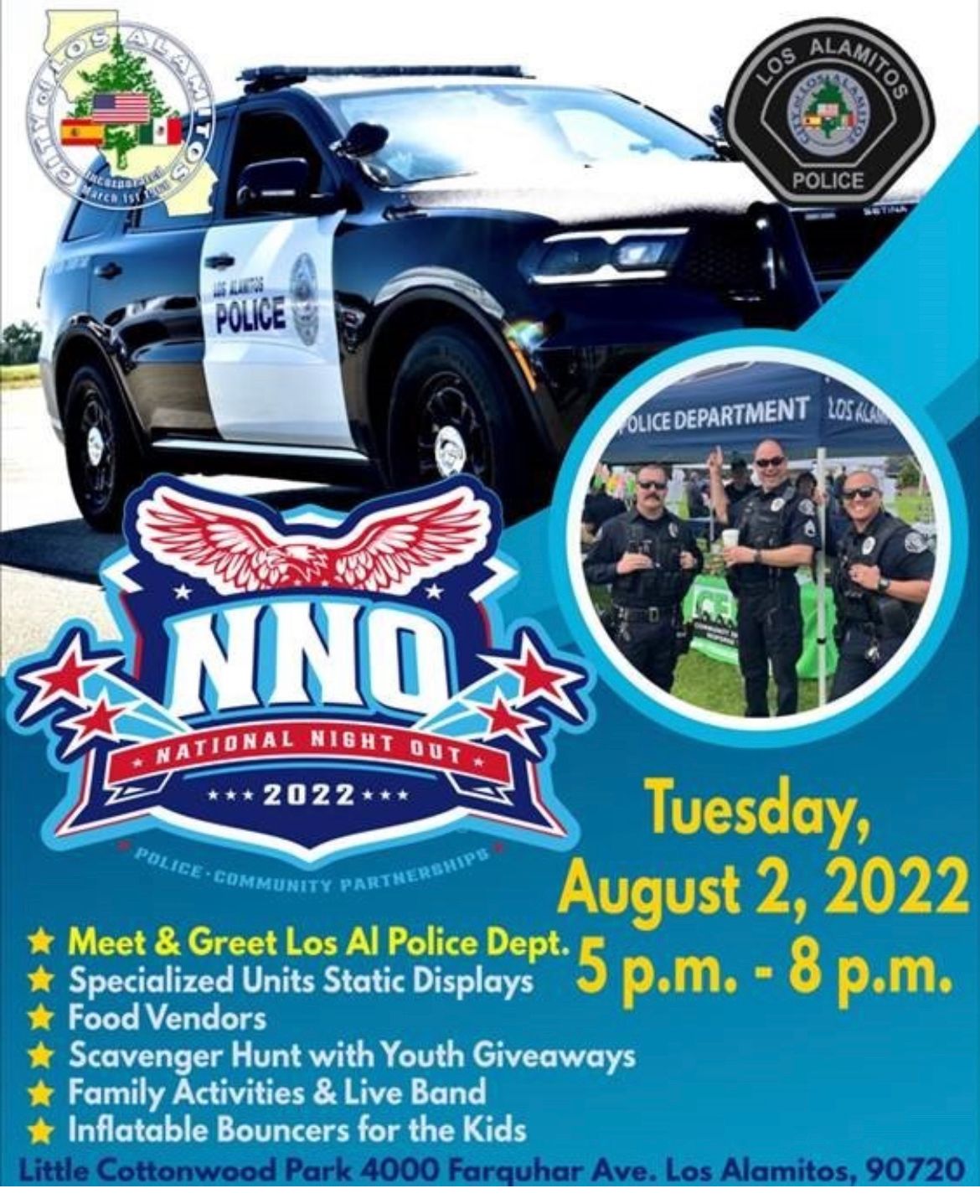 HAPPENING FRIDAY, AUGUST 5: The Seal Beach Police Department is hosting its National Night Out event and it will feature an Open House. It's happening from 5-8p.m. at the SBPD headquarters at 911 Seal Beach Boulevard. Activities include a bounce house, "Crops with a Cop" community garden, S.W.A.T. and K9 demonstrations and more. Details here.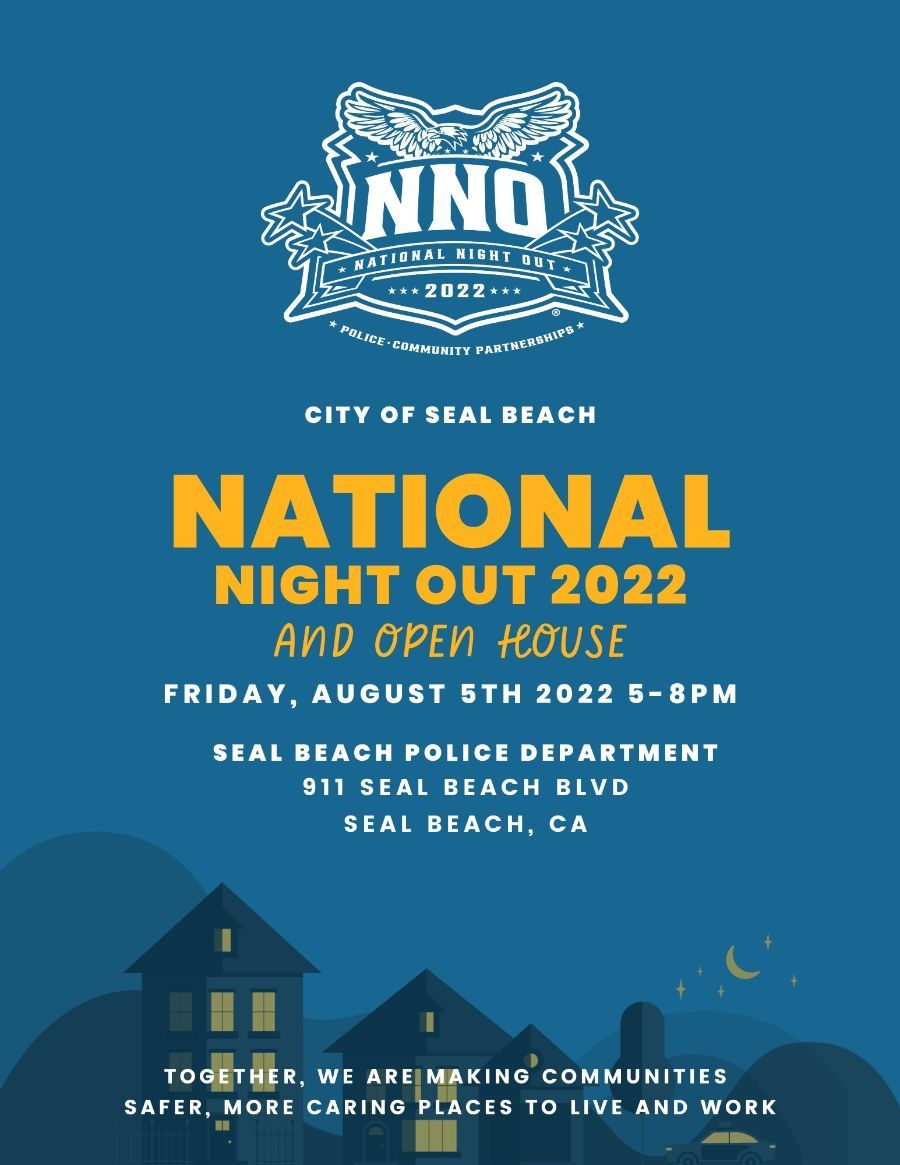 HAPPENING FRIDAY, SEPT. 23 The Los Alamitos Unified School District and Los Alamitos Education Foundation will host the annual State of the District breakfast featuring Superintendent Andrew Pulver, Ed.D, showcasing the district's goals. Tickets will be $30 each and available for purchase in mid-August. More information here.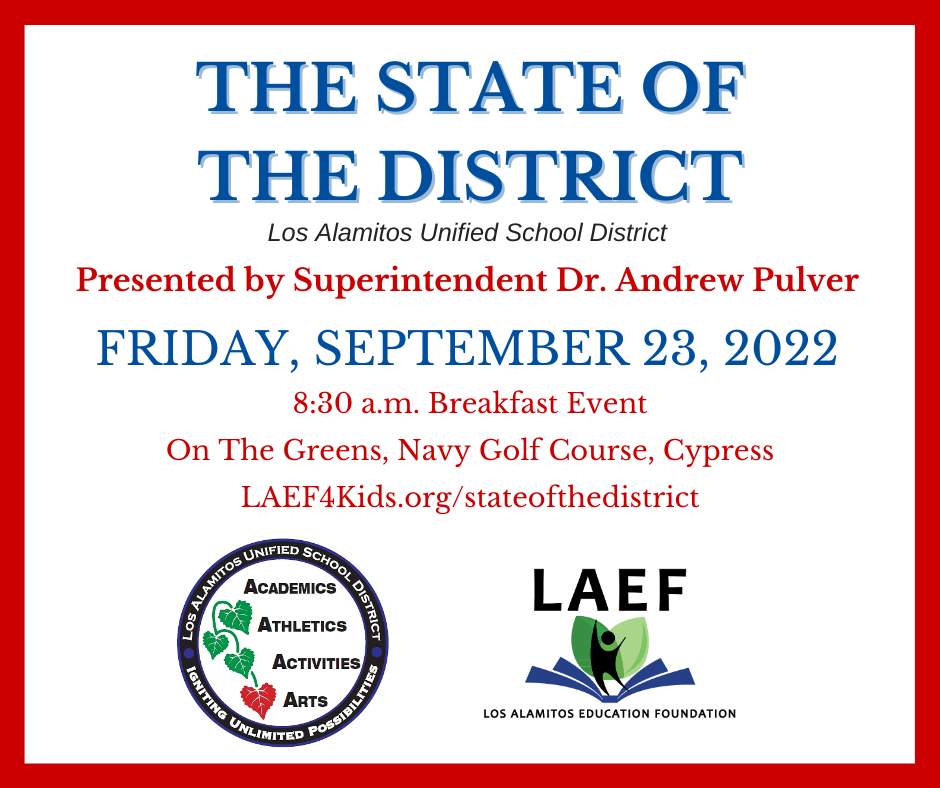 RECESS
Your Dose of Good News
O.C. Teen aims to help students start the school year off on the right foot
High School Senior raising money to buy sneakers for kids in need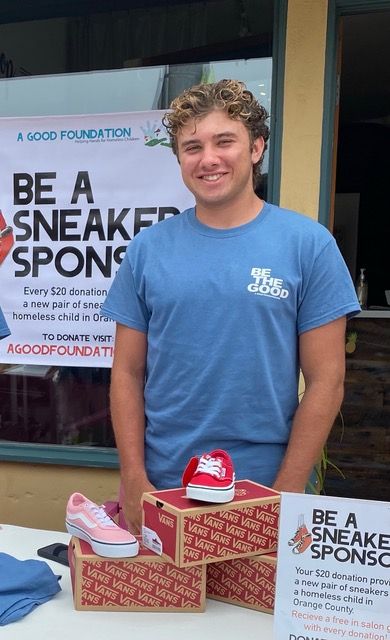 Laguna Beach High School student Nicolo Cambruzzi is raising money to buy sneakers for homeless children in Orange County. Photo courtesy of OCDE.
Laguna Beach High School incoming senior Nicolo Cambruzzi was in elementary school when he started his nonprofit A Good Foundation.
Over the years he's collected clothes for homeless children, teddy bears during the holiday season, and baseball mitts for kids in the Dominican Republic, according to the Orange County Department of Education Newsroom.
Now at 17 years old, Nicolo has not stopped trying to make an impact. He's currently fundraising to buy new shoes for students living at Colette's Children's Home in Huntington Beach, a shelter for women and children. The goal is to purchase 65 pairs of shoes before the summer ends.
"At the bare minimum, children should have the basic necessities," Nicolo told the OCDE Newsroom. "The goal is to help kids feel more confident so they can focus in school. I believe having new shoes to start the school year will help."
Read more about Nicolo's effort at the OCDE Newsroom.
💡Did you know? Nicolo's story was featured as part of the OCDE's One Billion Acts of Kindness campaign, an initiative started in 2016 to highlight and inspire good deeds. If you have an act to share, visit kindness1billion.org.
Thanks for reading!
Forwarded from a friend? Subscribe to the Spotlight Schools newsletter here.
Follow us on Instagram @SpotlightSchools.
Our mailing address:
P.O. Box 164
Seal Beach, CA 90740

Copyright © 2022 Spotlight Schools, All rights reserved.