🤖 3rd grade robotics team needs your vote!; PYLUSD hires new Supt.; Student demystifying school board meetings;
🌍 O.C. campus named Green Ribbon School
🌍 O.C. campus named Green Ribbon School
Helping you better understand, navigate and participate in the TK-12 public school experience in Orange County.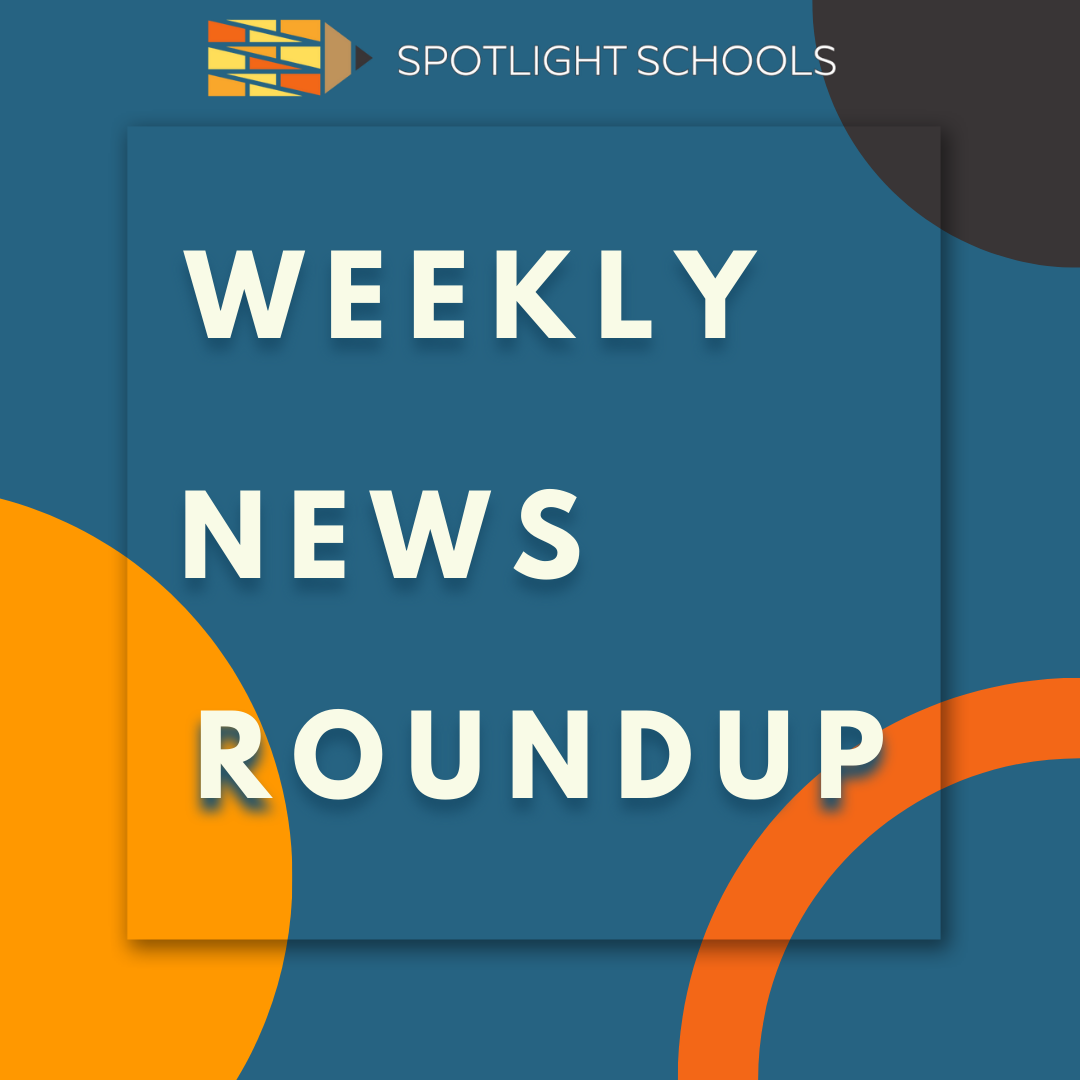 Spotlight Schools is a hyperlocal newsroom covering education in Orange County and this is the Weekly News Roundup newsletter.
You'll find original reporting from Spotlight Schools in addition to curated links to articles from a variety of newsrooms, education agencies and more to keep you on top of what's happening.
Be sure to check our Instagram and Twitter accounts for the latest news. And don't forget to visit our website to view all of our stories or support our coverage at SpotlightSchools.com.
Yours in knowledge,
Jeannette Andruss, Cofounder and Chief Editorial Officer
SPOTLIGHT SCHOOLS SPONSOR

WEEKLY NEWS ROUNDUP
Capo Unified's Student Board Member on a mission to get others involved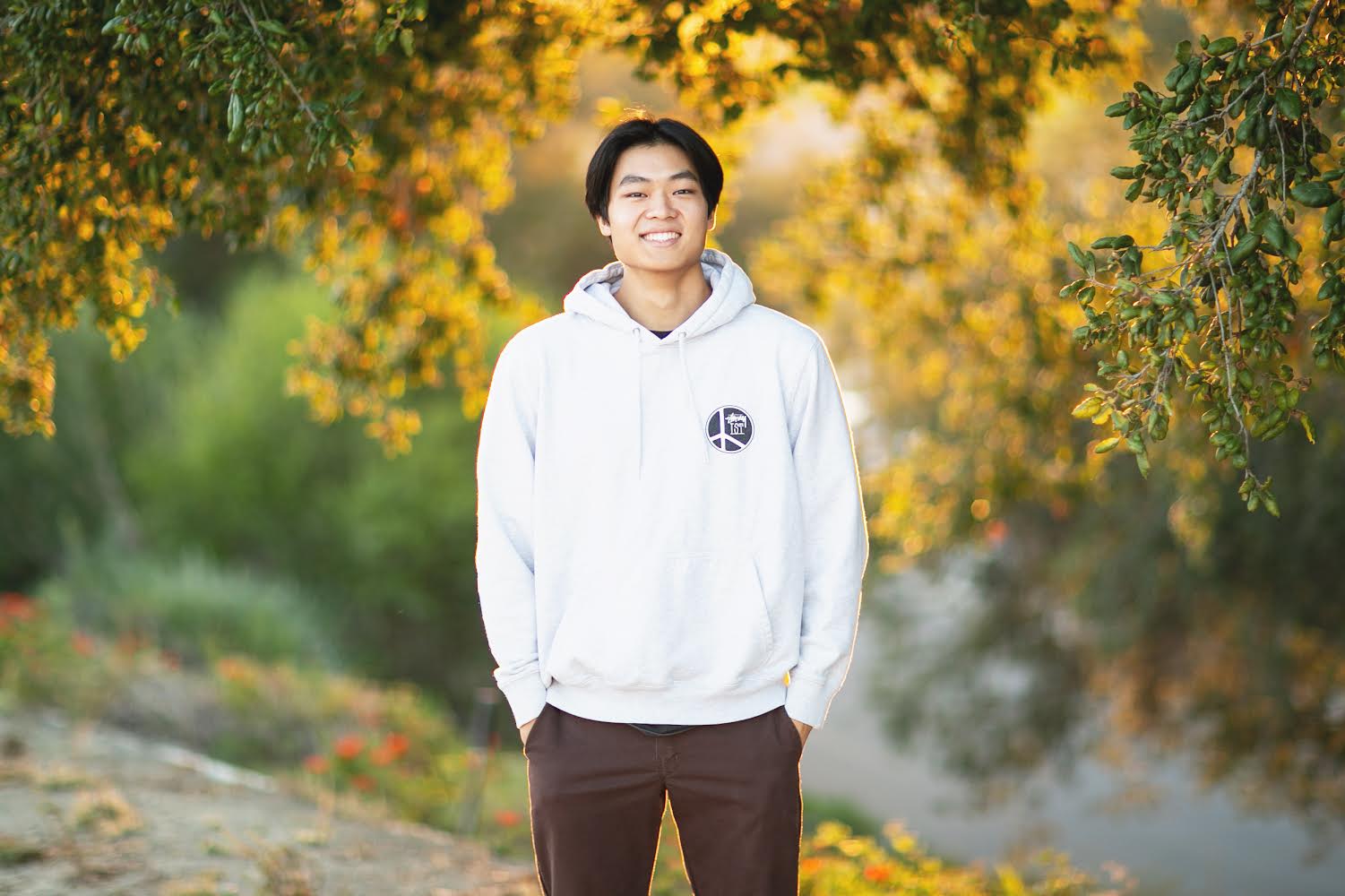 Capistrano Valley High School senior Alex Zhao is the student board member on the Capistrano Unified School District Board of Trustees for the 2022-23 school year. Courtesy photo.
Alex Zhao is one of the more than 49,000 students in the Capistrano Unified School District, Orange County's largest public school district.
But he has a job no other student attending the district's 64 schools or programs has.
The Capistrano Valley High School senior is the one and only student board member on the Capistrano Unified School District Board of Trustees. He applied for the position while a junior and was selected at the start of this school year.
It's a big responsibility that Alex takes seriously.
"I feel like I'm always trying to represent … a very large population," the teenager shared in a recent Zoom interview where he was enthusiastic about his role to speak on behalf of student interests on the board of trustees.
In his role, Alex is also allowed to cast "preferential" votes on matters before the board. His votes don't impact the outcome but they can influence other trustees, said Meg Ervais, Ed.D., the Executive Director of Secondary Curriculum and Education for CUSD.
"The trustees care what [Alex] has to say," Dr. Ervais said in a phone interview.
In addition to providing a student perspective on the board, Alex is also working to get his peers to participate at board meetings.
Earlier this school year, with permission from the district, he launched an Instagram account after hearing others question what happens at a board meeting.
"The process of a board meeting is mysterious to students," Alex explained and added, "I thought that's not a great thing." He emphasized that students should be knowledgeable about how to interact with the system that is making decisions that impact them.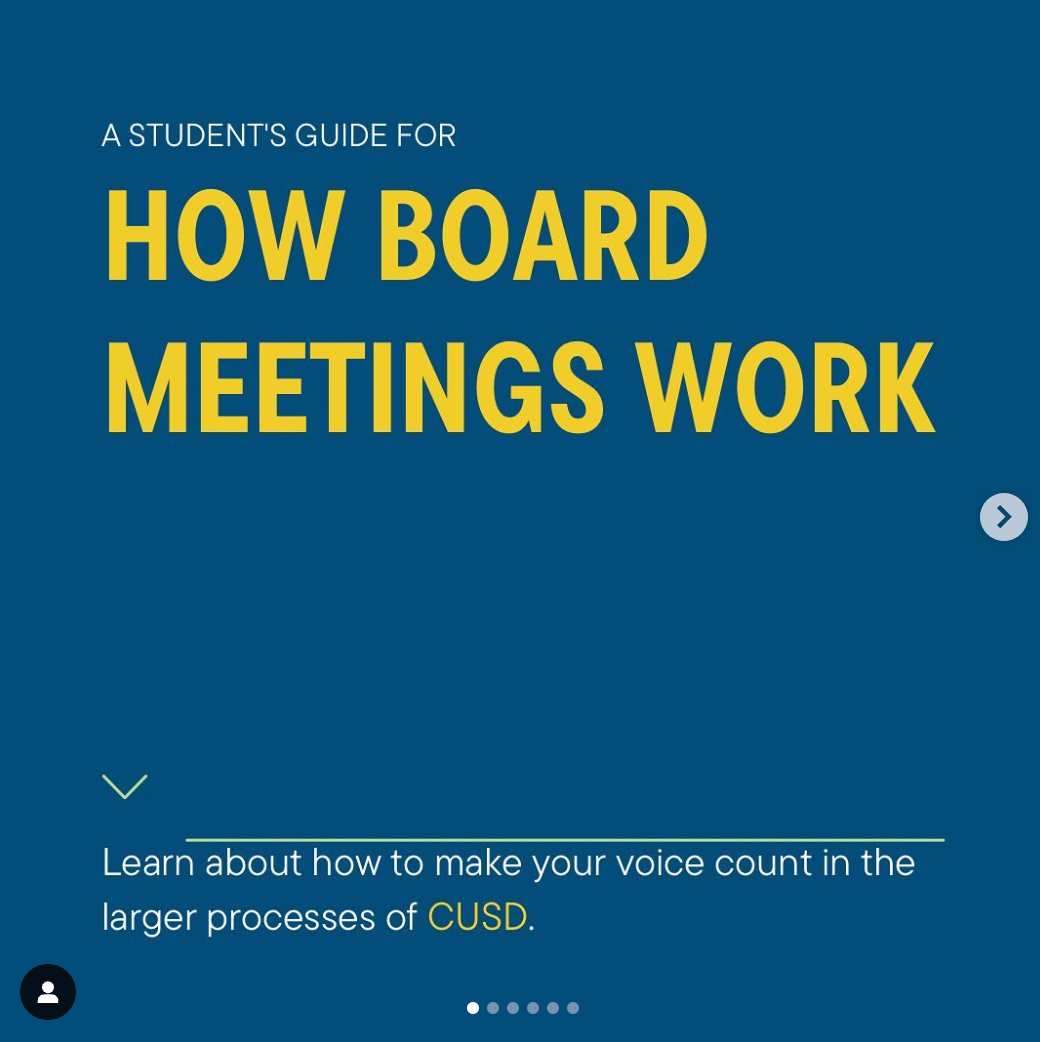 Screenshot shows a post from the CUSD student board member Instagram account Alex started this academic year.
His first post was titled, "A Student's Guide for How Board Meetings Work."
In part of the now-pinned post, Alex explains how to submit a public comment reminding students that their voice matters.
"Sometimes, [board] agenda Items will directly impact students. This is why it is very important to know how to address the Board of Trustees if you would like to voice your opinions about certain Agenda Items," he wrote. He's also been posting reminders of board meetings and offering recaps in the days after.
Alex is encouraging other students to voice their opinions to trustees and said that has become one of his main goals.
"It's to tell kids that you have a voice in … decision making at a district level and even if you're not in the [student board member] seat, there's still many mechanisms for you to speak up, and to kind of directly influence decisions and choices that are made at this level," he said.
Read the whole story on SpotlightSchools.com.
PYLUSD hires new Superintendent
Three other O.C. districts still searching for new leadership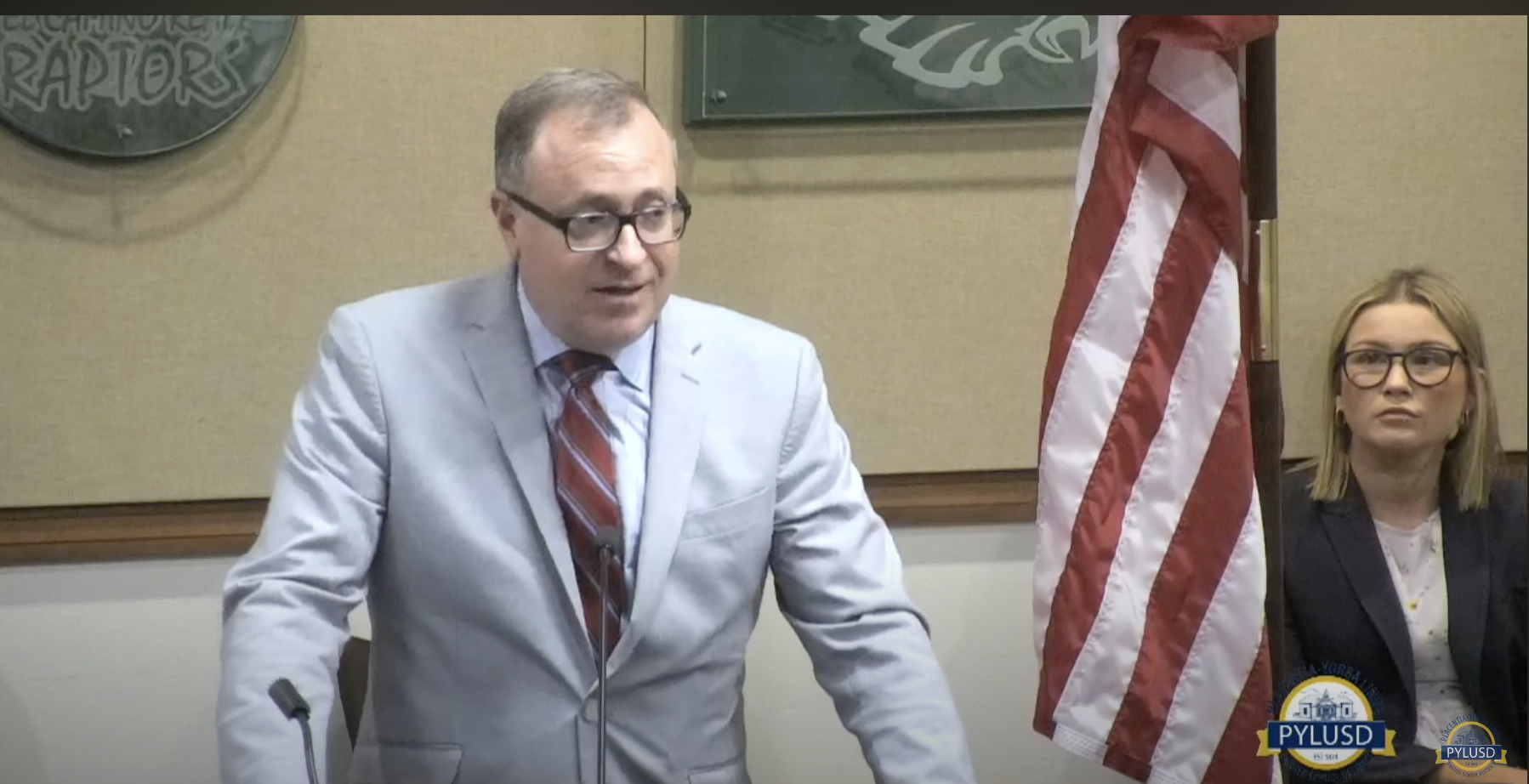 Screenshot shows Alex Cherniss, Ed.D., the new Superintendent of the Placentia-Yorba Linda Unified School District speaking at the April 18 board meeting where he was hired. YouTube.
At its April 18 meeting, the Placentia-Yorba Linda Unified School District Board of Education voted 5-0 to hire Alex Cherniss, Ed.D., as its new superintendent.
"[PYLUSD is] a wonderful district, made up of people that really care about kids. And that's what I'm all about. And I think that I can make it better. And that's what I'm going to be dedicated to doing, is working with all of you," Dr. Cherniss told the board and public at the meeting.
He said a top priority will be getting more of the district's 23,000 students to meet and exceed California's grade level standards. According to EdSource, In 2022, 64.39% of PYLUSD students met or exceeded the state standard in English. In math, 52.02% of students met or exceeded the state standard.
Dr. Cherniss was previously superintendent at Palos Verdes Peninsula Unified School District, reports The Daily Breeze.
In its press release announcing the hiring of Dr. Cherniss, PYLUSD praised his response to the disruption to schools during the Covid-19 pandemic, stating "when state and county policy did not align with the views of his school community, Dr. Cherniss advocated fervently for school reopening and policy change."
Before the vote on April 18, three public commenters shared their opinion at the meeting. One woman said that Dr. Cherniss is tasked with leading a "divided community" and asked that he speak with stakeholders representing all viewpoints.
In his remarks after the vote hiring him, Dr. Cherniss said, "What I'm learning is, people in this community have strong opinions about everything. And that's okay. There is a unifying voice here, and that is that everybody wants what's best for the students in this community. And so my role will be to make sure that all of these difference of opinions on how to get there, we stay focused on what's best for kids," he said and continued, "That is about amplifying student voice, it's about bringing parents to the table, it's about bringing the community to the table, and that's what my focus will be on."
CAPISTRANO UNIFIED AND OTHERS STILL SEARCHING FOR NEW LEADERSHIP
Meanwhile, this week the Capistrano Unified School District Board of Trustees heard a report on results from a survey of the community about what stakeholders are looking for in a new superintendent.
Representatives from ESS Consultants, the company charged with overseeing the search, did not go into details about the Leadership Profile Report during the April 19 board meeting.
According to the document, it included input from "a cross-section of 320 stakeholders who participated in focus group meetings, individual interviews, and community forums." Results from more than 2,100 survey respondents were also included.
Participants identified some of the biggest challenges facing the next superintendent would be overseeing the modernization and repair of district facilities, building trust in the district, and overcoming political discord in the community.
The report stated, "A number of stakeholders said education has become the center of a current day 'political war,' and indicated the Board of Trustees needs to be 'a united and strong front' to keep from being hampered by such conditions."
According to its timeline, the CUSD board's next step is to select candidates to interview at a meeting on May 3.
In the Buena Park School District's search for its top administrator, the timeline posted online shows candidates for the position of superintendent will be interviewed by the board starting on May 3.
Meanwhile, the Orange Unified School District appears to have put its search for a new superintendent on hold. At its April 13 meeting, the divided board tabled the hiring of a search firm to find a new leader, according to The Orange County Register.
OCDE releases strategic vision for 'Empowering Students to Thrive'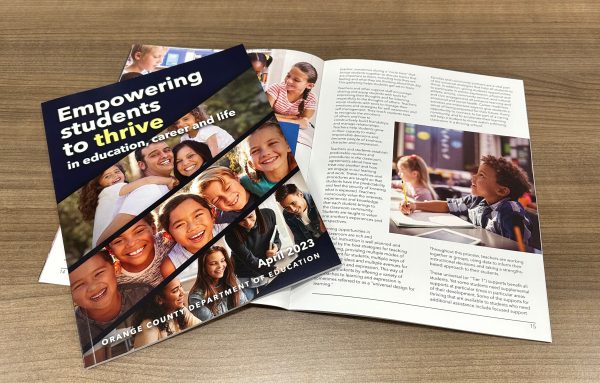 The Orange County Department of Education has released a 50-page report highlighting its vision for "Empowering Students to Thrive in Education, Career and Life."
"For students, thriving should not be confused or conflated with academic success — or merely having their basic needs met. Instead, thriving can be defined as how well children and teens are flourishing physically, socially, emotionally and, yes, academically," O.C. Superintendent of Schools Al Mijares, Ph.D., wrote in the report.
The report showcases examples of school and community programs and partnerships that are contributing to that goal.
Highlighted programs include:
Read more from OCDE Newsroom.
Read the entire report here.
Laws restricting how race is discussed in classrooms have trickled into some California school districts
Orange County school districts Placentia-Yorba Linda Unified and Newport-Mesa Unified are among just six in California that have passed measures restricting how race is discussed by educators, according to an EdSource story based on a new report out of UCLA titled "CRT Forward: Tracking the Attack on Critical Race Theory."
Newport Harbor High School science teacher John Brazelton told EdSource that anti-CRT measures haven't impacted him much, but he said other educators are affected. "People aren't teaching everything they did before," Brazelton told the education news outlet.
Read the whole story in EdSource.
🌎 O.C. school named U.S. Department of Education Green Ribbon School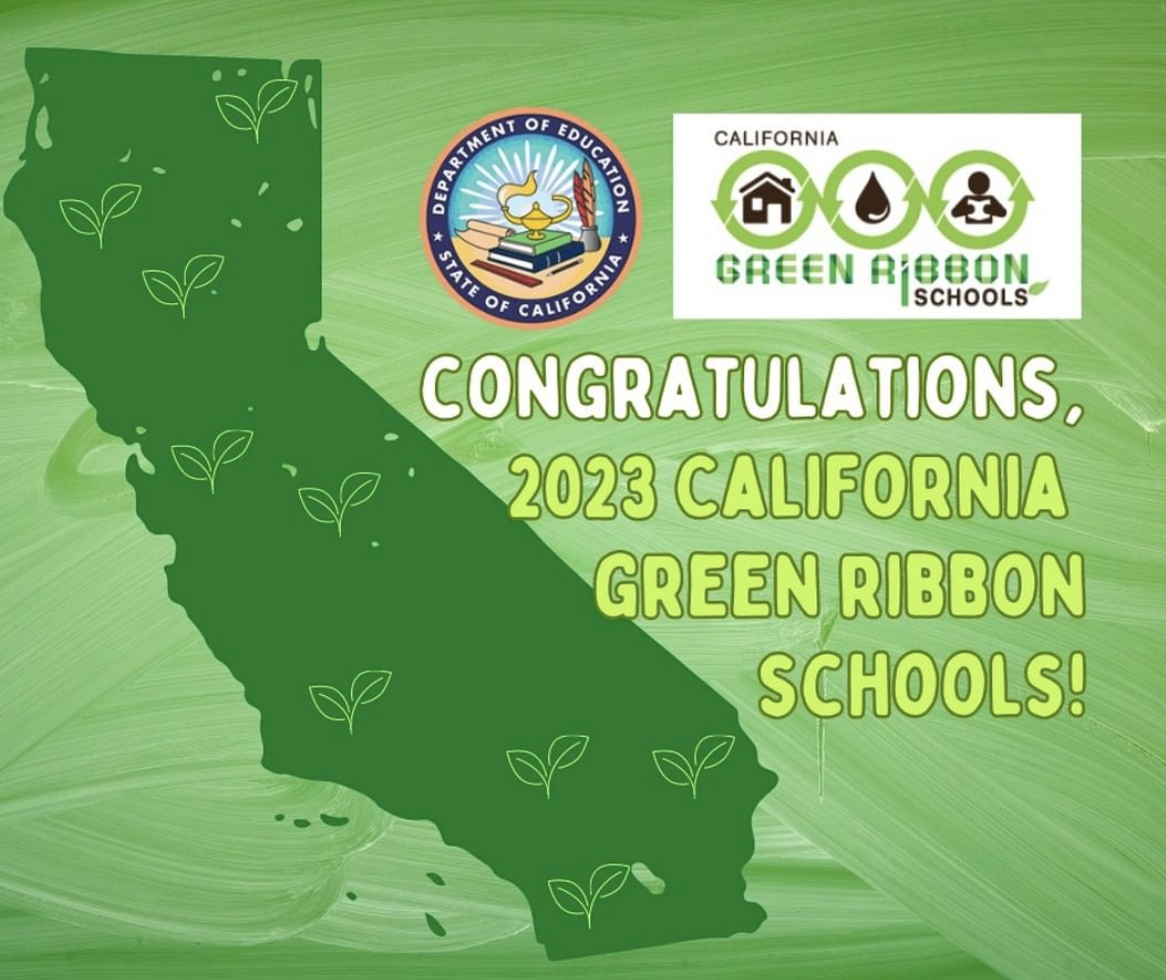 Santiago STEAM Magnet Elementary School in Lake Forest is being recognized for its focus on environmental education.
The campus in the Saddleback Valley Unified School District was named among five California schools as a 2023 "Green Achiever," the highest honor in the state's Green Ribbon School award.
Santiago is also among 41 honorees nationwide to be named a Green Ribbon School by the U.S. Department of Education.
"Santiago is humbled to be recognized for its green efforts and grateful for all our teachers, staff, volunteers, and community members actively supporting these worthy endeavors," the school wrote in a press release.
The Green Ribbon award "honors schools, school districts, and Institutes of Higher Education for excellence in resource efficiency, health and wellness, and environmental and sustainability education," reads the California Department of Education website.
"California Green Ribbon Schools exemplify leading-edge models for improved indoor air quality, outdoor classrooms, and whole-school environmental education. Students in these schools address global problems such as climate change and local challenges including water quality, food security, energy conservation, waste diversion, and emotional health," California Supt. of Public Instruction Tony Thurmond said in an April 20 press release.
Charter school Community Roots Academy in the Capistrano Unified School District also received recognition from the state in the form of a Bronze award for its environmental efforts.
🌱 Read more about California's Green Ribbon Schools here.
🌳 Looking for ways to party for the planet this Earth Day? 🌎
Check out these activities from KidsGuide.
Westminster Robotics Team needs your vote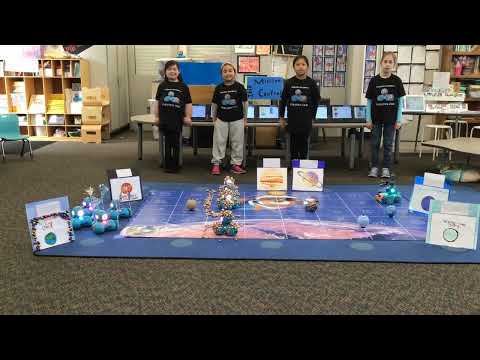 A third-grade robotics team from Sequoia Academy in the Westminster School District is competing for a chance of a lifetime.
After successfully solving five missions at the Wonder League Robotics Competition, the team has been invited to the invitation-only Championship Round with only 500 teams globally, according to WSD.
The team is one of five seeking votes to win the People's Choice award for the competition.
Check out the team's video above and vote here.
🚨Voting will close today at 8:59 p.m. PST. Winners will be announced on 5/4/2023.
Los Alamitos HS students need help getting to International Drama Festival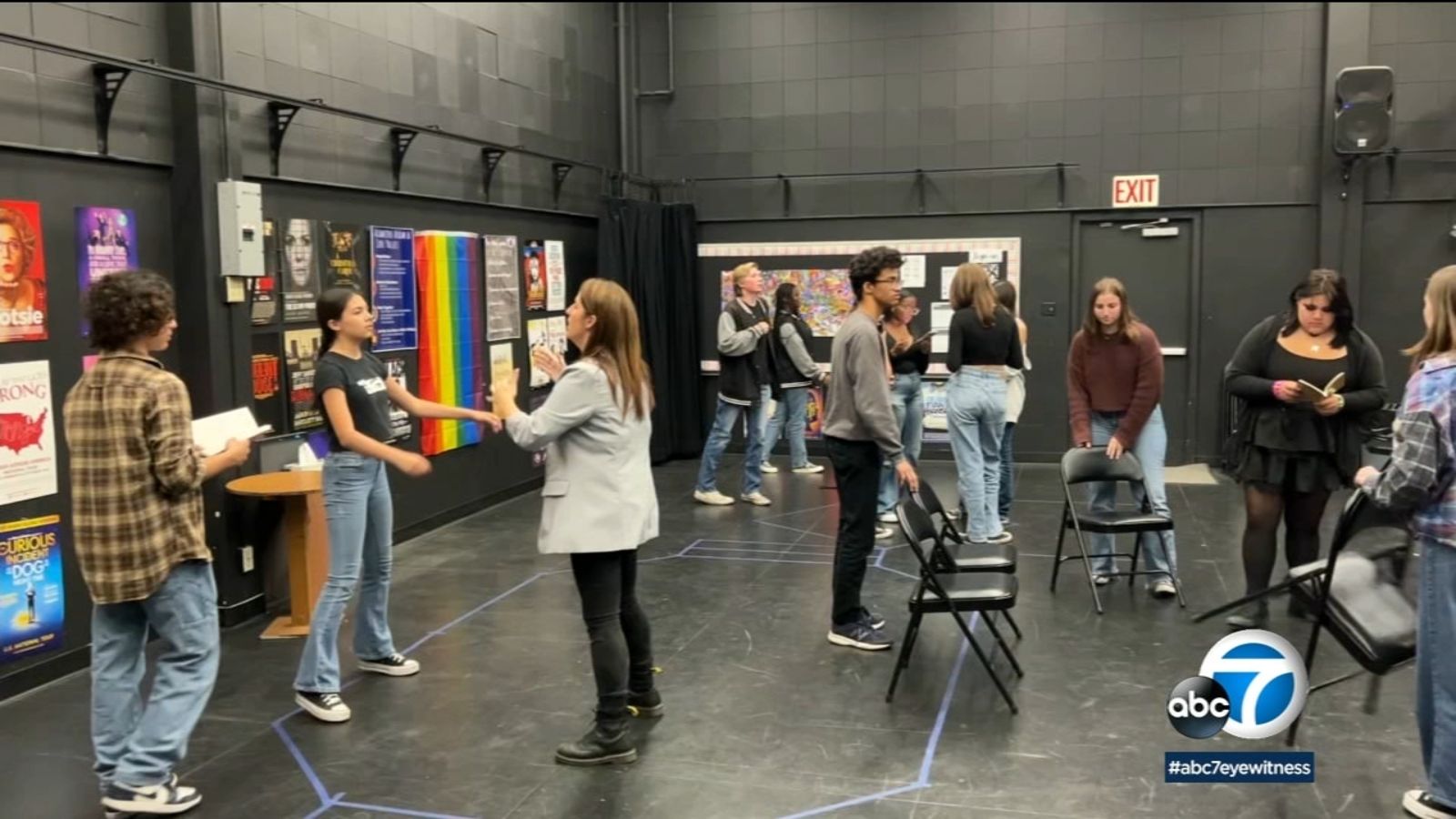 The students in the Los Alamitos High School drama program are passionate about performing. Now they are asking for help to fund their trip to take part in the International Drama Festival.
Watch the story from ABC7la.com.
What was your favorite story in this week's newsletter?
🗣️ 🗣️ 🗣️ 🗣️ 🗣️
We Want to Hear from You!
Respond to this email with feedback so we can better cover what you care about.
Copyright © 2023 Spotlight Schools, All rights reserved.
P.O. Box 164, Seal Beach, CA 90740